[title maintitle="Designed to Excite" subtitle="Italian Refinement"] [dropcap letter="D"]esign and culinary refinement go hand in hand, so when the opportunity to spend an evening celebrating Italian artisan design and a Michelin Italian chef with an Oscar-themed menu (at a coveted LA restaurant) presented itself, it was what may be referred to as Los Angeles perfection—
and it was
.
Beginning with the grand opening of Italian luxury brand, Visionnaire, the West Hollywood storefront spared no expense at wowing guests with an invitation to the jungle. Upon entering, Rio de Janeiro-like dancers danced in full garb in gold birdcages, as guests were guided through jungle walls with flowers bursting out and a plethora of live exotic animals thanks to the team at Saving Wildlife International. After being utterly enthralled with extraordinary creatures, we headed in to explore the store itself.
Tutto è progettato. Poche cose sono progettate bene.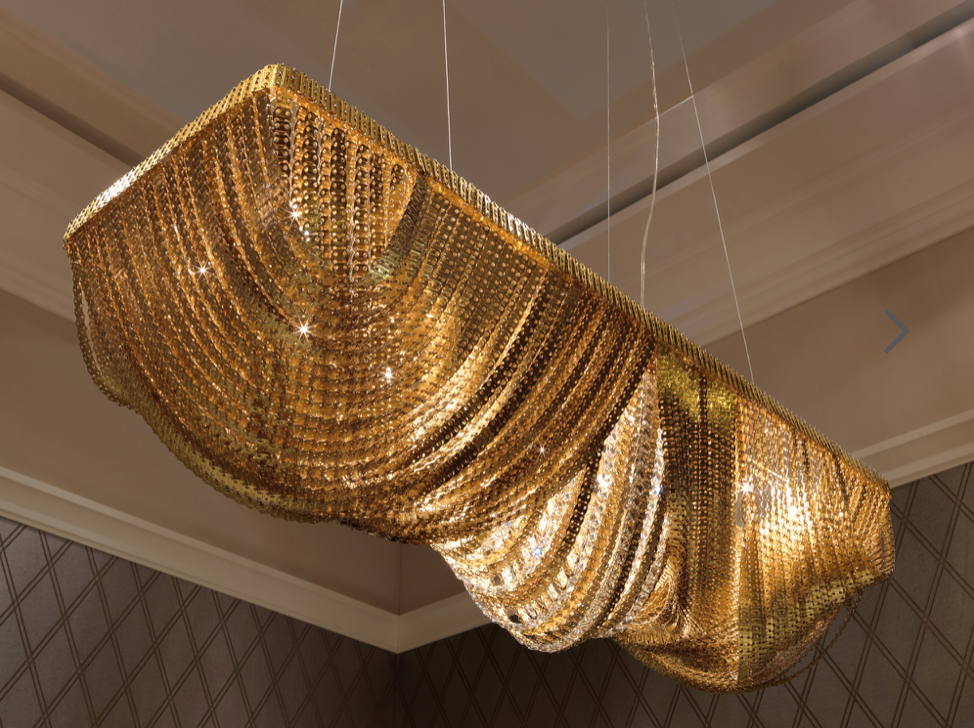 Greeted with design that exudes a seamless sense of refinement, Visionnaire is new to our city but is revered in Italian culture as one of the most exquisite lines of home décor and furnishings. Inspired by a sentiment of breath by Franklin Llyod Wright, this showroom line can be defined as airy, thoughtful, meticulous, sophisticated, and luxurious in every sense of the word.
Giuseppe Baldassarre, North and South brand manager quotes the brand's vision for this showroom, "Visionnaire remains oriented towards craftsmanship, a value which enables it to distinguish itself in virtue of products whose technical content is conveyed in a language that exudes strong personality. Italy has firmly remained the element of inspiration for collections from art history to cinema and visual arts in general. This year creative directors also looked to the East, resulting in a skillful and refined blend.
The color palette draws inspiration from earth and forest tonalities, heralding the natural element as a true protagonist. A symbolic nature, this year suggests the presence of bamboo, an emblem of rebirth and energetic power."
A chandelier that hangs so delicately yet boldly, the aluminum plates are bound together so precisely, they seem weightless.
Designed with natural wood and a billowy interior, this collection exudes romance and desire all meant to be experienced outdoors.
This sofa tells a design tale. On display was the upholstered fabric sofa with a platform base, backrest and trapezoidal armrests. Made outfitted for the Ryland low table, this modular piece made using solid wood, poplar and beech plywood welcomes the kind of prestigious calm, one hopes for when they come home.
The new LA flagship has all of the appeal of an artistic aristocracy without any of the limitations. It is boundless design with a contemporary, classic, and soulful undertone. It is clear that the featured pieces carry with them an architectural prowess brought to life with modish perplexity.
VISIONNAIRE | 144 North Robertson | West Hollywood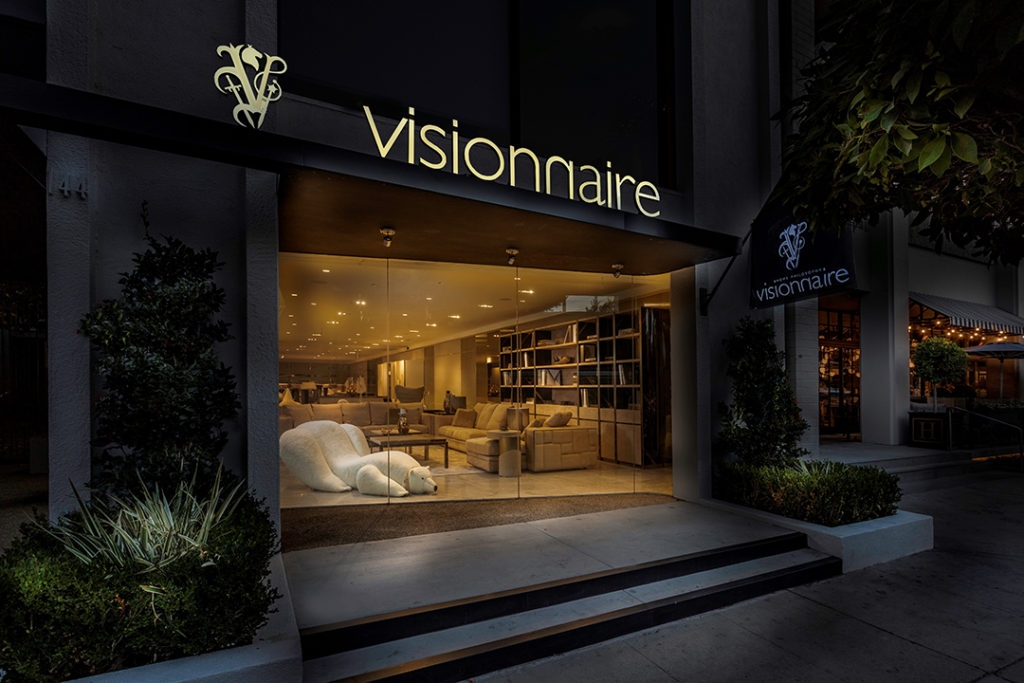 [separator type="thin"] [title maintitle="Intoxicated Menu" subtitle="Playful, rustic, exceptional"]
You know those old movies where a couple has a delightful dinner soothed by romance, ambient lighting, artistic decor, and impeccable service? Tonight at Culina inside the Four Seasons Beverly Hills, the evening would begin with signature cocktails, freshly poured sparkling water, gluten free bread (upon my request), flat bread that is made so purely I can taste the water and flour and sea salt as if I am in Italy, and a menu designed to be the centrifuge of this year's Academy Award nominated films. Yes, much like Italian cinema is abundant in sensuality, passion, beauty, and power, the menu staged for such an event is worthy of it's own golden statue.
Mangiare per vivere e non vivere per mangiare.
At the wonderful helm of Culina's kitchen is Chef Luca Moriconi who has constructed a three-course prix-fixe menu to be enjoyed in the Four Seasons screening room. Featuring screenings of eight of this year's best picture nominees, guests are invited to experience Michelin star cuisine while watching one of this year's Oscars picks. Hailing from the Tuscan region and the town of Lucca, Moriconi cooks with heart, serving anything but modest portions with traces of his Italian roots evident from start to finish.
CULINA | 300 South Doheny Drive, Los Angeles, CA.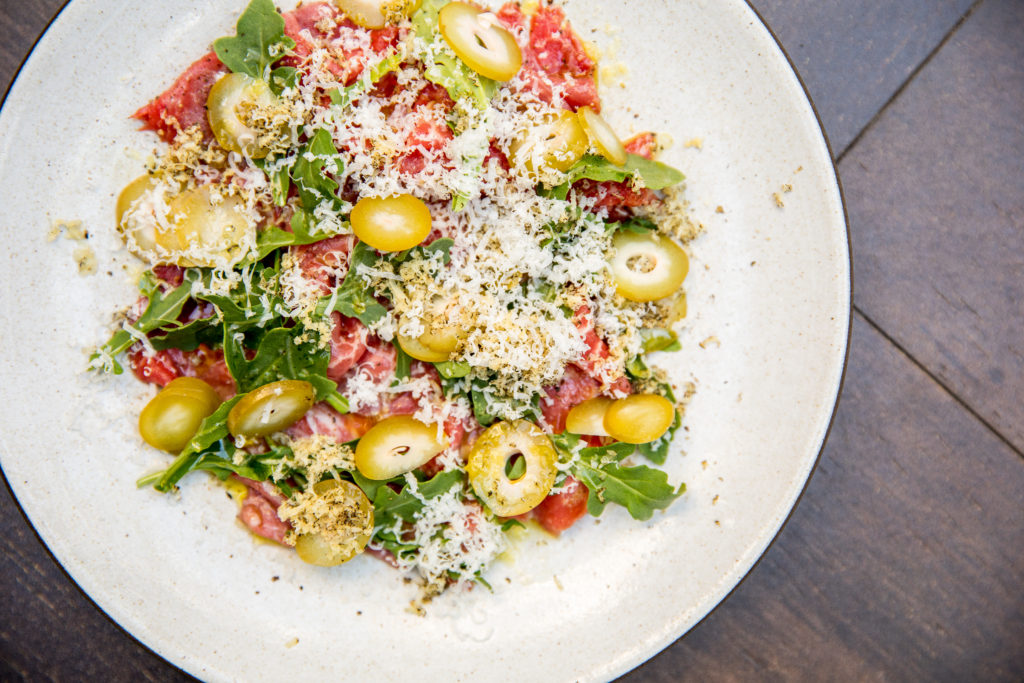 [title maintitle="THE SHOW" subtitle="OPENING SCENE, STORY TWIST, FINALE"]
Zuppa Ribollita
Comprised of Tuscan vegetables, Borlotti beans, garlic, and roasted ciabatta.
This dish can best be described as a rustic stew your grandmother would make when you needed a taste of home. It is warm and considering it's a stew, it tastes light and robust making it perfect for winter. 
Burrata Invernale
Made with beets, frilly mustard greens, red wine vinegar, and duck prosciutto.
The color contrast of this dish is a show stopper. (I haven't tasted this but it looked gorgeous.)
Polpo Grigliato
Charred octopus, green beans, watercress, smoked potatoes, and cauliflower purée frisée.
Few things are as lovely as a well-prepared octopus. It is visually stunning and interesting when plated, but Chef's version of charred octopus has salt and smoke evenly distributed throughout with subtle cuts of citrus, and when served alongside the supporting cast of green beans, watercress, smoked potatoes, and cauliflower purée frisée, the dance begins. This dish is a delicate balance of earth, water, fire, and air.
Recommended wines: Vorbeg 2016, Palistorti | Di Valgiano 2016, Montenidoli Fiore | Vernaccia Di San Gimignano
---
Nastri al Cinghiale
Featuring handmade pappardelle, braised wild boar sugo, and pecorino.
When a true Italian prepares homemade pasta, it's like being kissed by the Italian gods. It tastes better than any pasta you'll ever have—when done right. Chef Moriconi does it flawlessly. He puts his Italian tradition into this exalted dish and the wild boar sugo is tender, buttery, bold, and satiating. The pappardelle-AND-the house made gluten free pasta however? Forgettaboutit. 
Pollo al Marsala
Accompanied by white asparagus, celery root, potato purée, and marsala jus.
Chicken is not one of my go-to dishes. In fact, I swore it off over a decade ago, but this dish was so beautiful in presentation I had to abandon my distaste of the poultry and at least take a bite. While I won't go so far as saying I'm converted, it is well seasoned, succulent, and the culinary accoutrements of white asparagus, celery root, potato purée with that marsala jus are vegetable seduction.  And yes, I'd momentarily disavow my chicken-less life for yet another bite. 
Branzino Alla Matin-Ara
Roasted branzino, fingerling potatoes, artichoke Taggiasca olives, cherry tomatoes, and asparagus.
In Italy, fish is a way of life. This branzino emanates a sense of what life in the country of passion must taste like. It is light, elegant, and delightful! 
---
The final scene of a sweet and provocative Dolci completes this menu. Choosing between the Crème Caramel served with citrus lemon sorbet and coconut meringue, or the Tiramisu, prepared with espresso meringue and chocolate crisp, your intimate dinner and a movie evening will be complete. The dolci is one for the books. Executive pastry chef Federico Fernandez creates desserts that are Michelin level as they are made with the decadence and delicate nature one craves.
Please note that guests attending either of the Saturday MATINÉE SCREENINGS will be feasting on the acclaimed Culina Pronto Market Lunch ($35 per person including screening). The market lunch is a carefully curated Farmers Market inspired buffet that includes a selection of salads, cheese, and charcuterie with a choice of protein, along with specialty desserts, fresh fruit and other delectable treats.
[columns_row width="third"] [column]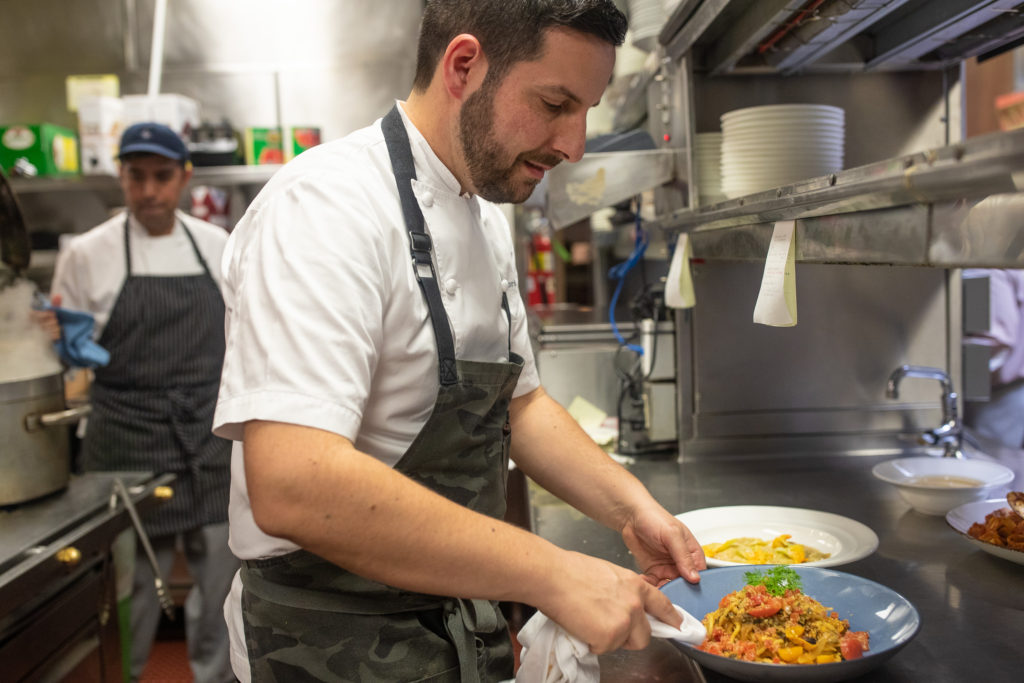 [/column] [column]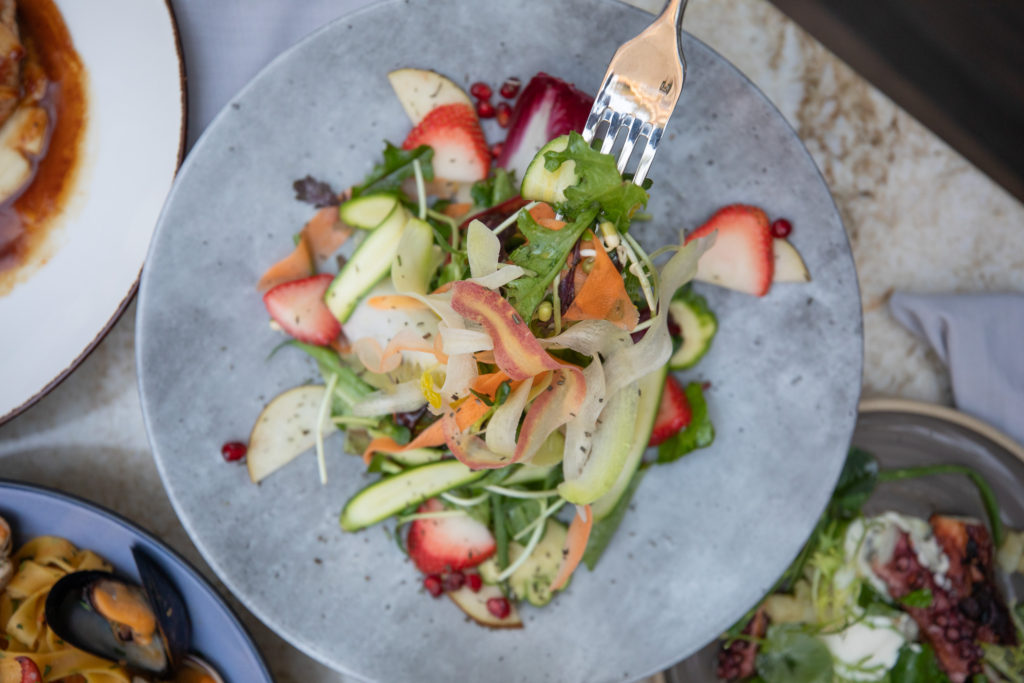 [/column] [column]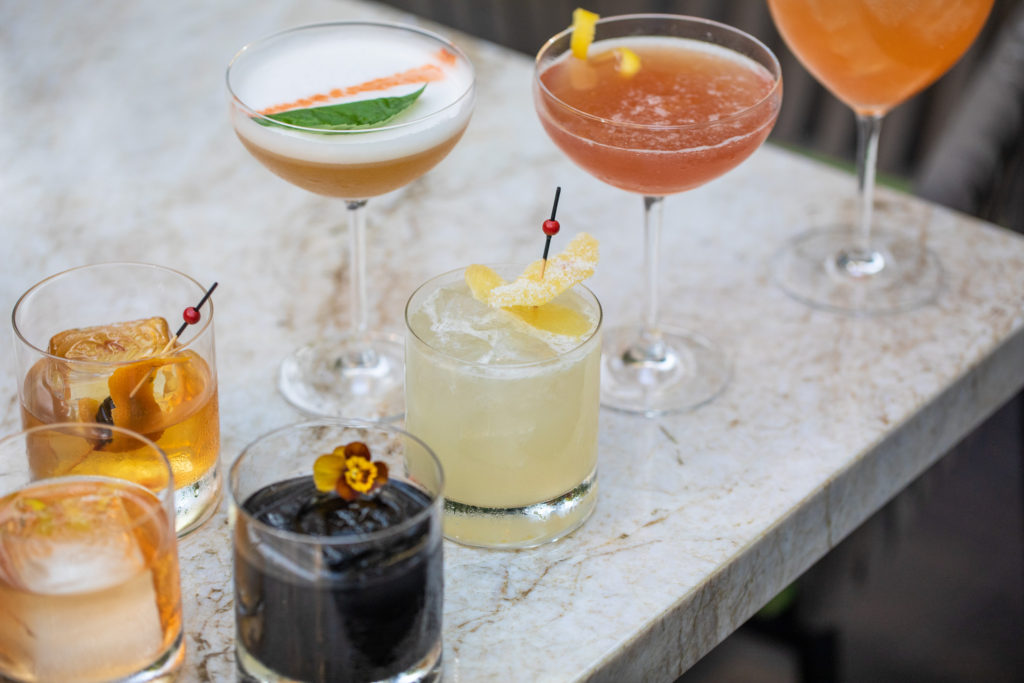 [/column] [/columns_row] [title maintitle="SCREENINGS" subtitle="Menu available until February 24″]
Tuesday, February 19th: "A Star is Born"
Dinner at 6:00 pm followed by Movie at 8:00 pm
Wednesday, February 20th: "The Favourite"
Dinner at 6:00 pm followed by Movie at 8:00 pm
Thursday, February 21st: "Vice"
Dinner at 6:00 pm followed by Movie at 8:00 pm
Friday, February 22nd: "BlacKkKlansman"
Movie at 5:30 pm followed by Dinner at 8:00 pm
Friday, February 22nd: "Bohemian Rhapsody"
Dinner at 6:30 pm followed by Movie at 8:30 pm
Saturday Matinee, February 23rd: "Black Panther"
Lunch at 10:30 am followed by Movie at 12:00 noon
Saturday Matinee, February 23rd: "Roma"
Lunch at 1:30 pm followed by Movie at 3:00 pm
Saturday, February 23rd: "Green Book"
Dinner at 6:00 pm followed by Movie at 8:00 pm


[separator type="thin"]