[title maintitle="Design, Art, and Comfort" subtitle="the perfect refuge"]
Life in Los Angeles is one of my favorite things, but its also one of the more brutal in terms of how fast time moves, how many deadlines are forever impending, and the constant pace of the hustle. There comes a time when sleep is rarer than rare and our bodies and minds demand we press pause, if only for two days and nights. That is when its time to take a little break and regroup, and I turned to one of the more unlikely cities in the summer heat—Palm Springs.
Built in 1927, Alcazar Hotel is owned by Tara Lazar of F10 Creative. Lazar turned Alcazar into a tranquil hideaway that wrapped its arms around me like a warm, escape-from-reality hug and soon soared to the ranks of my favorite hotels in SoCal. The entrance is protected by twin palms rising to kiss the sun, and in through the iron vine doors is the hotel lobby where Robert Hunt, the general manager, Casha Miller at the front desk, and Jade Rechler, who works with their PR at Parade Agency greeted me. Smiles on and a friendly atmosphere, the beginning of this staycation of sanity kicked off with kindness.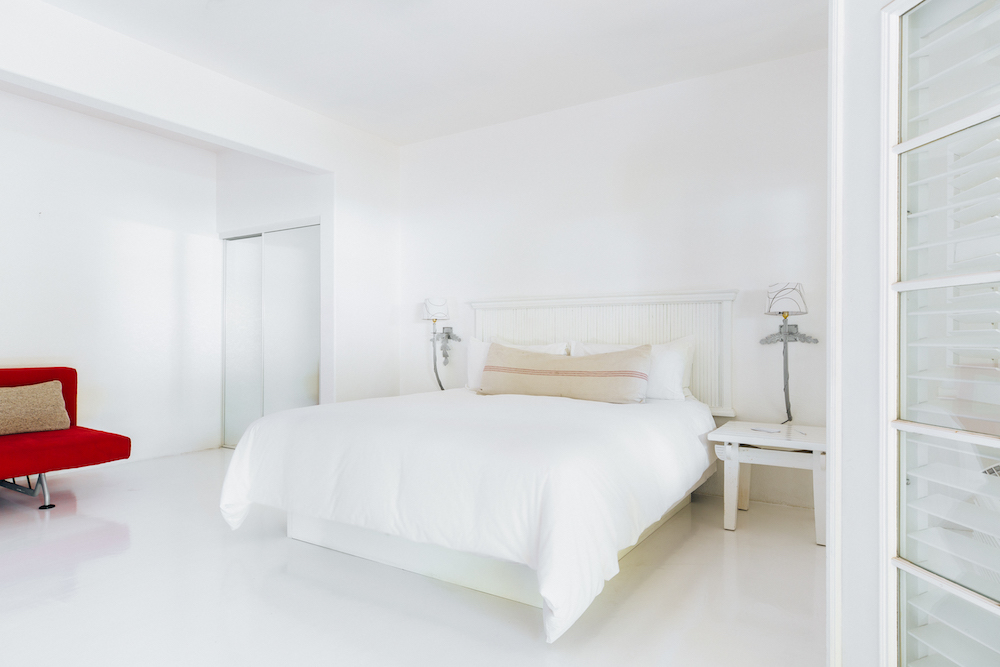 In the lobby kitchen you'll find juice and water, cocktails to-go, bottles of wines and a variety of beer, and an espresso machine with all the fixins' for the perfect caffeinated pick-me-up. As I walk through the property towards my king deluxe room that is pool adjacent, shades of white blanket the property with a calming design of simplicity, authentic Italian-made tables and chairs, a wall of fire and palms trickling along the path surrounding the pool which is at the center of the hotel. Bright white décor and emerald green foliage act as both accent and foundation, but its when I open the door to my room that I take in a deep breath, realizing for the next two days and nights, I am finally going to be able to unwind.
The room is entirely white with the exception of a red retro mod couch and a red piece of art on the wall painted on wood of a girl and a dragon-like beast by the surrealist artist, Kelly Tunstall. Tunstall's art has a fantastical way about it with exaggerated character features and bold colors that leave you with a feeling of wonder. The room has a jacuzzi bath tub, and in a few months with the final stages of redesign, that tub will be replaced with an oval soaking tub. With newly remodeled rooms, the floors are concrete with a clear glaze, the bathrooms are minimalistic while the shower is the one accent of color having a glazed frosted aqua tone backdrop. The room is housed with a desk that I'd be using daily to get some creativity out, and just outside my door is the pool.
July isn't traditionally the best month to visit Palm Springs, but this month is unseasonably tame. That said, even if the heat was its scorching norm, something about Palm Springs just lends itself to a canvas that calls for the creative mind to soar. At Alcazar, guests have plenty of reasons to stay on-site, including two of the tastiest dining options in town—Cheeky's for brunch and lunch, and Birba's for dinner and drinks. The hotel also has darling white beach cruisers free for guests to explore and I took full advantage of that.
Around the corner from the hotel itself is downtown in one direction or the community of gorgeous mid-century modern homes in the other. To fuel my need for art and design, I chose a ride through the community of houses. The palm-lined streets curved and lined the mountain ridge and I saw everything from a tiki statue and totem to some of the most beautiful succulent landscapes I've seen. The heat was making its mark but it felt liberating to just ride on the white bicycle and enjoy the neighboring streets.
[title maintitle="Hungry?" subtitle="YES!!!!"]
The hotel's restaurants are not only convenient but exceptional. Pulling up a seat at the bar of Cheeky's is where I started. First with coffee and their green juice, and after my bike ride I saddled up to a four-top on the patio to partake of a tasting feast thanks to executive chef Jose Rodriguez. The menu consists of beautiful healthful items yet one great indulgence—a bacon flight. Bacon is a beautiful gluttony and, in spite vegans and vegetarians everywhere rolling their eyes, it's a food that makes everything taste better! This bacon flight is one for the books and funny enough pairs perfectly with the avocado toast. Everything on the menu, including the honorary monkeys hanging on nautical rope are so good it's worth its own article.
When it comes to Birba, Alcazar's hotspot for dinner, Chef Erik Dandee has crafted a menu that screams of passion, robust curiosity, and good ole fashioned Italian love. Birba, in Italian means "little rascal". The restaurant is named after Lazar's husband Marco, and encompasses the idea that there should always be a place to get together with friends, enjoy an exceptional meal, and do so while sipping on beautiful wines and playful cocktails. Dandee sat with me and told me of the story of Birba (while sharing) multiple culinary creations, but its his bolognese, Birba pizza, charred octopus, and multiple variants of veggies from Brussel sprouts to beet salad that leave an indelible mark.
Both restaurants are so intricate and sublime, they deserve their own feature, and you can read about the phenomenal menu and design in detail later this week.
[separator type="thin"]
Alcazar is where you go to stop the world from whirling you into a frenzy, when you need to take stock of life and remember how valuable a little serenity can be. With its peaceful dêcor and clean, fluid design, it's the staff and the sense of belonging that makes this the perfect summer escape.
photos by Dawn Garcia