Japan + Southeast Asian cuisine to enjoy one bite at a time
It's a fact that some of the best fish in the world come from Japan. Once you've been, having sushi or sashimi grade cuts is difficult anywhere else—primarily because the quality is so pristine in Japan, you'll be hard pressed to find quality like that elsewhere. But—it's also where I began to appreciate the many styles of Japanese cuisine, which inevitably led me to explore other Asian fare. That curious exploration led me to Southeast Asian cuisine where some of the most flavor-forward nations cook up tradition with a twist, utilizing regional spices and local ingredients.
In Los Angeles, we're fortunate to have nearly every nation's cuisine represented somewhere within the 4,571 square miles of space that makes up LA county. While the journey of flavor and culture is seemingly never-ending, two new restaurants are adding even more textural context to our sea of tasty eateries:  HATCH andBone Kettle.
[separator type="thin"]
HATCH is Los Angeles' very own specialized izakaya yakitori restaurant. Located in the BLOC in downtown, Hatch makes this Japanese tradition one to savor. Yakitori is a Japanese skewering of  meat with kushi (串), a type of skewer typically made of steel, bamboo, or similar materials. Cooked over a charcoal fire, the flavors that come through in whatever is made with yakitori is rich, smoky, and far more interesting than basic barbecue.
HATCH is a neighborhood eatery with all the local influence of Japanese tradition but with Los Angeles flare. The restaurant is simply decorated with tones of black and rich woods with a bar counter, indoor seating, and ample outside seating on the patio facing the BLOC center. The moment you walk in, the smell of charcoal and food wafts under your nose. It's a fun departure from basic Japanese-infused cuisine.
Fusing yakitori, a fresh raw oyster bar, and flavor rich plates, HATCH is a bit surprising. Below are some of the dishes I sampled and would go back for.
Seaweed Salad | Seaweed salad is intended to clean the palate and is also a great digestif. This seaweed salad knocks all others out of the park! The smoky flavors are congruent to the ingredients and is a brand new take on an old Japanese classic.
Skewers: bacon + asparagus + Shishito peppers | Who doesn't love a little meat and veggie smoked on a stick?! The bacon tasted like it was fresh-from-the-farm and the asparagus and peppers were so piquant, they melted and danced in your mouth.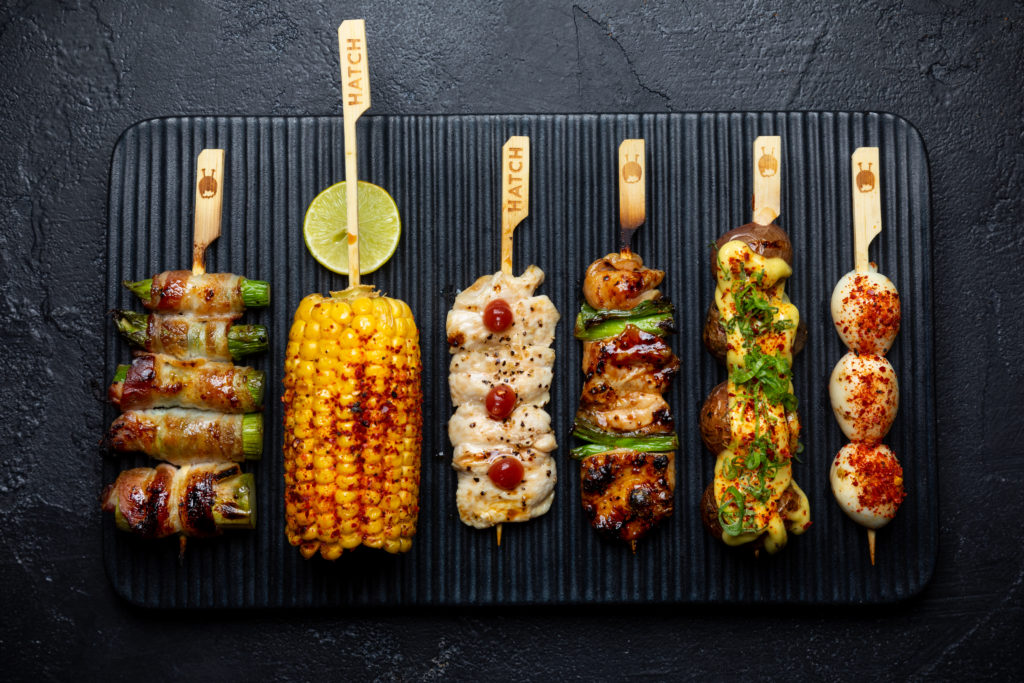 Furikake Salmon | Furikake crust, japanese sweet potato wasabi mash, mustard tare, yuzu gel, and micro greens. Salmon is a delicate fish that can either be mind-blowing or lackluster. An interesting array of additions of crusted furikake (a dry Japanese seasoning) to the salmon,is what makes it. I could do without the wasabi mash (mainly because I'm not a wasabi fan), but the yuzu gel was lovely.
Black Karaage | Two-day brined fried chicken thighs, squid ink, house pickles, grilled lime, black ranch dip. I've let it be known that chicken or fowl in general is not my jam, but this black crusted chicken was something I had to take a bite of. It's so interesting and while it looks like sculpted coal on the plate, the lime and black ranch dip are way too fascinating in texture and taste to pass up. Its like biting into methodically fried chicken that is encased in a strangely robust and vibrant home of technique and taste.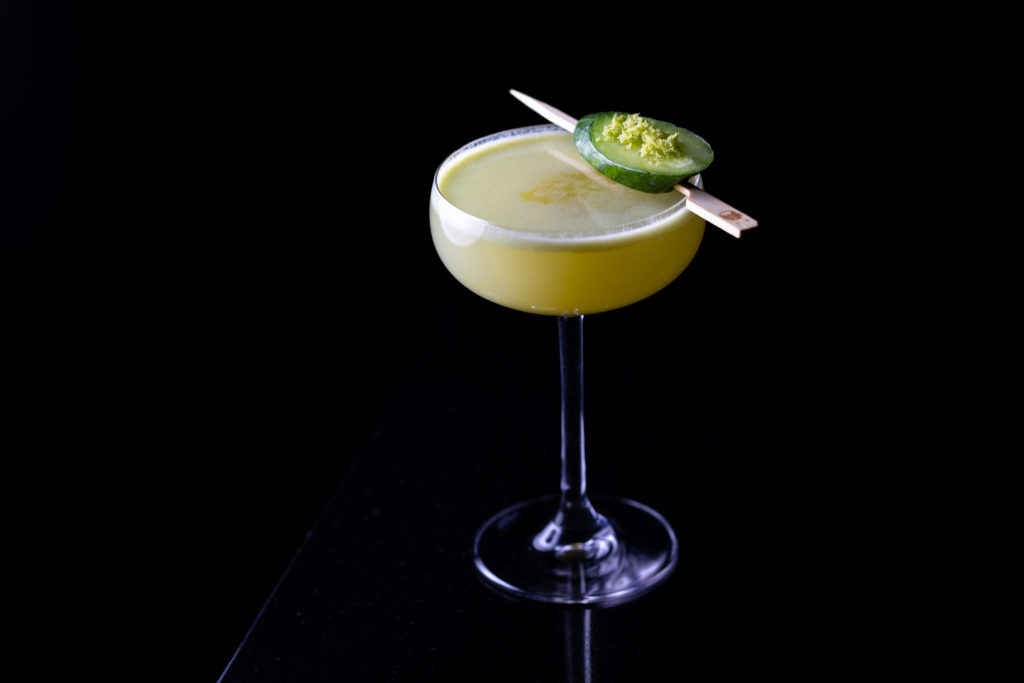 When it comes time to drink, I highly recommend trying most anything on the cocktail menu. The program was designed to take unfamiliar innovation of flavors and ingredients and marry them with Japanese and American mixology tradition and standard. My favorite however was the sake selection, but do order at least one of the cocktails on their "Don't Get Cocky" menu.
---
---
Bone Kettle is Pasadena's newest Southeast Asian family owned restaurant serving high end Indonesian cuisine. With an immaculate lineup of cuisine created by Chef Erwin Tjahyadi who apprenticed under Wolfgang Puck and Trey Foshee, the menu he's crafted lives up to the "Zagat's 30 Under 30" accolade chef received. A family-owned and operated restaurant, Bone Kettle offers more to the restaurant scene in the Pasadena area. Bringing Indonesian and Southeastern flavor together, each dish is meant to be shared, making for a far more immersive and community-driven experience. Designed to take guests to another land, the modern-yet-understated décor is warm and intrinsic. Thin wooden beams from floor-to-ceiling line the walls with Southeast Asian mural art and occasional hanging sculptures of a the long-tailed macaques.
When it comes to hospitality, service is the most important aspect at Bone Kettle. When here, you are treated like family. Beginning with their cocktail menu abundant in wines, beer and a selection of crafted cocktails, start with their palate cleansing sake tonic. The hints of lemon and mint make this the ideal beginning. Perusing the cocktail menu is like reading a libation-based poem. It will take you on a journey through flavors of Indonesia, Thailand, Cambodia, Singapore, and the Bali province by way of curating unique sakes and spirits with interesting bases such as gamboling fruit, ginjo, soju, chipotle pineapple, or wild plum. It will entice you and send you down a path where what's to follow—will be one that most certainly fulfills your tastebuds.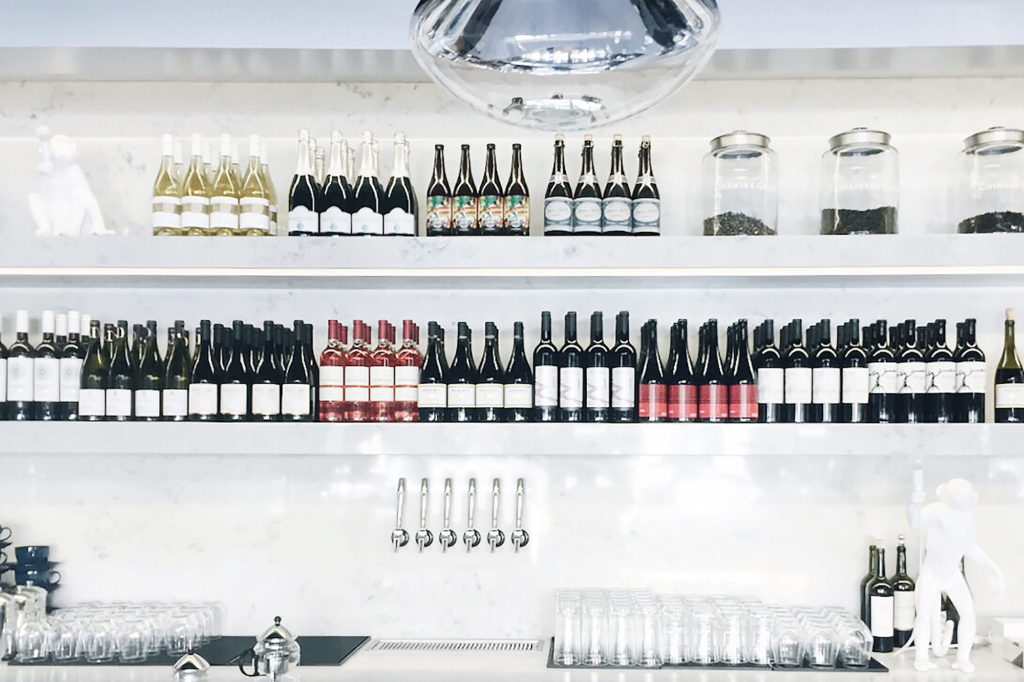 For dinner, the choices curated by Tjahyadi are in plenty. Whether you begin with the clams and donuts or gado gado, you will be thrust into a sea of interesting flavor. Serving bone marrow, oysters on the half shell, prawn cake, fried oxtail tips, and so much more, below are the dishes I want more of.
Bone Marrow | Scallion confit, grilled baguettes, red endives, baby frisse, mizuna, apples rhubarb dressing. Bone marrow is a succulent dish and when served without restraint can be a real treat. Mixed with the frisse, mizunna, and apple rhubard dressing, this dish packs a unique punch.
Oxtail Dumplings | Oxtail, seasonal mushrooms, leeks, San Bai Su. Something about oxtail invites foodies to really want to dive in. These dumplings scream beautiful in terms of presentation and then deliver on taste by blending the dumplings with mushrooms, leeks, and San Bai Su (which means made without vinegar).
Beef Ribs | Bone marrow jus, fried onions, herbs. The meat falls off the bone like butter dripping on a skillet and it tastes divine. I thoroughly enjoyed this dish and feel it really shows how alluring simple ingredients can be.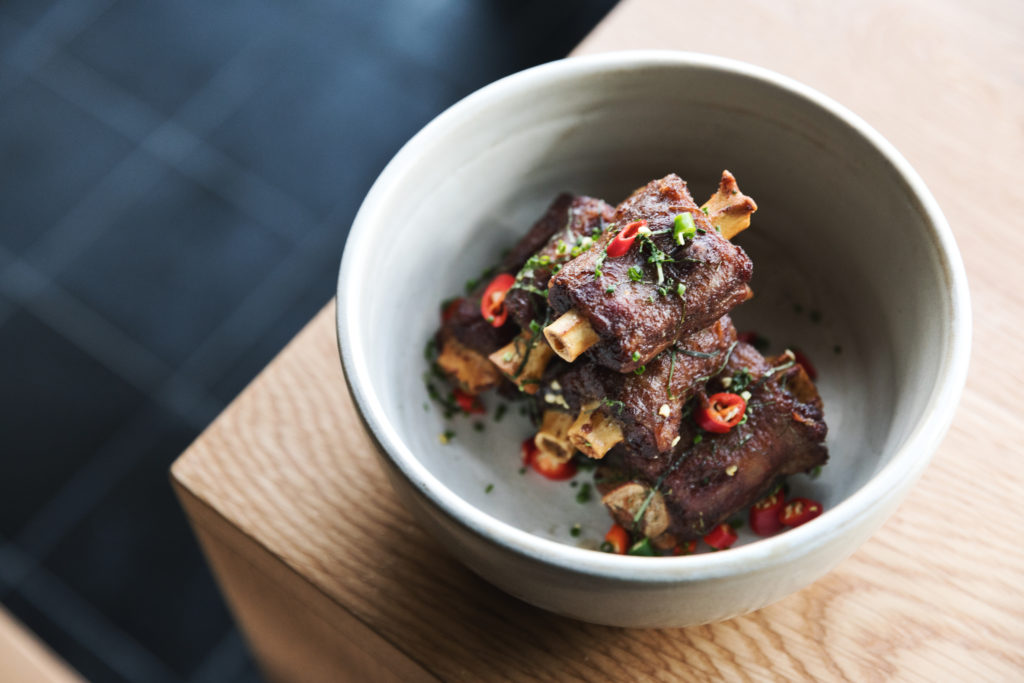 Kroket | Fried potato ball, smooth ground beef, carrots, peas, sweet pepper Hoisin sauce. If you've ever had Porto's, this is the elevated and more flavorful version of the potato ball with ground beef (and it's much tastier).
Mapo Tofu Fries | Twice-fried Kennebec potatoes, ground beef, tofu, chives. Twice-fried anything is wonderful and gluttonous, but when chef chose to do so with a Kennebec fry, this is the "cheat day dish" made for you. Tofu and potato may seem like overkill but the ground beef and chives, in addition to their own spices make this a worthy opponent to any high-end fries you've tried before. (TIP: Order them a bit crispy.)
Cassava Cake with Ube Ice Cream | Warm baked cassava, powdered sugar, homemade avocado ice cream. Cassava cake is a Filipino dessert made with the root vegetable cassava, which can be likened to yucca and when made into a cake, resembles a trés con leche but firmer and with coconut milk. It's rich and hearty, and when paired with something as different as the avocado ice cream, you will find your appetite happily sufficed.
---
Both restaurants show a culinary range that honors various regions in Asia. HATCH invites you to enliven your traditional views of Japanese-inspired cuisine, while Bone Kettle invites you into the beautiful, colorful villages of Southeast Asia and showcases the vast range of spices and herbs.
HATCH | 700 West 7th Street — Suite G600, Los Angeles 
Bone Kettle | 67 North Raymond Avenue, Pasadena
Photo Credit Jakob Layman | Alan Lin + Dylan & Jeni