[title maintitle="Going Guatemalan" subtitle="tradición, cultura y comida hecha con amor "]
In 1998, I had the great fortune of traveling to Belize for a Writing Workshop, which then led me to spend a day Guatemala. With a population of 18,000,398, Guatemala accounts for 0.23% of the total world population with 60 percent of the nation being indigenous. Having spent only one day in the country, I was still able to experience the art, the culture, the people, and their phenomenal food. Having been invited into a family's home in Izabel near the Siete Altares Waterfall (Seven Altars), the textures, smells, smiles, and surroundings left such an impression I long to return. The waterfalls emit a spiritualness that transcends you. In fact the sheer beauty of the turquoise waters amidst the lush green jungles makes you feel as if you've entered a fantasy world of sorts. Much like the name implies, there are seven waterfalls. You can hike the region (30-minutes) but the locals in Livingston do ask that you hire a guide (it is in the jungle so there are loads of creatures both harmless and deadly).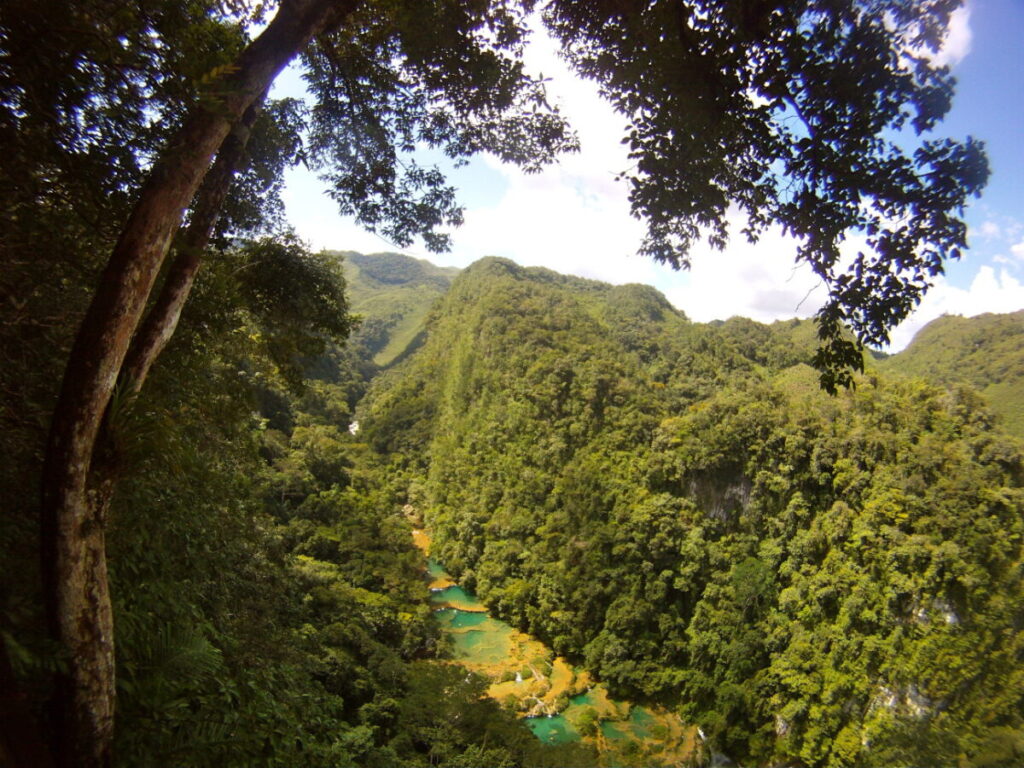 Guatemalans are very family-centered as are most Hispanic cultures, but the simple way of life and the truly divine way food is prepared and harvested is something to experience. That one afternoon having lunch in the jungle of Guatemala was one of the most loving, comforting, and tasty meals I've ever had. Guatemalan cuisine is a heavily influences by its Mayan roots and you can taste a bit of Spanish influence in the flavor profiles. Ingredients include plantains, achiote, chiles, coriander, onion, tomatoe, potatoe, shredded meats, pear, squash, and an abundance of native fresh fruits and vegetables grown throughout the country.
While there isn't a national dish per se, the two contenders are Chicken pepián and Kak'ik which means "red and spicy" in Mayan.. There are many Guatemalan staples that will expand your tastebuds and thrust you into a place of total culinary happiness. I wanted to include those two recipes, but encourage you to also try making Rellenitos (Guatemalan donuts made of plantains), Hilachas (shredded beef in tomato) , and Pupusas (masa tortillas served with beans and rice). They each introduced me to an array of flavors, are great for anyone on a budget, and are dishes that seep into your memory because they're so incredibly simple yet delectable. There are many variations of each so you can easily prepare these with vegetables if you choose to opt out of using meat. One dish I'm not including but is among my favorites is the Guatemalan empanada. While in Spain and other regions the empanada is usually made with meat, in Guatemala they prefer a vegetable filled empanada topped with cilantro, onion and tomato.
[separator type="thin"] [columns_row width="third"] [column]
[/column] [column]
[/column] [column]
[/column] [/columns_row] [separator type="thin"]
As for drinks, Guatemala loves a good cerveza (Galla, Moza, Cabro), Cusha (so strong its like fire breathing), and the national rum,  Zacapa Centenario. However the Ponche de Leche with "Piquete" and Bloody Mary with Beer also must be tried if really want to go authentic.
Pepián Stew
Inspired by Restaurateur, Anita in the small Guatemalan town of Sololá. Click here for more on who she is…
INGREDIENTS
3 pound chicken cut into pieces
3 cups chicken broth
1 teaspoon salt
2 large tomatoes, chopped or 1-14 ounce can
5 medium tomatillos, chopped
1 pasilla chile, chopped
1 guajillo chile, chopped
½ cup chicken broth
½ cup sesame seeds
1 tablespoon of pepitas (shelled pumpkin seeds)
1 teaspoon cinnamon
1 teaspoons red pepper flakes
2 cups chicken broth
3 corn tortillas cut into pieces
¼ teaspoon achiote paste
INSTRUCTION
Place chicken, broth and salt in a large pot and bring to a boil. Reduce heat and simmer for 30 minutes.
Bring tomatoes, tomatillos, and both chiles to a boil in ½ cup of chicken broth; reduce heat to simmer for 10 minutes. Remove from heat and let cool while doing the next 2 steps.
Toast sesame seeds, pepitas, cinnamon, and red pepper flakes in a dry skillet over low heat. Once you start to smell them toasting remove from the heat.
Place toasted ingredients in a blender and pulse to a powder, then add to the tomato mixture and pour back into the blender and puree.
Soften achiote paste in a ¼ cup of the hot chicken broth and blend with a fork.
Add tortillas, achiote paste, and 2 cups of chicken broth to the blender and process until smooth.
Pour the contents of the blender into the chicken pan, stir and simmer over low heat for 15 minutes until sauce has thickened.
Serve with warmed corn tortillas and rice
Enjoy!
[separator type="thin"] [columns_row width="third"] [column]
[/column] [column]
[/column] [column]
[/column] [/columns_row] [separator type="thin"]
Kak Ik, Guatemalan Turkey Soup
Prep Time: 20 minutes, Cook Time: 4 hours
INGREDIENTS
TURKEY
2 turkey legs, thighs and drumsticks
1 quart turkey or chicken broth
Salt
SAUCE
6 plum tomatoes, sliced in half
6 large tomatillos, husked and sliced in half
2 dried guajillo chiles
1 white onion, peeled and quartered
2 heads garlic, cloves separated but unpeeled
2 tablespoons achiote paste
TO FINISH
1/2 cup minced fresh mint
1/2 cup minced fresh culantro or cilantro
masa to thicken soup (optional)
INSTRUCTION
Simmer the turkey. Put the turkey legs in a large pot with the broth, and add enough water to cover 2 inches of everything.
Bring to a simmer and cook, partially covered, until the turkey is tender, anywhere from 90 minutes to 3 hours depending on the age of the bird.
Meanwhile, make the sauce for the soup. Put the halved tomatoes, quartered onion, garlic cloves and tomatillos, cut side up, on a baking sheet and broil until partially blackened, about 15 minutes. Keep an eye on them so they don't burn.
Open the dried chiles and remove the seeds and stems. Pour boiling water over them in a small bowl to rehydrate while the other vegetables are charring.
When the vegetables are nicely charred, remove the baking sheet from the oven and, when it's cool enough to handle, peel all the garlic; keeping the skins on in this process prevents the cloves for carbonizing. Put all the sauce ingredients into a blender and puree.
Pick all the meat off the turkey legs and reserve. Strain the broth; I do this by setting a fine-meshed sieve over a big bowl. No need to clarify it in this soup. Wipe out your soup bowl and add back the shredded turkey, the strained broth and the contents of the blender bowl.
Tip: save back some broth to rinse out every bit of goodness from within the blender bowl. Bring all this to a simmer and let it cook 15 minutes.
When you are ready to serve, stir in the minced herbs and add masa to thicken if you want. Don't add more than a tablespoon at a time, and stir it in well. Serve with rice, little masa dumplings or tortillas.
NOTE: You can find achiote paste in Latin markets, and in the "ethnic" section of large supermarkets. If not, look for annatto, which is the main ingredient in achiote paste. 
[separator type="thin"]
When you want to experience a piece of Hispanic history that welcomes you, go to Guatemala. The Mayan ruins, the waterfalls, the food, the people, the simplicity … it's something to behold. Spend time exploring textiles, the arts, the people because then you will truly comprehend how much love goes into everything they make and share with the world.
[columns_row width="half"] [column]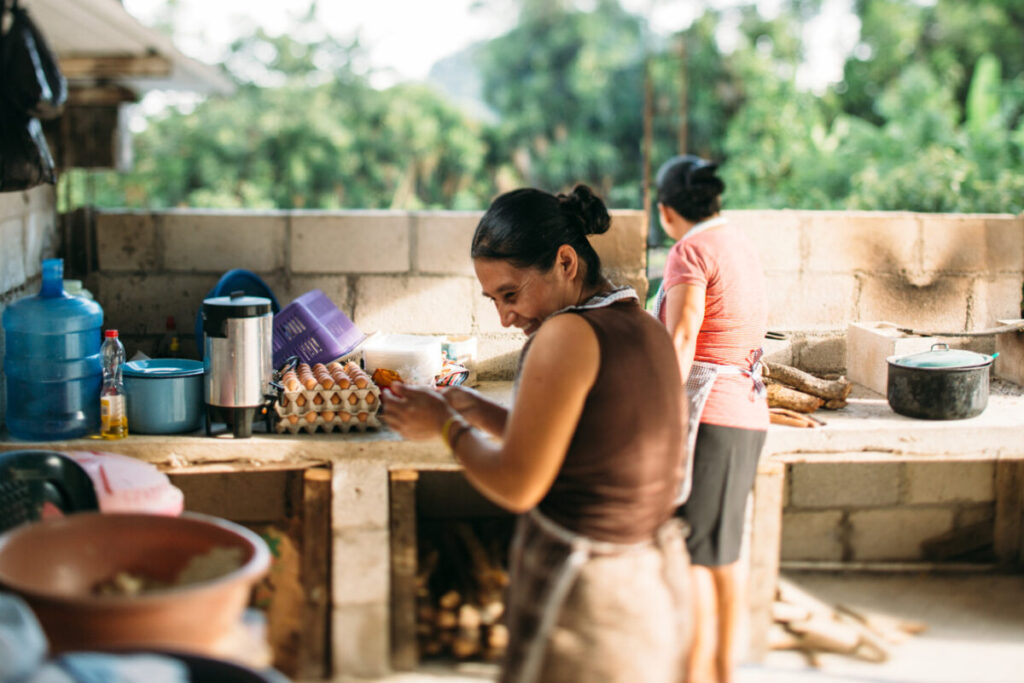 [/column] [column]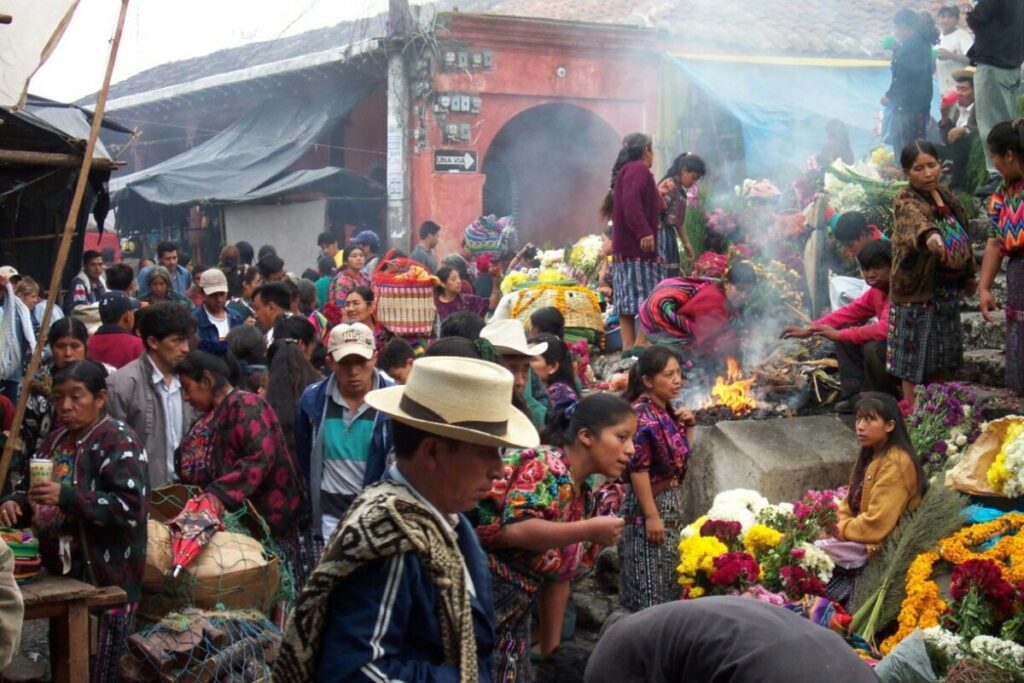 [/column] [/columns_row]