[title maintitle="The Aztecs" subtitle="Ate A Primarily Vegetarian Diet. Veggie Tacos anyone?"]
As an advocate of celebrating the Hispanic Culture half of my bloodline derives from, I am also an advocate of celebrating life, health, and our ability to take control of our bodies. Going vegan was not as difficult as I thought it would be. It was in an effort to honor my Mexican and Spanish heritage of tilling the land, being respectful of the earth, and recognizing our interconnectedness that I chose to consume a plant-based diet. Turns out my Aztec lineage felt the same.
In an article written by Frederika Zylstra, she writes, "Migrating tribes began to settle in Mexico prior to 1100 CE. Small, 'city-states' were formed. Of those empires, the one which existed in the city of Tenochtitlan was the most powerful. Warriors from this area dominated neighboring city-states and enabled the ruler, Motechuhzoma II, to impose Aztec ideals and religion across a huge geographical area of Mexico.
[separator type="thin"][columns_row width="third"] [column]
[/column] [column]
[/column] [column]
[/column] [/columns_row] [separator type="thin"]
The Aztec people were highly accomplished in agriculture as well as trade. This civilization, which flourished from around 1345, was also noted for its great architecture and art of the Aztec calendar. While the Aztecs ruled, they farmed large areas of land. Staples of their diet were maize, beans and squash. To these, they added chilies and tomatoes.
They also harvested Acocils, an abundant crayfish-like creature found in Lake Texcoco, as well as Spirulina algae which they made into cakes.  Meat was eaten sparsely; the Aztec diet was primarily vegetarian with the exception of grasshoppers, maguey worms, ants and other larvae. Even now, some of these insects are considered delicacies in parts of Mexico."
While we won't be making worm or cricket tacos, I'd suggest trying crickets at least once. They're unusual, crispy and chewy, and allow you to be mindful of what survival looks like.
[separator type="thin"]
Healthy Vegan Taco Filling
Prep Time: 15 mins | Cook Time: 25 mins | 156 kcal

½ large cauliflower
½ cup raw sunflower seeds
1 tbsp extra-virgin olive oil
1 large yellow onion finely diced
1 jalapeno pepper seeded and finely diced
3 garlic cloves minced
3 tbsp chili powder
1 ½ tsp cumin
1 tsp smoked paprika
1 tsp sea salt or more or less to taste
1 tsp black pepper
¼ tsp cayenne pepper optional
15 oz cooked black beans
½ lime juiced
½ cup cilantro chopped
INSTRUCTION
Crumble the cauliflower in a food processor or with a knife. Once the cauliflower begins to crumble, add the sunflower seeds and pulse until they're broken down.
In a large skillet, heat the oil (see note) on medium heat and add the onion and jalapeno, cook until the onion begins to turn translucent, approximately 5 to 7 minutes.
Add the cauliflower and sunflower mixture and the spices and stir to combine.
Add the beans and stir to combine.
Squeeze the lime juice over the filling.
Cook for approximately 15 minutes, or until the cauliflower is tender, not mushy. Turn off the heat and stir in the cilantro. It will wilt, but shouldn't cook. If you don't like cilantro, leave it out.
Recipe Notes
The Nutrition Facts are and estimate only. If you don't cook with oil you can use a few tbsp of water or vegetable broth to cook the onions and jalapeno. Add more as it evaporates, but don't add so much that it becomes watery. Add a few more tbsp once you add the cauliflower mixture. Store in an air-tight container in the refrigerator for up to a week or in the freezer for up to 3 months. Thaw in the refrigerator and then reheat.
[separator type="thin"] [columns_row width="third"] [column]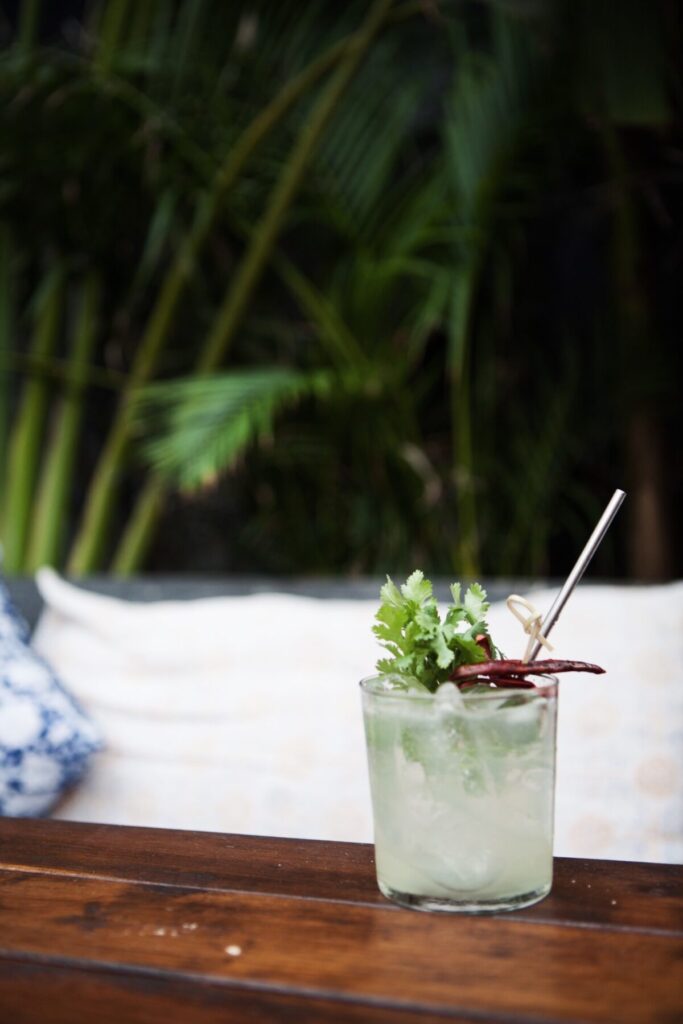 [/column] [column]
[/column] [column]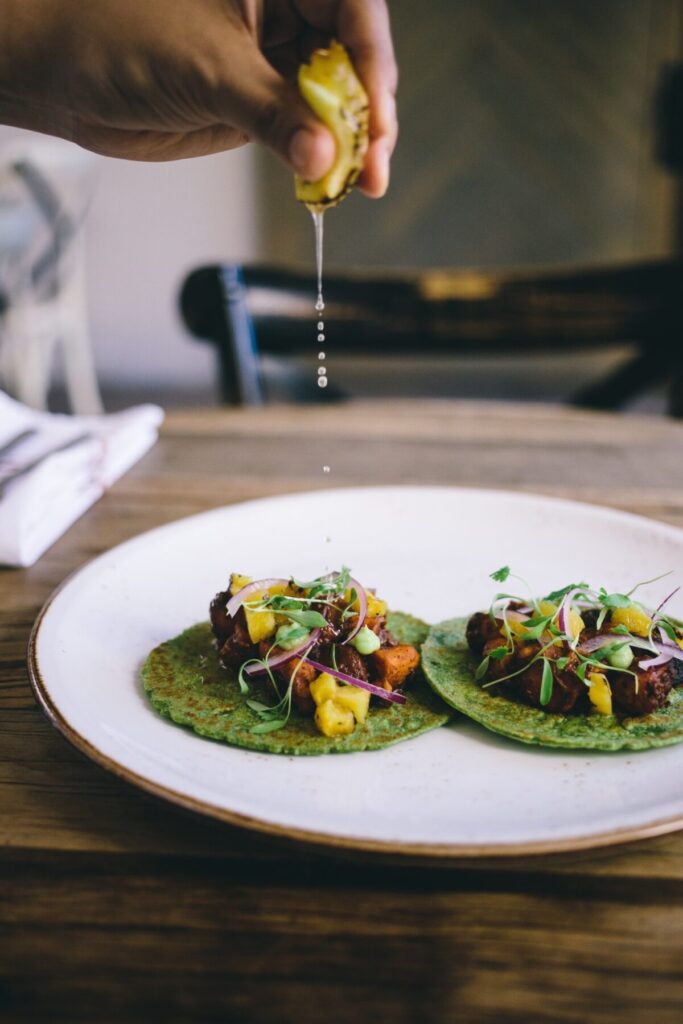 [/column] [/columns_row]
Pulque is believed to be the drink of the Aztec gods, and unlike tequila and mezcal, it packs a much lower alcohol percentage punch because it isn't distilled.
BETTER THAN PULQUE
INGREDIENTS
2 oz Patrón Silver
1 oz Pineberry shrub*
.25 oz Green Chartreuse
.25 oz Lime juice
*PINEBERRY SHRUB
17.5 oz Pineberries
3.5 oz Sugar
17 oz Water
4.25 oz White balsamic
INSTRUCTION
Combine all ingredients, minus vinegar in a blender and puree until smooth.
Add the balsamic and a pinch of salt.
Stir to combine.
MAKING THE COCKTAIL
Combine all ingredients in a shaker with ice and shake vigorously.
Strain in a salt-rimmed double old fashioned glass over new ice.
Garnish with a small pineberry.
[separator type="thin"]
Dave's Mexican Veggie Tacos
Yields 8 servings
INGREDIENTS
TACOS
16 (6 inch) corn tortillas
1 avocados – peeled, pitted, and mashed
½ cup crumbled queso fresco
½ cup salsa
¼ cup finely chopped fresh cilantro
½ teaspoon lime juice, or to taste
INSTRUCTION
Heat oil in a skillet over medium heat; cook and stir carrots until lightly browned, about 5 minutes.
Add potato; cook and stir until lightly browned and mostly tender, 5 to 10 minutes.
Add leeks and onion; cook and stir until onion is lightly browned, 5 to 10 minutes.
Heat each tortilla in the same skillet over medium heat until warmed, about 30 seconds per side.
Spread mashed avocado onto each warmed tortilla and top with sweet potato mixture, queso fresco, salsa, cilantro, and lime juice.
NOTE: Use whatever vegetables go well together. The main ingredients are shredded sweet potato for texture and the cumin. Once Dave discovered its use in Mexican seasoning, he never bought taco seasoning with preservatives again.
[separator type="thin"] [columns_row width="third"] [column]
[/column] [column]
[/column] [column]
[/column] [/columns_row]