LKYM band makes music that penetrates the soul … and they're back to playing gigs
[dropcap letter="T"]he story behind Southern California is as colorful as the people that make it up. From those ready to plant new roots to an undeniable surge and swell of artists of all walks of life drawn here calling it home, Southern California is where dreams come to find its wings.
Being fortunate to have met so many of these extraordinary dreamers—among them musical gem Yonatan Elkayam—having the pleasure of seeing Elkayam perform and work with him on multiple events, his dreams of sharing music with the world found its footing in SoCal.
Southern California has been the home to cultural influx since in onset in 1781 when the Spaniards claimed the land. It's history and relationship to music is rich. In the 1920s and 1930s the African American music community leant itself to the budding music scene happening throughout the country and in LA, Charles Mingus, Gerald Wilson, and Buddy Collette were part of it. In the 1950s Angelenos were introduced to Chicano music, rock, and legends like Richie Valens. Over that decade, music would begin its ascent to sounds so epic, people would never be the same.
Enter the 1960s and the evolution of the Sunset Strip. All of a sudden music became a revolutionary movement and Los Angeles gave birth to bands such as The Doors, The Byrds, The Beach Boys, and so many more. Music venues sprung up showcasing a pool of talent so unique, the industry would forever be changed. In the 1970s an East LA a band called Los Lobos was making a splash, and underground surf punk was rising in the ranks. In the 1980s we had the Beastie Boys and N.W.A., and in the 90s glam rock, grunge, and so much more.
No matter who you were, Southern California became home to music greats. Thankfully, that quest for unique music continues and bands big or small have graced stages from The Hollywood Bowl to small venues like the Piano Bar. Among those brilliant bands is LKYM. Led by front man Elkayam, Léo Costa, Adam Zimmon and David Urquidi their music can't be pegged as one thing or another. Elkayam's voice is gritty and soothing, awakening and soulful and he and his band mates bring original sounds to the SoCal music landscape entirely unique to them. Their sound is haunting with unmistakable influences of the blues and jazz, but the tone is so utterly mesmerizing that the moment the music begins and Yonatan begins to sing … you are undoubtedly hooked.
The pandemic put a halt to live music, no longer able to feed our need of seeing our favorite local bands grace the venues we've come to adore. LKYM is no exception, so we talked with Yonatan Elkayam to see how they've adapted and adjusted.
[separator type="thin"]
How did you fall into music?
Growing up I had two households. My mother Batia and her sister Aleeza are like twins (15 months apart) and totally inseparable so I've always had two mothers. My mother and father's (Batia and Uri) house is the more practical, logical, rational and hard-work oriented home, while my aunt and uncle's (Aleeza and Marty) home is more about creativity and artistic self-expression. My uncle is Marty Callner, the legendary director, and growing up in that home I was exposed to rock and roll and the stars of that era like Stevie Nicks (who would come over for shabbat dinners), David Coverdale (I was on set for the legendary music video with Tawny Kitaen), Dee Snider (remember having Sunday morning breakfast with him) and so many more.
I was exposed to concerts and events that otherwise I would have never have known. I remember at a very young age being in Marty's editing suite that was in the home, watching Michael Jackson "Thriller" for the first time. When the ending came and Michael's eyes turn to yellow cat eyes and I heard that creepy laugh, I ran out of that room more scared and excited than I had ever been in my life. It was these kinds of memories that really had a huge impact on me.
At 13 years old Aleeza and Marty gave me a guitar for my bar mitzvah. I remember the day after the celebration, plugging it into the amp and blasting full distortion, making nothing but noise. My dad walked in the room and shook his head like "my son will never be a musician." I kept at it and at the age of 15 started jamming with friends. I was always asked to play bass and would turn the tone down on my guitar and play the bass line. Until one day I bought a bass guitar. Immediately everyone wanted to jam because there were no other bass players. At the age of 17, I picked up the upright bass by playing in the school orchestra and fell deeply in love with jazz.
Before we get into adapting to pandemic life, tell us how LKYM came to be.
After college I attended a school in Emeryville,CA called Ex'pression Center for New Media. There I learned engineering and production and quickly immersed myself into studio work. Returning to LA I began producing albums, mixing and mastering all while still doing side man work. I was in a few bands that toured the country and the world and became really good at supporting other people. I realized however, through many disappointments that my career was reliant on other people's choices, mental health and egos.
I also had an overwhelming need to speak my truth and share my stories. That's when I decide to take the step forward and with the help of one of my best friends and first producers Miguel Atwood-Ferguson. He helped me be more sure about what I wanted to do, and I began this journey. Pretty soon I put together a band and started performing around town. Eventually I secured a residency in downtown at a bar called The Escondite.
I started putting different bands together every week of musicians that had never played together. I would send them music, we would meet on the band stand for the first time and begin. I would often not call tunes, and challenge them to be spontaneous and be in the moment. There was a lot of improvising and it was exciting, fun and magical, although somewhat loose and undefined. It taught me to let go of expectations, and how to lead in the moment. I built a lot of confidence up over the years from playing with so many incredible musicians and hearing my music reinterpreted weekly. It was a tremendous period of growth.
After one of the performances at the Piano Bar, Léo Costa who was playing drums that night said to me, "this was fun thanks for having me, but you know this could be world class if we put some work into it."
It was an immediate f*ck yes to that. Léo's drumming gave me a foundation to feel free and grounded at the same time. His musical taste and expertise was an immediate asset to the music, and our friendship has been the catalyst for a lot of beautiful creations. The rhythm section was set. We then discussed guitar players, and although we had played with so many incredible ones, Adam Zimmon was our first choice. His sound, approach and nuanced playing has brought so much depth to the music. His ability to create sonic tapestries one moment and then unleash into an incredible guitar solo the next is a source of much inspiration in the band. When he agreed to join we were one step closer.
Finally, we discussed horn players and over the years I had played with trumpet players, trombonists and sax players—each one brought something else to the music. But there was something that the baritone saxophone brought to the music that just works beautifully. It's naturally a distorted sound, and it fit perfectly into the sound we were creating. David Urquidi was our clear choice. We have been friends since college and he was always one of my favorite people to make music with. His musical vocabulary, rhythmic sensibilities and his big luscious tone were everything that was missing. David is more like the lead guitar player in the band, and runs his sax through guitar pedals, using distortion and effects to take that concept further. Pretty soon after the band was fully formed Léo also took on the role of producer, and for the most recent album he became mixer as well.
The sound of the band is a direct reflection of the members, our musical contributions and our personalities. They have helped me focus the sound. I like to say that it used to be a shotgun blast and now it's a laser beam. It is so much more powerful, precise and focused. Since the beginning of my journey as a solo artist and then into forming the band, the act was called Yonatan, until a few years ago when we were ready to release music and found out that there was already a Yonatan on Spotify and we couldn't use the name. That was tough, and we had to pull back for a while and regroup. After many failed ideas Léo suggested LKYM which is my last name Elkayam without the vowels. All four of us agreed and we became LKYM.
Where does every band member originate from?
I was born and raised in LA, the first person in my family born in the US. David Urquidi is also an Angeleno, born and raised in East LA. We met at USC. Adam originates from New York, and after studying music in Miami made his way to LA to continue his musical career. Léo was born and raised in Rio De Janeiro, Brazil and after studying at Berklee in Boston moved to LA to continue his musical career. They have all played with some of the biggest artists in the business. David was in the band War for some years, Adam still plays with Ziggy Marley and Léo still plays with Sergio Mendes.
If you had to summarize what your bandmates mean to you, what would you say?
These guys are my brothers, some of my greatest teachers, and exactly the humans I want to be in a band with. They make me better, help me grow and offer me guidance in every decision. I'm a wealthy man with Adam, David and Léo in my corner. The gratitude is unending.
What kind of adjustments did you have to make to adapt to "pandemic life"?
Like everyone else, the pandemic has changed everything for us. We played a show at the end of January 2020 and haven't been together since. I've done two performances over zoom this year, which was really special, but different. I've seen Léo twice during the year (he performed with me during the second zoom concert), and the other guys only over Zoom. We started working on an album before the pandemic, and have had to continue working remotely. It's made everything move much slower, but we are still producing.
We released a cover of Willie Dixon's "Spoonful" in May of 2020 and a cover of Leonard Cohen's "You Want It Darker" in September of 2020. We've got another release that just came out February 12th of an original song called "Boat Keeps Rockin". I'm so proud of the music that we are releasing, especially during this worldwide pandemic. Nothing can stop us from sharing with our fans, not even Covid.
We immediately recognized that no matter how tough this time was for us that there were people out there hurting much more than us. We've used every release to raise money for the LA Food Bank, where every dollar translates into four meals. We raised over $1600 for the LA Food Bank in 2020, and plan to continue this in every upcoming release this year.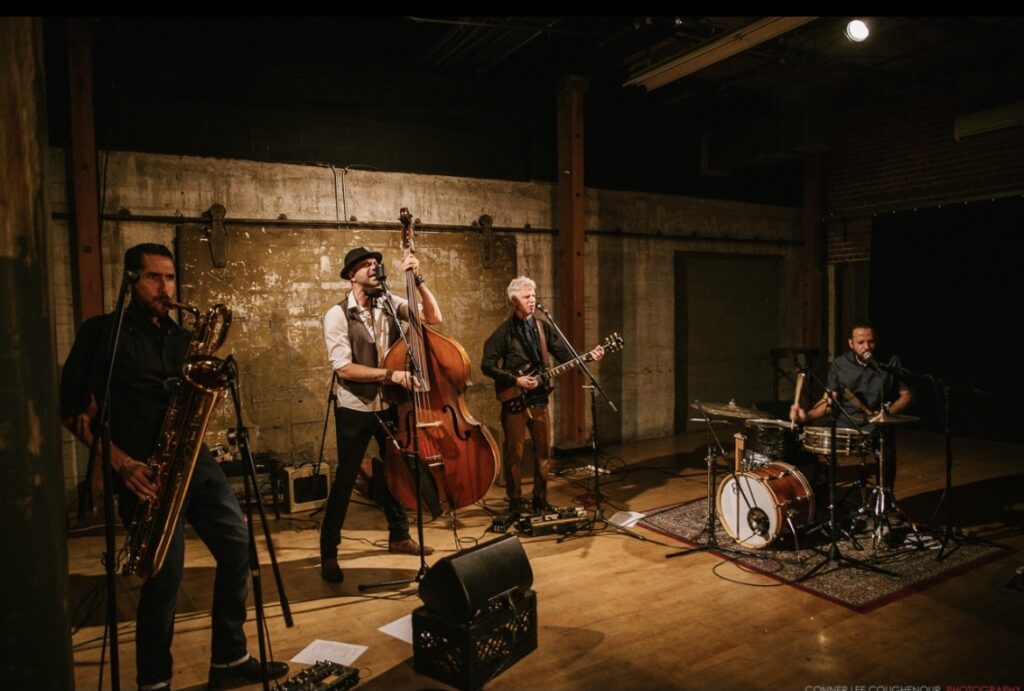 What is the goal for music over the next year?
Our musical goal for this year is to continue releasing new music. Before the pandemic hit we were working on an album. During the pandemic we released three songs and used the proceeds to support the LA Food Bank. We are committed to using our music for good and to help those less fortunate. Another song is coming soon, it's our favorite one yet.
What performance has left an indelible mark on your souls?
Honestly, all our performances leave a mark with me. I learn so much performing with these gentlemen, and grow each time. We put our hearts into each performance, and give it our all. The music really demands that. With this music if you aren't pouring your heart into it things don't sound right. It's so much about feeling and emotion.
I will say that what leaves more of a mark on us are the venues and how we are treated.
Some venues treat musicians like they are "the help" and expendable; never a good feeling. Other venues treat artists with a tremendous amount of respect, that just make us play better, because we feel comfortable in the energy of our environment. Seems basic, but you'd be surprised about how few places do that. Some of our most notable performances have been in venues like The Blue Whale (which closed due to the pandemic) and Corazon in Topanga Canyon. These venues have made us feel at home, loved and respected.
Name one song you wish you had written that another kickass musician wrote (another established musician from any era/time)?
Anything Leonard Cohen! Especially the song 'You Want It Darker', a song that Leonard Cohen wrote at the end of his life. It's a letter to God and his shedding of every layer in preparation with meeting his maker. Dark and beautiful, poetic and poignant, this song really sums up humanity beautifully. Our version of it is something that I am very proud of, and has definitely helped build up our fan base this year.
How has music helped you in your own lives?
I'm sure that I speak for my bandmates in saying that music has saved our lives. Growing up as a young man full of angst and frustration, music gives you an outlet to channel your feelings, express yourself and find your voice. It's given us community, and a deep appreciation for storytelling … and beauty. I might be going out on a limb here, but I don't think it's a coincidence that they cut the music and art programs from schools 20 years ago, and we just experienced an insurrection against the capital and our democracy. Definitely not a 1-to-1, but by losing art and music in our education system we have robbed this generation of the ability to channel their feelings into something creative and beautiful.
Music is a gift, but it's much more than that—its healing. Societies that don't value it are doomed to suffer in countless ways. Music is our only real contribution to the rest of the universe.
Now that the world is opening back up, tell us about the upcoming September show and how you're preparing for it.
With the world opening back up we are excited to perform for a live audience. We will be playing more strategic shows, at venues that truly respect and support artists and their music. On September 18th 2021, we will play our first show at Corazon Performing Arts Center in Topanga Canyon at 8:30pm. We love that venue because the owners feel like allies.
All of our shows there have felt more like celebrations of life and music. This show will be that in spades. We welcome everyone that wants to shake off the cobwebs of last year by dancing and experiencing a real musical performance.
Now that the music scene in Los Angeles is opening back up, be sure to check out the LKYM Band site for shows. We also want to congratulate Yonatan on his recent engagement to the love of his life, Jaime Danika.
This story originally appeared in part in Sensi Magazine Southern California , and is shared here in an effort to support journalism and collaboration, and further the messaging of seeking out local gems.
[infobox maintitle="New Show Announced!" subtitle="September 18th at Corazon in Topanga Canyon" bg="teal" color="black" opacity="off" space="30″ link="no link"]