JW Marriott Anaheim Resort
This OC Resort sets itself apart in the city of Anaheim
When people hear of Anaheim, there are two things that come to mind: sports (The Angels and The Anaheim Ducks) and Disneyland. In truth, that's what most of us Los Angeles natives recognize about Anaheim—but there is so much more to this diverse city. It is a city that is plentiful and rich in Latinx and Chicanx culture, eclectic cuisine, unique art, and hotels perfectly situated next to the world's most beloved amusement parks, Disneyland and California Adventure. With the average resident age of 37 years old, Anaheim is a city where there is always something to do, somewhere to eat, and somewhere to stay. It is also a city with a very high tourism populace thanks to it's many offerings that are ideal for families.
While down in the area for a college graduation, I was fortunate to work with JW Marriott Anaheim Resort where I would spend two nights and two days to get a first-hand look at the renovations and new culinary program. JW Marriott has done a complete overhaul in terms of their properties, amenities, design, and ambiance, as well as many properties offering truly unique dining experiences. The Anaheim location embodies all of those design elements with a side of tranquility. From their impeccable service staff to the nicest employees, a weekend at this hotel proved to be a surprisingly restful and fun experience. From the muses strategically placed throughout the property by way of art installations and florals (orchids that emit a sense of warmth and peace), to the color schematics chosen that represent the color wheel of serenity and calm, this Anaheim Resort invites you in to press pause (even after an exhausting day at the nearby amusement parks).
Arriving to find crisp clean minimalism was a refreshing departure from the corporate feel so many large hotel chains tend to cater to. The JW Marriott in Anaheim breaks that stereotype and is its own distinct stop in the midst of a thriving city.
(Photos by J.W. Marriott Anaheim Resort)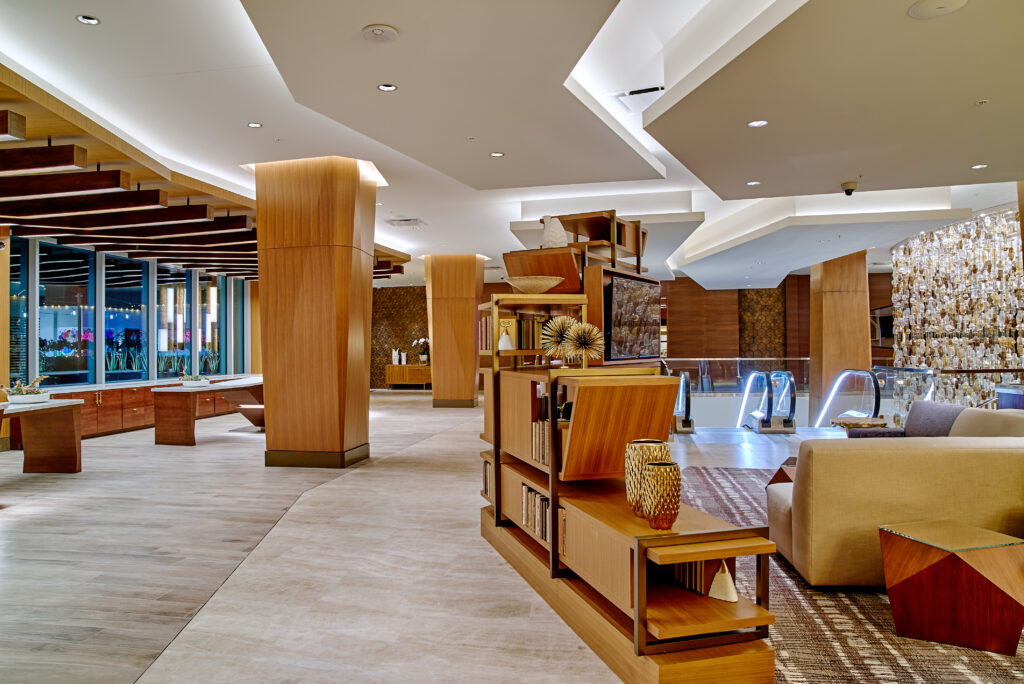 1. The Design
When you arrive and pull up to the valet, you are greeted with a large metal sculpture that elicits feelings of peace and unity. She (the sculpture) is goddess-like with the feminine vibes that give off vibrations of calm, nurturing and compassion. The entryway is grand with sprawling floor-to-ceiling light and decorative art fixtures in earth tones that give off that spa-like feel. Taking the escalator to check-in at the main lobby, the airy openness is so unique, pleasantly lacking that predictable element of most large chain hotels. JW Marriott Anaheim may be a piece of a very expansive portfolio of hotels, but this location has a look all its own. From the sculpture that greets you upon entry to the serenity garden with edible produce and florals, this is a terrific hotel that is positioned perfectly to places of interest.
2. The Serenity + Tranquility Gardens
Every morning and evening, the most pertinent way to wake up and round out a long day is to go downstairs to the incredible Serenity and Tranquility gardens. With a repeated theme of the butterfly, your eye is drawn to the juxtaposition of modernism, naturalism, and ecological intrigue. There is a guide post to direct you towards each artistic, environmental, and agricultural feature, and spending some time here is a meditative experience. The art is genuinely calming and engaging, which holds true to the Japanese term it's modeled after: Shimé.
As an aside, while it might sound odd, families that stay here should take full advantage of this garden area. Not only can kids run around and explore, they can learn about how edible florals are grown, and how herbs and vegetables (that they will love later in life) are sourced.
The resort has this to say about this incredibly unique experience, "Shimé , an ancient Japanese term used to describe to process of binding together, is an augmented reality experience found exclusively at the JW Marriott, Anaheim Resort through interaction with the hotel's Secret Butterfly Garden. To help keep their digital roots in Anaheim, guests are encouraged to engage with augmented reality features using their smart device to download the Shimé  application uniquely designed for the hotel. Once connected, guests are walked through a three-piece narrative using their camera to interact with socially created art sculptures that binds hotels guests together, both literally and figuratively.
To begin the Shimé experience, guests visit an infinitely looping geometric sculpture in the garden, known as Karma Seed. Twelve is a magic number throughout this experience, and to start, guests are asked to choose their favorite of twelve karmic seeds, featuring different colors, visual effects, and thematic names. Once planted, an augmented reality Blue Morpho butterfly appears and guides the guest to the second sculpture, Vitarka Sapling. Here, a sculpture of Buddha's righthand pinches a lotus blossom and forms a real world seat in the garden; but digitally, twelve different mantras appear in AR floating above petals, which have repositioned themselves around Buddha's hand. Choosing their favorite mantra, guests are invited to record themselves repeating it, which determines the shape of their tree now growing in the digital garden."
(Photos to follow by Dawn Garcia 2023)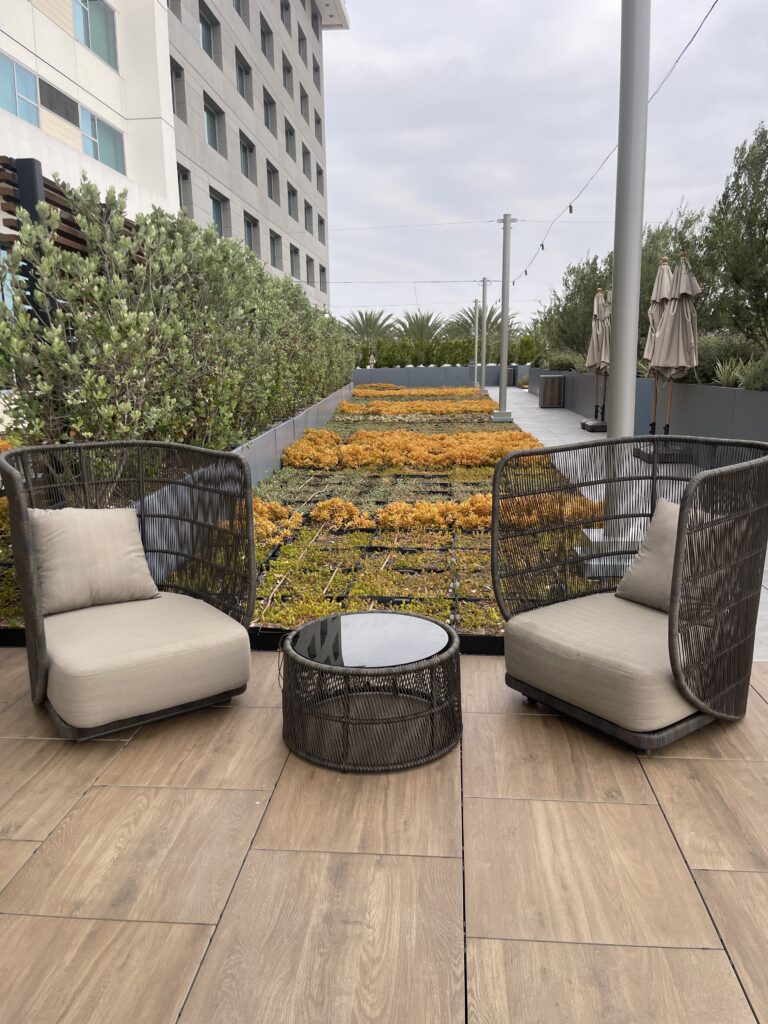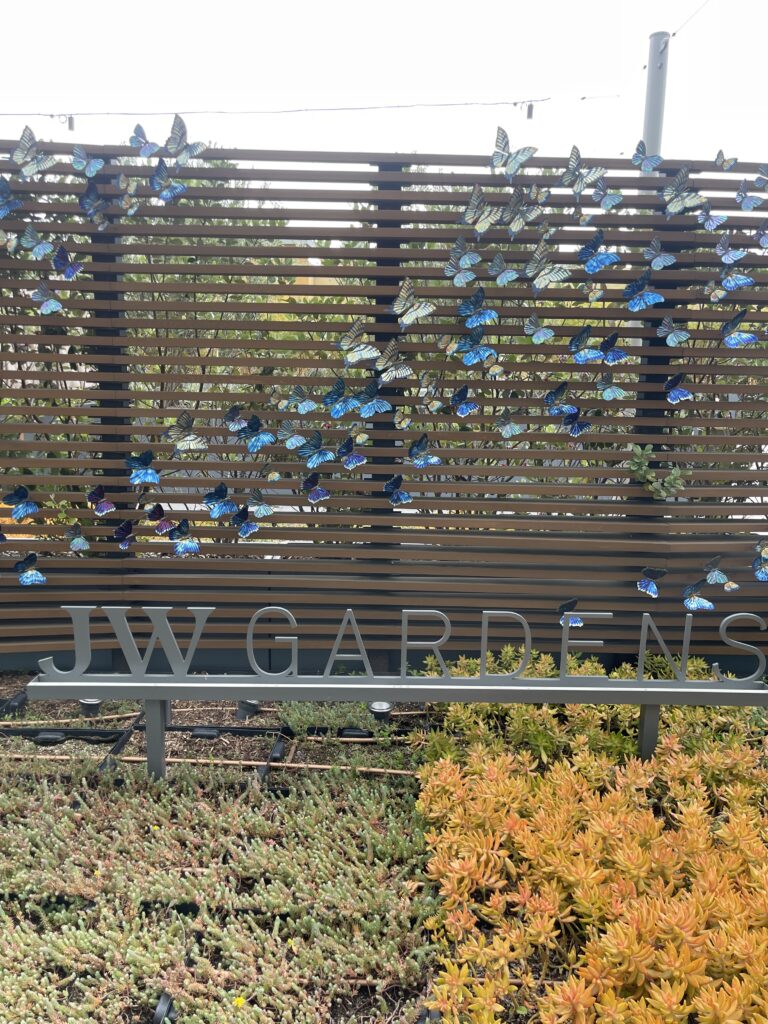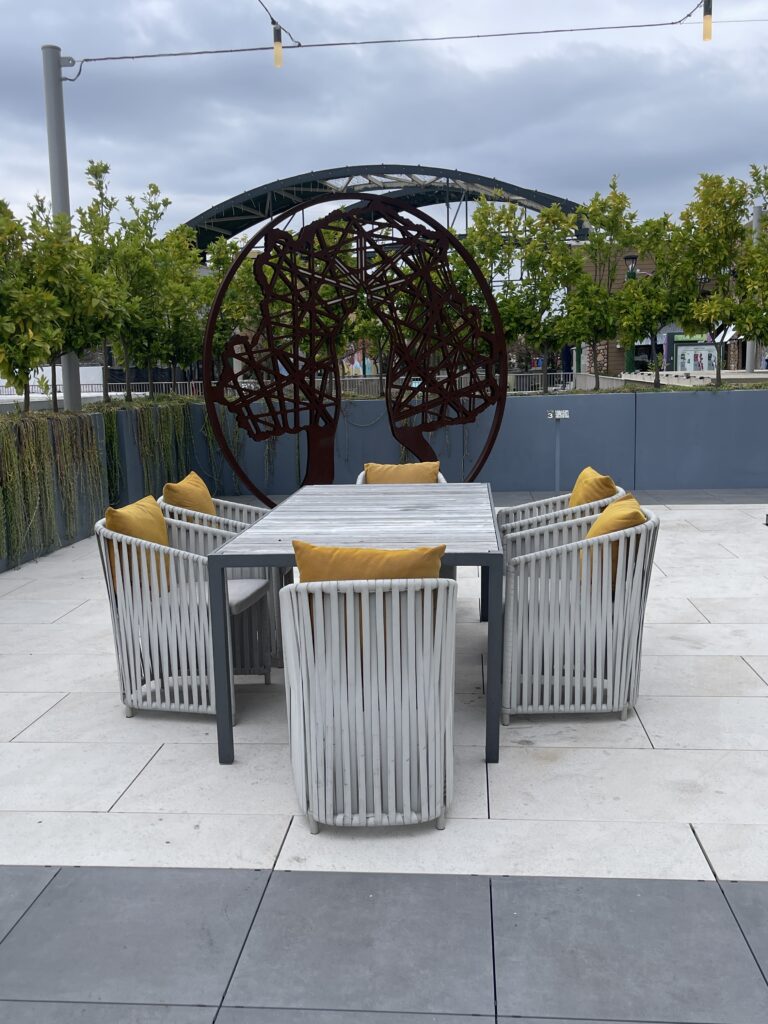 Guests of all ages are encouraged to engage in this artistic exercise, return to their tree, and repeat their mantra. The hope is their individual mantras will result in calming wisdom to endure the everyday … and be inspired. The resort hopes this experience will build on their relationship with guests. Should guests find whomever has the tallest digital tree in the forest? They will have discovered the meaning of Shimé – "entwined" in an artful relationship with the hotel.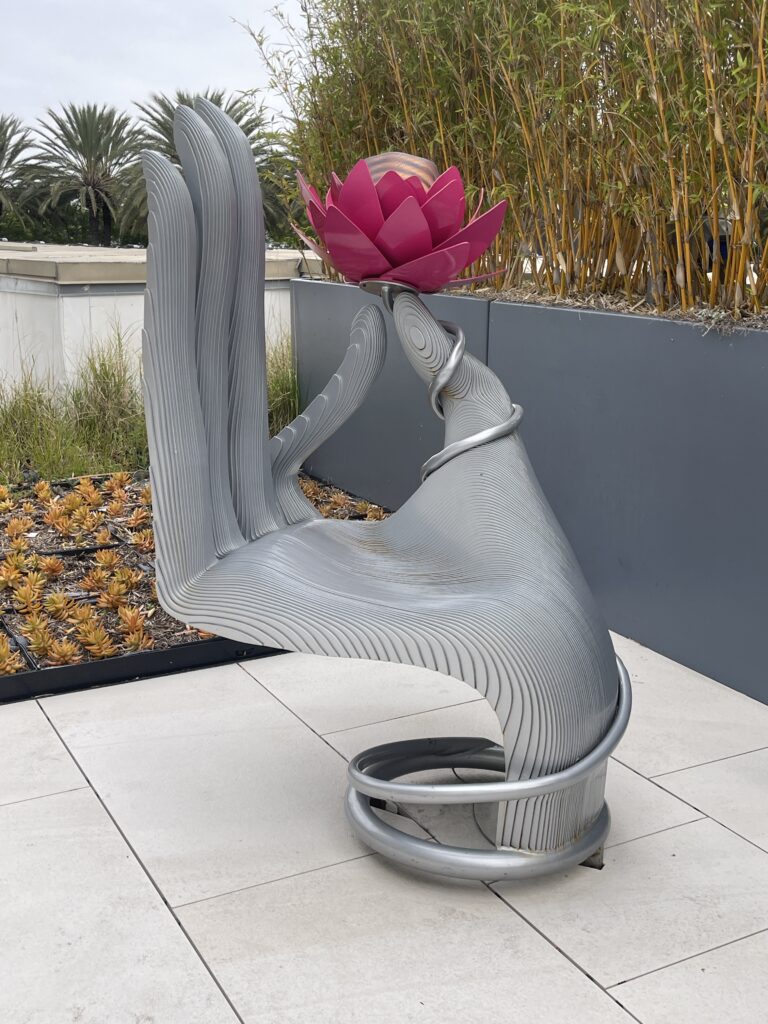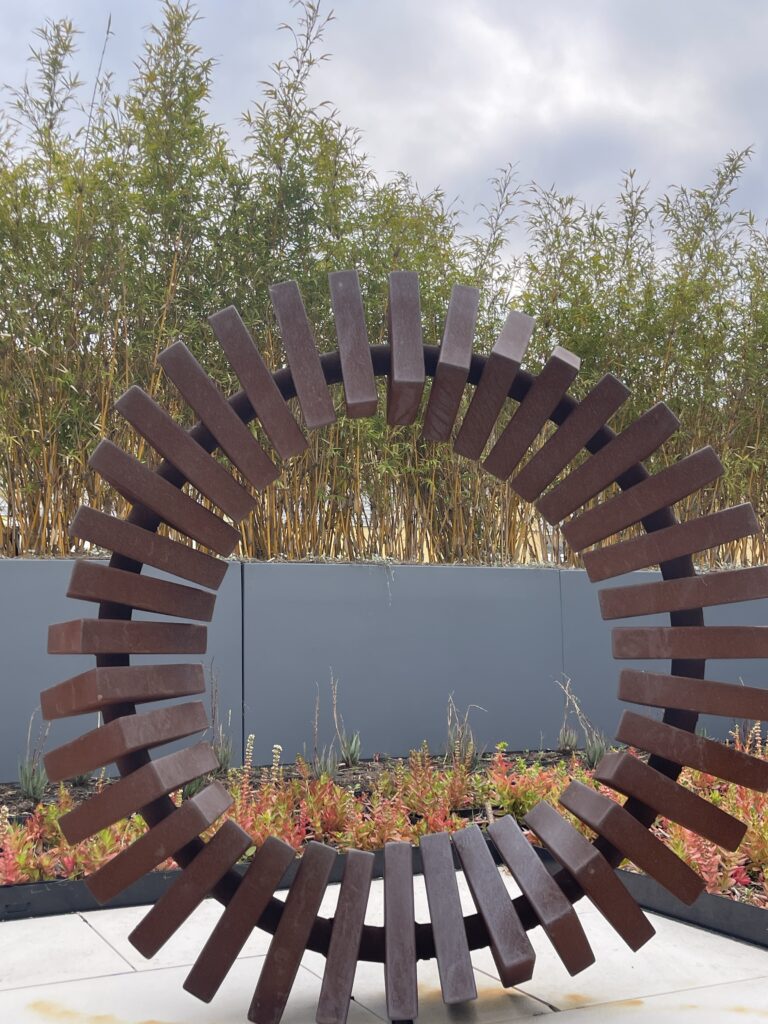 DESIGNER: HEAVY | Head of Studio: Chris Nunes | Contact: chris@heavy.io
Originally founded in 2011 at the crossroads of emerging technologies and academia, the Heavy Projects team has gained an international reputation by pioneering artistic mixed reality projects. Since then, Heavy has been pushing the boundaries of what augmented reality can deliver and we've developed unique insights into crafting experiences that are creative, thoughtful, and scalable.
---

3. Access to Downtown Disney
This is a definite perk. You are steps away from the Anaheim GardenWalk and Downtown Disney which opens up a plethora of dining options, entertainment, bars, and shopping. Southern California is known for its perfect weather and optimal dining options, and once you pass through the gardens, you can enter the walkway that leads to a plethora of garden exhibitions, art, and land in Downtown Disney where you can grab a drink, eat a variety of California and global cuisine, and enjoy live music. In the GardenWalk you can enjoy #TacoTuesday at the famed Tito's Tacos, the new Beer Garden, and take in an abundance of creativity on display from 30 local artists.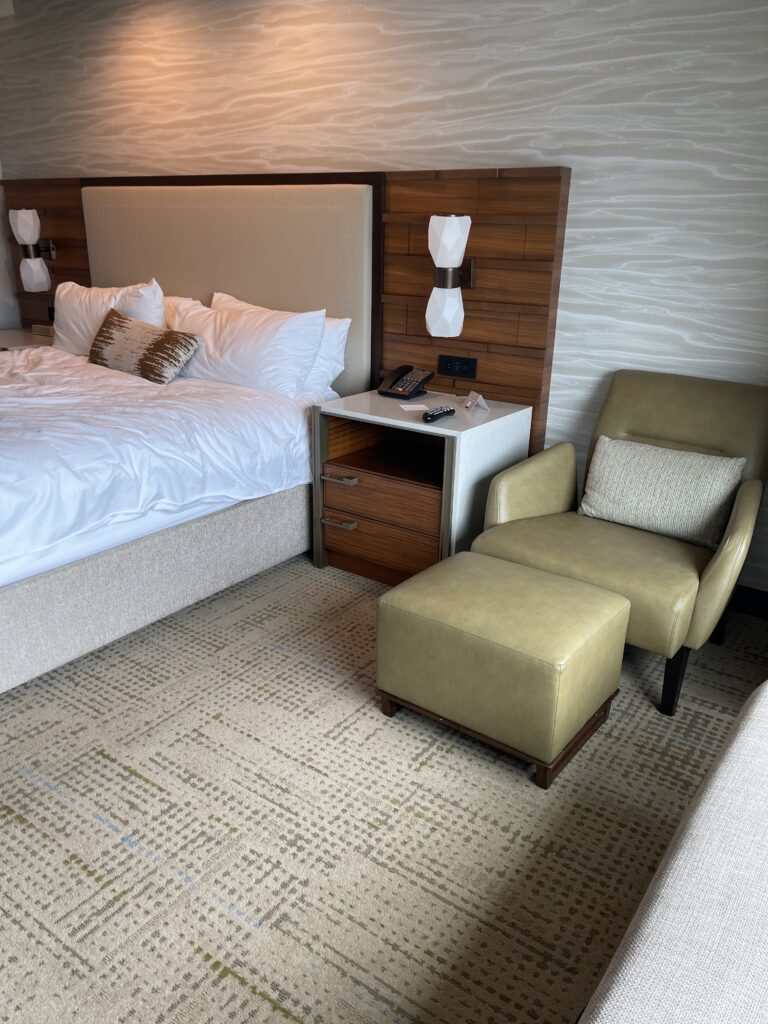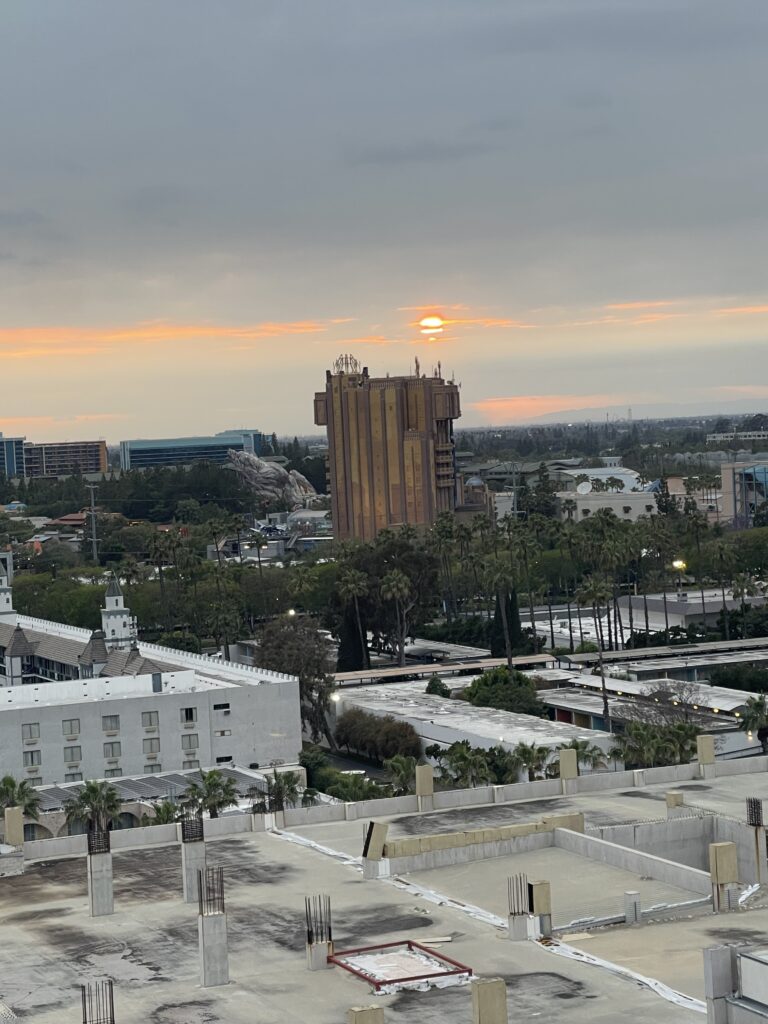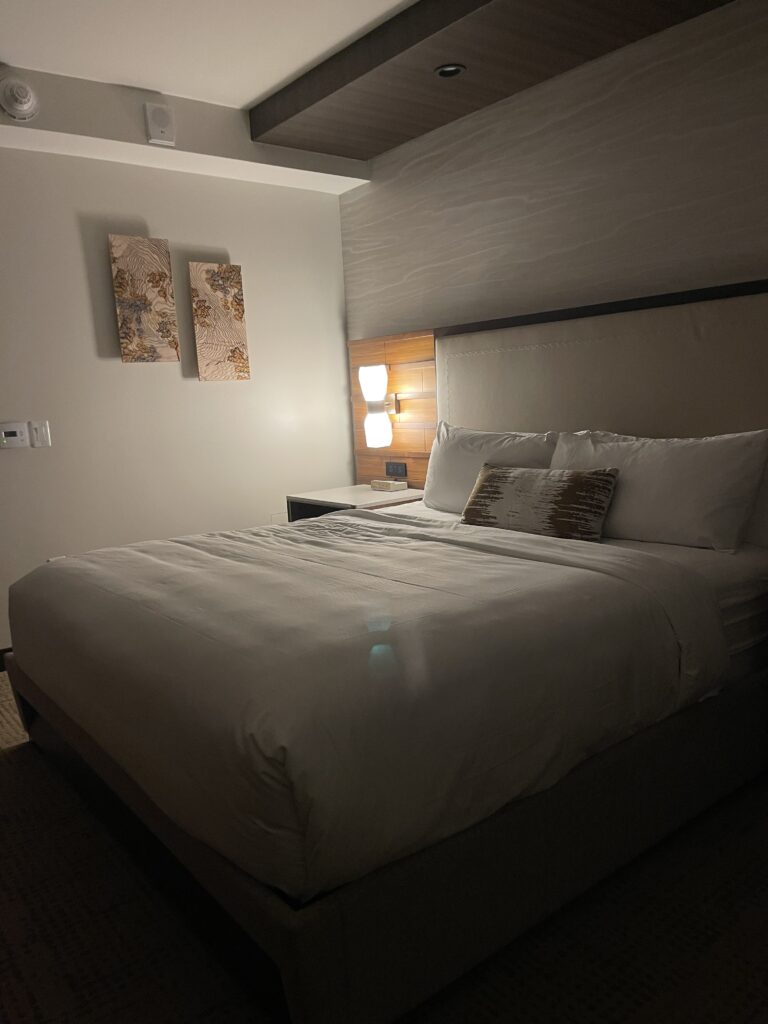 4. The Rooms
Staying in a Deluxe Room with the theme park view room adjacent to the gardens was how it began. The room has all the amenities one could ask for including a bath tub, refrigerator, desk, television, and a plush king size bed. The décor is modern and sleek with artful shades to block out the sunshine on days when you really want to sleep in. This room is one of their 466 lavish guest rooms, including 19 suites with quiet floors. Described as, "Boasting barn door entrances to closets and bathrooms, and large walk-in showers with stand-alone bathtubs and vanities, each space emanates luxury and ease. Sleek linens, down comforters, and soundproof windows help to ensure uninterrupted sleep. Guest rooms offer ample amenities with the comforts of home, and plenty of work area with a variety of charging points and large desks with cozy chairs to stay focused and relaxed," and it's absolutely true.
When I entered my room, a Japanese modular style shelve was waiting for me with three delicious in-house creations: marinated olives with saffron threads; heirloom rainbow tomato burrata with fennel, mozzarella, balsamic vinegar, olive oil with a pinch of salt and pepper; and the finish was the pineapple (served hamachi style) sprinkled with Mexican tajin and Thai basil, bathing in a citrus bath. This was heavenly and I fear I missed the dining experience I would have experienced had I also made a reservation at Tocca Ferro Italian Chophouse for dinner. The explosive flavors in this welcome display was superb.
Of course, no stay is complete without room service — especially for breakfast or late night cravings — and this hotel did not disappoint. In the vain of conscious eating, breakfast consisted of fresh oatmeal, mixed berries, coffee, grapefruit juice (okay, bacon too!), and for one late night indulgence, I ordered the wedge salad, a glass of wine, and french fries and they were delicious!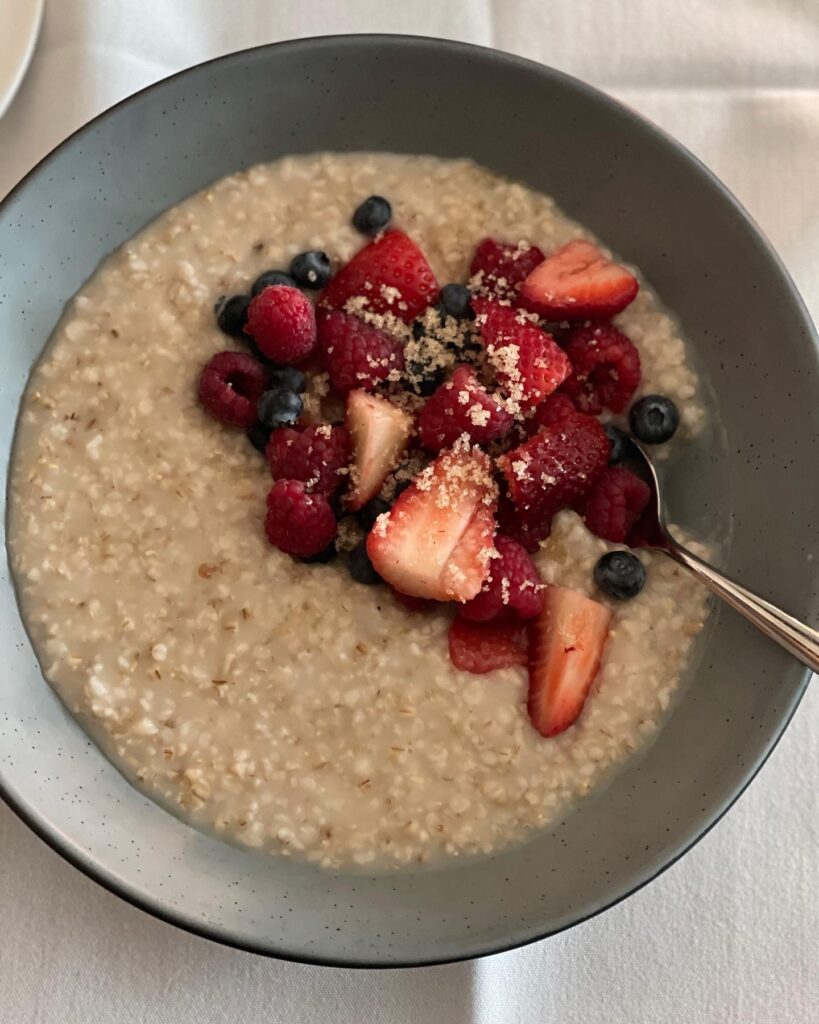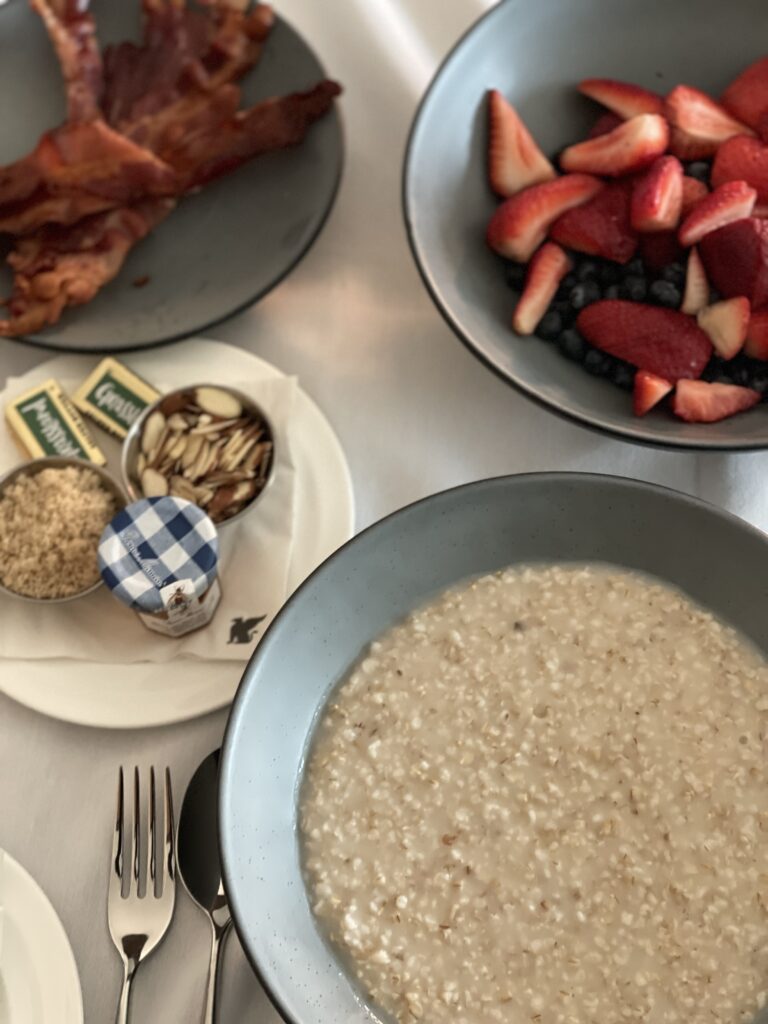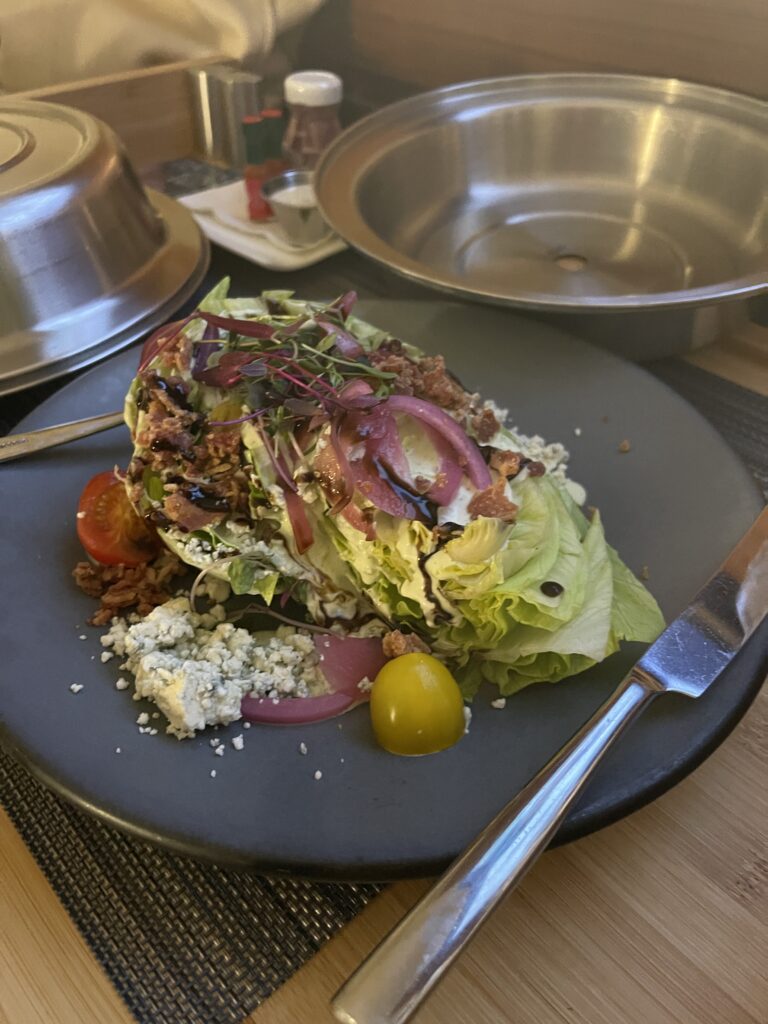 5. The Rooftop Bar | Parkestry
Poised for a drink, it was time to dine on the rooftop at Parkestry. Beckoned by the sound of a live musician (whose name was John, just John), I grabbed a table that allowed for the best view of the bar, the sunset, California Adventure, and is ideal for people watching. The wine selection is minimal, providing quality choices, but it was the bourbon cocktails that called my name. Starting with the Grand Manhattan (Bulleit Rye Bourbon, Grand Marnier, Sweet Vermouth, Orange Juice), the drink is very much like an apéritif with a smooth flow to the finish. For dinner, I order the Caprése Salad (Heirloom Tomato, Mozzarella, Basil Pesto) and Tuna Poke (Yuzu Ponzu, Seaweed Salad, Cucumber, Green Onion, Sriracha, Taro Chips). On this particular night, the summer California weather was a bit temperamental, however the view was stunning as the sun set all around the rooftop. The live music, the ambiance, the service … all were an experience to remember. After an hour of being fully engaged, I order dessert and one more bourbon cocktail. I opt for the Midnight Old Fashioned this time (Buffalo Trace Bourbon, Averna Amaro, Cocoa Bitters) and the Triple Chocolate Mousse (Raspberry Coulis, Seasonal Berries, Crushed Smoked Almond) that was beyond decadent and worth every calorie.