Celebrating Tennessee's Dickel Bourbon with Singer Songwriter, Nikki Lane
Last month, Los Angeles got a beverage and musical treat by way of Nikki Lane and Dickel Bourbon's, NicoleAustin. Select guests were invited to partake of original bourbon cocktails and the musical swagger of Lane, whose musical stylings are reminiscent of Carol King and Johnny Cash with a touch of Tom Petty, a little Sheryl Crow, and her own fearless and unapologetic spirit. In an intimate performance, Lane grabbed her guitar and played some of her most notable songs, including those now available on her third album, Highway Queen.
Lane has been traveling the Pacific Northwest, taking in the sights, fishing when she can, and exploring the lush green of Oregon to the concrete jungle of LA. "Highway Queen is a journey through heartbreak that takes exquisite turns."
Love is the most unavoidable thing in the world," Lane says.
"The person you pick could be half set-up to destroy your life with their own habits – I've certainly experienced that before and taken way too long to get out of that mistake."
[separator type="thin"] [columns_row width="third"] [column]
[/column] [column]
[/column] [column]
[/column] [/columns_row] [separator type="thin"]
Teaming up with Lane to celebrate the spirit of Nashville, Dickel Bourbon is the latest in the George Dickel collection of spirits that consist primarily of Tennessee whisky's.
Dickel Bourbon is a handcrafted, small-batch bourbon that's been aged 8 years and blended to perfection. "The liquid boasts sweet initial notes of vanilla leading into bright hints of cherry and orange before being balanced by almond toffee and oak," says GM and distiller, Nicole Austin. "At 90 proof, bourbon enthusiasts can best enjoy Dickel Bourbon neat or on the rocks, in addition to mixing it into some of their favorite cocktails, like an Old Fashioned."
Dickel shared some of their favorite Dickel Bourbon recipes with us. We encourage you to get your hand on a bottle and get to making these cocktails below.
(Photo Credit: Phil Faraone/Getty Images for George Dickel)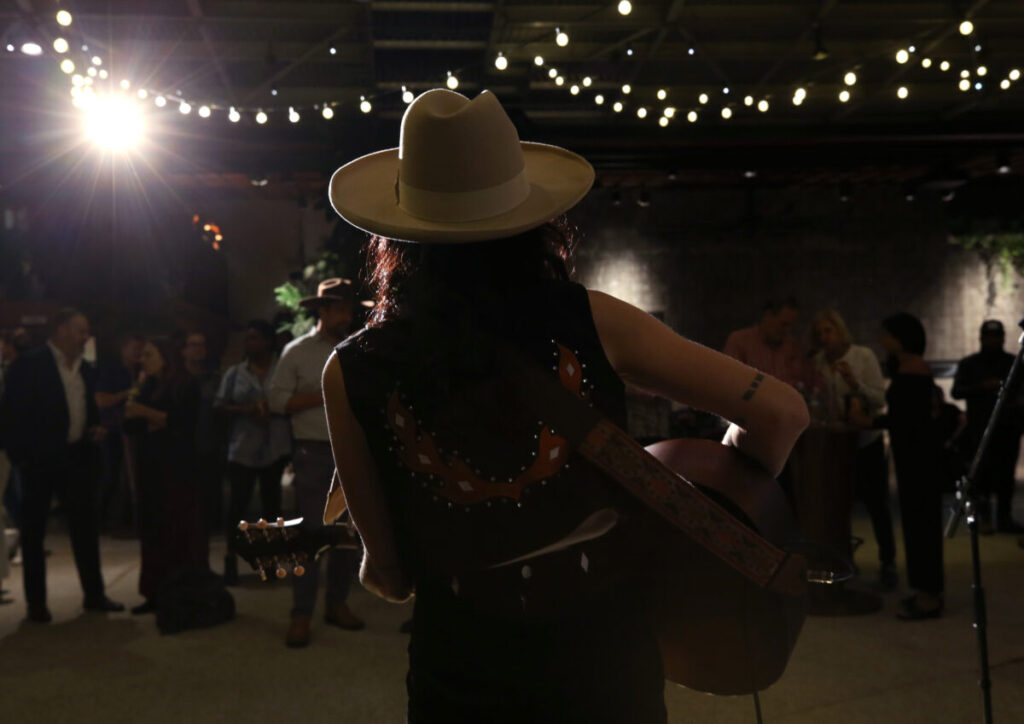 [columns_row width="half"] [column]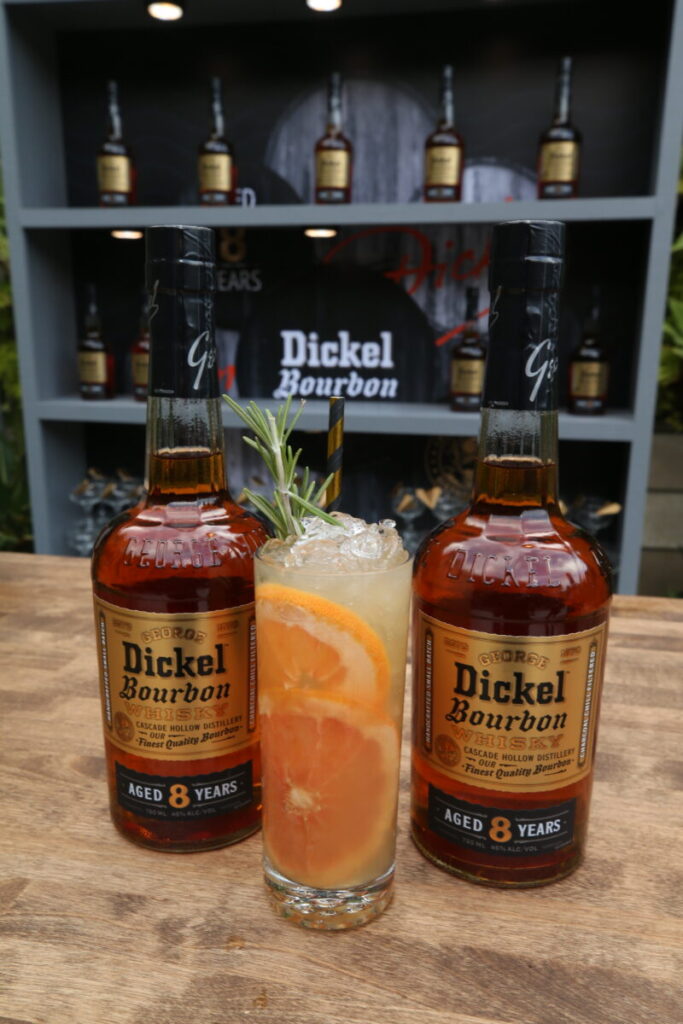 [/column][column]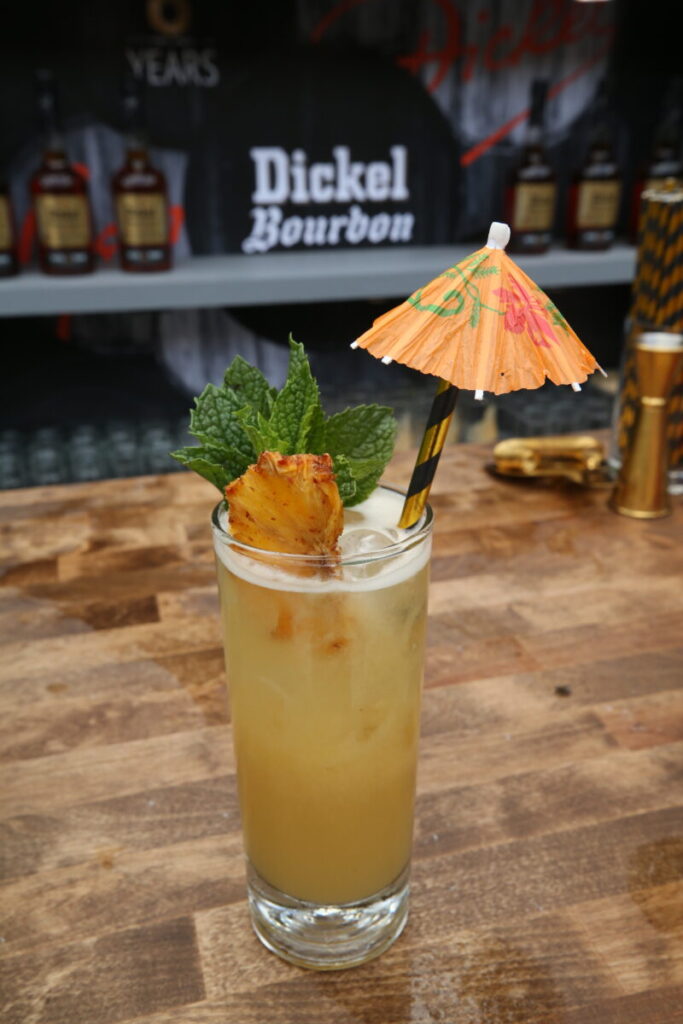 [/column] [/columns_row] [separator type="thin"]
SALTED CARAMEL OLD FASHIONED
Ingredients
2 oz Bourbon
.25 oz Salted caramel syrup
2 dashes vanilla bitters
2 dashes angostura bitters
Directions: Add all ingredients to a double rocks glass, stir and enjoy!
[separator type="thin"]
FIRST CRUSH
Ingredients
1.5 oz. Bourbon Whisky
2 slices of Grapefruit
.5 oz. Simple Syrup (1:1)
.5 Lime Juice
3 oz. Ginger Beer
Directions: Juice 1 slice of grapefruit into a highball glass. Add other ingredients and crushed ice. Garnish with a grapefruit slice.
[separator type="thin"]
[separator type="thin"]
PAPER PLANE
Ingredients
¾ oz Bourbon
¾ oz Campari
¾ oz amaro Nonino
¾ oz Fresh Lemon Juice
Directions: Combine all ingredients into tin, shake with ice till chilled, strain into coup or martini glass. Garnish with a lemon twist.
I Can Tiki Too
Ingredients
2oz Bourbon
1oz Lime
1oz Pineapple
1/4 Toasted Rice Orgeat
1/4 Honey
1/4 Simple
4 Dashes Spiced Ango
Directions: Add all ingredients to a glass and stir. Garnish with grilled pineapple
[separator type="thin"]
Gold Rush
Ingredients
1.5 oz Bourbon
.75 oz Acid-corrected orange
.75 oz Rich wildflower honey syrup
Vessel: Rocks
Directions: Add ingredients to cocktail shaker. Shake & strain over a large ice cube. Garnish with a dried orange slice.
[separator type="thin"]
ABOUT DICKEL BOURBON
George A. Dickel was an established Nashville merchant when he entered the whisky business. Dickel grew his reputation for selling the smoothest, most mellow spirits in the region.  Thus, Geo. A. Dickel & Co. was born and when the Cascade Hollow Distillery opened in 1878 in neighboring Coffee County, George Dickel bought a large share. George Dickel followed in the Scottish tradition of spelling whisky without an "e."
George Dickel preferred whisky made in the winter months more than summer months because he felt it made the whisky taste smoother, so the company began advertising their Geo. A. Dickel's Cascade Tennessee Whisky as "Mellow as Moonlight." Their whisky is chilled before undergoing the charcoal-mellow filtration known as the Lincoln County Process. This extra step smooths out the flavor and they're still the only Tennessee distillery to do it.
ABOUT NIKKI LANE
Nikki Lane's stunning third album Highway Queen, out February 17th, 2017, sees the young Nashville singer emerge as one of country and rock's most gifted songwriters. Co-produced by Lane and fellow singer-songwriter, Jonathan Tyler, this emotional tour-de-force was recorded at Matt Pence's Echo Lab studio in Denton, Texas as well as at Club Roar with Collin Dupuis in Nashville, Tennessee. Blending potent lyrics, unbridled blues guitars and vintage Sixties country-pop swagger, Lane's new music will resonate as easily with Lana Del Rey and Jenny Lewis fans as those of Neil Young and Tom Petty.
Highway Queen is a journey through heartbreak that takes exquisite turns. The record begins with a whiskey-soaked homage to Lane's hometown ("700,000 Rednecks") and ends on the profoundly raw "Forever Lasts Forever," where Lane mourns a failed marriage – the "lighter shade of skin" left behind from her wedding ring. On "Forever" and the confessional "Muddy Waters," Lane's lyrics align her with perceptive songwriters like Nick Lowe and Cass McCombs. Elsewhere, "Companion" is pure Everly Brothers' dreaminess ("I would spend a lifetime/ Playing catch you if I can"). She goes on a Vegas bender on the rollicking "Jackpot," fights last-call blues ("Foolish Heart") and tosses off brazen one-liners at a backroom piano ("Big Mouth").
Highway Queen is poised to be Lane's mainstream breakthrough. "Am I excited to spend years of my life in a van, away from family and friends? No, but I'm excited to share my songs, so they'll reach people and help them get through whatever they're going through. To me, that's worth it."