Holiday Recipe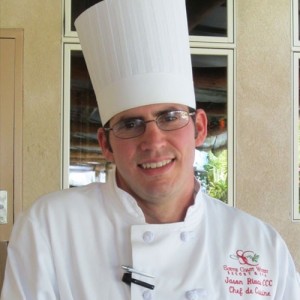 Chef de Cuisine, Jason Rivas
M&M Cookies
3/4 c brown sugar
1/2 c white sugar
6 oz butter
1 egg
1 cup flour
1 tsp baking power
1 tsp salt
1 cup M&Ms
Add sugars to the mixing bowl. add butter and mix with a paddle attachment. mix till creamy and smooth.
Mix in egg
Slowly add dry ingredients, just till fully incorporated.
Add and mix on high for one minute.
Heat waffle iron on high.
Flatten a piece of cookie dough about 1/2 " thick and about 3″ in diameter. place on hot iron and cook for about 5 minutes.
After opening the lid to the iron, let cool for about 3 mins prior to carefully removing cookie
"So you're eating cookies, does that mean you cannot enjoy a glass of wine the same time? I have always said and will continue to say – there is a wine for every time and every occasion. Wine is not intended to only be served with elegant food. Wine is a universal drink and pairs wonderfully with comfort food. For me, and many others, nothing is more comforting then a good cookie. Although traditionally, a Sparkling wine would be a starting course or be a celebratory drink, I ask, "why can't a cookie be something to celebrate or start the meal?" No, I would not actually celebrate with a cookie, but in all truth a sparking wine is a good pairing for a cookie for several reasons. Sparkling wines have the natural ability to go savory or sweet. A cookie has a bit of a salty taste that will really bring out the subtle flavors of the wine. As always, keep in mind not all sparkling wines are the same. To pair a good cookie with a good sparkling, look for a nicely balanced bottle of bubbly wine. Good food calls for good wine – ALWAYS, ALWAYS, ALWAYS.
A sparkling Pinot Grigio is a prime example of a fine wine that will pair beautifully with a good cookie. "Cookie and Wine? Really?!," some still might be asking themselves. Yes! Absolutely and ENJOY." – Chef Rivas
Pumpkin-Pecan Bread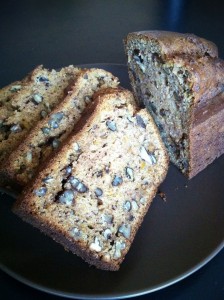 2 c flour3/4 c sugar
3/4 tsp Baking Soda
1 tsp salt
1 1/2 c roasted pumpkin
1/4 c yogurt
1/3 c canola oil
1/4 tsp vanilla extract
2 c chopped pecans
1 tsp cinnamon
1/4 tsp ground ginger
Mix all the flour, salt, baking soda, sugar (the dry ingredients) together
Make a well in the bowl, add eggs, oil, yogurt and roasted pumpkin (the wet ingredients) to the well.
Stir in the wet ingredients, using a spoon or firm spatula, making small circles followed with bigger and bigger circles.
Fold in pecans and spices.
Pour into a greased loaf pan and bake at 350 for about 45 mins or till done.
Let cool for about 10-15 mins, then remove from loaf pan. allow to finish cooling to room, slice and ENJOY!
About Chef:
Chef Jason Rivas is the Chef de Cuisine at South Coast Winery & Spa. Chef graduated from the Culinary Institute in 1999 and has over 10 years of experience in the industry, working primarily in resorts in both Southern California and Florida.  Chef Jason Rivas is currently the Chef de Cuisine for South Coast Winery, where he has worked for the past two years.
In his own words: I'm classically French trained, but southwestern man at heart! I was born and raised in California of Hispanic descent (without the Hispanic looks though). My passion for food started as a kid; when I used to eat snails in my family garden. While attending the Scottsdale Culinary Institute, I learned a new way to apply the creative, artistic side of who I am. After graduation, I spent an additional four years in Phoenix learning the finer points of Southwestern Cuisine. Then traveled from coast to coast learning all about food, before settling in the Southern California wine country. Upon settling, I discovered the true value and impact of food and wine – rather wine and food! At the the winery, I have also worked hard to earn my ACF Chef de Cuisine certification, advance my culinary knowledge and have worked tireless to create a culinary adventure at the winery. Recently, I have been asked to be to write a custom food column for LatinoTimes.com and my own blog site. And currently, I am still honing my craft and enjoying a fine wine at South Coast Winery.