Holiday Recipe
with Bachelor Kitchen's very own Christopher Hill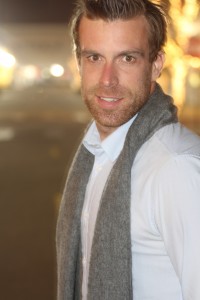 Orange Zest Tuna with Herb Citrus Orzo
by Christopher Hill
Serves Dinner for 4-6
Ingredients:
1 Pound Orzo Pasta
2 Pounds Sushi Grade Tuna
4 tbsp. Extra Virgin Olive Oil
1 Zucchini
½ bunch Chives, thinly sliced
3 tbsp Fresh Tarragon, chopped
3 tbsp Fresh Thyme Leaves, chopped
5 cloves Garlic, finely minced
1 Orange, juiced and zested
1 Lime, juiced and zested
½ cup Chicken Stock
1 tsp each of Salt and Pepper or to Taste
1 ½ cups Grated Parmesan
½ cup Greek Yogurt
Preparation for Orzo Pasta:
1.  Combine orange and lime zest, chives, tarragon, thyme, garlic, salt and pepper
2. Muddle or chop components to fully incorporate and rub with fish – set aside, and separate into 2 equal piles
3.  Meanwhile, Bring 1 gallon of salted water up to a rolling boil and add Orzo Pasta – Cook for 6-8 minutes or until almost Al Dente and drain  **You want to time adding pasta with the next step
4.   Slice zucchini in half lengthwise, and then each half in lengthwise again (you should have 4 "sticks")
5.  Slice into ¼ inch thick pieces and begin to saute over medium heat in 2tbsp. of Olive Oil
6.  Cook Zucchini for 5-6 minutes and add chives, the first  pile of herb mixture and cook for 1-2 minutes
7.  Add chicken stock, orange juice and reduce liquid in half
8.  After draining Orzo, add to pan and incorporate, finishing cooking process
Remove from heat and add Greek Yogurt and Parmesan Cheese
9.  Serve immediately or chill and eat as a cold pasta salad
Preparation for Fish:
Rub fish with second pile of herb mixture, coating thoroughly and evenly
Heat 2 tbsp Olive oil in medium sauce pan on medium-high heat
Add already crusted fish to pan and cook on each side for 2 minutes for Medium Rare
Serve over Pasta
Here's what you need to know about Chris. As someone who has gotten to know him, all I can say is he's one incredible guy. As a writer, I've come to appreciate the way he sees the world of – well, everything! Follow him on Facebook, buy his Cookbook (1st one just got printed!), and watch his show, Bachelor Kitchen.
"All I need is the kitchen, with a glass of wine, and some music in the background and life is good. Add family to that sentence, and life is great. I hope that you enjoy what I have for you in the following pages, and know that I, am in many ways, just like many of you, you corporate America types, I just hated my job more than you. Also, remember that cooking is fun, especially when you are doing it with someone you care about, or for people you care about. It is more fun with a glass of wine, a cold beer, or some good Kentucky Whiskey. Every now and then pour some of that wine into your pasta sauce, or your beer into the soup or some whiskey into your dessert – it will only add flavor, and when you get frustrated from nearly burning the house down, laugh it off, or take a shot, both have been successful rebound tools for me, and at the end of the day, it really is never that serious." – Chef Christopher Hill
Chef Chris Hill is the regularly featured guest chef on The Hampton Roads Show in Virginia and travels the Southeast doing the exact same thing. Additionally, he travels, speaking to various colleges and universities regarding culinary media, branding, social media, and the realm of food writing.
For more information regarding Chef Chris Hill or for booking information, please contact:
Del Scheitler with Dasterisk Development Grp
Del@thelocalshottest.com