Oscar Symposiums 2013 | Academy Awards Nominees
"A filmmakers' journey is never dull or without challenge and that, well – that – restores my faith in the world of art. Film is that beautiful world that invites us in to one another's lives, imaginations, and complex humanity. The cinema, the arts – they feed us all, individually, collectively, and purposefully. They strip down boundaries and beg us to have an open mind." – Dawn Garcia. Screenwriter, Lover of Film.
Every year for the past 7 years I have gone to the Academy Foundation of Motion Pictures, Arts, and Sciences for the Nominee Symposiums. It began with me attending every Foreign Film Symposium but three years ago, I attended the Documentary Shorts and Documentary Features. Every film has left an indelible mark on me. They have inspired me beyond words – to write, imagine, dream, believe in possibility, and foster an even deeper love for film.
This year the themes ranged but the underlying message seemed to be universal: HOPE.
Nominated Documentary Shorts
The Documentary Series this year was Moderated by Michael Moore. Academy Award winning Documentary Filmmaker, author, and social/political activist, Michael opened with compelling statements about film and the art of story when making documetaries. It was inspiring. Known most notably for his films Bowling for Columbine, Sicko, Fahrenheit 9/11, and Capitalism: A Love Story, his take on American politics, social issues, and the responsibility to tell his truth is why his work is so controversial and compelling. He is a remarkable man with a lot to say. It was fitting to have him on stage talking to the panel of Documentary Filmmakers.

FILM SYNOPSIS
Her circumstances do not define her. Her dreams do. Imagine a young teenager homeless on the streets of Los Angeles in search of something beautiful. Now meet Inocente whose journey to become an artist has taken her to a very escluded world
"Fifteen-year-old Inocente, a homeless, undocumented immigrant, clings to her determination to become an artist in the face of a bleak future. You will be inspired to create and never let anything stand in your way." – DG
ACADEMY AWARDS HISTORY
This is the second Academy Award nomination for Sean Fine.  He was previously nominated for:
WAR/DANCE (2007) | Nominee, Documentary (Feature)
FILM SYNOPSIS
Over the course of a decade, five senior citizens living in the Kings Point retirement community face loss, illness and an increasing sense of isolation in their lives.
"No one ever wants to face the morbidity of death but this film explores the satire, truth, and reality of age." – DG
These are the first Academy Award nominations for Sari Gilman and Jedd Wider.
FILM SYNOPSIS
On the third Monday of every month, sisters Cynthia and Rachel open their Long Island beauty salon to women undergoing chemotherapy.
"This film goes deep into the lives of those affected by cancer. The internal rotting, the fear, the changes, the blistering sting of deterioration, and the effects on those who love them. This one will change you." – DG
This is the second Academy Award nomination for Cynthia Wade.  She was previously nominated for:
FREEHELD (2007) | Winner, Documentary (Short Subject)
This is the first Academy Award nomination for Robin Honan.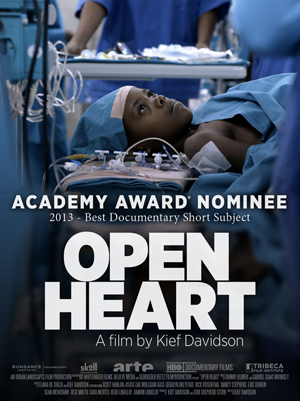 FILM SYNOPSIS
Eight Rwandan children with serious heart disease travel to the Salam Centre in Sudan for treatment.
"As a result of this film, the Rwandan government announced that they would be investing in  hospital to help anyone impacted by heart trauma, defect, or in need of medical attention. This is a film that polarizes the healthcare problems and continual neglect ever present in Africa." – DG
These are the first Academy Award nominations for Kief Davidson and Cori Shepherd Stern.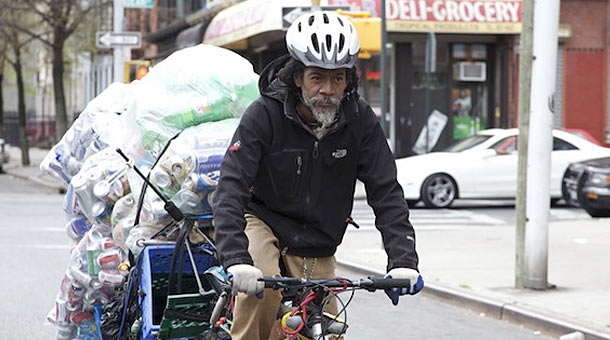 FILM SYNOPSIS
In New York City, individuals known as canners survive by collecting cans and bottles from trash and recycling bins and redeeming them for money.
"Looking inside a high end chocolate store, Walter sees a box of chocolate, 'That's 450 cans', he says. Perspective." – DG
This is the second Academy Award nomination for Jon Alpert.  He was previously nominated for:
CHINA'S UNNATURAL DISASTER: THE TEARS OF SICHUAN PROVINCE (2009)
Nominee, Documentary (Short Subject)
Nominated Documentary Features

When his fourth son, Gibreel, is born, Emad, a Palestinian villager, gets his first camera. In his village, Bil'in, a separation barrier is being built and the villagers start to resist this decision. For more than five years, Emad films the struggle, which is lead by two of his best friends, alongside filming how Gibreel grows. Very soon it affects his family and his own life. Daily arrests and night raids scare his family; his friends, brothers and him as well are either shot or arrested. One Camera after another is shot at or smashed, each camera tells a part of his story. 
"This story of a father of four who is a farmer simply wanting to tell the story of what is happening in his town – a civil war – it's horrific what is done in front of the lens. Wanting a better life for his children, Emad spends four years filming, 5 broken cameras later, the story is being told." – DG
This is the 1st Academy Award Nomination for Emad Burnat and Guy Davidi .
THE GATEKEEPERS | Israel Dror Moreh, Philippa Kowarsky & Estelle Fialon
A documentary featuring interviews with all surviving former heads of Shin Bet, the Israeli security agency whose activities and membership are closely held state secrets.
"A story that reveals the inner workings of the Israeli security forces and the plea for things to change. This is a political tale that should encourage leaders around the world to take notice and fight to change this entire situation." – DG
This is the First Academy Award Nomination for Dror Moreh.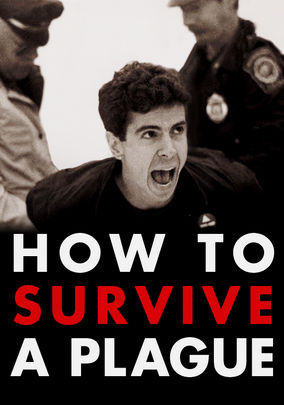 "How To Survive A Plague" is the untold story of the efforts that turned AIDS into a mostly manageable condition and the improbable group of young men and women who, with no scientific training, infiltrated government agencies and the pharmaceutical industry, and helped identify promising new compounds, moving them through trials and into drugstores in record time. These drugs saved their lives and ended the darkest days of the epidemic, while virtually emptying AIDS wards in American hospitals.
These activists efforts created a paradigm for patient empowerment and health care activism that has since been replicated in the fight against many other diseases from breast cancer to heart disease. And as AIDS spread to Africa, India, and Asia, these activists helped open local groups, exporting AIDS activism to press for better, and more accessible, treatment.
Their story stands as a powerful inspiration to future generations, a road map, and a call to arms. Science has yet to find a cure, and without rejuvenated vigilance, transmission is on the rise most remarkably, among young gay men who are ignorant of how AIDS activists beat back a plague, and along the way changed the world.
"As someone who has spent my adult life fighting for equality, this film couldn't come at a more appropriate time as Prop 8 and Marriage Equality continues to be an issue in our government. Until equality is just, the fight has to continue. This was a movement that changed the face of the gay community and began to start a very important dialogue." – DG
This is the 1st Academy Award Nomination for David France.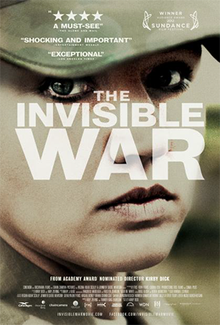 An investigative and powerfully emotional documentary about the epidemic of rape of soldiers within the US military, the institutions that perpetuate and cover up its existence, and its profound personal and social consequences. 
"Women in the military fight with the same heart and intention as the men, however the abuse and sexual assaults they endure are unbearable. If men were to be the ones being raped and threatened in this manner, I guarantee you this would be a non-issue because it wouldn't be allowed to exist." – DG
This is the 2nd Oscar Nomination for Kirby Dick.
TWIST OF FAITH | 2004
In the early 1970s, Sixto Rodriguez was a Detroit folksinger who had a short-lived recording career with only two well received but non-selling albums. Unknown to Rodriguez, his musical story continued in South Africa where he became a pop music icon and inspiration for generations. Long rumored there to be dead by suicide, a few fans in the 1990s decided to seek out the truth of their hero's fate. What follows is a bizarrely heartening story in which they found far more in their quest than they ever hoped, while a Detroit construction laborer discovered that his lost artistic dreams came true after all.
"A beautiful tale of a man that impacted an audience who wasn't even aware existed. This is a remarkable story of an artist, a musician, whose music really has changed the world." – DG
This is the 1st Oscar Nomination for Malik Bendjelloul
Foreign Language Film
The Foreign Film Symposium was moderated by Producer, Mark Johnson. Mark's work is always recognizable. Academy Award winning Producer, Mark is known for Chronicles of Narnia, The Notebook, Donnie Brasco, Rainman, Breaking Bad, and The Natural just to name a few. He is one of the most humble, hard working, creative men you will meet in the business, never compromising the integrity of the projects he works on nor losing sight of the love he has for film and television. I have met Mark at least 6 times and every time he is wonderfully polite and inspiring. This year was no exception. Mark has this uncanny way of allowing filmmakers the freedom to say whatever they need to and can ask some of the most endearing questions to fellow filmmakers. The highlight was Michael Haneke who is, by far, one of the most candid filmmakers who doesn't apologize for anything unconventional but rather embraces it with such cool you find yourself fascinated.
2013 ACADEMY AWARD WINNER | AMOUR– Austria – Michael Haneke
FILM SYNOPSIS
In the final months of her life, a retired music teacher and her husband of sixty years struggle with the debilitating effects of two strokes on both her health and her quality of life.  As Georges cares for the increasingly unhappy Anne, the pair finds the nature of their life together irrevocably changed.
"Michael Haneke created a masterful love story that doesn't hold back in reality but also finds the poetic beauty in what true love means. He made this film without apology and it is complicated, extraordinary, full of love and question, and unmistakably perfect." – DG
This is the fourth Academy Award nomination for Austria.  Previous nominations were:
REVANCHE (2008) | Nominee, Foreign Language Film
THE COUNTERFEITERS (2007) | Winner, Foreign Language Film
"38" (1986) | Nominee, Foreign Language Film
FILM SYNOPSIS
When anthropologist Thor Heyerdahl develops a theory that native Polynesians came originally from the Americas rather than Asia, his ideas are dismissed by the scientific community.  Determined to prove that the ocean journey would be possible, Heyerdahl builds a balsawood raft, the Kon-Tiki, and sets sail with five companions from Peru to Polynesia.
"This film is made by a filmmaker I have loved for a very long time. He made one of my all time favorite foreign films, Elling and it was absolutely beautiful. Kon-Tiki is stunning visually and the story just oozes with contagious optimism and determination." – DG
This is the fifth Academy Award nomination for Norway.  Previous nominations were:
ELLING (2001) | Nominee, Foreign Language Film
THE OTHER SIDE OF SUNDAY (1996) | Nominee, Foreign Language Film
PATHFINDER (1987) | Nominee, Foreign Language Film
NINE LIVES (1957) | Nominee, Foreign Language Film
OFFICIAL SITE |  FACEBOOK

FILM SYNOPSIS
Rene Saavedra is a Chilean advertising executive who is recruited by the opponents of the Pinochet regime to create an ad persuading people to vote against a referendum supporting the dictator.  While many on the left fear that the government will rig the voting, Saavedra hopes that his marketing skills can sell the Chilean people on the possibility of a better world.
"Starring a truly stellar cast including Gael Garcia Bernal, this film tells the story behind the oppression of Chile in the 1980's and the liberation that finally ensued after a brilliant and unconventional ad campaign." – DG
This is the first Academy Award nomination for Chile.
FILM SYNOPSIS
The relationship between the queen of Denmark and the German doctor who is her husband's trusted advisor leads to sweeping changes in the country.  Married as a teenager to the mentally unstable King Christian VII, Queen Caroline Mathilde finds herself drawn to the compassionate and intelligent Johann Friedrick Struensee, and the two are soon in love and working together to reform Danish society.
"The most brilliant aspect of this film is the cast. The king played by Mikkel Boe Følsgaard was still in drama school at the time this film was made. In fact after the film was so widely successfully received by the critics and public alike, Mikkel still returned to acting school to complete a film course.  The lead actress, Alicia Vikander, has also had limited film experience and yet both performances were that of a seasoned professional. Truly a joy to watch." – DG
This is the ninth Academy Award nomination for Denmark.  Previous nominations were:
IN A BETTER WORLD (2010) | Winner, Foreign Language Film
AFTER THE WEDDING (2006) | Nominee, Foreign Language Film
WALTZING REGITZE (1989) | Nominee, Foreign Language Film
PELLE THE CONQUEROR (1988) | Winner, Foreign Language Film
BABETTE'S FEAST (1987) | Winner, Foreign Language Film
HARRY AND THE BUTLER (1961) | Nominee, Foreign Language Film
PAW (1959) | Nominee, Foreign Language Film
QIVITOQ (1956) | Nominee, Foreign Language Film

WAR WITCH | Canada – Kim Nguyen
FILM SYNOPSIS
In a war-torn central African nation, a twelve-year-old girl is abducted from her village and forced to fight as a child soldier.  Over the course of two years, Komona endures a brutal and horrific existence that will damage her irrevocably.
"A film that begs you to not only open your eyes but dig so deep into your soul, you can't help but want to change the situation. Exploring the polarized stories of child soldiers in the Sudan, this story is told as the main characters talks to her unborn child that was a product of rape by one of the soldiers. It is heart wrenching but tragically important." – DG
This is the seventh Academy Award nomination for Canada.  Previous nominations were:
MONSIEUR LAZHAR (2011) | Nominee, Foreign Language Film
INCENDIES (2010) |  Nominee, Foreign Language Film
WATER (2006) | Nominee, Foreign Language Film
THE BARBARIAN INVASIONS (2003) | Winner, Foreign Language Film
JESUS OF MONTREAL (1989) | Nominee, Foreign Language Film
THE DECLINE OF THE AMERICAN EMPIRE (1986) | Nominee, Foreign Language Film