"GLEE"'s ALEX NEWELL TO JOIN CAST OF S.T.A.G.E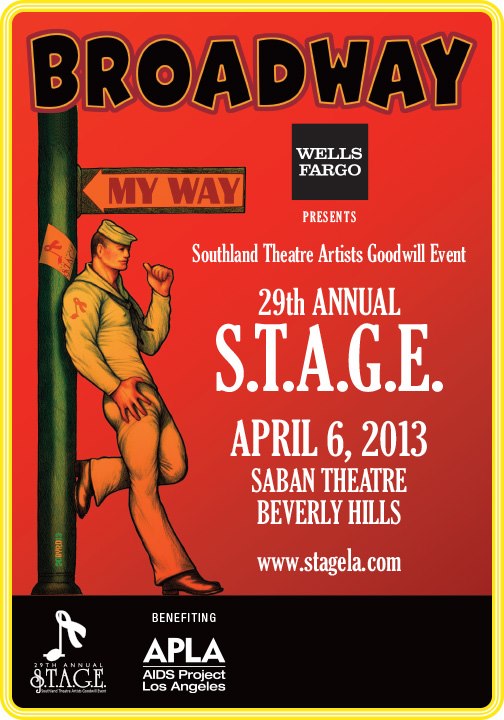 One-Night-Only Performance Will Benefit AIDS Project Los Angeles
ALEX NEWELL, one of the newest cast members of FOX's groundbreaking mega-hit series, "Glee," has been added to the cast of the 29th Annual Southland Theatre Artists Goodwill Event (S.T.A.G.E.) "Broadway, My Way," being held on Saturday, April 6th at the historic Saban Theatre in Beverly Hills. David Galligan directs for the 29th time with John McDaniel returning as Musical Director.
In the last two years, ALEX NEWELL has gone from regular high school student to appearing on one of the hottest series on television. Newell can currently be seen in the recurring role of "Wade ʻUnique' Adams" on FOX's "Glee," and has quickly become a fan favorite.  Introduced at the end of season three last year, ʻUniqueʻ is back this season and better than ever. Newell shines as shy, timid, outcast Wade, and his alter-ego Unique, whose bold and daring personality and talent on stage demands attention in every scene she is in. The drastic change from each character has shown not only Newell's powerhouse vocals, but also his versatility as an actor.
Newell will be making his first S.T.A.G.E. appearance in this year's show. Wells Fargo is the Presenting Sponsor with Grand Sponsors HBO and Swerdlove & Aster.
Other Broadway stars scheduled to appear in the concert that raises critical funds for AIDS Project Los Angeles (APLA) include JIM BAILEY, PATRICK CASSIDY, MARY JO CATLETT, CAROLE COOK, KAREN CULLIVER, TYNE DALY, JOELY FISHER, DAVIS GAINES, KATHY GARRICK, MARSHA KRAMER, FLORENCE HENDERSON, SHIRLEY JONES, JANE LANIER, VICKI LEWIS, KIMBERLEY LOCKE, TOM LOWE, PAT MARSHALL, PATRICIA MORISON, The MuMos, JANIS PAIGE, MADISON CLAIRE PARKS, VALARIE PETTIFORD, ANDREW RANNELLS, BRUCE VILANCH, LISA VROMAN, JOANNE WORLEY, and TERRI WHITE.
For tickets and detailed information, visit: www.stagela.com or www.apla.org/stage
Media Contact
Scott Barton
310 339 8226
About APLA: AIDS Project Los Angeles (APLA), one of the largest non-profit AIDS service organizations in the United States, provides bilingual direct services, prevention education and leadership on HIV/AIDS-related policy and legislation. With nearly 30 years of service, APLA is a community-based, volunteer-supported organization with local, national, and global reach. For more information, visit apla.org.
One-Night-Only Performance Will Benefit AIDS Project Los Angeles