Crafting An Ethically Sourced Mixology Program
Integrating an ideology with a practical environmental impact.
[dropcap letter="G"]
racias Madre
was among the first truly elevated plant-based dining concepts to take Los Angeles by storm when it opened in 2009. While there were other plant-focused concepts, it was Chef Chandra Gilbert's commitment to sustainability that set them apart. That
and
the 5,000-square-foot Gracias Madre restaurant space designed by Wendy Haworth and architect Victor Corona launched by Matthew and Terces Englehart, founders of the
Café Gratitude
chain of vegan raw restaurants.
The bright white backgrounds with elements of nature and fresh greens, unique Mexican-and-Moorish-inspired tiles, a clean layout with an open-air dining concept and one of the best outdoor dining patios in the city. With the success over the years, Gracias Madre has remained consistent with their devotion to sustainably sourced, beautiful Mexican-inspired vegan cuisine and the continual evolution of its craft cocktail bar program.
When the pandemic hit last year, Gracias Madre was among all the LA restaurants affected by shutdowns, and while we all prayed it would survive, to our delight it has. And not only has it survived the hardships of a global pandemic, it has become a beacon of healthy living—and we need that more than ever.
Having re-opened on March 1st, the kitchen is now run by Los Angeles native, Chef Mario Alberto, and their exceptionally innovative bar program is run by California born, Swedish metal loving, Maxwell Reis. With the recent purchase of a Japanese highball machine, drinks at Gracias Madre are about to get a whole lot tastier. We caught up with Reis to find out what guests can look forward to.
What brands have you discovered that are committed to ethically made and ethically sourced practices (including packaging and agriculture)?
In the world of tequila, I'm particularly drawn to the Siembra Spirits lineup. David Suro, the gentleman behind the lineup, has an unprecedented commitment to ethical practices—from the workers in the fields, to sustainable agriculture, and full transparency on the bottle. He also has established charities and agricultural certifications to help encourage others to follow suite. His tequila portfolio includes Siembra Valles, Siembra Azul, and Cascahuin.
David also imports Mezonte, which is some of my favorite mezcal on the face of the earth. The project is what I would describe as historical preservation of the often overlooked mezcal culture of Jalisco and Michoacán. Pedro Ximenez, the curator behind Mezonte is the beacon of ethics, from fair compensation for the producers he works with, to not over buying to preserve the natural order within the villages.
Why are you passionate about a zero-waste cocktail?
What's not to like? I get to be creative in my process which makes my job so much more rewarding, and I get to sleep better at night knowing I'm wasting as little as possible!
The less carbon footprint the better. Also, often a positive byproduct of a zero waste cocktails is it has a longer shelf life—and with today's current climate the ability to make stable to-go cocktails is a major win.
How can the messaging of the importance of zero-waste and sustainable practices get further out into the industry to make it more commonplace and less rare? 
Sharing knowledge isn't always commonplace in my industry—but when it comes to techniques that will better the industry as a whole, it feels foolish to keep the information to yourself. Wear your ethical practices proudly and showcase it to your guests. Get the conversation started and keep it going.  Motivate others to improve their lives and the lives of those around them. Normalize ethics so those who don't adapt are the outliers.
[columns_row width="half"] [column]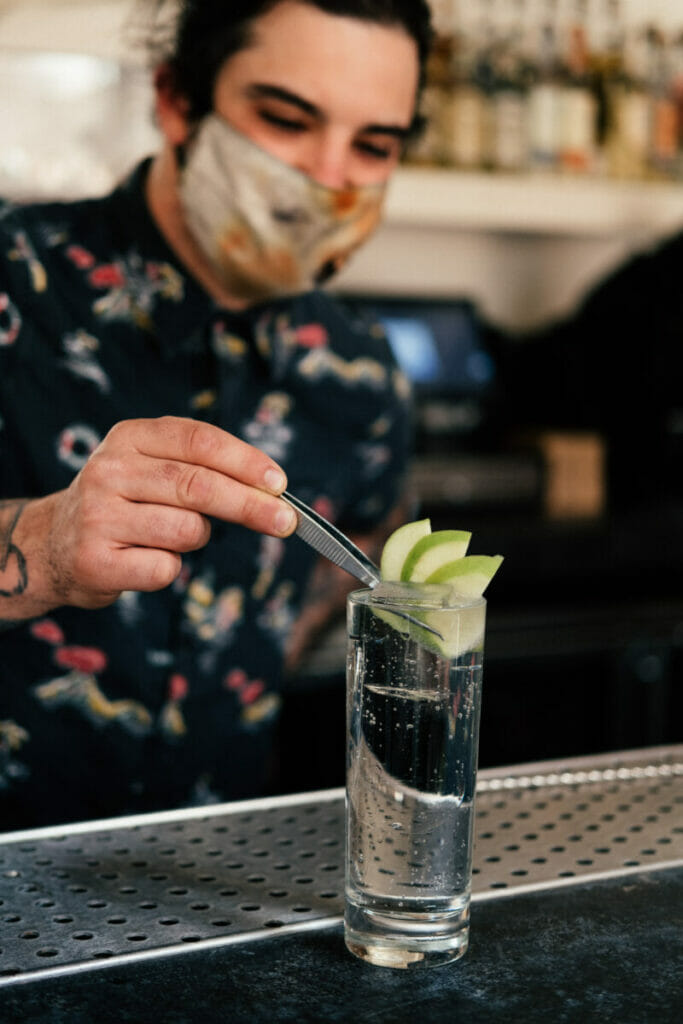 [/column] [column]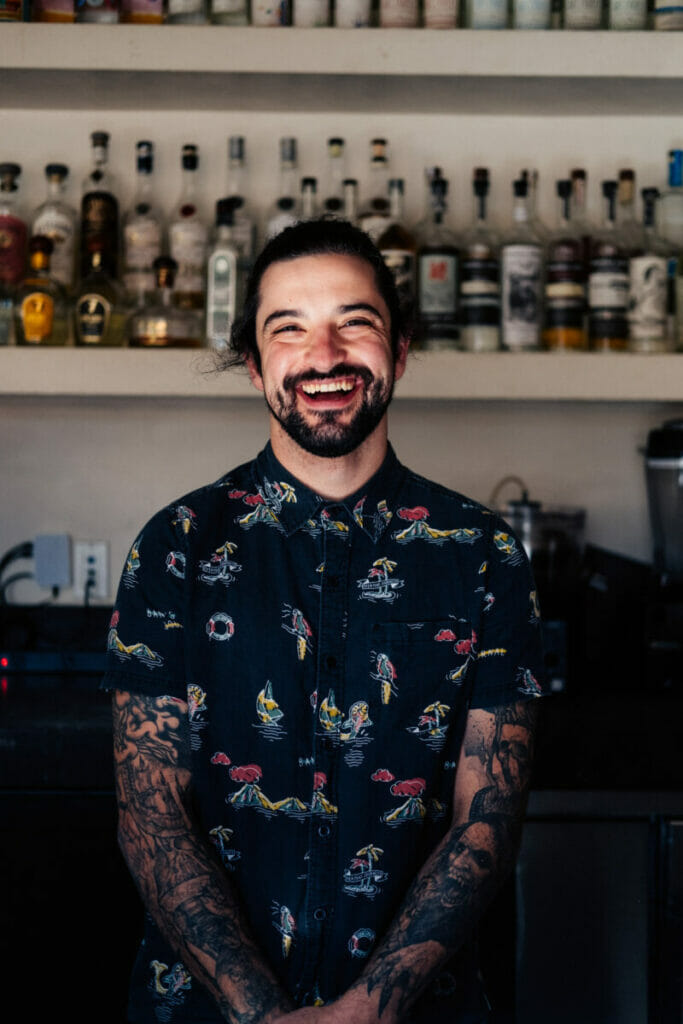 [/column] [/columns_row]
What are some of the challenges you face when searching for spirits that are committed to low-to-zero waste and more environmentally compassionate cultivation?
Brands and those representing them want to sell product, and will say just about anything to rationalize or divert attention from any unsavory practices. Most people get caught up on an attractive bottle and price tag, but don't ask the hard questions. More often than not, the brands train their employees extremely well to give that "positive spin" on what I consider harmful practices—and they truly believe what they are saying, so it's hard to see beyond that. It takes commitment.
It's all about educating yourself and those around you so you know what to look for, and that takes time and focus. It's extremely challenging to stock your shelves with ethical brands and explain to your guests why you don't have their usual favorites without being negative. That's why I train my staff to focus on the positive attributes of offerings, and not belittle our guests for their brand choices. At the end of the day we're running a business—and sure, it's always easier to exist in the mainstream with standard offerings—but it's our defiance of that which makes our bar program special and appealing.
Tell me about the Japanese El Tesoro highball machine. Why is that such a special piece of equipment? And what are your favorite elements? (Knowing of course how committed Japan is to efficiency)
The Japanese view a highball as a way to lengthen hard alcohol so you experience the subtle notes that normally high alcohol content can obscure. It's built meticulously with high carbonated water and a paired garnish to accentuate desirable aspects of the spirit. The Suntory highball machine is a top-of-the-line technology that maximizes this process. Boasting high carbonation and carefully calibrated bubble size in tandem with a water softener to emulate the soft fermentation water in Japan, it creates a highball experience like no other. Usually this proprietary machine is reserved to Japanese whiskey, so we're extremely lucky to have the first-of-its-kind optimized for agave spirits.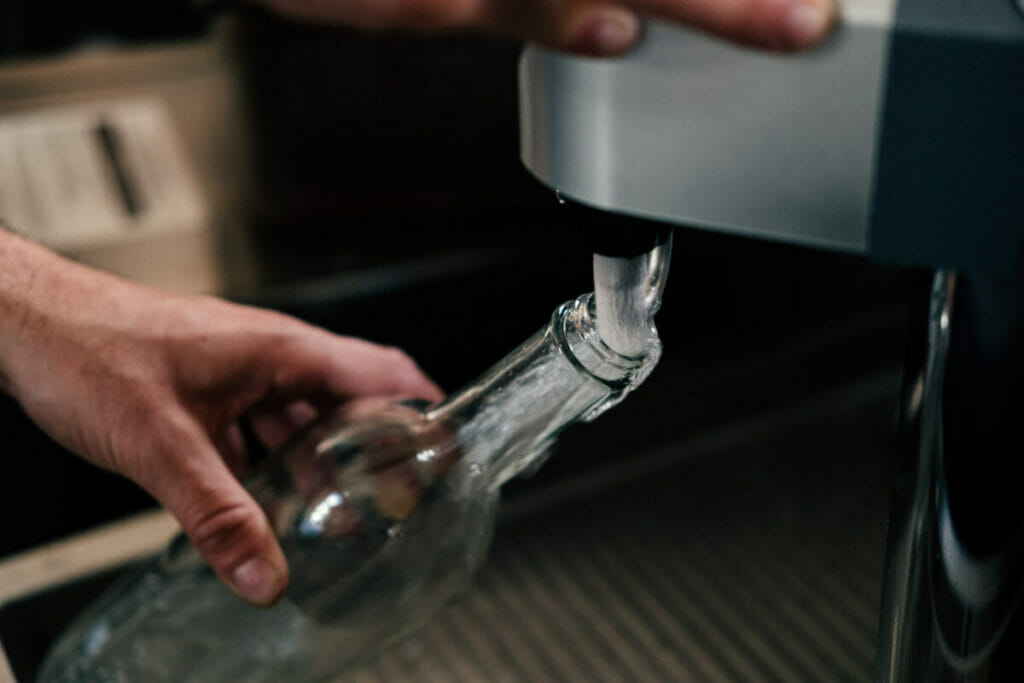 If you could pick three spirits to sling with and they were your only choice, which three have the most versatility?
For me Mezcal has the most variety out of any spirit. The multitude of styles from various regions, agave varieties, and mezcaleros makes the possibility limitless. Other than that I think I would choose R(h)um, and Fruit Brandies—not the most typical choices sure, but the stylistic diversities between expressions are insane.
What is your guilty cocktail pleasure?
Sherry Cobblers, without a doubt. I could drink a million of those cups of wonder and regret nothing. Low ABV, crushable, and they taste like magic.
I regret nothing.
What's your go-to ingredient for drinks outside of the spirit itself? An ingredient you feel tells its own story…
Sorry if this is cheating, but honestly just whatever produce is currently in season. Nothing is better to me in a cocktail than some perfectly in-season quality produce. Whether complimenting the spirit or the spirit complimenting the produce—you can't go wrong. Especially here in California where we have such a vast produce offering year round. I can't think of anything better behind the bar.
How have you had to innovate over this past year with the ongoing shutdowns/re-openings/shutdowns, etc.?
This last year has been trying on all of us, but my goal was to emerge better than I went in—and with a new set of skills I wouldn't normally have obtained. Since the first shutdown, I've reopened with a menu of all zero/minimal waste cocktails; all of which are fridge stable, and can be sold and canned to-go. We do this using techniques like cordials and clarification/force carbonation, which has been really exciting to further implement and explore.
Another benefit of this, aside from allowing our guests to order our cocktails to-go so they can be enjoyed at any time, is when/if we get shut down again, the majority of product will last the weeks interim until we reopen, allowing for minimal waste. The name of game has basically been minimal waste, maximum versatility in our businesses model, while creating a bar program that allows our employees to execute it safely during these unprecedented times.
What has been one of the best lessons you've taken away from life during the pandemic?
Even when the whole world seems to be against you, have faith in yourself and your talents and you'll find your way.
The food and beverage industry include some of the most resilient and wonderful people that I've ever met. I've seen so many bartenders pivot to embrace their creativity- doing whatever they can to keep their community afloat- and  it fills me with hope and joy to see such a explosion of creativity and true hospitality to humanity  amidst such distraught.
[separator type="thin"]
Madre Margarita
by Max Reis
When everyone was at home early on in this pandemic, I can't tell you how many requests I got for our margarita recipe—so nothing seems more appropriate to share it with your readers.
The Margarita is such a joyful cocktail, it's hard not to smile with one in your hand and that exactly what we need right now. It goes well with any comfort food under the sun, which also seems to be what everyone has been treating themselves to this year.
[columns_row width="half"] [column]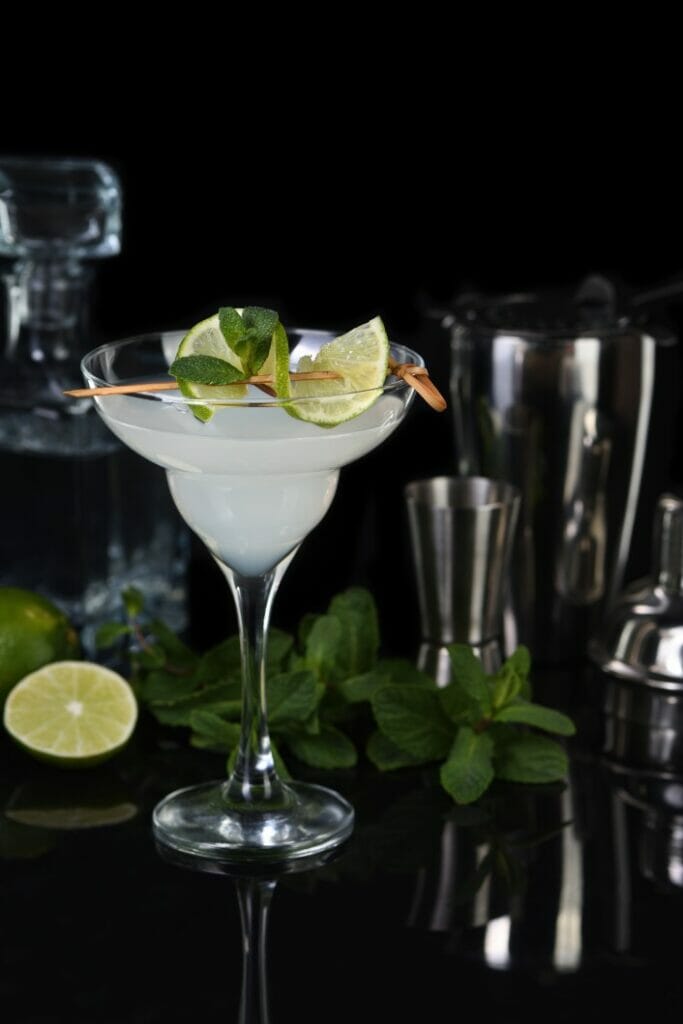 [/column] [column]
INGREDIENTS
2 oz Tequila or Mezcal
1 oz Lime Juice
.75 oz agave syrup (2:1 agave- nectar:water)
2 dashes orange bitters
Pinch of salt
INSTRUCTION
Shake hard with ice and strain into a rocks glass rimmed with salt. Top with ice, garnish with a lime twist, and enjoy.
[/column] [/columns_row] [separator type="thin"]
MAXWELL REIS | BEVERAGE DIRECTOR
This is our Beverage Director Max. He loves agave spirits, cocktails, and Swedish death metal. Maxwell Reis originally hails from Napa, California and currently resides in beautiful Los Angeles where he curates the bar program here, at Gracias Madre. Max fell in love with agave spirits during his 10 years spent working behind LA bars, and solidified that love by taking every opportunity to experience mezcal and tequila's production first hand. When he's not in Oaxaca filling water bottles full of mezcal, he's here, preaching ethical agave practices and making some of the best cocktails in the city. If you see him behind the bar, say 'hi', but know you'll be leaving as enamored with mezcal as he is.
MARIO ALBERTO | EXECUTIVE CHEF, WEST HOLLYWOOD
Born and raised in Los Angeles, CA, Chef Mario Alberto's global style of cooking boasts an amalgamation of cultures and flavors. Alberto's inspiration comes from his travels through the Latin America, the Amazon, Europe, as well as the minimalist approach of Japanese cooking. His keen eye for the peak seasonality of ingredients from local Farmer's Markets, comes from a high-minded focus on sustainability and an eco-conscious philosophy. His interest in art, photography, and design, led him to pursue a degree in film and screenwriting.  However, it would be the experience of spending countless hours as a child in the kitchen with his mother, preparing traditional Mexican cuisine for Holidays and events, that would eventually serve as the touchstone in influencing his culinary career.
A wealth of collaborations with James Beard Award Nominated Chefs follow suit. He served on the Opening Team of Gjelina in Venice, CA, alongside Chef Travis Lett. This led to a partnership with Chef Ricardo Zarate, this time as Chef Partner, opening their highly esteemed Peruvian Restaurant Mo-Chica inside the Mercado de la Paloma in DTLA. Alberto then opened New American Gastro Pub Lazy Ox Canteen with Chef Josef Centeno, which ultimately went on to win Best New Restaurant by LA Magazine. Chef Alberto's first solo venture, Chimu, an upscale fast casual Peruvian Soul Food concept in DTLA's Grand Central Market garnished critical praise from the LA Times and NY Post, with LA Weekly's Jonathan Gold describing it as "Peruvian recipes with modern techniques and fine ingredients."
After Chimu, Alberto partnered with Michelin Starred and James Beard Award Nominees Chef Jeremy Fox and Charlie Parker, at Freddy Smalls, before becoming Executive Chef of Laurel Hardware and Ysabel in West Hollywood, which featured an eclectic menu of global influences, also receiving critical acclaim. Recently, he served as Executive Chef of Gratitude in Beverly Hills, creating Vegan Menus and broadening his culinary skills, ultimately creating a landscape of unique talent and versatility.