Today's Show was about Living Life Happily and Expressively: The Theatre, Comedy, Food + Wine, Travel, and Humanitarians that change the world through the Arts.
I had a week that invigorated so many parts of my soul. Music, Broadway, passion, life, food, wine, good company, and the reminder of everything in life that matters so much to me. Above all – I lived. We need to all just envelop the things surrounding us. Regardless of how fleeting or momentary, just enjoy those tiny inescapable moments before they vanish. Live every moment because you  – You are – NOW.

Show Notes/Transcript (not exact – please watch the show live for the detailed transcript)
ATOD Radio: A Taste of Dawn – Wednesday, April 10th
12:00-12:15pm: Getting ready for the new issue of the magazine released on April 17th, so you can pay your taxes, be all depressed, then read my magazine!
We have a fantastic show!
Some of Today's Guests:
The Inspired Word – The purpose is to give people a voice-
I'm a big advocate of raising your voice and speaking out.

Tomorrow is a really cool event  – Hosted by Vanderbilt Republic – Supporting Cambodian Culture, food, events, the beauty that comes out of Cambodian oppression.
Jonathan Dane – Comedian performing in studio, paving the comedic way for Natasha Estrada, who is coming on next week.
Weekend Recap:
S.T.A.G.E Event – Broadway My Way
This weekend attended an event APLA
STAGE – Benefit that happens every year, lots of huge stars,
Got to meet Shirley Jones, who is wonderful, such a beautiful spirit, what a lovely person.
That night they raised $285,000, and I met a whole bunch of lovely couples – so many were same sex couples and it was beautiful.
Just made me so happy and made me want to encourage people to focus on issues that matter. .We need to open our minds and address things that affect every single person in this country, like healthcare, education, the economy, not non-issues like Prop-8.
Met a wonderful artist, Michael Chearney and his husband.
There is a great energy in his art, truly something to behold.
Scott Barton – Runs S.T.A.G.E.
Broadway My Way had a huge star-studded cast, there were performances from Michael Reno's Sister Act 2, and I know quite a few people involved. If you haven't checked it out, please do. All for an amazing cause.
I went out to enjoy a rather mysterious night …
[Talking about
Hotel Café
Performance –
Jason Joseph
|
Piano Ba
r excursion with "Mystery Man"]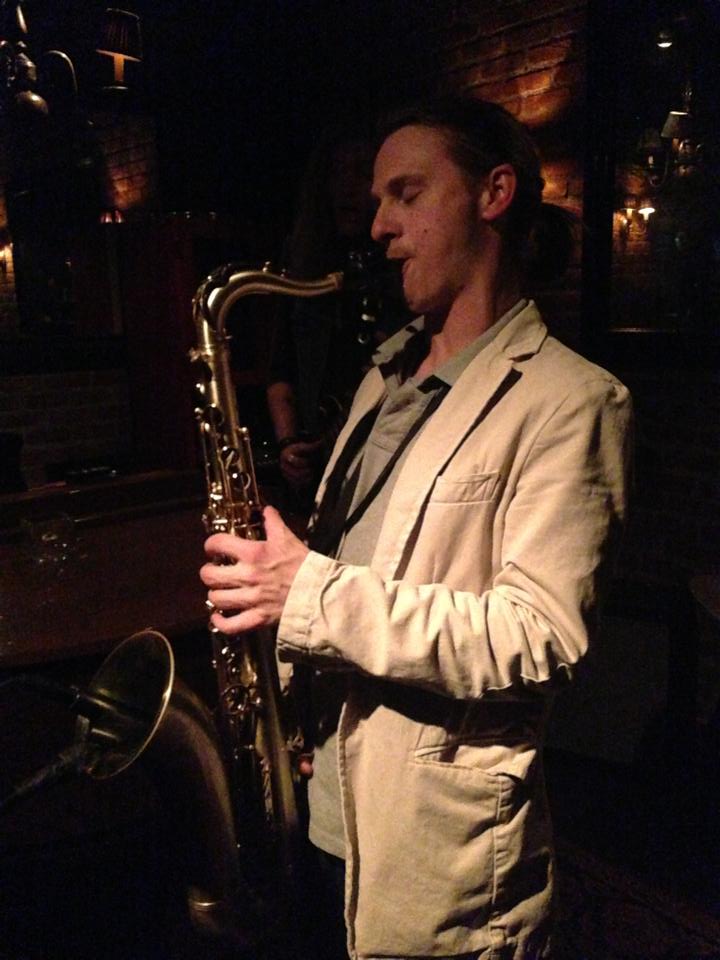 I got to have the greatest night out ever! I rarely get to just go out for fun.
Went out with a mystery man, because not every one needs to know everything that goes on with my life. First, we went to the Piano Bar, I love the Houston Brothers and their 20s-30s-40s themed venues. I recognized Joe Rudd, and he told me to hang around and listen to Orlando Napier, who looks like he should be surfing, but the voice that comes out of him is a little bit of Ray Charles, Joe Cocker Chris Martin with a bit of Louis Armstrong. Joe plays the saxophone with so much passion – you can feel it through every note. I really, really hope that Orlando and Joe come on my show! (Which they are!)
First he sang, "Georgia on my Mind"…
I haven't danced in such a long time, and I'm so glad I got the change, with a wonderful dancer, my "mystery man".
We finally made our way to Hotel Café, and you have to go through a back alley, which sounds kind of seedy and fun, and this guy with a wooden box, and the doorman was hating me, and the bartender was looking like Zach Galifinakis…
Jason Joseph performs every Monday
TOTSY performing there on May 1st
Find them online, the girl is beautiful, and its like a Dixieland burlesque.
12:15-12:30pm: The Inspired Word Def Poetry in NYC – Founder Michael Geffner
The Inspired Word is the hottest open mic series in New York City.
"It's not just a series, it's a movement."
It joins the passion of words as well as a loving community with dazzling, inspiring entertainment.
In addition to showcasing new talent in our open mic, we've also featured some of the best performers in the country – actresses Jill Eikenberry and Amber Tamblyn, actor/comedian Taylor Negron, comedian John Fugelsang, American Idol finalist Anwar Robinson, Grammy nominated singer Carolyn Malachi, and HBO Def Poetry stars Patricia Smith, Suheir Hammad, Lemon Andersen, Shihan, Oveous Maximus, jessica Care moore, and Regie Cabico.
Hosted by comedians Mike Brown, Selena Coppock, and Erica Bradshaw, HBO Def Poetry star Gemineye, NYC spoken word legend Nathan P., poets Aimee Herman and Advocate of Wordz, and singer Sylvana Joyce.
Cover charge: $10 ($12 for special events).
(TRANSCRIPT)
Michael Geffner – The Inspired Word NYC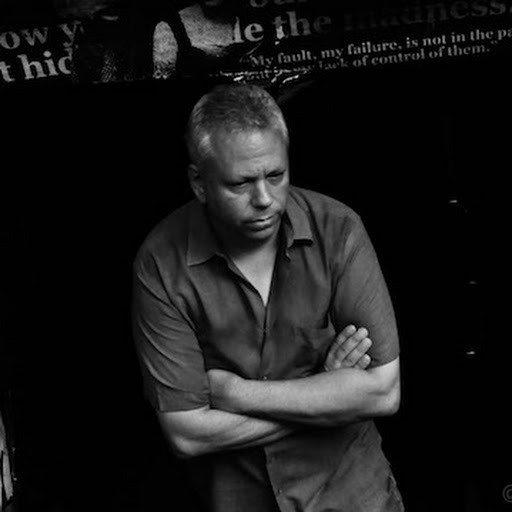 Dawn- Tell everyone a little bit about yourself:
Mike Geffner: I was a journalist for over 30 years, covered the Giants, The Knicks, Forest Whittaker, Dennis Hopper…
DG: I'm surprised I didn't know all of this! It makes you so much more interesting!
MG: How I ended up here I have no idea, I thought I was going to be a journalist until the day I die, because journalism has changed a lot and not how I really want to do journalism. There was a new restaurant that was opening up, and they wanted to set up a poetry event, and I told them that I was a journalist not a poet, but they said I was the only writer that they knew. It has evolved into something huge. We've evolved from spoken word and poetry, to comedy, erotica, story telling…
Bareburger in the East Village – A beautiful place, less than a year old, we're on the second floor with full-length windows, with a great view of the Manhattan streets. I've been in mostly subterranean places, and this is really amazing. So Mondays– Music, Tues – Everything, Wed-General Open Mic, Last Thursdays – Poetry Slams, Fridays – Varieties
15-17 events a month
DG: I remember when you were picking out logos! I'm excited to see how you've evolved. I am going to NY, even though I say that every year, but I will go to as many events as we can!
MG: That would be great. We appeared on Hidden City – Travel Channel, about a mystery writer that was going on the country and reading his book about different parts of the country, and that aired in January of last year, then this March we were on MTV's Washington Heights,
Find us on instagram/twitter under that name: @inspiredwordnyc
DG: If you could talk about any major events
MG: In my opinion, they are all major events, we have a great show every single night. Last night, a regular Tuesday, we had over 67 attendees, for just an open mike, with 30+ performers.
Nexus Lounge tonight (Wednesday).
DG: I'm so proud of how much you have grown in just a short time!
I'm so excited about what you are doing, and that you have given people a voice for people who want to be creative, and safe in, I applaud you for that. They obviously love what you're doing, for you are able to do events every night!.
MG: They call themselves The Inspired Word Family, and there have been a lot of collaborations, and for the first time, it is not about me. I tell everyone that I am happy that the spotlight has been given to someone else, I am happy and lucky.
DG: Again I am so excited for what is happening, thank you so much, if you are in NY check out everything they are doing.
MG: We are pretty much on all social media networks.
Jonathan Dane
12:30-12:45pm: Jonathan Dane (Comedian)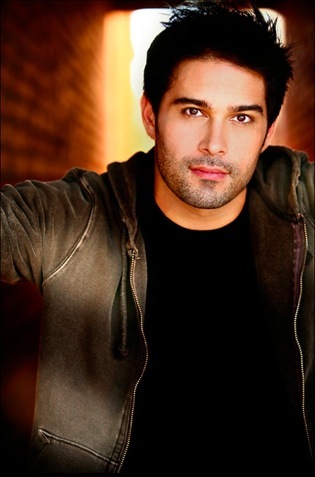 BIO:
Jonathan is a Chicago native, however, his first stint on stage was with the Metropolitan Opera in Memphis, TN.  Having appeared on a number of TV shows, Jonathan guest starred on Criminal Minds, recurred on The Young and the Restless and has been seen on Grey's Anatomy, Entourage, Torchwood & Shameless.  He has been performing stand up all over Southern California and the Mid-West.
(TRANSCRIPT)
Every Tuesday night at 9:30, hosts/performs in the "all aboard comedy show" in West Hollywood.
Dawn: Well, you look great!
Jonathan: I'll take whatever I can get, I'm a little fragile right now, I'm Pandora's Box and there's only one name in it!
DG: So you're going to do a little bit for us?
JD: I've never done this with a viral audience.
DG: Canada, Brazil, Switzerland… we have viewers all over the world.
…
(Relationships – Relating to one of his Jokes)
JD: You're looking pretty sexy yourself … I am very equal opportunity like you as well.
DG: I get picked up by the most beautiful women, sometimes I'm so fed up with men, I consider going to the other side.
JD: I think it is a whole lot easier for women I think, but I will take a compliment from everyone, because the day you don't get one…
DG: But if you come across a gay man that compliments you, you take it, because you know they mean it.
In LA its all a money game….
JD: Its all Flash, smoke and mirrors
DG: Alright well, go on with your funny self!
JD: I've been instructed on what I can and can't say
(More Stand Up)
JD: I've only been doing standup for a year and a half…
Took a four week class, with a performance at the end.
So freeing and fun, and I get to air my crap, I don't take it too seriously
Like most actors, I am doing something and supplementing with something else.
If I could get paid to be in front of the camera all the time…
I just want to move someone!
My uncle is in the World Book Encyclopedia –found TOXIC SHOCK
Find me on FACEBOOK if you want: FACEBOOK
Twitter feed @jonathandane
Sometimes performs at the Comedy Store
PUT OUT A POLL!!! SEND A MESSAGE!
(Talking about upcoming events)
Thanks to Jonathan, nice to have someone who can keep up with me!
George del Barrio – Vanderbilt Republic
1:15-1:25pm: Vanderbult Republic  – Founder George Del Barrio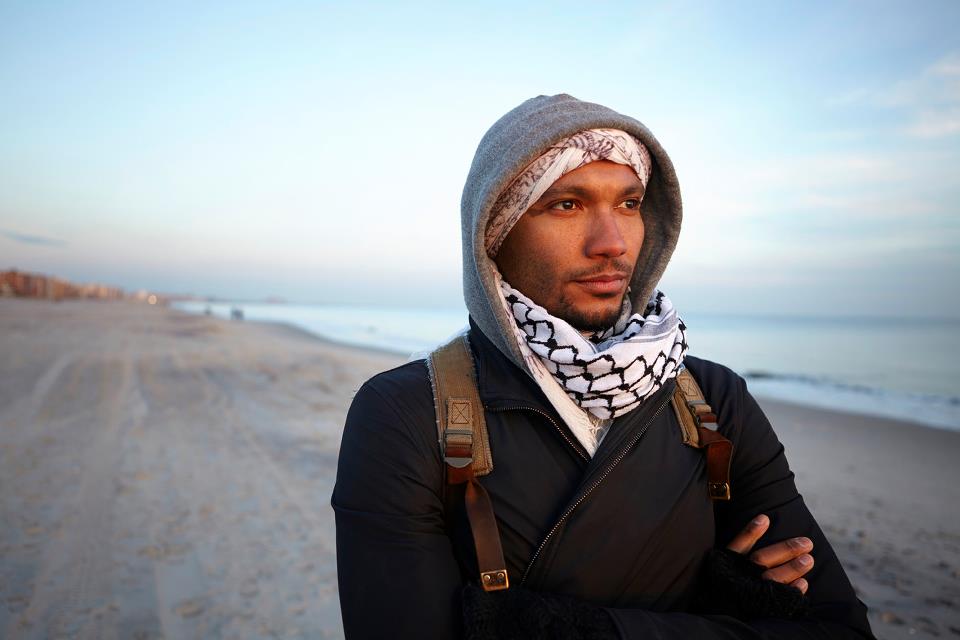 khmerican & THE VANDERBILT REPUBLIC proudly present
FORWARD The Forward Festival is a month-long celebration of Cambodian art & culture at Gowanus Loft to support The Season of Cambodia.
First Event in the Series:
BODY APRIL 11
Bring ingredients + utensils to create the dish of your choice (with drink to share) and enjoy an evening of delicious surprises, graciously hosted by the Gowanus Girls.
Be inspired by Cambodian/Asian cultures when preparing your dish — think globally! Cook what you like and come prepared to experience a 100-course meal in an epic setting. Dive into a centuries-old cuisine; food is love, and the essence of culture.
Season of Cambodia Overview:
–       Season of Cambodia is a special initiative of Cambodian Living Arts in partnership with Cambodia's leading arts organizations and New York's most vibrant cultural and academic institutions.
–        The Festival features more than 125 Cambodian performing and visual artists at New York City's stages, screens, galleries and public spaces
–       The festival celebrates Cambodia's artistic revival just one generation removed from the Khmer Rouge regime (1975-1979), a dark period in Cambodia's history during which nearly 90% of the artists and intellectuals were tragically eliminated in an effort to devastate a flourishing artistic community.
–       Highlights the extraordinary resilience of the Cambodian nation and its artists, and also sets the stage for other post-conflict nations seeking renewal through artistic expression.
– Cambodian Living Arts, a non-profit organization based in Phnom Penh and the U.S. founded in 1998 by artist and Khmer Rouge survivor Arn Chorn-Pond, played a role in preserving the traditional Cambodian art forms through its masters-students programs
(TRANSCRIPT)
Dawn: What a sexy voice you have! I had no idea!
George: Thank you …
DG: First of all, let me hear about Vanderbult Republic,
George: Back in 2008 was a professional photographer, in Thailand, went to Cambodia, got to hear about Cambodia Living Arts, and connected with the genocide, that targeted artist specifically.
Went to NY thought about putting together something to support artists and creation. Got started through Kickstarter. Constant communications to see though the Seasons of Cambodia. Cultural institutions hosting for two months in NY, there are four or five different things each night.
I created Forward – which is my interpretation of my experience of Cambodian culture. We are hosting events at Gowanas Loft.
Starts tomorrow with Chaos Cooking Cambodia.
It started as an interesting social experiment by Joe Che – who had a giant potluck for his birthday at his house. The Gowanus Girls attended, and had a suspicion it could scale nicely, but probably add a door charge.
First potluck event was on Valentine's Day, and was really special.
The Forward events are distilled from my experience of Cambodian culture into four main temples. It is wonderful to explore what actually goes into Cambodian food.
DG: There is poetry in food.
Tickets are $20, and available in advance.
GB: The Newsletter is the best way to stay up to date.
https://twitter.com/thevrepublic
DG: I love that you said everything was serendipitous, I'm so glad that Gedina connected us, and I am just honored to be a part of it, I've contacted NYU for journalists/photojournalists, so someone will come out tomorrow night! Lakiea may come tomorrow, but she better come hungry! Thank you so much, and for all the people that you work with.  I love that it is a support for everything beautiful.
GB: Thank you so much for this time!
William Chris Vineyard
1:30-1:40pm: Williams Chris Winery in Austin – Chris Brundrett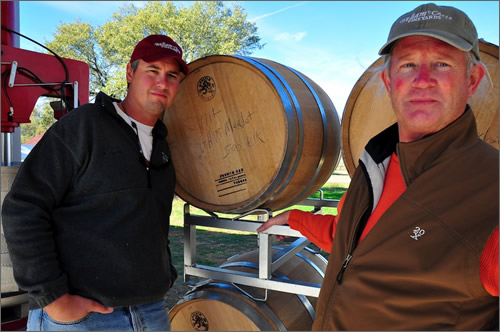 (TRANSCRIPT)
Dawn: Thanks to Anne for making this happen, so tell me a little bit about your wine and where you are?
CB: I'm headed back in the truck, 45 minutes due west from Austin, in the Hye country, amongst 40 wineries. 20 minutes from Fredricksburg, small town with a lot of culture.
DG: Everyone has a premiere wine… What is yours?
CB: We make about 13-12 different wines a year, we really focus on Texas wine, 30 acres in Texas, have a vineyard in high estate, coming from the Hye, Texas, premiere is a Enchante blend, "the wine that brought us here", started in 2008 while working with another winery. All our wine is food wine – Hye on the Hog wine series. Different chefs from all over, do a lot of different events in Austin primarily. Not at the Food and Wine festival, we have to choose what we do. We produce 7-8000 cases.
DG: Which is still very Boutique.
CB: If you come to our beautiful 100 year old farm house, to our tasting rooms, you get the best view in Texas hill country, from the beginning wine drinker, to someone who has been drinking wine all our lives, we try to have something for everything. We want to get to know our customers, there is so much more. It is about family and friends.
DG: To me, wine and food, there is such a story there. Everyone's pallet is different, but there is a sense of connectedness to your customers and your family, and if you care enough to engage, I really appreciate that.
CB: We put wine and people together and create experience
DG: Thanks for sticking through the commercials. I am so new to the vineyard, I am friends with Anne, I am definitely not a Somm., but I love wines. If you could pair one of your favorite blends with the perfect meal, what would it be?
CB: Easter Sunday – Smoked a leg of lamb for 7 hours, came from a local farm here in Texas, they provided all the veggies, 2011 Enchante, local ranchers, some of our staff, all our family under a bunch of big oak trees.
Always bottling – All of our red wines are in barrels 6 to 18 months, then we send lines to our warehouse where we age them up to a year. We have a great many wines out that will sell out within a month.
William Chris Wine – order online, or call our tasting room
Williamchrisvineyards on facebook and twitter feed
Schedule a tasting a tour- Cemetery from the 1800, 400 year old oak grove, Saturdays there are food trucks. Serious magical experience.
______________________________________________________
1:40-1:50pm: Food and Wine Festival in Austin, upcoming events/tastings
DG: Austin Food and Wine Festival two weeks from now!
Next weeks show – Chris Korn – Mondo Magic / Magic Outlaws,
On air tasting – spread the wine tasting love around
Fun and playful sampling
Events on Wednesday night – Pour Vous Anniversary Party
"Celebrating our first year of operation with Libations, Music, Dancing, and Entertainment.
Open bar from 8-10, drink specials afterwards. DJ sets by Steve Livigni , Dave Fernie and Sean Patrick. The Pour Vous burlesque dancers will be performing. Adrian Biggs and Pablo Moix will be guest Bartending. And of course, Devon Espinosa, Yael Vengroff, Andrew Moss, Sam Kieffer and Alexander Alvarez will all be doing their level best to ensure no one goes thirsty."
Heaven and Earth Rock Secret Show event
World Premier, Album Release Party and Live Performance by HEAVEN & EARTH
Wednesday, April 10th
Special acoustic performance by: Dilana
Also: The Most Dangerous Woman In Hollywood,
Tonya Kay's Machine Shop Grinder Burlesque
and International Champion of Magic, David Minkin
Endeavor – California Science Center Event on Friday
Yuri's Night L.A. 2013 at the California Science Center's Samuel Oschin Pavilion (complete with Space Shuttle Endeavor inside) is coming up next Friday, April 12th
For the main event, get your glow sticks ready, because:
–our spacesuit-clad DJ will be getting the dance floor moving,
—Akasha will be pouring a special round of space-themed, eco-"Mixology" cocktails and drinks, and
—Taylor Hooks, former LA Clippers cheerleader and current Science Cheerleader, will be helping 2 dozen attendees become "citizen scientists" by participating in the Science Cheerleaders current Space research experiment!
Door open at 9:00 p.m. and the party goes on till midnight. Tickets are only $15 advance/$20 at the door! (What will you be wearing?) Costumes encouraged and there will be photos!
VIP "PRE-PARTY"
For those who want to get a full extra hour basking in the glow of Space Shuttle Endeavour and get to hear some great space lore from true Space Veterans, join us at 8:00 p.m. for the VIP Pre-party.
–Buzz Aldrin will be there (his new book on Mars comes out in May!)
–Garrett Reisman, Former NASA Astronaut, and "very funny guy" will regale tales of this adventures on and off Endeavour
–ROSCOSMOS is sending over our 1st ever "Special Guest Cosmonaut" for the evening to share with us about the Russian Space Program and of course Yuri!
Door open at 8:00 p.m. (Be sure to be parked and ready to go by 7:30 p.m.) and the party goes on till midnight. Tickets are $50 (and there is a very limited number left)!
Yuri's Night is truly a very special evening and one not to be missed. Our goal is to share our passion for space in a fun and new way, and to allow people who love space to connect and synergize! (I can't tell you the number of people who have gotten married…)
So throw on some green hair (or at least your clubbing plants) and come on down! (If you have already purchased your tickets, thank you! and please feel free to pass on this invitation to remind friends and family!)
You can learn more about the event, stay tuned for updates as the date gets closer, and purchase tickets at:
1:50-2:00pm: ATOD Issue No. 2 released on April 17th, next week's guests Chris Korn and Natasha from Pin Up Girl doing Comedy
(TRANSCRIPT)
Natasha Estrada from Pin Up Girl Boutique – recently at the Comedy Store
They are responsible for making me look so good!
Wardrobe fitting on Monday – Fitting for the week, at the door was a woman and a man, realized it was closed, and it was my friend Denise, and had seen me where some of the clothes, and had come up to Burbank to buy some!
It was so validating, for me and the clothes that I get to wear, they make you feel sexy but not risqué,
Check out Elaina Soto – Model and Beautiful artist – Soda Bottles
Find what you love, see two dollar matinees, go to Arc Light, support wonderful indie theaters, still showing in 35 mm…
Thank you to all of my guests, it was such a great rounded show, all of the things that give me passion, have a wonderful week1