STACEY WELLS: An Artist with Abandon
Interview with Dawn Garcia | Cover Photo by Michael Eivaz
Photo Gallery by Clarence Alford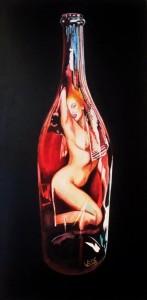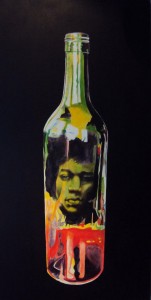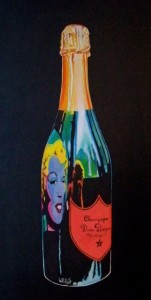 "Undermine their pompous authority, reject their moral standards, make anarchy and disorder your trademarks. Cause as much chaos and disruption as possible but don't let them take you ALIVE."

– Sid Vicious
Stacey Wells is an artist. A painter. A mother. An educator. An original in every way. She is beautiful, strong and vixen-like, sweet, fearless, and a little dark. Her art reflects everything she is passionate about: Wine, Rock, Film. I met her for the very first time almost two years ago while feasting on a Mediterranean meal in West Los Angeles. She was hard to miss with blonde locks and a welcoming smile. Sexy as hell, it's her glow when she talks about art that draws you in and I was drawn to her immediately. She has the boldness to live out loud.
Stacey's art is unapologetic, which is why she has been commissioned by so many and continues to be a name no one can forget: both in and out of the art world. In every stroke of color and every intended line, the complexity of story is ever present. Whether she is painting a bottle, canvas, immortalizing a rock star or Hollywood icon, there is a caveat of feeling: sexuality, strength, vulnerability, and exhilaration. Every piece she creates has an unmistakable pool of sexuality – impossible to ignore – but it's the eyes in the subjects, looking into you, that captivate. She has a way of transmitting the soul of those she paints, as if a every truth and secret they've been withholding is no longer able to be contained. In other words, Stacey Wells does something very few artists can – she allows the art to bleed out.
I chose to spotlight Stacey as an Artist because what she is doing, the ferocity and discipline of which she creates is something so fascinating and unmistakable, I couldn't help but want to share her work – and her story – with you.
Thanks to Stacey Wells for the work she does and for doing this interview in record time while traveling back to Canada. It's an honor to feature your work.
*Recently, I sent my photographer to attend her latest exhibition at The Los Angeles Punk Museum. The gallery at the end of our interview is from that show.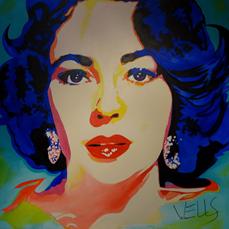 ATOD, Dawn Garcia – DG: What spurred your passion for the work you're doing now?
SW: My latest works were inspired by the notorious story of Sid Vicious of the Sex Pistols and his girlfriend Nancy . I wanted to retell the story with my art by adding different twists. It is thought that Sid Killed Nancy, but it was never proven and there were many theories. In my art "Death by Sex Pistol, the Smoking Gun" Nancy wears her signature pistol necklace, which I turned into the smoking gun, by adding smoke that reads sex. Signifying that the Sex Pistol member Sid was the smoking gun. I also put the knife in Sid's hand suggesting guilt. In "Anarchy in the USA , The Last Supper" you will see Nancy's legs and arms bound with Sid's signature pad lock chains, signifying their deep bond. Sid's head is in between Nancy's legs pleasuring her, as a hand with a knife can be seen just above her belly, coming out of the darkness. If you look closely it doesn't look like Sid's hand … keeping the mystery alive .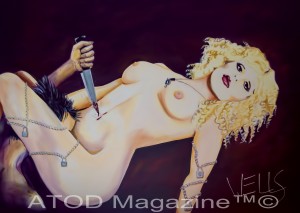 I am intrigued by their relationship, I came across a love list that Sid had written about Nancy. I though it said a lot about their relationship . Playful, deep, sentimental and sexy. I painted a direct copy of the list, with his handwriting, spelling mistakes and all. What touched me the most about the letter was the faded tape marks, that had once been displayed proudly on the wall. It was obviously cherished by Nancy.
DG: What do you think is the sexiest part of life?
SW: Sexiest part of life is being passionate about something. Having the confidence to put yourself out there, pushing envelopes, making people think, bringing people together creating community, making things happen. It feels exciting and sexy to give in to your passions.
DG: The first song that inspired you to paint the rock series?
SW: I'm not sure there was a first song, but there was definitely an album, a face and a very sexy voice. When I was twelve I drew a picture of Rod Stewart from an album cover. It was then that I fell in love with painting faces and in particular, rock stars. Since then Rod Stewart has pulled me up on stage at two different concerts. Surely inspiration for more Rod Stewart paintings.
DG: The meal that will forever be nostalgic?
SW: That would have to be breakfast on the patio of the Meritage Resort in Napa Valley. That is where the inspiration for my RockStar Reflections art began. I had been in Phoenix for a reunion with my girlfriends, we called it the Rock Star reunion as we wore our sunglasses day and night to hide the tired eyes from too many late nights partying. On the day before we were supposed to go home, we were invited for an all expenses paid trip to San Fran which included limos, lunches, and massages. Of course we said yes! We ended up at Cosentino's winery, where we found the wine truly rock star worthy. We bought a bottle of the Reserve and had planned to take it to dinner that night. We forgot it at the hotel so in the morning we went for breakfast on the patio. Ordering eggs and three wine glasses, we drank the wine with breakfast as rock stars would. The wine bottle looked so gorgeous in the sunshine; so many beautiful reflections. I placed my sunglasses around the base of the bottle and took a picture. When I got home I used that photo to create a painting as a memory of our trip. The art work turned out great so I sent a picture of it to the winery thanking them for the fun and wrote: "Your wine was truly Rock Star worthy". He loved the painting and sent me a case of his finest wines saying, "What else can you create?" [With that one painting] I wanted to reflect the good times had with music and wine, essentially capturing time in a bottle to enjoy for all time. An art work that would bring you back to that special moment. Thus began the collectable series of popular art. I captured time in a bottle. Every time I look at it I smile and it brings me back to that incredible time; Nostalgia at its finest .
DG: There is so much color and movement in your pieces. Has that always been the case or has it evolved more in the last few years? Either way, what was the pivotal moment?
SW: I think it has evolved, although I have often used bright colors, inspired by trips to Australia and Fiji. With confidence I have definitely gained movement in my art. When I first started, I was stiff and afraid to push further in fear of ruining it. Especially once I had captured the likeness. Now I am much more experimental. I think it helps that I paint so many artworks and put tight deadlines on myself. It has made my strokes more passionate and free. It's exciting.
DG: If someone were to lean in and whisper something to you that would change your entire life, what would they say?
SW: You have unlimited funds to create .
Life changing!
DG: Biggest obstacle you've had to overcome?
SW: Social media, it is good and bad. Just trying to navigate around the negative can be a challenge some days. It steals my creativity and for myself, I get very excited when I am on a creative high so I have learned not to post then as I can sound a little cocky, when I am on a roll. Ha. It has definitely been a learning curve for me. Mostly it has been incredibly valuable.
DG: What piece are you most bound to?
SW: That is hard to say. When I finish an artwork I usually love it, it will be my favorite until I create the next one; Which to me indicates that I am on the path of progression – that my skill has improved. My biggest hope is to be better than yesterday. I hate to see them go, but at the same time, when my walls are empty, it spurs my creativity and makes me want to fill them again.When they sell, it makes me happy to know that they bring joy to someone else.
DG: 5 words that sum up the way you see the world.
SW: Beautiful, fascinating, inspiring, evolving and lost.
DG: I have had the pleasure of meeting you and knowing you and I see more passion and exuberance than most artists have. Typically artists so full of conviction have had a long road to travel. What happened in your life that redirected you to art?
SW: My Dad was killed in a plane crash when I was two. Someone put a bomb on the plane that he was piloting. Because of this I know that life can be fleeting and you don't have all the time in the world to enjoy it. So I was very determined to be passionate and follow my dreams and do what makes me happy. I also wanted to do something that I know would have made my dad very proud. The very large WELLS signature on my art is a tribute to him. By creating art and having shows, I bring people together to enjoy art, music and ambiance and hopefully leave people with a memory that makes them smile. That ultimately makes people happy. In the end memories are all that we have so you want to make them good ones.
Stacey's work is available for SALE at www.artistwells.net and in galleries in the US and Canada.
Wells art can be found in some of the top celebrity art galleries including these locations:
ROCK STAR Gallery, Scottsdale AZ
http://www.rockstargallery.net/
Celebrities Gallery, Wailea ,Hawaii
http://www.celebrityfineart.com/
The Punk Rock Museum, Hollywood Los Angeles
https://www.facebook.com/Tequilatattoo
Gallery 319, Woodland Hills,Los Angeles
http://gallery-319.com/
Carefree Lifestyles, West Hollywood | Los Angeles
http://carefreelifestyle.com/
Upcoming shows
Oh My Goddard Gallery, Planet Hollywood, Las Vegas
Feb 14th and 15th, 2014
Studio 55, El Paseo, Palm Springs
Feb 22nd 2014
Follow ATOD Magazine™ and A Taste of Dawn™
________________________________