Some History and Social Statements at Art Basel 2015 | Miami
Art Basel is one of the most noted art exhibitions around the world. Giving way to emerging artists, showcasing history of those rediscovered, and sharing historical pieces that paved the way for those since. This year they tap into quite an onslaught of artists that embody the current state of things happening around the world. Below is a small glimpse at a few exhibitions that will take place in Art Basel Miami.
Commissioned to do something rather exceptional … (read about it here in my interview with Louis Carreon on December 1st)
Artist.   Painter.   Photographer. 
A man who sees the world in a way that time is ever present and the indelible mark you leave in the world is that gnawing desire you cannot deny. Louis will be sharing his art in a way that will send you soaring so stay tuned. He's been commissioned to create something that will, without a doubt, prove unforgettable.
About him – in his words … "I come from the world of graffiti and started painting in 1990.  I design and conceptually create unorthodox street campaigns to reach a target audience in a way that is organic. I am the marketing director of one of the coolest hospitality groups in Los Angeles.  I have lived and painted all over the world.   I collaborate with some of the largest brands,  paint for some of the greatest people and always keep my ear to the street and serve pop culture as an innovator.  I use my camera to take pictures of beauty in a simple form."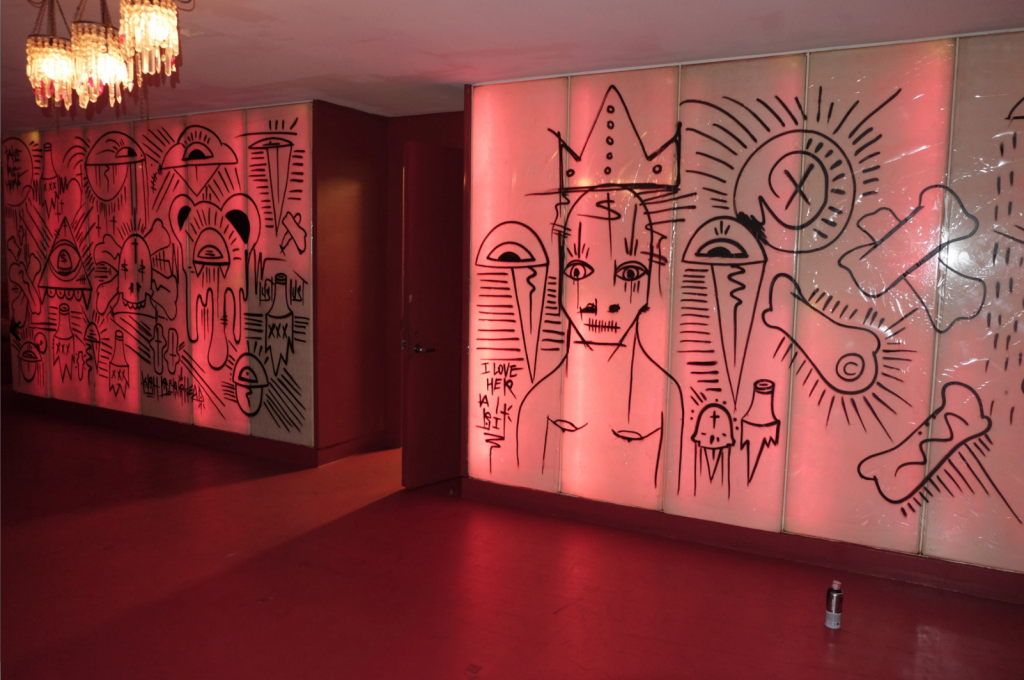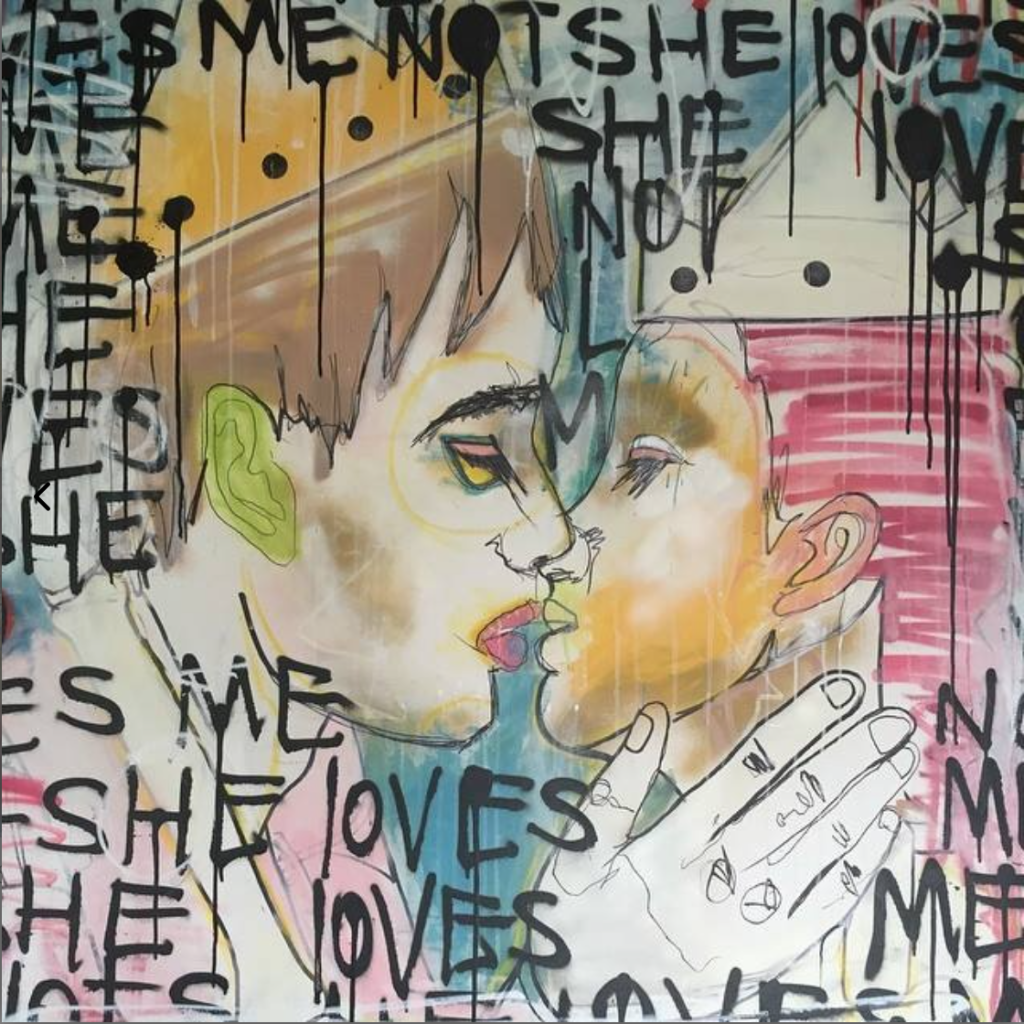 Walls of Color: The Murals of Hans Hofmann

Hans Hofmann (1880-1966)
Headlining Miami's Art Basel season this year is the exhibition Walls of Color: The Murals of Hans Hofmann at the Patricia & Phillip Frost Art Museum FIU.
This Sunday's Miami Herald ushered in Miami Art Week with a sweeping, two-page feature about the exhibition by George Fishman, read the lead story here.

Maquette for mural at the New York School of Printing, 1957 by Hans Hofmann.
Collection of Charles and Elise Brown (Photo by Paul Mutino)

Photo taken at The Patricia & Phillip Frost Art Museum FIU.
Mural studies and mosaic sketches in the exhibition Walls of Color: The Murals of Hans Hofmann.
The Renate, Hans and Maria Hofmann Trust (WorldRedEye/Alejandro Chavarria)
First-Ever Celebration of the Mid-Century Modern Master's Mural Projects
Nine towering oil studies (each seven feet tall) are the show's centerpieces, created for the famed 1950 project to re-design the Peruvian city of Chimbote (Hofmann's visionary collaboration with Catalan architect Josep Lluís Sert that was never realized).
Also explores two of Hofmann's mid-century glass-tiled public murals located in Manhattan
that have been largely overlooked until now, plus several key paintings leading up to and following his murals.
"The whole world, as we experience it visually, comes to us through the
mystic realm of color," said Hans Hofmann (1880-1966).


Details of Han's Hofmann's painting In Sober Ecstasy, 1965, oil on canvas. (Audrey and David Mirvish, Toronto, Canada.)
(Photos by WorldRedEye/Alejandro Chavarria taken at the Patricia & Phillip Frost Art Museum FIU)
Read Roberta Smith's New York Times review of the exhibition's genesis at the Bruce Museum in Greenwich, Connecticut
Hans Hofmann in front of his mural at 711 Third Avenue
in New York City. Photo by Gene Lesser.
A towering figure among postwar New York School painters, Hans Hofmann is famed for his push/pull spatial theories and dynamic approach to color.
"Hans Hofmann was the linchpin for Abstract Expressionism, and the Patricia & Phillip Frost Art Museum FIU is thrilled to bring this first-ever show about Hofmann's mural works to Miami for Art Basel season," said Dr. Jordana Pomeroy, the museum's director.
"Walls of Color provides valuable context for the history of collaboration between architects, artists and developers. A touchstone in a city like Miami. This aspect of Hofmann's career will shed light on the wide-ranging ambitions of one of the most seminal artists of the 20th century," adds Dr. Pomeroy
This exhibition was organized by the Bruce Museum in Greenwich, Connecticut, with the support of the Renate, Hans and Maria Hofmann Trust.
Photos taken at the Patricia & Phillip Frost Art Museum FIU.
Mural fragments, studies and sketches in the exhibition Walls of Color: The Murals of Hans Hofmann.
The Renate, Hans and Maria Hofmann Trust  (WorldRedEye/Alejandro Chavarria)
Carola Bravo's American Museum Debut
Opens November 21, 2015 and through Art Basel week, on view through February 28, 2016.
Summary of the Exhibition "Blurred Borders"
If history tells us anything, it's that cultures and populations are not static.  Societies shift and populations move, driven by war, poverty or persecution, and pulled by opportunity and hope. Migration and immigration are emblematic of the American condition.
"My exhibition features my personal experiences as an immigrant, plus my studies of Jacob Lawrence's Migration Series."
African Americans moved from the rural South to more industrial areas of the North in what became known as the Great Migration. Likewise, hundreds of thousands of European immigrants crossed the ocean, often fleeing political or religious persecution in their homelands. Thousands throughout Latin America and the Caribbean have journeyed north in search of better lives.
This theme of change, exile, assimilation (and more specifically hope), forms the core of Carola Bravo's new series of video works, which are inspired by Jacob Lawrence's The Migration Series(1940–41).
In the exhibition "Blurred Borders," Venezuelan-born Bravo, known for her immersive site-specific installations and videos that address space, time and shifting territories, mines her personal history for inspiration.
Depictions of migratory birds, yellow butterflies, weathered suitcases and white doves evoke political, psychological, poetic, and pragmatic manifestations of the contemporary migrant experience.