Hankin, '16 Acres' appeals to the human side of politics
by Tyler Dean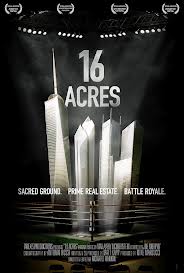 OCMA Film Series | 850 San Clemente Dr. | Newport Beach, CA 92660
When it comes to politics there are generally two sides of the fence: you're either interested, or you aren't. Then there are the rare moments when an event is so catastrophic, a policy so egregious, that everyone, young and old, find themselves getting involved whether they like it or not, out of moral obligation or personal vendetta. The devastating tragedy of September 11, 2001 is one of these. However, busy as we are supporting our troops, admonishing our government, or going about our lives with an air of indifference, it is perhaps the revelatory spotlight on the question of what to do with the 16 acres of land where the twin towers once stood that has plagued the nation—especially New Yorkers; a question whose answer lies in the celluloid folds of Richard Hankin's aptly-named biographical documentary, 16 Acres. An incandescent light bulb in the inky grays of political obscurity and esoteric ambivalence, Hankin's film is a tell-all manifest of the ten-plus years during which men and women faced obstacles large and small, economic and otherwise, in building an icon that most appropriately honor the fallen while serving to bring back returns … and not necessarily in that order.
16 Acres begins where a film of its nature only can, on that fateful day twelve years ago. Hankin takes us on a very linear journey with the help of a step-by-step narrative concerning the people directly, and not-so-directly, involved in the WTC's reconstruction. The key players include: Larry Silverstein, a businessman who was vilified following the terror attacks in 2001 after he declared only one week later his plans for rebuilding (seen as an attempt to cover his assets); the Port Authority, the regional transportation infrastructure agency responsible for such projects as the Lincoln tunnel and George Washington bridge; Governor George Pataki, who decided to use the rebuilding efforts of the towers as a way to streamline his own political ambitions; and Daniel Libeskind as one of the original architects/designers for the new towers that were to be built.
So what makes 16 Acres stand apart from the endless films, news reports, articles, books, interviews, and documentaries we've become so assimilated with? For one, the film simultaneously utilizes those resources while also taking on a very humanistic slant in the portrayal of its subjects—men and women with interests and motives of varying degrees—as all having been affected by 9/11; the caveat being that they all also wholeheartedly believed that their approach was the best approach. Watching the film and being introduced to Larry Silverstein for the first time (I believe I saw him on an episode of 60 Minutes once), I, too, was immediately turned off by his business-plan appeal to rebuilding the towers. But as the film points out, Silverstein had only just acquired the property weeks before the terrorist attacks occurred, and was subsequently paying millions out of pocket every month for a plot of land that, from an economic standpoint, was just that. The same, however, could be said of the ambitious award-winning Libeskind, who designed what were to be the remodeled towers, despite having never constructed a skyscraper before.
16 Acres, then, isn't so much a story about the stop-gap incongruence between corporations and individuals, greed and altruism, but rather about the preservation of our past versus that of our future. One of the interviewees puts it best in the opening minutes of the film when he says that as badly as everyone (especially in New York) wanted the kumbayah togetherness that tragedy can instill to last forever, we all knew it would only be a matter of years (months in actuality) before life would go back to the way it was. C'est la vie. Or at least try to, but that's another article.
Walking away from the Newport Beach Film Festival's Art, Architecture, +Design category with the coveted Audience Award this past April, 16 Acres is an exercise in erasing lines and boundaries—one whose greatest asset lies in the markedly experienced hand of Hankin's editing abilities. Comprised of an unimaginable number of video clips, interviews, photographs, and stock footage, the two-time director could very easily have gone any route and you probably wouldn't have minded. It also could have gone very wrong—with ten-plus years packed with political figures, ambitious architects, dueling subsidiaries, the families of the victims, and a ridiculous number of government agencies, it is perhaps only because of Hankin's easy-to-follow linear storytelling that we don't drown in opinions, names, and statistics. Just as well, the film's accessibility undoubtedly owes itself to the candor drawn out by the director of such public figures as Pataki and Silverstein, or private citizens, including fallen firefighter Sean Patrick Tallon's sister, Rosaleen.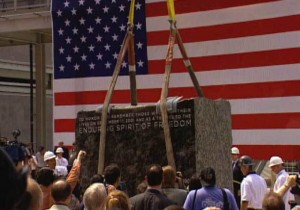 Whenever anyone mentions they had just seen a film on 9/11, there are generally two preconceptions: it's going to be an emotional (with more 'ups' than 'downs' ) rollercoaster, and it's essentially beating a dead horse. 16 Acres prescribes to neither of these; Hankin passes on sure-fire tear jerking in favor of emoting a human quality (perhaps for the first time) to politics and in an original, interesting way. As the film enters its final moments following the reveal of the September 11 Memorial site, a sense of progress and vigor is instilled in the viewer. Fortunately, despite this being only his second film (Hankin's 2006 documentary Home Front, about a wounded American soldier returning home from Iraq and adjusting to civilian life in Smalltown, USA, was likewise a humanistic case study), it won't be decades before similar revelations are made about its director.
"The rebuilding of ground zero is one of the most architecturally, politically, and emotionally complex urban renewal projects in American history. From the beginning, the effort has been fraught with controversy, delays and politics. The struggle has encompassed eleven years, nineteen government agencies, a dozen projects and over $20 billion. Aside from the staggering engineering challenges of the site itself, a major complicating factor in the rebuilding of the World Trade Center is the sheer number of interested parties. According to The New York Times, "Where some saw lucrative real estate, others saw a graveyard. Where some saw Rockefeller Center or Lincoln Center or Grand Central Terminal, others saw Gettysburg." [OCMA.net]
The Orange County Museum of Art is located in Newport Beach, near Fashion Island, at 850 San Clemente Dr., Newport Beach, CA 92660. Hours for the museum are: MON-TUES, closed; WED-SUN, 11:00am-5:00pm; THUR, 11:00am-8:00pm.
Now in its ninth season celebrating the cinematic works and of emerging and established independent filmmakers, OCMA and the Newport Beach Film Festival present the 2013 Cinema Orange film series. Films will explore art, design and cultural icons. Interactive question and answer sessions with filmmakers will follow select screenings. Cinema Orange is organized by Leslie Feibleman, director of special programs and community cinema, Newport Beach Film Festival.
__________________________________________
Become a FAN! Follow ATOD Magazine™ and A Taste of Dawn™
__________________________________________
Brought to you by …
– See more at: https://atodmagazine.com/2013/10/29/pacific-symphonys-rodrigos-concierto/#sthash.je65MJbT.dpuf