Kenny Yung, Hong Kong Street Photographer offers the world a glimpse into the streets of a city … fully alive.
Kenny Yung is a photographer that tells a story both infinite in detail and profoundly real. He is based out of Hong Kong and his photography is something that will compel you to want to dig deeper. The first time I came across his work was through Facebook. When I began exploring photographers, many of them were "friends of friends" or part of the Photography community I belong to via social media. I saw a few of Kenny's images and I couldn't help but want to write. The way he takes street photography is so ambitious and honest that it opens the door to revealing the stories behind everyone and everything he captures on film. His work has been featured in VOGUE Magazine as well as in exhibitions around the world. With English not being his primary language, he did answer a few questions for me in order for me to give all of you a small look into who he is. This interview is more of an introduction to his masterful work.
Kenny refers to himself as an amateur street photographer – though his body of work is anything but amateur in my opinion. He starting shooting in 2009 and while he has shot digital, his preferred method is to shoot film. He is not classically trained but rather self taught. He created a team of street photographers in August 2012 that are responsible for taking images on trams throughout Hong Kong and I imagine, eventually, throughout the world.
His work captivates me. Whenever I see an image of Yung's, I find it impossible to ignore the aching desire to want to tell a story to accompany it.
DG: What inspires you?
KY: I was inspired by Daido Moriyama in the beginning but then, I became drawn to capturing people on the street and culture in Hong Kong. (i.e. HK Trams)
DG: Where were you born?
KY: I was born in HK.
DG: What makes you happy?
KY: When I capture the decisive moment.
The image that first impacted me: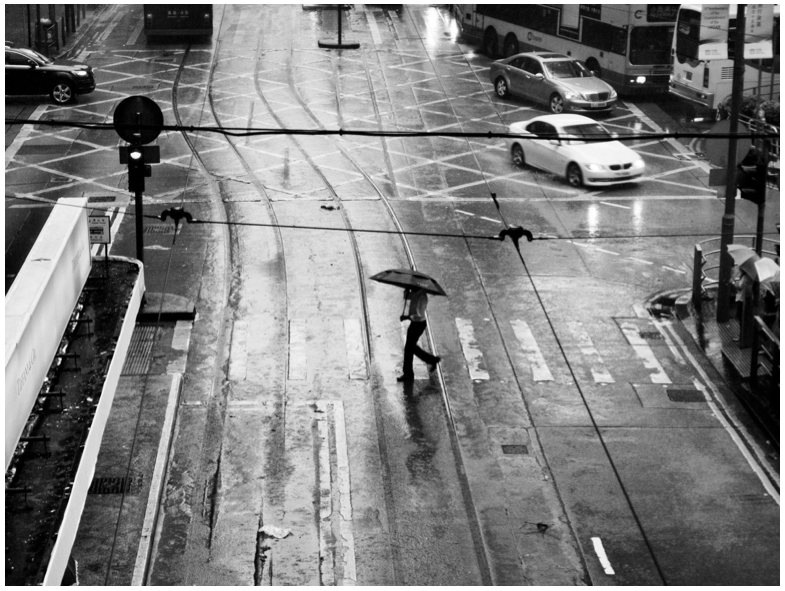 The rain falling so languidly over him, the world pauses as if to say, you are not alone.
---
His photos were selected by Photo Vogue as photo of the day and have been exhibited in Milan in Jul 2012
(More info about Photo Vogue exhibition.)
Kenny's latest project,
North Eastern New Territories
involves working with photographers and illustrators in Hong Kong to show the incident of land grab/re-development in northeast Hong Kong. Shooting and painting the present situation of the land – a global and environmental impact.
A collaboration with Bona Liu, Eric Lee, Kenny Yung, Kelvin Pang and Joe Fung
TRAM ART GALLERY
was published in 2013 and is available for purchase.
Below is a project that coincides with the work Kenny is doing to save the Tram system in Hong Kong. While it is not presently his work, the project itself is very important to Hong Kong.
---
The DETOUR MATTERS 2013 Project
DETOUR
Conceived in 2004 as a collateral series of events running parallel to the Business of Design Week, DETOUR has become an annual flagship programme showcasing Hong Kong as a regional creative hub and featuring inspiring designs from Hong Kong's young and emerging creative talents. DETOUR consists of a series of events and programmes incorporating the most original, bold and stimulating ideas from both Hong Kong and across the globe. It created a knowledge network of young talents, emerging designers/artists, local as well as international, to exchange ideas and experiences. This is designed to engage the larger population and let the entire city come together to celebrate the creative ventures around town. DETOUR has been consistently recognized by the creative industries, educational partners and business sectors as one of the most popular events in Hong Kong.
DETOUR 2013
This year, Hong Kong Ambassadors of Design join hands with Hong Kong Design Centre and PolyU Jockey Club Design Institute for Social Innovation to organize 10 amazing days of DETOUR 2013, from 29 November to 8 December 2013.
DETOUR created a beach four years ago — a surprising and improvised public space praised by the community and media. Subsequently held in an old prison and a police station, the annual design extravaganza continued the formula of historic building adaptation. In 2013, DETOUR will find its new identity as a city-wide campaign further proliferating design is part of our daily life. Escaped from a single contained site of interest, DETOUR 2013 will deploy creativity upon our public transport system and infrastructure, including the transformation of a fleet of trams that would connect very different locations and microtopias of our city.