What To Get The Man Who Has Everything

Stylist Stephanie Alexis of SA Style Studio Provides Expert Tips on Finding the Perfect Gift For Him
Finding the ideal gift for the men in your life may be one of the most difficult tasks to conquer. So, what do you get the man who has everything? Why not go for something outside the box while still incorporating everyday accessories that he can actually use.
Staple Pieces
For men especially, it is hard to find that magical balance between stylishly-chic and blasé. Hex Tie has something for every dapper gent. What makes this brand so distinctive is that it includes something for everyone – the thrill seeker, the fashionisto, the life of the party, the artists and everything in between.
First there were skinny jeans, then lightweight man-scarves, and now the infamous man-bun. Everywhere you look, there seems to be a constant barrage of newfangled men's fashion trends and must-have looks. But when it comes down to it, how much must the well-dressed man have? Sometimes you just have to go back to basics.
In a career that demands professionalism, there is no reason to have to forego statement pieces. The Gold London Bridge garment clip is the perfect subtle, yet eye-catching piece to jazz up apparel. Pair it with a classic blue blazer to start, especially if it's fitted and sharply tailored. Favored by hedge fund managers and hipsters alike, the London Bridge Garment Clip is to men what a little black dress is to women—dependable, versatile and timeless. It's an investment piece that can be worn for years.
For those having trouble figuring out what to gift their boss for the holidays, the Monaco Cufflinks are a sophisticated staple addition to any wardrobe, and the perfect accessory for adorning a tuxedo from decadent occasions to black-tie fundraisers and functions and everything else in between!
Become a Master of All Things Print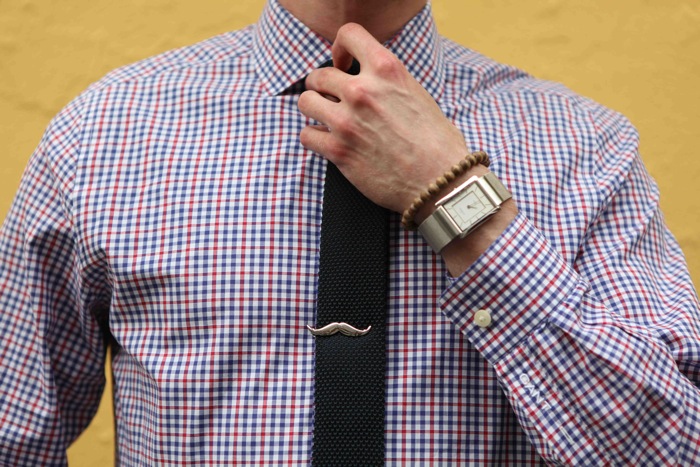 For many guys mixing prints can be intimidating. But when it comes to putting together a winning shirt and tie combination, don't be daunted. I promise – it's easier than you think. Add a little spice to your grandfather's vintage style. Ze Moustache tie by Tie Bar is not for the faint-hearted. From South Beach to St. Tropez this eye-catching accessory is an impeccable gift for most interesting man in the world. Dress it up with gray pants or dress it down with dark jeans for a dapper but unfussy look. When summer hits, don a single-breasted, two-button jacket with white jeans and the Andalucia tie to ooze style confidence.
A Tie Here, A Tie There
What man doesn't appreciate a clever bow tie? The biggest issue for those bow tie lovers is knowing how to tie a proper one! The good news is the FIN bowtie by Band of Outsiders has eliminated that issue, creating fool proof accessories for all occasions. All you do it attached the adjustable clips together and voilà!
For those feeling discouraged, bow ties are no longer a black-tie only accessory. You can now a casually incorporate them into everyday wear. Just be sure that when you are putting an outfit together, it always has presence. An outfit with presence is an outfit that is complete in the sense that everything is where it should be.
[separator type="thin"]

About Stephanie Alexis
Stephanie Alexis is the Founder and Chief Stylist at SAStyle Studio. The Chicago-born fashionista now has a headquarters Brooklyn, New York, where she dedicates a majority of her time offering a wide array services including; celebrity styling, personal styling, fashion publication consultation, trend forecasting, and acting as a brand ambassador for a variety of fashion houses. Stephanie Alexis' most recent endeavors, Fashion Loves Art, has picked up a lot of buzz in the Fashion and Art worlds. The event created and styled by Stephanie Alexis featured a collaborative fashion show and art exhibit to benefit the Ronald McDonald House of Chicago.
[separator type="thin"]
When you want the perfect bag for your man … BAREMADE is our pick.