Herringbone is Brian Malarkey's Pièce de Résistance
Written + Photographed by Dawn Garcia
Herringbone | 7837 Herschel Ave. | La Jolla, CA 92037
There is only one word to describe Brian Malarkey's, Herringbone: ORIGINAL. Set amidst the La Jolla landscape, Chef JoJo Ruiz and Pastry Chef Adrian Mendoza invite you to a restaurant that epitomizes originality. While their menu from brunch to dinner boasts an explosive array of options, this Sunday, while working on a San Diego feature story, I reached out to Brian Malarkey and for Sunday brunch, we had the distinct pleasure of dining at Herringbone with plates created by Chef JoJo Ruiz and Pastry Chef Adrian Mendoza.
The moment you pull in to the parking lot, raw ornate panels of wood adorn the entry, a branched fish hangs happily to the left of the main door and a patio with ease and warmth lines the sidewalk. As you enter inside, to your right are two Moroccan style chairs designed in bright colors directly across from the tiled fireplace emitting just the right amount of heat. With glass orbs listlessly leaning to light the way, a subtle and secret disco ball looms above it all. Soon you find your legs walking through the restaurant, the wooden floors cushioning your steps, your eyes bewildered and overcome with a tranquility that doesn't in any way obstruct the anticipation of a hearty prospect of fare.
Seated near the tree that soothes the spirit, the cold chairs envelop my body and that of my friend, winemaker, Matt Ortman of Villa San Juliette Winery. Our server Miles comes with his bright blue eyes and gleaming smile and takes our cocktail order. I begin by simply diving in: Peter Rabbit Mimosa. How could I dare not to?! A writer given the option to order something with a literary innuendo must obey.
Peter Rabbit Mimosa: Bruised basil lemonade
Freshly infused with this wonderful aromatic essence of sweet and what leans to the guava family with lovely undertones of citrus. The basil is refreshing as the threat of winter waits patiently just beyond the entrance. It is a literary-worthy libation to be certain.
Soon after, Chef JoJo Ruiz walks out of the glass housed kitchen with his colorful sleeves of ink, chef apron on and a genuine cool. We share quick story of how I met Brian (Malarkey), how long I've wanted to dine at Herringbone, and then we just talk because while I'm here to write about the experience, I have always found the story behind any fare far more endearing when you realize the person preparing the fare is a culinary artist with vision and the heart to nurture those who take a bite. I let him know we've brought some wines for him to taste, he smiles and thanks us, and before long he disappears behind the glass box once again. Moments later, a sticky bun arrives. Now it must be made clear that as a child my most revered "treat" was a cinnamon roll from Winchell's doughnuts. Sure, it wasn't fancy but to my younger self, there were few things more heavenly. Hence why my criticisms for sticky buns thus far have been rather harsh primarily because after one bite of a typical "sticky bun" you feel decay setting in as the rush of sugar and far too much "sweet" penetrate and flood all of your taste buds drowning them in candied overdoing. BUT – nothing of the sort exists in this exquisitely balanced sticky bun created by Pastry Chef, Adrian Mendoza – once Pastry Chef at the world renowned Spago's Beverly Hills.
Pecan Sticky Bun: Served warm with cream cheese icing.
This is the kind of sticky bun you can succumb to. Balanced, light, dare I say perfectly harmonized with frosted sweet, crisp dough, and traces of spice. Yes, this kicked off a brunch that left happiness on my tongue.
While I bask in the sweet warm-up bite, it's time for opening up the palate. JoJo sends out Hamachi Crudo.
The dish has a beautiful display of color and simplicity sprinkled with elements that please ones desire for a surprise of flavor. Hamachi with hyssup, sweet local radish, hues of cherry, carrots, shallots comprised in the vinaigrette while slivers of grape burrow themselves atop the crudo, the sweet surprise of grape! Place every component on your vacant spoon and allow your mouth to take it in one flavor profile at a time.
Next, my very favorite seafaring friend, the oyster. We order two of each: Chincoteague from Maryland + Kumamoto from CA. The Chincoteague are meaty and hearty but its the perfection of the Kumamoto that are victorious. Salty, crisp, and meaty gliding against my tongue with a burst of happy. They invite what's to come. Finally, it's time to bring out the main dishes. Scanning the menu, upon arrival I think it was clear after speaking with Chef Ruiz that our minds were made up. We had to try the Fried Chicken and Buttermilk Biscuits. And to be fair, I cannot ignore the calling of the Chilaquiles and Eggs. Miles, our splendid server, is almost as eager to hear about how the fried chicken is as we are to taste it since today happens to be the very first day its made it's debut on the menu.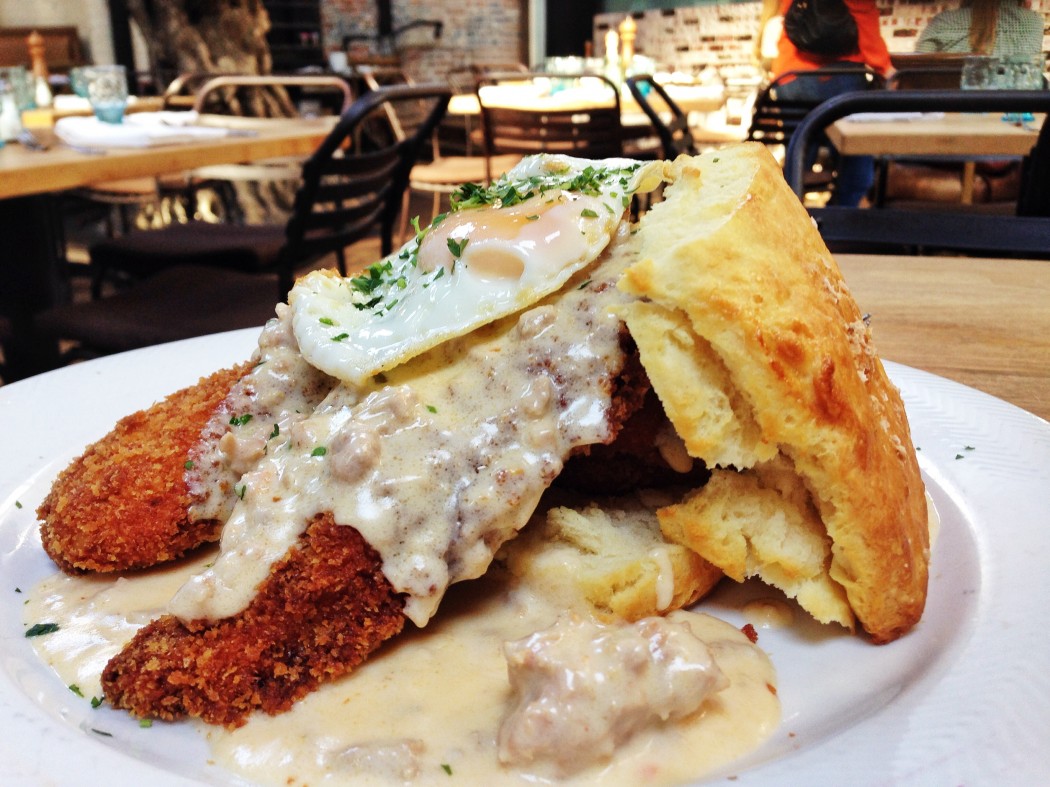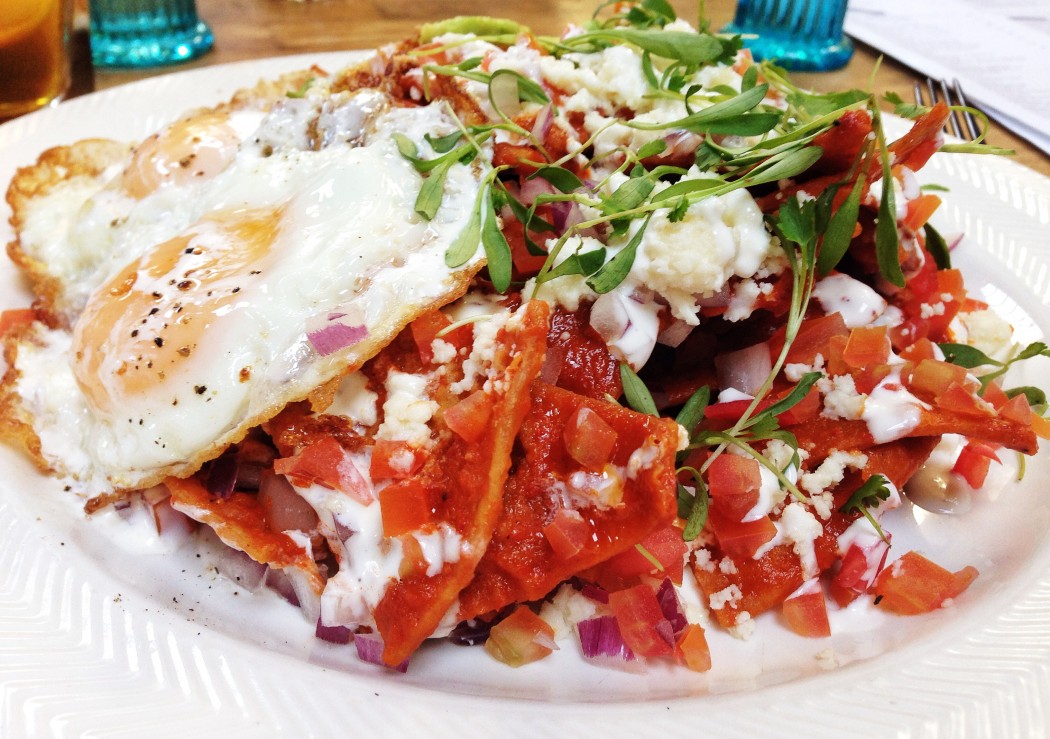 Chicken & Buttermilk Biscuits: Fried Chicken Breast, Housemade buttermilk biscuit, Turkey bacon gravy & a fried egg
The dish arrives on a warm plate. The pieces of fried chicken piled high and breaded without any inch of the poultry fella revealed. The chicken is bathing in the modest pool of hearty turkey bacon gravy, meaty chunks visible, and atop that the perfectly fried egg with the yolk ready to ooze out and dance along the flakes beneath it. Garnished with herb, this is a MEAL! And at first bite, it is crispy and light and battered with thoughtfulness that doesn't cave your palate with grease. This is actually so light and defined, it's unexpected. Add that to the biscuit leaning coolly against the chicken with golden tones and you have a comforting brunch.
Chilaquiles and Eggs: Housemade salsa roja, cojita cheese, onion, avocado, & Mexican crema
For those unfamiliar with what Chilaquiles is, Chilaquiles is a traditional Mexican dish. Typically, corn tortillas cut in quarters and lightly fried are the basis of the dish.[1] Green or red salsa or mole is poured over the crisp tortilla triangles, called totopos. Chef JoJo makes this dish with a tangy and spicy roja salsa with the precise amount of cojita. Ready for the ceremonious breaking, the eggs. This is a happy traditional Mexican breakfast with an approximated spin . I ask for extra "heat" and thankfully, Chef adheres graciouslt. With a kick, this dish takes me back to breakfast with my Grandma Garcia that believed everything tasted better with a little roja sauce. (And it usually does!)
As the food coma begins to set in, we uncork the 2011 VSJ Reserve Albariño and invite Chefs Ruiz and Mendoza to come join us for a sip. They both arrive with their compelling smiles. Winemaker, Matt Ortman takes over and tells a bit about the wine and both chefs sip with a look on their faces that would make any winemaker sit back and feel that swell of pride take over. They are impressed and both finish their pour. It really is a sensational blend that is effortlessly memorable. We offer them the bottle of 2011 VSJ Chorum Red to keep and open later. Chef Mendoza then sweetly leans in and says to me, I've got a little surprise for you." Like a child who knows something wonderful is coming, the bouts of anticipated excitement pulse through me.
The Peanut Butter Puck: Frozen Peanut Butter Mousse, Concorde Grape Center & Peanut Brittle "Magic Shell"
Peanut Butter with Grape never tasted quite so sophisticated. This is a little puck of elegance wrapped in that childhood "Magic Shell" nostalgia that takes you to places in your memory that remind you of things that warm the soul. Chef Mendoza has genuinely outdone himself with this dessert – though one could hardly insult it by merely calling it a dessert – it should be referred to from hereon out as a work of edible art. Presented on a bed of chocolate and peanut butter powders whilst edible flowers arrange themselves like a paintbrush might on the awaiting palate of colour, you eyes widen. Truly exquisite in both presentation and taste, I quite literally had to stop myself from eating every last bit.
Imagine feeling a gravitational pull to something that puts at ease at its onset. That is Herringbone. Created by Top Chef and The Taste's Brian Malarkey, this La Jolla gem is a restaurant that has everything to comfort and soothe all the while playfully tapping into your inner curiosities. Behind the beautiful decor, olive trees growing out of the floors (real ones), art exhibit-worthy lighting fixtures, a massive oversized skeletal shell dangling effortlessly above the inner bar just past the brightly Mediterranean colored bar at entry, the gorgeous intricately detailed fireplaces (more than one), past the oddly comfortable tables and chairs – the place where the magic happens is in the kitchen. As if on display, the glass encased kitchen offers guests a glimpse at Chef JoJo Ruiz and Pastry Chef Adrian Mendoza. Two young chefs that play with the menu with unrelenting freedom and as a result, the hungry patrons get to fully engage.
If you ever have the pleasure of meeting Brian Malarkey, you will understand why everything he creates has sophistication and that Norman Rockwell-esque sense of youth. He encourages everyone who sits down at any one of his tables to play with their palates, have a sense of wonder, and never ever expect to compromise on quality or service. Thank you to Brian and to Chefs JoJo and Adrian for one of the more unforgettable – and unpredictable – brunches I have ever had. You are an absolute pleasure and the culinary achievements at Herringbone exemplify your range as chefs.
Herringbone will be opening in Los Angeles at the Mondrian Hotel Hollywood. Brian Malarkey also is the restaurateur of  Searsucker (San Diego, Del Mar, Austin, Scottsdale), Gabardine.
About the wines:
$25.00
Our Albariño is sourced from the nearby Edna Valley where the maritime influences provide for cooler days and heavier soils. This stellar example of Albariño has layers of lychee, ripe peaches, candied lime, ripe apricots and Asian pears. The finish has almost a grapefruit acidity that balances the generous weight of this wine.  A delicious pairing with grilled fish or Dungeness crab.
$25.00
This wine is our poster child for the zany wine blending that many of the Paso Robles wineries have made their hallmark. When does the whole become better than the parts? While the Paso AVA is best known for the "GSM" wines – Grenache, Syrah and Mourvedre – produced by many of the wineries, we have taken it to a whole new level of blending expertise. This wine is a blend of Syrah, Petite Sirah, Cabernet Sauvignon, Grenache, Petite Verdot, Alicante Bouschet and Cabernet Franc.
This post has been brought to you by our friends at:

Follow ATOD Magazine™