Holiday Recipes No. 3 – Southern Comfort
by Christopher Hill of Bachelor Kitchen | Photographs by Beethoven Awit Jr.
Christopher Hill of Bachelor Kitchen is known for creating easy-to-make incredibly tasty, impress-any-girl kind of meals. So this year, I asked him to throw his hat into the ring and offer readers some more holiday recipes. For those haven't noticed, all of the #Recipes we've posted this season are totally non-traditional. First, Recipe No. 1 by Chef Jason Hook was a gourmet take on sweet potatoes that looks and tastes like art. Second, Recipe No. 2 by Ally's Kitchen Alice D'Antoni Phillips offering us a scrumptious course taking the concept of bluchetta to an all new high. And now, well, Recipe No. 3 is ALL about Southern Comfort and rich flavors.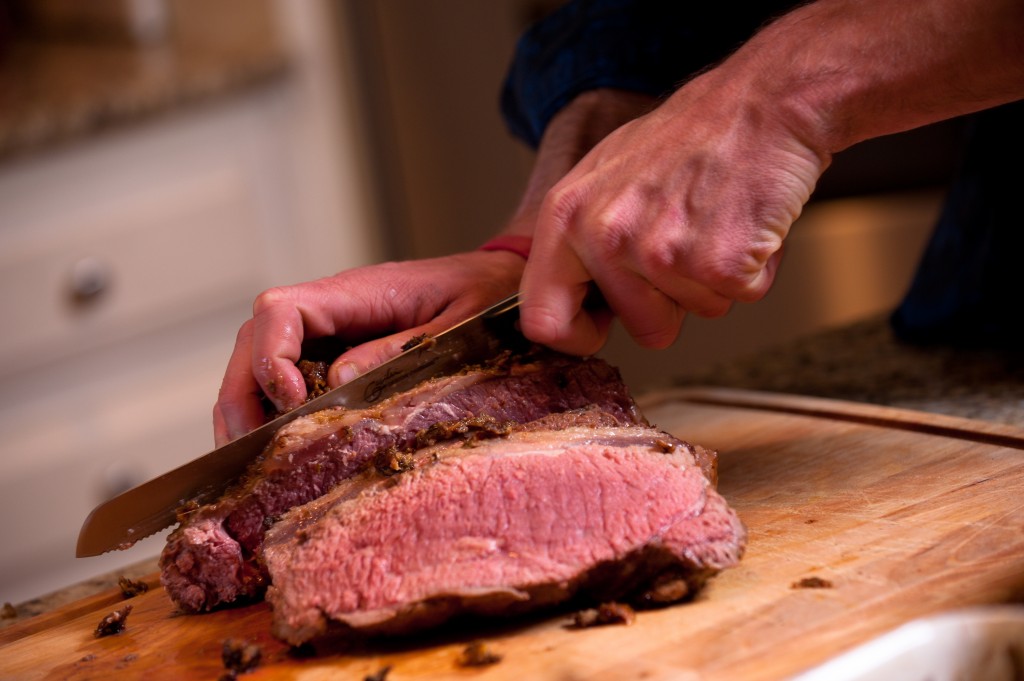 Roasted Garlic New York Strip Loin with Creamy Horseradish Gravy
Ingredients
1, 4-5 LB. NY Strip Loin
1 head of Garlic
1 tbsp. extra virgin olive oil
2 tbsp. thyme leaves
4 tbsp. unsalted butter, melted
1 tbsp. kosher salt
¾ tbsp. Fresh Ground Black Pepper
Preparation
For roasting garlic, cut end of head of garlic, where cloves meet, barely exposing the flesh of the garlic, discarding end
Loosely wrap in aluminum foil and drizzle with olive oil and salt and pepper
Roast in over for 35-40 minutes, until garlic begins to brown
Squeeze garlic out, discarding the remainder
Combine with butter, salt, pepper and thyme and puree in food processor until its consistency of a paste
Allow to cool before rubbing meat with mixture
Preparation for New York Strip Loin:
A few hours before or even night before thoroughly dry Strip Loin, then rub with garlic paste
Preheat oven to 450 degrees
On a roasting rack, place meat fat side up
Roast meat 15-18 minutes, then reduce oven temperature to 350 and insert meat thermometer into middle of loin
Cook for another 35-40 minutes until thermometer reads 130 for medium-rare, 140 for medium
Remove from oven and let rest for 10-15 minutes and slice to serve
Creamy Horseradish Gravy
Ingredients
1 ½ cups beef broth
1/3 cup red wine
¼ cup heavy cream
2 tsp. prepared horseradish
1 tbsp onion, finely chopped
1 clove garlic, finely minced
¼ tsp. black pepper
Salt to taste
Cornstarch Slurry: Combine 1 tbsp. cornstarch with 2 tbsp. cold water and stir to incorporate
Preparation
Over medium-low heat, sweat onion and garlic until translucent, about 3-4 minutes, and add horseradish, stirring to incorporate
Add Beef broth and Red Wine and increase heat to medium and reduce until liquid is cut in half
Add heavy cream, and increase heat to medium-high to slowly bring to a near boil
When nearly boiling, add cornstarch slurry, and stir into liquid until it thickens, which will occur
once boiling
Serve Immediately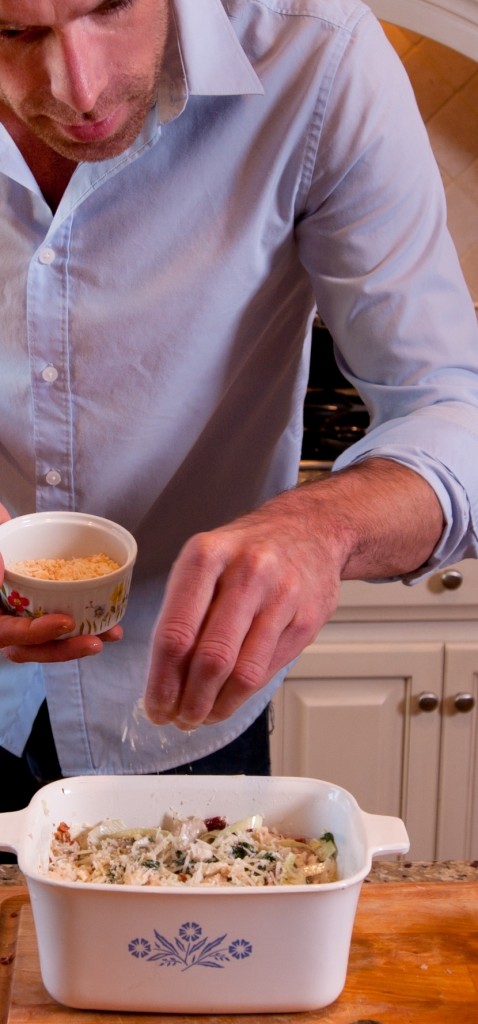 Asparagus Mushroom Casserole with Caramelized Shallots
Side Dish for 8-10
Ingredients
2 pounds asparagus, ends trimmed and discarded, cut into 1 inch pieces
1 pound mushrooms, sliced
6 shallots, thinly sliced, ⅔ for topping, ⅓ to go in casserole
6 cloves garlic, finely minced
1 tbsp. dried thyme
1½  cup heavy cream
¼ cup dry white wine
½ cup chicken stock
6 tsp. unsalted butter, divided into 3 piles
6 oz. grated parmesan cheese
3 tbsp. all purpose flour
Salt and pepper to taste
Preparation for Caramelized Shallots
In medium sauce pan, melt 2 tbsp. butter, and caramelized shallots for 30 minutes over medium to medium-low heat, stirring occasionally to avoid burning
When done, shallots should look nearly burnt
Preparation for Casserole
In large non-stick skillet over medium heat, melt 2 tbsp. butter
Add remaining shallots, garlic and thyme – cook for 4-5 minutes, until shallots are translucent
Add wine and chicken broth and reduce liquid in half
When mixture is reduced in half add asparagus and cover, steaming for 5 minutes
Add mushrooms, stir to incorporate into mixture and lower heat
Meanwhile, in same pan used for caramelizing shallots, melt remaining 2 tbsp. butter over medium-low heat and whisk in flour, and cook for 2-3 minutes and slowly add cream, whisking to incorporate, to avoid clumping
Slowly add ⅔ cup of parmesan cheese to finish sauce, stirring
Once thickened, combine with asparagus-mushroom mixture, and 2/3 of bread crumbs and bring contents to a boil
Remove from heat, and pour into greased casserole
Top with remaining bread crumbs, then remaining cheese and cook for 30-40 minutes, covered
For final 5 minutes, uncover, adding shallots, allowing top to brown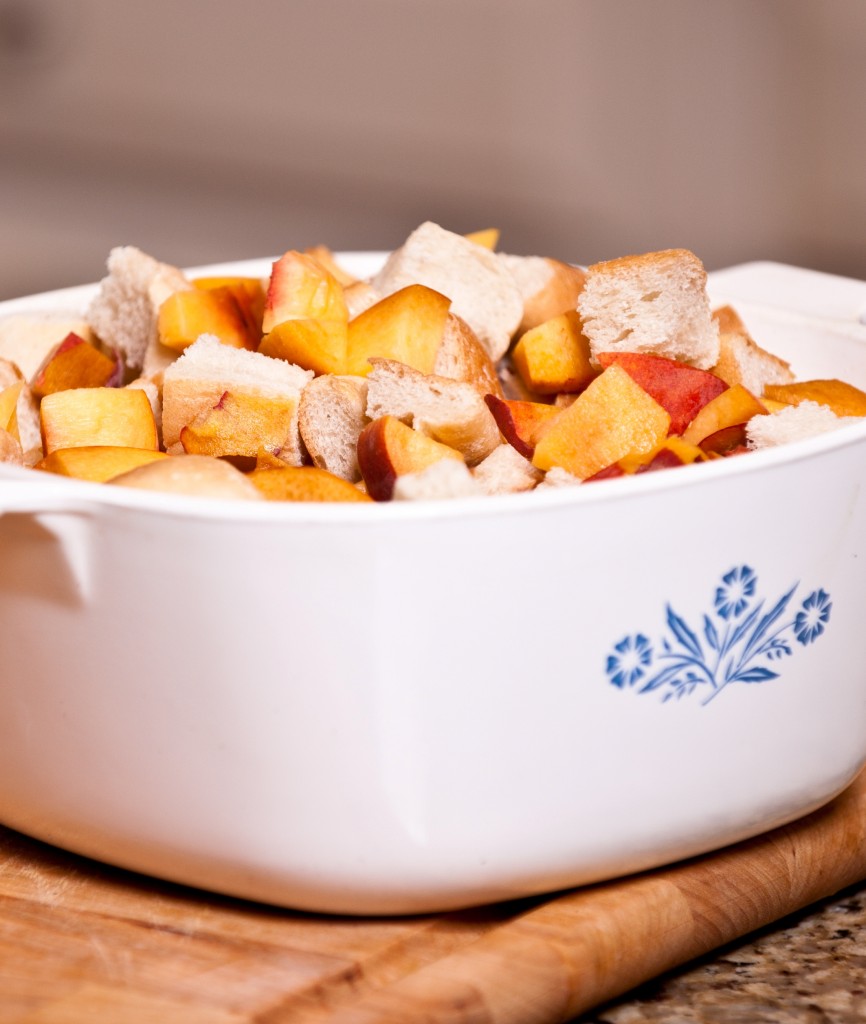 Southern Bourbon Bread Pudding
Makes dessert for 12
Ingredients for Bread Pudding
1 stick unsalted butter, plus 1 tbsp for baking dish
8 cups ciabatta or other airy rustic bread
4 cups half-and-half
½ cup bourbon
½ cup dark brown sugar
½ cup granulated sugar
1 cup pecans, chopped
1 tbsp. ground cinnamon
4 large eggs, plus 1 yolk, lightly beaten
3 peaches, peeled, seeded and sliced
½ tsp. kosher salt
Preparation for Pudding
Preheat oven to 350 degrees Lightly butter 4 inch deep baking dish
In a large bowl combine half and half with eggs, whisking to incorporate
Meanwhile in pan or in microwave safe bowl, melt butter, then whisk in both sugars, cinnamon and salt until incorporated
Pour mixture into egg-cream mixture and whisk
Add bread, peaches and pecans (reserving a few pecans for the top) and toss
Pour and spread mixture evenly into baking dish
Cover with aluminum foil for even cooking and so that top doesn't dry out
Bake for 40 minutes, then remove foil and top with bourbon and pecans
Bake another 10-15 minutes until firm and golden brown
Ingredients for Glaze
8 tbsp. unsalted butter
4 oz. bourbon
2 oz. Peach Schnapps
½ cup heavy cream
½ cup brown sugar
½ tsp. Cinnamon
Pinch of ground cloves or 1 whole clove
Preparation of Glaze
In small sauce pot over medium heat reduce bourbon and and Peach Schnapps in half
Add dry ingredients, and stir to incorporate
Slowly whisk in pats of butter, one at a time, not adding the next until previous is completely melted
Reduce heat to low and simmer, whisking in heavy cream – cook until consistent throughout
Pour over individual servings of bread pudding
---
Purchase a copy of Chris' latest book online at Bachelor Kitchen for only $5!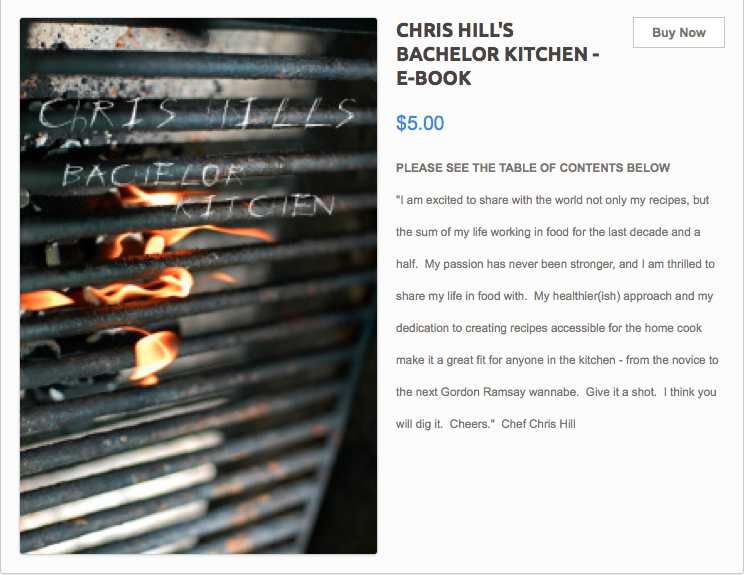 ---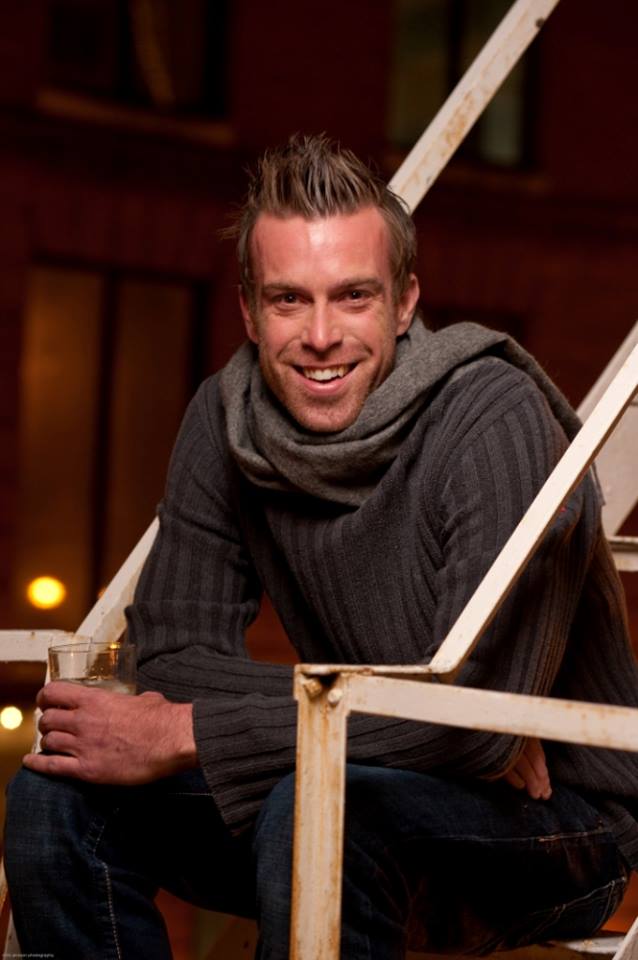 About Christopher
Chef Chris Hill, proprietor and personality behind the brand, Bachelor Kitchen, was raised in Atlanta, GA and this is where he discovered his love for cooking, before heading to The University of Alabama where he attained his double major in English Literature and Spanish, which was followed up by a Masters in Marketing.  Throughout his college years his yearning for culinary knowledge never ceased and flourished even after the completion of his masters degree, when, while working in advertising by day, he formed a high end catering company.  Hill opened a gourmet sandwich bistro The 3 Way Café in Norfolk, VA where he spends part of his time, while making guest appearances in various regional television markets for Bachelor Kitchen.  His goal is to make cooking and cocktail making accessible to the average person, while having fun in the process.  When asked his mission in life Hill states, "My goal is to reach people on any number of levels.  For me, I am lucky, I get to do that through food and through writing stories – things we can all relate to, a common ground of sorts.  If I can seize people's attention through these entities, entities I am extremely passionate about, then I can use them as a platform to go, well, really anywhere.  Regardless, it all comes back to the food."
Hill shares his time between Atlanta and Virginia, cooking, writing, making TV appearances, and spending time with friends.
---
Follow ATOD Magazine™
This recipe has been brought to you by our friends at: