The Kickoff Luncheon To Wet The Appetite!
by Dawn Garcia | Photo-Essay by Kevin Curtis
As the notice came in that the Austin Food & Wine Festival was kicking off, ATOD Magazine had the distinct privilege of being among those to get a preview at the Kickoff Luncheon for the 2014 line-up at Austin's Contigo on Tuesday, January 21. With chefs, Tim Love, Mike Lata, Chris Shepherd and Andrew Wiseheart preparing and serving a collaborative, family-style meal and Jeni's Splendid Ice Cream for dessert, we felt it best fitting to send in our photographer to show you rather than tell you. The images speak for themselves and if this year's festival is anything like last year's, you will not want to miss a moment of it.
---
The Menu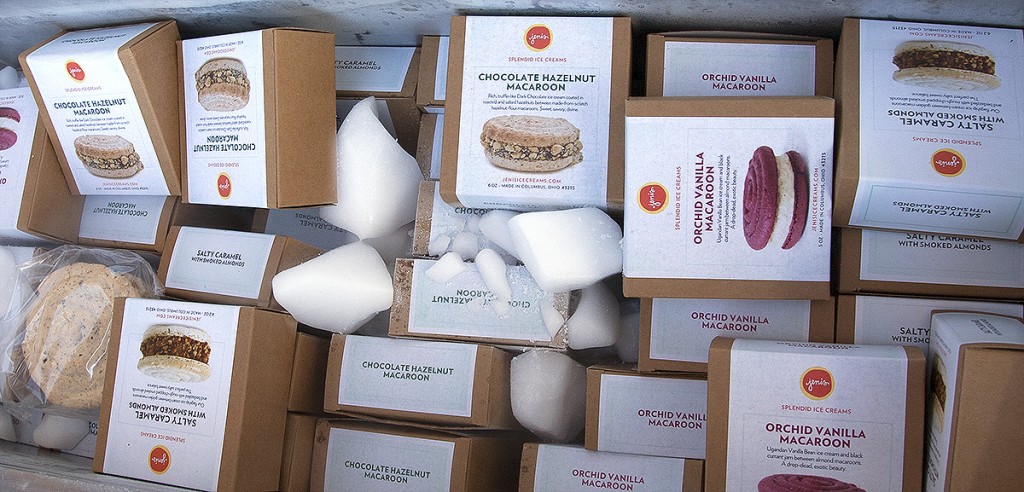 ---
F & W 2014
This year is sure to be even tastier than last. Just to give you a glimpse of how "real" Austin Chefs really are, here are two of my favorite answers from Austin Chefs, Tyson Cole and Shawn Cirkiel when I interviewed them for the Magazine:
Q: What is your favorite childhood memory ?
Q: What is your favorite childhood memory ?
[answer]A: Food wise there are many—picking blueberries in Arkansas; Baking biscuits on a wood burning stove with my blind great grandmother; making our own butter from cows we milked, eating all over NYC; cooking Thai food with some Thai exchange students every year and them sending me spices – and the list goes on and on..The memories of food are about the only thing I remember—not sure what that means.

(ATOD: I'm guessing it means your love of food is as natural to you as taking in air is to most everyone else.)
 To read the FULL coverage of the Austin Food & Wine Festival in 2013, click HERE.
---
Tickets on Sale Today for Austin FOOD & WINE Festival, April 25 – 27, 2014
Presented by C3 Presents and FOOD & WINE
Third Annual Festival to Feature Culinary All-Stars, Prelude Dinner at Butler Park, Live Music, Hands-On Grilling, Interactive Fire Pits, Grand Tasting Tents, and Much More …
Austin, TX (January 21, 2014) – Tickets for the third annual Austin FOOD & WINE Festival, April 25-27, 2014, will go on sale today, January 21st, 2014, at 10:00 a.m. CST, at www.austinfoodandwinefestival.com/tickets.
The Austin FOOD & WINE Festival is presented in partnership with founders Charlie Jones (founding partner of C3 Presents, whose musical festival production credentials include Austin City Limits Music Festival and Lollapalooza); chefs Tim Love (Lonesome Dove Western Bistro, Woodshed Smokehouse, Queenie's Steakhouse, Love Shack, White Elephant Saloon); Tyson Cole (Uchi & Uchiko); and restaurateur Jesse Herman (La Condesa & Sway); along with Christina Grdovic (publisher, FOOD & WINE).
The Festival will offer more than 40 events over three days, including hands-on grilling demonstrations, interactive fire pits helmed by an all-star lineup of Texas chefs, panel discussions, Grand Tasting tents offering food, wine and cocktail tastings, live music, book signings, and much more.  Hosting a national and international audience of food, wine and music lovers, and featuring world-class chefs, sommeliers, cocktail experts, culinary personalities, and rising stars, the Austin FOOD & WINE Festival sets the stage to showcase the local talent and unique flavors of Texas in the "live music capital of the world."
A brand-new addition to the weekend is Feast Under the Stars, hosted at Austin's Butler Park.  Thispre-Festival dinner will be a separately ticketed event, held Thursday, April 24.  Feast Under the Starsis an intimate, outdoor celebration featuringfiveTexaschefs preparing an al fresco dinner.  The collaborative, family-style menu will be prepared by chefsTim Love;Tyson Cole; Kent Rathbun (Abacus); Chris Shepherd (Underbelly); and Jodi Elliott(Bribery). Tickets for Thursday'sFeast Under the Starsare $185 per person, including paired wine and parking, and are purchased separately from the festival pass at www.austinfoodandwinefestival.com/tickets.
The 2014 Festival kicks off on Friday, April 25, with the Taste of Texas, held at Republic Square Park in the heart of downtown Austin, with a performance by Escort.  With a lineup showcasing the Lone Star State's brightest chefs, the Taste of Texas will feature: Tatsu Aikawa (Ramen Tatsu-Ya); Alexis Chong (Sway); Jason Dady (Jason Dady Restaurant Group); Todd Duplechan & Jessica Maher (Lenoir); Omar Flores (Driftwood); Terrence Gallivan & Seth Siegel-Gardner (The Pass & Provisions); Diego Galicia (Mixtli); James Holmes (Lucy's Fried Chicken & Olivia); Matt McCallister (FT33); Wayne Mueller (Louie Mueller Barbecue); André Natera (Village Kitchen & Toko V);Hugo Ortega (Hugo's Restaurant & Backstreet Café); Jesse Perez (Arcade Midtown Kitchen); Blaine Staniford (Grace); Philip Speer (Uchi & Uchiko); and Justin Yu (Oxheart).
Saturday evening's Rock Your Taco competition brings out the competitive side of all participants.  With live music from JC Brooks & The Uptown Sound, chefs will square off against one another to create the ultimate taco, with winners chosen by an esteemed panel of judges, including Christina Grdovic, Graham Elliot (Graham Elliot Bistro) and Andrew Zimmern (television personality).  Two-time Rock Your Taco champion Tyson Cole will defend his crown against the likes of Rick Bayless (Frontera Grill, Topolobampo, XOCO, Tortas Frontera & Frontera Fresco); David Bull (Congress, Second Bar + Kitchen & Bar Congress); Richard Blais (author; Juniper & Ivy, FLIP Burger & The Spence); John Currence (author; City Grocery Restaurant Group); Bryce Gilmore (Barley Swine & Odd Duck); Mike Lata (FIG & The Ordinary); Tim Love; Georgia Pellegrini (chef/author); Monica Pope (Sparrow & Beaver's); Kent Rathbun; Chris Shepherd; Ming Tsai (Blue Ginger & Blue Dragon); and Tandy Wilson (City House).  Jeni Britton Bauer (Jeni's Splendid Ice Creams) will offer a sweet end to the night.
The festival grounds at Butler Park will once again be activated with interactive live-fire stations, where Texas chefs will be cooking over Fire Pits and offering tastes to attendees throughout the weekend.  Due to the overwhelmingly positive response from last year, the 2014 program will feature two Fire Pit stations, showcasing four chefs each day, each offering a front-row experience cooking with live fire.  Chefs include Tim Byres (Chicken Scratch & Smoke); Jason Dady; Ned Elliott (Foreign & Domestic); Aaron Franklin (Franklin Barbecue); Bryce Gilmore; John Russ (Lüke San Antonio); Paul Qui (Qui & East Side King); and Andrew Wiseheart (Contigo).
The Chefs' Showcase, featuring a dynamic roster of chefs serving tastes of their signature dishes to attendees.  On Saturday and Sunday, mix and mingle in the tents while enjoying bites from Chefs' Showcase participants:  John Bates & Brandon Martinez (Noble Sandwiches); Stefan Bowers (Feast Restaurant); Shawn Cirkiel (Parkside, Olive & June, Chavez & The Backspace); Kassie Harris (Whip In); Chris Hurley & Jennifer Costello (Bonneville); Allison Jenkins & Janina O'Leary (LaV); Josh Jones (Salt & Time); Lawrence Kocurek (Trace); Rick Lopez (La Condesa); Jeff Martinez (El Chile); Sarah McIntosh (Épicerie Café & Grocery); Scott Mechura (Goodall's Kitchen); Sandi Reinlie (Vespaio); Josh Watkins (The Carillon); and Kevin Williamson (Ranch 616).
A star-studded collection of sommeliers, beverage directors, mixologists and craft beer experts rounds out the Austin FOOD & WINE Festival line-up, including Master Sommelier Devon Broglie; Master Sommelier Craig Collins; sommelier Jill Gubesch (Frontera Grill); FOOD & WINE's executive wine editor Ray Isle; sommelier Vilma Mazaite (LaV); author Mark Oldman; and Nate Wales (La Condesa & Sway).
The complete list of programming, including panel discussions, cooking demonstrations and more, will be announced on February 25, 2014.  Please visit www.austinfoodandwinefestival.com for more information.
Tickets for the 2014 Austin FOOD & WINE Festival are available in two options:
Taste ($250) and Savor ($850), and are available at www.austinfoodandwinefestival.com/tickets.
The Taste pass includes access to over 40 demos, hands-on experiences, seminars and tastings, and daily Grand Tasting events.   Attendees who purchase the Taste pass also have the option to add on tickets for Friday night's Taste of Texas event ($150) and/or Saturday night's Rock Your Taco competition ($150).  The Savor experience includes priority access to all demos, tastings and hands-on experiences, private Grand Tastings on Saturday & Sunday, access to a VIP lounge with a bar and additional tastings, and access to both the Taste of Texas and Rock Your Taco evening events.  Tickets for Thursday's Feast Under the Stars are $185 per person, including paired wine and parking, and are purchased separately from the festival pass at www.austinfoodandwinefestival.com/tickets.
All attendees must be 21 years of age or older.  For more information or to purchase tickets, please visit:
www.austinfoodandwinefestival.com, or follow us on Twitter @austinfoodwine, Instagram @austinfoodwine and Facebook.com/austinfoodwine
---
Follow ATOD Magazine™
---
This Article Inspired by the latest Solo Release by Shana Halligan: