Chef Jason Rivas + SouthCoast Winery
Written + Photographed by Dawn Garcia
TEMECULA, CA – Temecula has become Southern California's winery go-to and rightfully so. With a plenitude of land, vegetation and temperate climate, it's no wonder there is an accelerated movement in both farm-to-table as well as wineries popping up all the time. Among them of course is the revered Winery, Resort, and Day Spa, South Coast Winery and the notable Chef Jason Rivas.  Chef Jason Rivas can be described as a continually evolving culinary developer who isn't afraid to try new things. After two years of scheduling conflicts, we finally saw an opening to do a tasting. I can safely say that I have heard nothing but positive things about South Coast Winery's menu since Chef Rivas became the Chef de Cuisine and now, after having had sat down to experience his innovative culinary creations, I will say – with enthusiasm – that I concur.
Chef Rivas has a vision. It is one the utilizes as much "local" as one can, not being afraid to take chances, experiment, and above all give impeccable service. His passion for cooking, for seeing the potential of every flavor comes out as he speaks about his creations. That passion follows through into his dishes. So at the risk of going on and on, here is a look at our 4-Course Tasting:
Vineyard Rose Restaurant | 34843 Rancho California Rd. | Temecula, CA 92591
4 Courses 4 Wines
My restrictions: No chicken. No shrimp. No almonds. No wheat.
Wine 1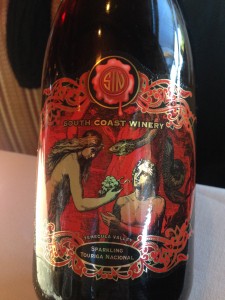 SIN. Touriga Nacional
History is this grape is typically used to make port so it is expected to be a rich deep shade of garnet.
South Coast chose to do something rather bold by adding bubbles to this red .
My review: Fizzy, almost cherry like, fruit forward yet bitter. Call me old fashioned but while I appreciate risk of this wine, I would choose a clean champagne or Prosecco to begin.
Course 1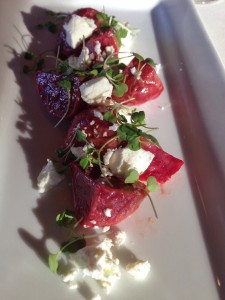 ROASTED BEETS
Roasted candied beets with white balsamic vinaigrette, olive oil (all made locally), goat cheese with micro arugula, Drake goat cheese.
Drake Family Farms' owner has an interesting story: a veterinarian who was a chef by hobby turned his love of animals and his hobby into a full time career. With a goat farm he is passionate about (so much so he names every single goat), it's a local favorite for Chef Rivas.
My Take: Now onto the dish. Beets are among my favorites but they are not always done well. Today, the beets are cooked perfectly and the white balsamic and olive oil create a refined balance. As each component is placed together, what you find is a refreshing, crisp, and lovely palate cleanser. Taking sips of the SIN pour, it does coincide nicely.
Wine 2
A Spanish bred wine, Grenache or Garnacha is one of the most widely planted red wine grape varieties in the world.
My Take: SouthCoast's Grenache has a hue of pepper, full berries, tobacco leaf … it smells like earth. A very temperate grape and a rather easy-to-sip wine.
Course 2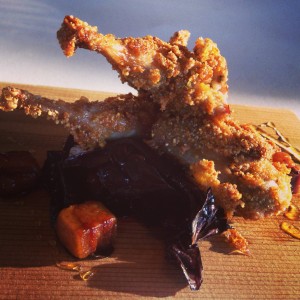 QUINOA FRIED QUAIL
Quail breaded in a quinoa flour, buttermilk seared chard, pancetta with honey. Chef outdid himself with this dish.
My Take: The quail is so tender not gamey or tough, cooked through with the sharpness of the chard (that Chef grows at home) melting into the crispness of the quinoa batter with the frolicking of the pancetta on your tongue and well, all there is left to say is … dreamy. This was my happy place. This dish surprised me simply because it had all of the texture of fried chicken without the grease or obvious wheat/flours used. Chef created something I have never had and not only was it utterly delicious, it was full of flavors, textures, and taste that one longs for.
Wine 3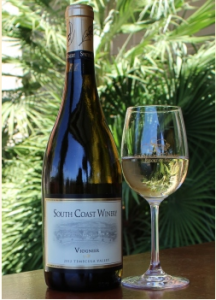 An assertive, aromatic peach and nectarine bouquet with a rich velvety finish.
My Take: This is a crisp and wonderful sip. Take a bite and then a sip and the Voignier releases the eloquence of the scallop and enhances the pepper of the wine. It is broad and full and complex unilaterally.
Course 3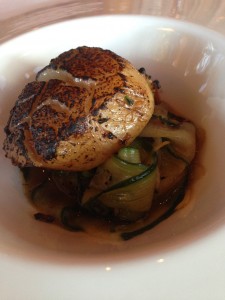 SCORCHED SCALLOP
Scallop is brined with a blow torch with a ceviche center over pappardelle made of cucumber, cumin, bell pepper, shallots, extra virgin olive oil (olive oil made locally).
My Take: This scallop is one of the most beautiful scallops I've had. And I am NOT easily impressed with scallops, in fact it is one of the most difficult dishes to impress me with. It is the fish, that when done mediocre leaves a horrid taste. That said, Chef Rivas' scallop was a total surprise and was smooth, easy, and an exquisite bite. The pappardelle made of cucumber was yet another beautiful surprise.
Wine 4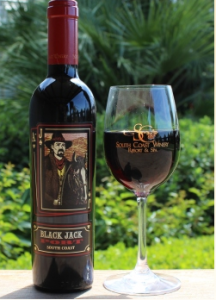 South Coast Port is a tribute to the history and tradition that embodies the wines of Portugal and Captain "Black Jack"
My Take: Wonderful tawny port with such sweet remnants of fermented fruit looming forward. This is a currant forward, rich, thick and hearty wine. As you breathe it in, there is a really subtle spiciness to it that envelops your senses.
Course 4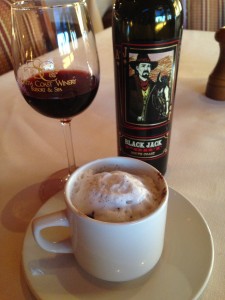 Hot Cocoa Soufflé
Soufflé with sea salt and a vanilla milk foam.
My Take: Dense, rich, bitter with pinches of salt lending to the overall composition. This was truly heavenly.
I had the honor of sitting down with Chef and I can assure you that you can expect an in-depth interview in the near future.
This was a much anticipated tasting and it was a success. I have to give Chef a huge thanks because not only did he rise to the occasion and create an entirely off-the-menu meal, it was paired with gorgeous and rather interesting wines that brought out the flavors of everything he created. He is a chef that will continually evolve, see fare as a canvas waiting to be painted and for that, I am grateful. I look forward to returning to experience the spa and resort to see if readers will find a true gem of the south. For more on Chef, the menu, hours, and location, visit: www.wineresort.com
---
Follow ATOD Magazine™
---
Thanks to our friends at:

This Article Inspired by the latest Solo Release by Shana Halligan: