5 Summertime Movies to Help You Cool Off 
Lather on the sunblock, crank the a/c and soak up the rays of bedroom lightbulbs with these five summertime movies to help quell the sweltering summer heat. I decided to compile a list of summertime films that are more light-hearted (Dog Day Afternoon and Do the Right Thing had to stay behind) and three reasons why these films are worth a watch.
[separator type="thin"]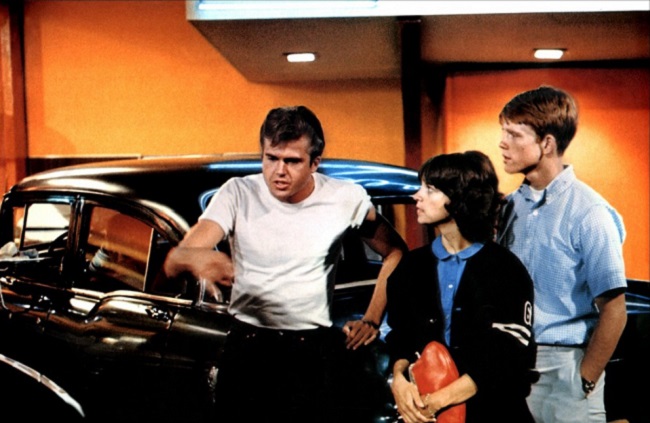 Directed by George Lucas.
Written by George Lucas, Gloria Katz and Willard Huyck
Before heading off to college, high school graduates spend one final night of hijinks in a Southern California small town.
It's a love letter to the 60's. John's (Paul Le Mat) '32 Deuce Coupé purrs beneath the night lights of a small town in the summer of '62, him awaiting the next sucker that challenges him to a race, cruising around for girls to take for rides as night flickers into dawn. American Graffiti is one of the ultimate summer movies and period pieces, telling the story of a group of teenagers one summer 1962 night in SoCal. It embodies the peak of car culture in America, where teenagers rumbled their Chevys at slow speeds down the streets with no destination and growly-voiced DJ Wolfman Jack taking requests and casting spells over the radio waves. It drips nostalgia, surrounding people in a simpler time that charms from beginning to end and, whether you are familiar with 60's Americana or not, the film will make you fall in love for the first time or all over again.
The soundtrack is boss. Music is a constant in American Graffiti and serves as its own character.  Arguably having some of the best series of songs in an American film and certified triple platinum upon its release, the soundtrack boasts 41 playful tunes and sizzles the screen with Fats Domino, Chuck Berry and The Crests howling catchy melodies as seconds tick and car engines boom. The music is irresistible and forces calm toes to wiggle and tap, often provoking the same kind of nostalgic flavor of grandparent's spinning stories of the good ole' days.
A charming cast. Young Richard Dreyfuss, Ron Howard and even Harrison Ford are among the players in the film and are extremely fun to watch. The actors give off bubbly performances that sweep you into their devil-may-care adventures, yet they can also seamlessly immerse themselves into subtle, understated emotions when the happy-go-lucky events take a turn into the painful reality of leaving friends and lovers behind in order to spark the next chapter of their lives.
[separator type="thin"]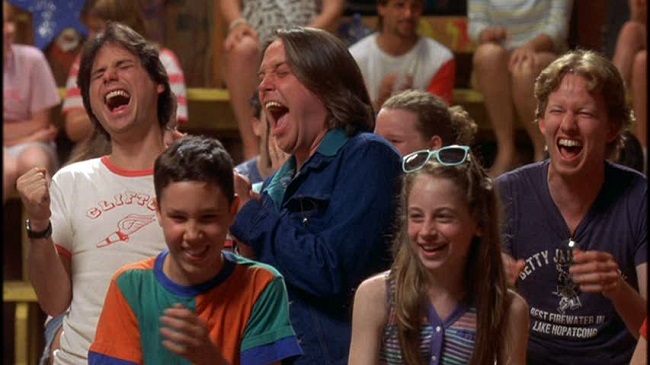 Written by Michael Showalter and David Wain. Directed by David Wain.
On the last day of camp in the summer of 1981, counselors address romances and unfinished business.
One of the best comedic ensemble casts. Debuting in 2001, Wet Hot American Summer wasn't a big hit upon its initial release but quickly gained a cult following on home video due to its absurdist comedy. More interesting is the film has incredibly talented comedic actors at the top of their game before they were household names. Paul Rudd, Bradley Cooper, Amy Poehler and Elizabeth Banks to name a few that really nail the over-the-top acting and silliness–and is one of the first movies showcasing how naturally funny Paul Rudd is.
Absurdist gags at their best. It's not a surprise that Wet Hot American Summer was not a big hit with audiences upon its release. The humor is very specific and appeals to a certain kind of audience. From a man dry-humping a refrigerator to a montage of the counselors going into town for groceries, escalating to them robbing an old lady and being strung out on heroin, then returning to camp cheering and smiling, the film cannonballs into the absurd, unapologetically and often. Once you embrace what it is, it's a hilarious ride like nothing you've seen before.
It's a great parody of 80's summer camp films. The film can get away with bizarre gags because it's a brilliant send-up of popular summer camp films of the 1980's like Meatballs. Director David Wain has an excellent eye for cliché and takes that to extremes throughout like the entire cast being in their 30's, but they play teenage camp counselors–a jab at Hollywood's practice of casting people much older to play 16-year-olds. And as with most summer camp films, Camp Firewood seems to be a haven for the counselors to constantly ignore the kids– and pranks and bullying – with no consequence. There are points where counselors make out with each other while kids drown and scream for help behind them and then it's just onto the next scene. This underlying darkness to many jokes make this one of my favorite comedies of all time.
[separator type="thin"]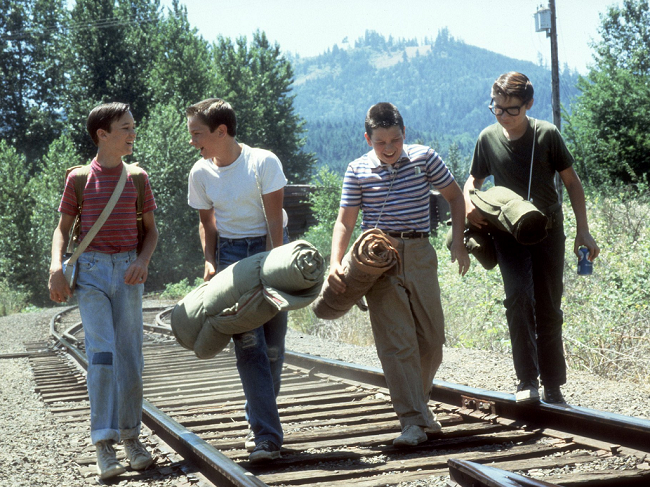 Directed by Rob Reiner.
Written by Raynold Gideon and Bruce A. Evans.
Four young friends set out on an adventure to find the body of a missing boy.
It has child characters that aren't stupid. There aren't many films that capture the experience of being a kid better than Stand By Me. The four main kids on a quest to see a dead body have different personalities, are relatable, and are not dumbed-down. There is an offensive practice in Hollywood films where children are portrayed as cardboard cutouts with no original thoughts or motivations, but this film builds living, meditative children who aren't oblivious to the harsh reality that life prods at their noses. The kids have real human emotion and address themes such as death, child abuse and family dysfunction through smart, realistic dialogue bolstered by great performances.
Great child performances. It is hard to watch Stand By Me without the behind-the-scenes reality creeping in of River Phoenix's tragic death of drug overdose at such a young age. The amazing performance he gives as Chris showcases the incredible talent he had for the craft and a true promise of a phenomenal career ahead had his life not been cut short. But it is not just River Phoenix that carries the film, Corey Feldman (Teddy), Wil Wheaton (Gordie) and Jerry O'Connel (Vern) inhabit their roles believably. When existential struggles surface, they react genuinely and evoke empathy because these are real kids dealing with real issues. Without the outstanding performances given by each child lead, the film would suffer and cross into something overly sentimental.
One of the definitive coming-of-age films. The boys in the film are at a crossroads in their life and despite the complexity/abrasiveness of their situation, they are still normal boys in an Oregon small town. The film is narrated by an adult Gordie Lachance (Richard Dreyfuss) writing his memoir, recounting the parable of childhood friends on an adventure to help emphasize that, despite the often gloomy subtext to the boy's lives, nothing will ever feel as uncomplicated or innocent as your experiences with childhood friends because it predates the loss of innocence and the painful circumstances of adult life.
[separator type="thin"]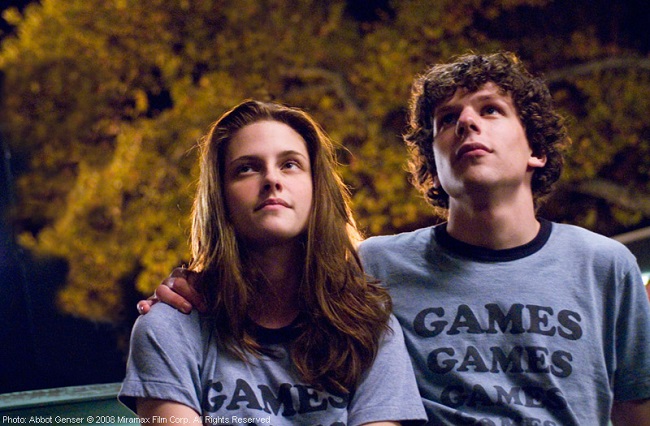 (Written and Directed by Greg Mottola)
A recent college graduate must abandon his plans for the future and take a summer job at a rinky-dink amusement park in the summer of 1987.
Every character feels real. People want to do the right thing, but they also make real-life mistakes, act selfish in their relationships and their personal lives, and learn from those actions. Where many other films try to overexploit emotional scenes or pigeonhole the morality of characters with dialogue over-explaining motivations, Director Greg Mottola respects his audience and shows raw emotion through subtle, surprising performances he draws from Jesse Eisenberg, Kristen Stewart and Ryan Reynolds. There is an authenticity to these characters that trickles across each frame.
One of the best soundtracks in recent memory. The film takes place in the summer of 1987, and instead of committing the tawdry choice of  taking the most obvious, clichéd 80's music and injecting it into the background, real music reflecting the era/culture of the time is used. Boasting a soundtrack of Lou Reed and the Velvet Underground, Husker Du and The Cure, the music is not only great to listen to but no song feels forced, and the music often carries scenes to a higher level, effectively bolstering mood and emotion without becoming a distraction. More interestingly, all of the unapologetically 80's songs like "Rock Me Amadeus," are used in an ironic fashion, the character's often pointing out how tacky the "popular music" is—an almost meta-critique of clichéd period piece soundtracks.
It's a relatable story. What makes this movie insanely re-watchable is the exploration of the uncertainty and issues young people experience. Where other films would tackle problems like alcoholism in a melodramatic light, they are portrayed through background shots, lines of dialogue and subtle performances. The film respects its audience by showing not telling. Alcoholism is addressed by a shot of  Brendan's (Jesse Eisenberg) father in the background blending a drink without the lid on or a bottle of vodka being found hidden underneath the seat of a car. A lesser film would derail these scenes explaining, but Adventureland doesn't pause to point issues out, they just kind of exist, like in life, and this adds a depth to the film that rewards multiple viewings.
[separator type="thin"]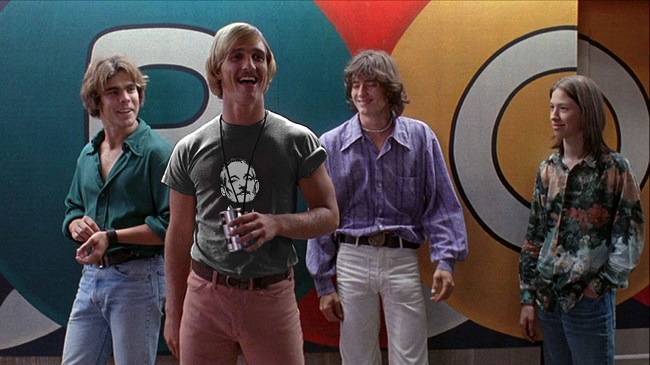 Written and Directed by Richard Linklater.
Graduating and incoming high school students get into trouble on the last day of school in summer of 1976.
It knows what the 70's were like. Despite being made in the 90's, Director Richard Linklater's depiction of the 1970's is a true love letter to an era filled with kids hanging out in the back of an El Dorado's truck bed while sipping beers and shooting the breeze.  Each locale, hairstyle and song choice is pitch perfect and perfectly illustrates what it feels like graduating high school, and the friendships we potentially have to leave behind as we grow into adulthood.
Fun performances by stars before they were big. One of the more fun aspects of Dazed and Confused is seeing the cavalcade of celebrities on screen before they were household names and had Oscars sitting on their mantle. You get to see Ben Affleck as a paddle-swinging jock bully, Milla Jovovich as a free-spirited, groovy chick and most famously Matthew McConaughey as a loitering, ultra-creep that loves high school girls because "[he] get[s] older, they stay the same age. Yes they do."
You don't watch it, you live it. Linklater creates a film with an innate ability to capture real moments in an honest way with the simplicity of the narrative–high school kids hang out and get into trouble on the last day of school in May of 1976. These characters feel like people you know and share genuine experiences/dialogue, and pull you into their world instead of feeling like a spectator. You become a fly on the wall of a mellow summer night filled with friends, joints and an absence of smart phones or selfie sticks. It will make you feel like you're living in the wrong era.