Chef + Restaurateur Michael Mina
I have always been a fan of anyone who puts their heart and soul into what they do but never is that more appreciated than when you sit down to dine and the fare placed before you is of utmost quality, presented beautifully, and nourishes not only your hunger but your curiosities as well. Eating isn't just a primal need and thankfully as societies became more evolved and sophisticated, the desire for fine food, memorable flavors, ingredients culminating in freshness and taste, and of course, presentation has taken center stage. Exquisite food once was limited to those of aristocracy or fortune. Today, thanks to the massive culinary surge, fine cuisine is available to most anyone willing to venture out. That said, I have the pleasure of learning about so many talented chefs de cuisine that are changing the culinary landscape from service to quality to innovation. One such Chef is Michael Mina. Owner of 20 – yes 20 – restaurants throughout the United States (today is the grand opening of Bourbon Steak Los Angeles!), his vision, passion, and uncompromising integrity is why I was honored to have the opportunity to interview him.
An Avid supporter of his Chefs, Michael, in spite of being one of the youngest chefs to receive a Michelin star rating (in his 20's), is a down-to-earth visionary, husband, and father who truly believes in creating food that makes people happy. It's simple and admirable and flawlessly executed. A Four-Star Award Winning Chef, Mina is not the typical celebrity chef. His passion and desire to always strive to give a remarkable customer experience is unparalleled. Chef Mina takes pride in the dishes he has created and with multiple chefs working to bring his vision to life, he gives his heart and soul to his craft.
What so many diners and fare savants often forget is the hours and time a chef puts in to seeing a simple concept born and executed. Food doesn't merely get created. Much like the production of a film, true cuisine is the vision of one and the work of many. I applaud Chef Mina's continued passion, unending creativity, openness and willingness to always value quality and experience above all else, and his masterful way of maintaining balance in the process. In addition to being a Chef, Michael Mina is also a husband and father of two sons. His devotion to his family and his craft is admirable and as a parent myself, I can say it's a continual juggling act! Enjoy the interview below. May you be inspired, ravenous, and ever encouraged to dream a little bigger …
Michael Mina | Facebook | Instagram | Twitter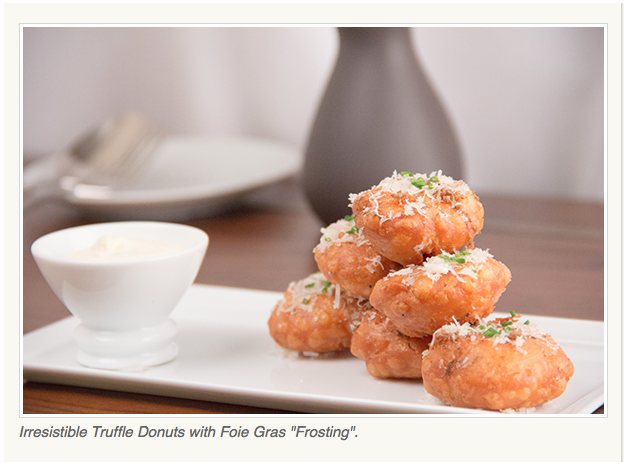 Dawn Garcia (DG): I recently watched your "Day in the Life" video with your son Anthony presenting his "World Famous Prosciutto Sandwich". I love that you and your wife just went about your day (allowing him the spotlight) as he so proudly told the world about his creation (and not using the ends of the bread loaf!). What would you say is the most challenging part of striking balance in terms of making time for family?
Chef Michael Mina (MM): I think remembering to stay connected emotionally with your family can be a big challenge. They grow and change so fast, there's this fine balance of being a parent but a friend on some level too – so they know they can come to you with any issue or problem. It's hard when work requires travel though, so you have to find ways to keep connected – I bring my sons with me whenever possible. It's a great experience for them, they're exposed to different people and places; not to mention traveling gives us such wonderful bonding time and incredible memories.
DG: 19 Restaurants. A) Of those 19, when you opened AQUA and were given such freedom as a young chef, what was the biggest hurdle you faced the 1st year? B) What is the one dish from AQUA you absolutely adored creating?
MM: A) The most difficult was finding the balance of achieving self-confidence.
B) The Lobster pot pie became my first signature dish at Aqua and was a labor of love. Your goal as a chef is always to create dishes people remember years later. The pot pie is one I couldn't articulate properly until we figured out how to do it tableside; the carving, the aromas, the reconstruction of the lobster—it helped me understand how impactful tableside service can be in a dining room.
DG: When you close your eyes and think back on your childhood, what was the first moment you can remember where food played an integral part of how you saw life?
MM: I come from a Middle Eastern family and we spent many times around the table enjoying meals as a group. I think the overall memory of that through my childhood influenced my decision to become a chef. I crave that ability to help others create lasting memories together.
DG: One of the things I find most endearing about you as a chef is your continual openness to evolving and creating experiences for your guests. Dining is something that can take hold of ALL of your senses. If you could sum up each sense in one word in relation to ingredients, what ingredients would summarize each of the 5 senses?
MM: I don't necessarily think of ingredients, I think of experiences:
Taste – When I think of taste, I automatically think of balance with acid, sweet, spice and fat.
Touch – the art of butchering meat and fish.
Smell –the smell of food cooking over a wood fire.
Sound/Hearing – when something hits into a hot sauté pan, that searing sound.
Sight/See – the abundance of colors in the produce department of a great market.
DG: Aside from having to take care of Anthony's "horse" during your "relax" time (your "Day in the Life – DRIVING" video), what outside of family and cooking gives you total solace?
MM: I enjoy dirt biking when I have the chance. It's such a rush of adrenaline and takes much of the same energy and focus that I use in cooking.
DG: Food is art; A culinary awakening that invokes the natural curiosities within. That said, if you had to create "bliss" on a plate, what would you prepare?
MM: For me, bliss is simple, perfectly balanced flavors that offer a mind-blowing experience like a shabu-shabu served tableside with the freshest, highest quality ingredients like A5 Wagyu beef and seasonal vegetables. The interactive component of the guest cooking the beef and vegetables in the broth really leaves an impression.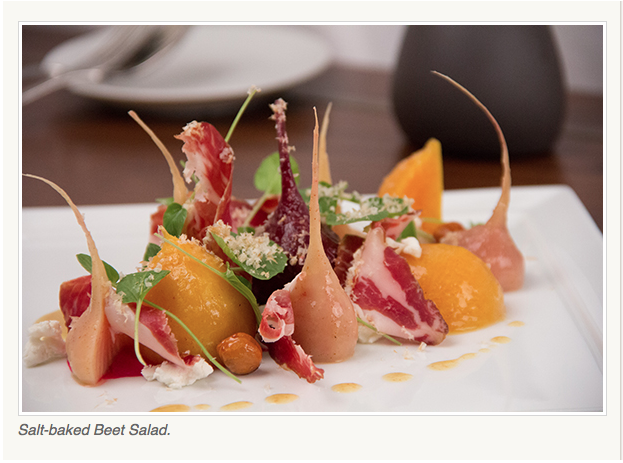 DG: Do you have a traditional Egyptian dish you had growing up? If so, what is it?
MM: My mother's falafel is one of the greatest food memories I have from childhood. It lent a certain comfort and warmth to my meals. Years later, I wanted to share this feeling with guests, so I incorporated her family-recipe for falafel into a burger at BOURBON STEAK Miami. We serve it on a toasted brioche bun with tahini sauce, warmed heirloom tomato, grilled scallion, accompanied by a cucumber and tomato relish, Duck Fat French Fries and tahini dipping sauce.
DG: Travel influences so much of how we see the world and experience living. What 5 places have you gone to that have opened your mind entirely and what 5 places do you still long to go to that you haven't yet been?[/question]
MM: 5 Places I've been: Japan, Thailand, Spain, Italy, and UAE.
5 Places I want to go to: Australia, New Zealand, Morocco, Sweden, the Amalfi Coast.
DG: A word you love to hear.
MM: Dad.
DG: A piece of art you can't help but feel joy from. (If you have a photo that would be ideal.) [/question]
DG: I believe one of the most understated ingredients in cooking is citrus; It is the most beautifully balancing in any cuisine and can make a bite taste like poetry when done right. What is one of your most citrus forward dishes? (If an image is available, please provide.)
MM: We used to do a whole grilled snapper, wrapped in citrus and a banana leaf. It was grilled over a wood fire at Seablue and finished with citrus vinaigrette. That combo of charred citrus (a flavor that I love and feel is not used enough) with fresh citrus created a perfect combo that I love.
DG: I couldn't agree more!
DG: What is your guilty pleasure?
MM: Late night snacks.
DG: Something no one knows about you (that you're willing to share!).
MM: The most relaxing place for me is in water – the ocean, the pool. It's the perfect way for me to clear my mind.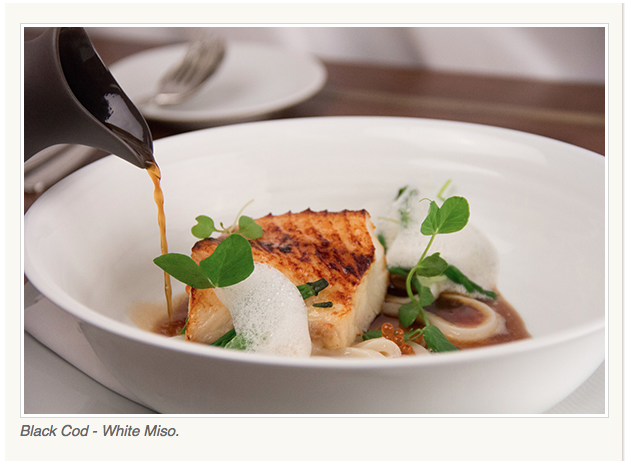 DG: 3 things you always tell your sons.
MM: 1. Be friendly to everyone but choose your friends very wisely.
2. It's okay to be afraid but do not stop trying new things.
3. Don't ever quit something you start.
DG: Being a Chef requires tremendous time, endless hours, and navigating through a lot of red tape. That said, maintaining a healthy and happy life outside of work is crucial. At what point in your career were you able to finally strike that balance of living life and living work?
MM: It's ongoing. In this profession to get to that place of balance, for me, is all about the people I'm surrounded by at work. Even though it might sound cliché, it's about having the right people around you because you rely on them and this is not a one person job. There are peaks and valleys. The trick is to fight like hell to stay at the peaks when you reach them. And when you have a valley, 9 times out of 10 it's about surrounding yourself with the right people to get back to a peak.
DG: What makes an unforgettable burger?
MM: Like most things, I find balance to be key. You don't need fancy techniques or expensive ingredients. Using good quality lettuce, cheese and beef usually makes a great burger – of course I always like to add a secret sauce, some house made pickles and serve with some optional toppings like tomatoes or onions.
DG: With living in the Bay Area and utilizing fresh seafood, what was one of your favorite seafood outings?
MM: I went with a couple abalone divers (I didn't dive) but we sat on the beach and butchered them and cooked them a few different ways right there on the beach. It was incredible!
DG: Best advice you were ever given as a: A) Chef, B) Father, C) Husband.
MM: As a chef: When you think you have things figured out, chances are someone is right behind you and has things figured out even more. You have to be relentless in your pursuit.
As a Father: From my father who told me that it is okay to be friends with your children. Don't draw that line in the sand and stay on one side. Make sure that you let them feel that they can tell you everything and don't overreact.
As a Husband: Happy wife, happy life!
DG: Chocolate or chili pepper?
MM: Chocolate!
I want to thank Michael Mina for taking the time to do this interview with me in the midst of what I know is an insanely busy schedule. You inspire, you motivate, and it is a pleasure to tell a different story of who you are as a Chef, Father, Husband, and lover of life.
---
Michael Mina also has launched a Wine Program that you should look into. In addition, a list of all of his restaurants are below.
---
World of Wine by Michael Mina with Rajat Parr
Rajat Parr, Mina Group's Wine Director, talks about his approach to wine and how wine is part of life and every meal.
---
Michael Mina Restaurants by State
ARCADIA, San Jose
BOURBON STEAK, San Francisco
BOURBON STEAK, Los Angeles
CLOCK BAR, San Francisco
MICHAEL MINA, San Francisco
RN74, San Francisco
STONEHILL TAVERN, Dana Point
BOURBON STEAK, Washington, D.C.
BOURBON STEAK, Miami
MICHAEL MINA 74, Miami Beach
PABU, Baltimore
WIT & WISDOM, Baltimore
AMERICAN FISH, Las Vegas
MICHAEL MINA, Las Vegas
PUB 1842, Las Vegas
STRIPSTEAK, Las Vegas