2014 Austin Food & Wine Festival
Cover Photo + ALL Photographs by Kevin Curtis
I love the city of Austin. It's no secret the city won my heart the very first time I visited in 2012. Combine a city of just about everything I love AND toss in the most sensational range of culinary prowess into a week long festival of kickoff events, culinary battles, sweet delights, imaginative parties, and some of the greatest chefs in the US? Um yes. Count me in. This year however, I decided to invite my Austin photographer, Kevin Curtis to go in and capture some of the more notable moments. You can see for yourself that it was nothing short of tasty entertainment!!
Seeing everything from a clever match of table tennis to the silly antics of Graham Elliot or the immensely talented Andrew Zimmern who will, as the world has seen, eat anything – this year did not disappoint. The 3rd Annual Austin Food & Wine Fest was a playful easy-going few days that invited purveyors, savants, curious eaters, happy drinkers, newbies, and discerning palates alike to let go for a while and enjoy the wonderful world of tasty cuisine, unforgettable beers and wines, exquisite bubbly, and pavilions of anything and everything.
In the words of of a wise T-shirt:
WELCOME TO THE PARTY!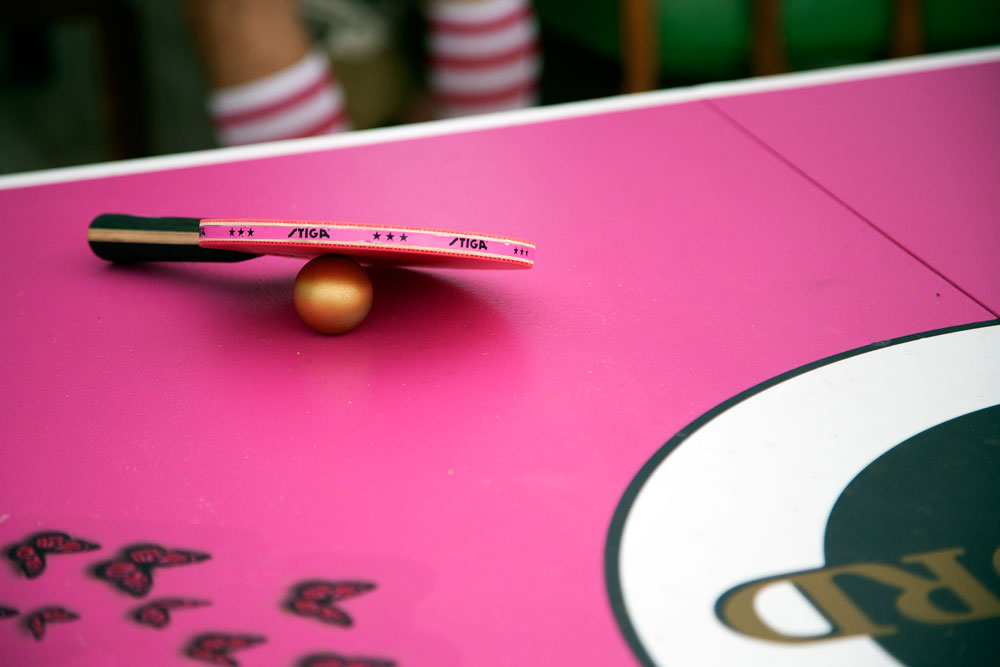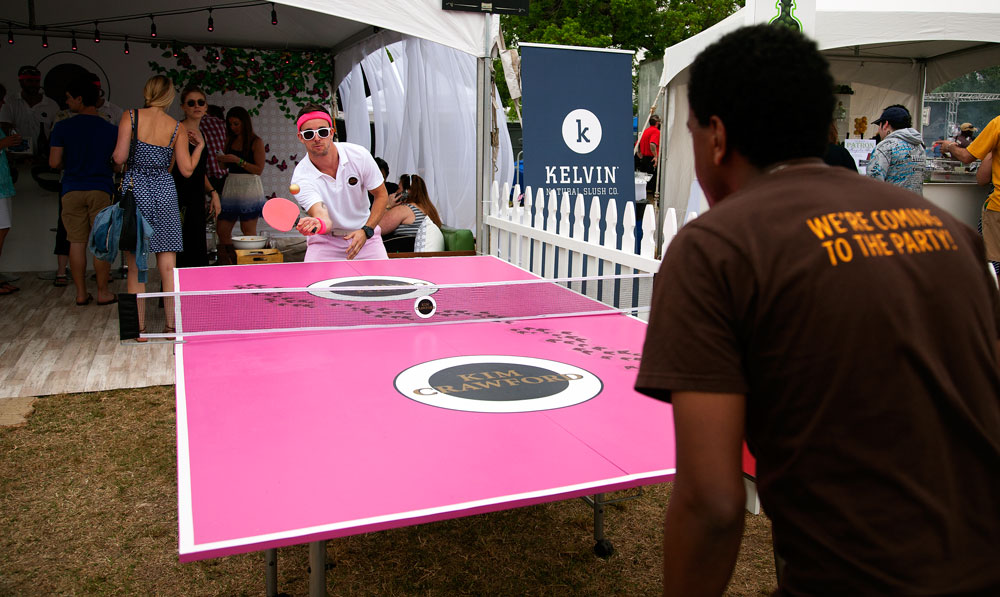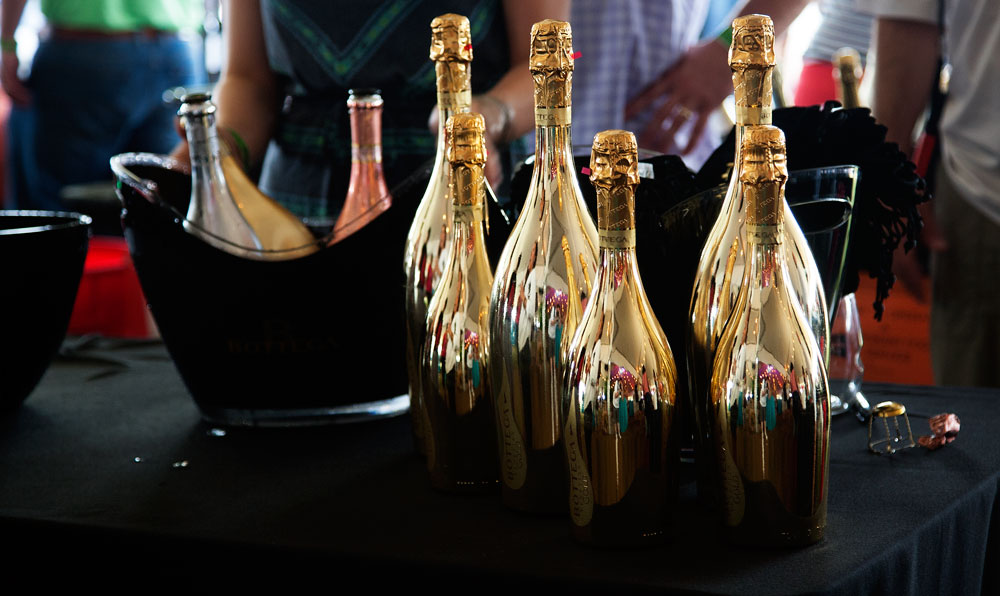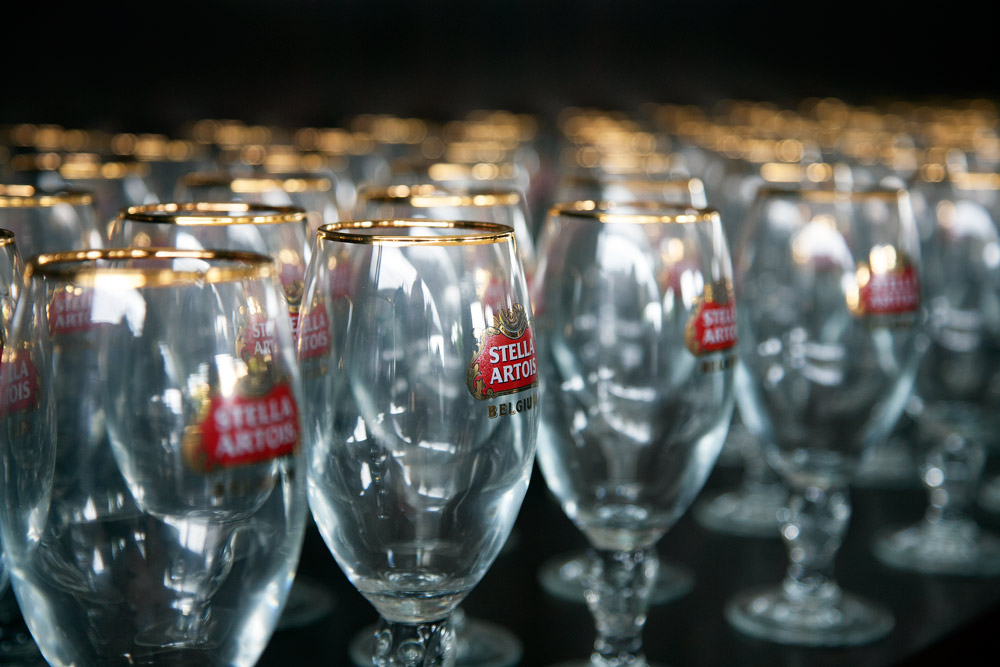 Bring it on … Yes, even the BALLS! The Man who eats EVERYTHING:
Mister Andrew Zimmern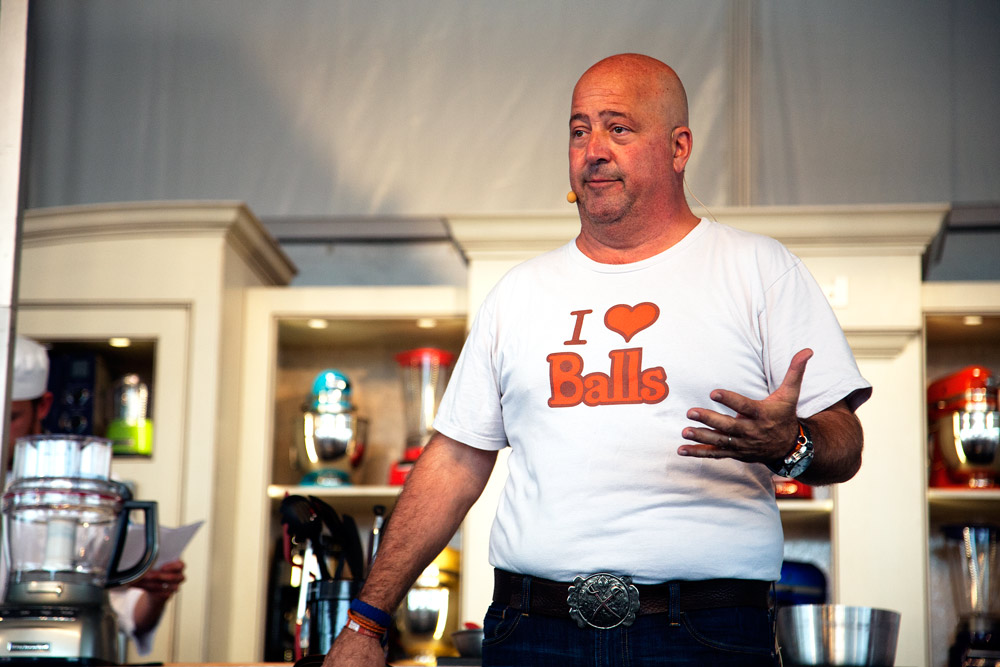 The Man with a CONSTANT SMILE:
Mister Graham Elliot
All Photographs by Kevin Curtis ©2014

---
The Festival DETAILS
Austin FOOD & WINE Festival Announces Grand Tasting Exhibitors
More than 100 Wine, Spirits & Food Purveyors from Texas and U.S.
Represented During Third Annual Festival, April 25-27, 2014
Austin, TX, March 19, 2014 – Austin FOOD & WINE Festival is pleased to announce the return of the  H-E-B Grand Tasting Pavilion, which will feature a diverse selection of the country's top wine, spirits and culinary exhibitors.  The Grand Tasting Pavilion, presented by H-E-B, will span more than 20,000 square feet at Butler Park, offering a prime location where guests can sip, savor, mix and mingle throughout the two-day Festival.
The 2014 Festival featured new exhibitors and samples from American Lamb Board; Anderra; Atalon Winery; Baked by Amy's; Blackbird and Henry; Bona Dea Gluten Free; Byron Wines; Cambria Estate Winery; Campari; Celtic Seafare; Champ de Rêves; Château D'Esclans; Confituras; The Dojo Sake Bar & Izakaya; Dripping Springs Vodka; Duckhorn Vineyards; Empson & Co. Wines; Finn & Porter; Foley Family Wines; Fork & Vine; Frank; Ghirardelli Chocolate; Gompers Gin; Hall Wines; High Brew Coffee; Jeni's Splendid Ice Creams; Joseph Phelps Vineyards; Lick Honest Ice Creams; Lifeway; Mighty Bird; Mountain Valley Spring Water; Mouton Cadet; Nothing Bundt Cakes; Otto's; Primizie Crispbreads; Pure Leaf; Renwood Winery; Schmidt Family Barbecue; Chef Eric Shelton; Siduri Wines; Sterling Lamb; Stonefire Authentic Flatbreads; Stregare Cheesecake Company; Tapas Bravas; Texas Olive Ranch; Tres Agaves Tequila; Trinchero Family Estates; Vibrant Rioja; William Grant & Sons; Wine Sisterhood; Wines of Brasil, and more.
The Grand Tasting will also highlight returning exhibitors, including Alaska Seafood; Amici Cellars; Antinori; Capture Wines; Cayman Islands; Château Ste. Michelle; Cinco Vodka; Coterie Market; Cru – A Food & Wine Bar; Duchman Winery; Freemark Abbey; Fara Coffee; Farmhouse Delivery; Francis Ford Coppola Winery; Glorified Granola; Gnarly Head; H-E-B; Hope Family Wines; Jasper's; Kerrygold; KitchenAid; Matanzas Creek Winery; Michael Angelo's; Northstar; Palm Bay Imports; Ranch 616; Rodney Strong Vineyards; Simi Winery; Stella Artois; Stonestreet Wines; Taken Wine Co.; TEO; Terlato Wines International; Texas Hill Country Olive Co.; Thorny Rose Wines; Tiny Pies; Tito's Handmade Vodka; Topo Chico Mineral Water; Winebow; Winery Exchange; Z'Tejas, and more.
The festival grounds at Butler Park will once again be activated with interactive live fire stations, where Texas chefs will be cooking over Fire Pits and offering tastes to attendees throughout the weekend.  Due to the overwhelmingly positive response from last year, the 2014 program will feature two Fire Pit stations, showcasing four chefs each day, each offering a front-row experience cooking with live fire.  Chefs include Jason Dady; Ned Elliott; Aaron Franklin (Franklin Barbecue); Bryce Gilmore; John Russ (Lüke San Antonio); Paul Qui (Qui & East Side King); and Andrew Wiseheart (Contigo).
The Chefs' Showcase, featuring a dynamic roster of chefs serving tastes of their signature dishes to attendees.  On Saturday and Sunday, mix and mingle in the tents while enjoying bites from Chefs' Showcase participants:  John Bates & Brandon Martinez (Noble Pig); Stefan Bowers (Feast Restaurant); Shawn Cirkiel (Parkside Projects); Mat Clouser (Swift's Attic); Kassie Harris (Whip In); Chris Hurley & Jennifer Costello (Bonneville); Allison Jenkins & Janina O'Leary (La V); Josh Jones (Salt & Time); Lawrence Kocurek (Trace); Rick Lopez (La Condesa); Jeff Martinez (El Chile); Sarah McIntosh (Epicerie Café & Grocery); Scott Mechura (Goodall's Kitchen); Sandi Reinlie (Vespaio); Josh Watkins (The Carillon); Kent Rathbun (Jasper's); and Kevin Williamson (Ranch 616).
See the full list of demonstrations, seminars and Festival programming at:
http://www.austinfoodandwinefestival.com/schedule/
All attendees must be 21 years of age or older.
Please visit www.austinfoodandwinefestival.com
Twitter @austinfoodwine
Instagram @austinfoodwine
Facebook.com/austinfoodwine
The Austin FOOD & WINE Festival is generously sponsored by FOOD & WINE, Citi, H-E-B, Republic National Distributing Company, Stella Artois, KitchenAid, Ghirardelli, Gnarly Head Wines, American Airlines, Patron Tequila and Austin Wine Merchant.
About Austin FOOD & WINE Festival:
The Austin FOOD & WINE Festival marks a compelling collaboration between C3 Presents and some of Texas' most exciting chefs and restaurateurs, including Tyson Cole, the James Beard Foundation Award-winning Owner/Chef of Uchi & Uchiko in Austin; Tim Love, Iron Chef Champion and Owner/Chef of Love Shack, The Lonesome Dove Western Bistro, TLC Catering, White Elephant Saloon, Queenie's Steakhouse & Woodshed Smokehouse; and Jesse Herman, owner of the James Beard Foundation Award-nominated La Condesa, Austin, Texas, and La Condesa Napa Valley & Sway.  C3 Presents is the Austin-based event company that produces Lollapalooza in Chicago's Grant Park, and Austin City Limits Music Festival in Austin's Zilker Park.  The Austin FOOD & WINE Festival will take place April 25-27, 2014, bringing an array of taste, talent and culinary entertainment to the Capital City.