The Cromwell Las Vegas
Where Sultry Meets Sophisticated Wonderland
THE CROMWELL | 3595 Las Vegas Blvd South | Las Vegas NV
[dropcap letter="L"]
AS VEGAS, NV
 |
The Cromwell Boutique Hotel
– A sexy, sultry sophisticated boutique hotel screaming my name. This is the Hotel I've been wishing for. With my favorite era, the 1920s-1940s beaming in the rounded tufted cushion seating in the bar on the Casino Floor – a "Casino" that feels far less imposing and unidentifiable. Cromwell brings some true elegance and style to Vegas. Rich hues of dark chocolate, garnet, rich creamy tones, structured lighting that adds a recess of moodiness ideal for slipping into something full of candor.
The Hotel lobby makes one feel as if Service and attentiveness ooze from the greeting face behind the counter.  The Cromwell is not the Hotel where one has to envision the intended concept and forgive forgotten details. It is design eloquence. Directed to the elevator lounge where oversized seating awaits, thoughtful art behaves in true curious form, and the most beautiful rooms await. And service this particular journalist longs for.
As you exit the dark rich elevators not trying to overstate "cool", which to its own delight is precisely that: COOL. Step onto the floor hallway and what is there on the corridor entry table? Why fresh teas, lemonades, water condensation wistfully bathing the large glass encasings with silver spout and vacant glasses with my name on it (not literally but I wouldn't put it past this staff that's taking hospitality and putting to shame the other large scale properties).
[columns_row width="half"] [column]
[/column] [column]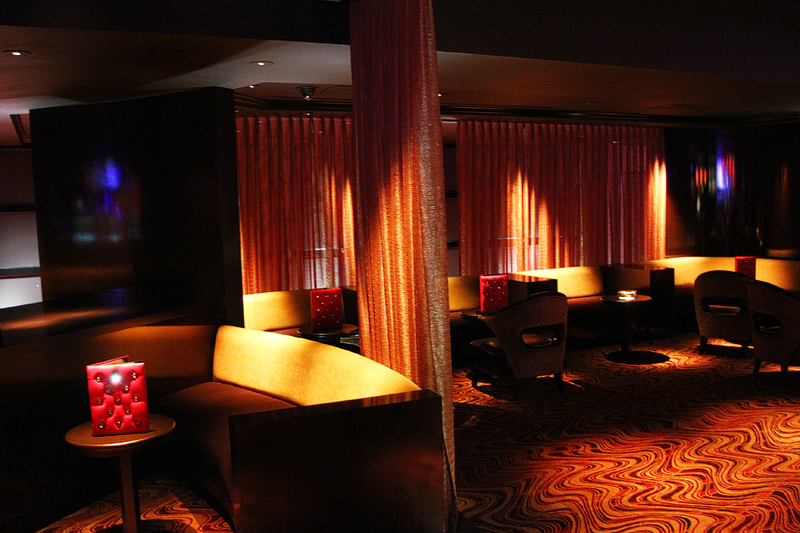 [/column] [/columns_row]
The hallways: strategic rows lined with dimly lit floor to ceiling light boxes and the carpet plays the strings of my soul with scrolling poetry in multiple languages. Sweet curiosity, sensual invitations, literary prowess guiding you along the journey.
The rooms? Exquisite. On every single door? Old cast iron "knockers". Oh this is my literary haven! Open and voila! Succulent shades of deep purple, grays, warmth of espresso finished furniture – era  specific accents like bolstered arms on a beyond comfy sofa that reminds me of
vintage divans, the coffee table – rather a chess (or backgammon) table fully stocked with game pieces; the lamps nestled atop a stack of vintage suitcases giving this room a metropolitan essence that nudges you to sit back and stay a while. The setup is open and feels like a NY apartment on Fifth Avenue with hints of SoHo, old Hollywood movies, Parisian film noir allure, and then … the bathroom. A sliding heavy industrial door made of heavy woods and black iron accents. Open, crisp, white, grays, open layout and as your eye draws you towards the shower, the meticulously artistic tiles send you a message. This room's message: JOIE de VIVRE. And everything in me sinks into happy submission. I am so looking forward to returning as a guest and indulging in the gentle play of modern luxury.
---
Rooms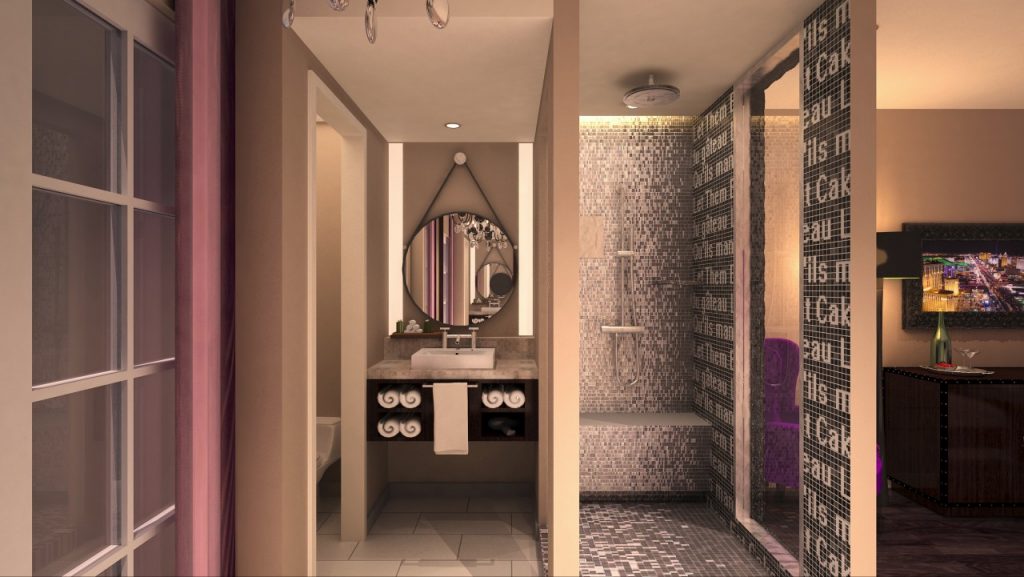 Weekend Rates begin around $269USD per night
And should you want to stay in your room and watch a movie? The staff at The Cromwell will happily appease you and up the ante by bringing up some popcorn and cotton candy. This … this is the good life.
The Cromwell presents the Strip's first Las Vegas boutique hotel. Each of the 188 rooms features luxurious accommodations in an intimate, Parisian-inspired atmosphere. Whether it's the hardwood floors, plush furnishings or dim and romantic lighting, each room gives guests a glamorous, VIP experience. The hotel's blend of modern and vintage design is another unique element. Exclusive amenities include hallway coffee and tea service, steam showers and Muk bath products.
Bold. Sophisticated. Enticing. Welcome to The Cromwell.
---
DINING
Giada
BOOK A TABLE (Opening in JUNE)
ABOUT GIADA RESTAURANT: This charming Las Vegas restaurant welcomes diners with warm colors, comfortable furniture and natural lighting thanks to the restaurant's huge retractable windows. Guests can eat in the dining room, lounge or on the outdoor patio, boasting breathtaking views of the Bellagio fountains and Caesars Palace.
The menu will consist of Italian cuisine with refreshing, Californian influences. Menu items include lemon spaghetti, chicken cacciatore, marsala herb chicken meatballs, rosemary focaccia and lemon flatbread and vegetable Bolognese rigatoni. GIADA adds a lighter touch to Italian dishes, all while staying true to classic Italian recipes.
There will also be family-style options, along with a vegan and gluten-free menu. Desserts, like the lemon ricotta cookies and sorbets, serve as the perfect ending.
To read about The Cromwell's Drai's Pool + Club,  I also did an article in Robb Report Magazine.