Dawn's Clean Eating Sandwich
Featured Image by A House In The Hills
INGREDIENTS
1 Whole Tempeh Patty
1 Bunch Radicchio Leaves
1/2 Avocado
2 Large Red Kale Leaves
2 pinches of Microgreens
2 Udi's Hamburger Buns
2 tbs Rosemary Pasolivo Olive Oil
1/2 tsp Spiced Italian Herbs
Fresh Rosemary sprigs
Sliced Pickles
Los Olivos Aged Raspberry Balsamic Vinegar
PREPARATION
In a saute pan, pour in rosemary olive oil and heat. Add tempeh (be sure each side is coated with olive oil), add  Spiced Italian Herbs, rosemary and grill until browned. Add radicchio to the pan and lightly pan sear. Remove from pan. Add a tbl of rosemary olive oil to pan. Take large kale leaves and lightly pan sear in heated oil. Remove from pan.
Place bun on plate, drizzle raspberry balsamic vinegar, add tempeh patty, top with radicchio, sliced avocado, sliced pickle, top with microgreens and enjoy.
*Add a fried quail egg for an added protein and texture.
Eat with Nacho Flavor Beanitos Chips.
---
Where to Buy Ingredients
Pasolivo Rosemary Olive Oil
Rosemary oil is a blend of Rosemary infused Mission as well as a touch of Pendolino.
This oil is great on lamb, chicken, roasted potatoes and even popcorn!
500 ml Rosemary Olive Oil 12/13
Price: $33.00
Press Club Price: $28.05
---
Spicy Italian Herbs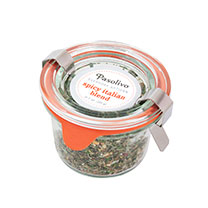 Freshly grown and dried in Paso Robles. A great match for our olive oils, these beautiful dried herbs are perfect for cooking or dipping. Delicious on pizza, steamed veggies, salads, or garlic bread.
Ingredients: Basil, Parsley, Hot & Spicy Oregano, Thyme, Sage, Onion, Garlic, and Chili Peppers
Spicy Italian Herbs – Jar .7 oz
Price: $8.00
Press Club Price: $6.80
Spicy Italian Herbs – 1 oz. Bag
Price: $6.00
Press Club Price: $5.10
---
Los Olivos Olive Oil Company Assorted Balsamic Vinegars

Raspberry Balsamic Vinegar
SKU185
Price $15.95
---
Udi's Gluten Free Hamburger Buns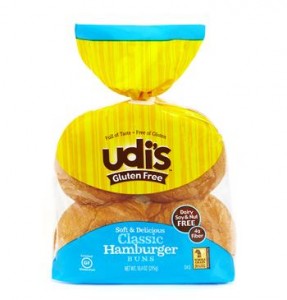 Grilling in the backyard has never tasted so good — and it's gluten free! Our soft, golden buns accompany your much-loved ingredients, be it a classic burger or a savory deli sandwich.
Bun Classic Hamburger
10.4oz 4ct
$4.50 (1 Pack)
---
Nacho Flavored Beanitos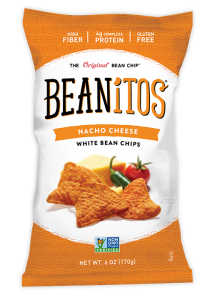 Beanitos are an honestly delicious snack made from super nutritious beans that have fiber and protein grown right in them. They're real food, full of crunchy flavor, free of preservatives, and made with only natural non-GMO ingredients.
Brought to you by:

---
Follow ATOD Magazine™