Lady Pi – Pi
Old Town, Dubrovnik
---
CROATIA: The ascent to Lady Pi-Pi is like a religious pilgrimage, up a hundred and thirty-three, leg burning steps through Old Town Dubrovnik to the foot for the city wall. It's liberating, breaking free from snap-happy, dawdling hordes of tourists on the main street below. But don't be fooled – as bemused old ladies stare at your reddening face as you stagger past their leafy, little apartments you are still very much the hapless holiday maker. And what's the reward? What gods await you at this temple of food?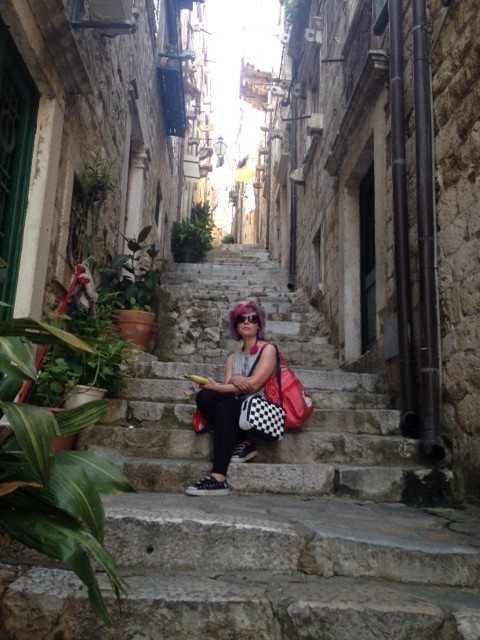 Well, the first thing you see as you collapse in a sweaty heap is a stone, water fountain. It's a lovingly crafted water fountain that on closer inspection seems to be a statue of a heavy set lady. With, erm, her legs spread. Taking a p*ss. A continual stream of p*ss. I'm not in marketing but I bet 'woman weeing' is somewhere down the list of restaurant branding, along with a statue of a man crapping into a bun for a hotdog stall.
But as the waft of the open grill starts to revive you with the smell of sizzling meat and fresh fish, it's obvious that Lady Pi-Pi doesn't really have to try that hard to win people over. Especially as she's decided to take a wee on a spot which leads to a panoramic view of the medieval walled city, out across the emerald stretch of Adriatic sea – albeit only from a few choice tables on the top level. That's why the queue is sprawled out across the street, as we all look up like hungry dogs at couples trying to avoid eye contact through mouthfuls of steak. (And with mainly four-seater tables, it's also why table sharing has become common place.)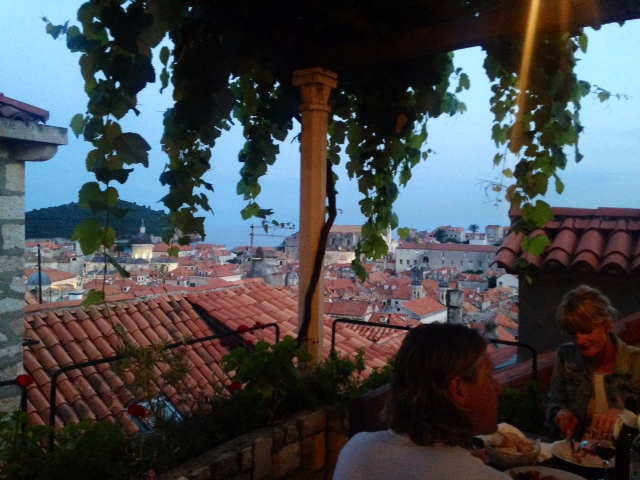 After half an hour we're let through the gate and sat next to a friendly German couple. We acknowledge each other – we're in this together – but it doesn't make it any less odd. I'm so hungry I can't help but eyeball their giant sea food platter when it arrives. "Ohhh, it looks good," I say and we all uncomfortably agree and go back to speaking in our native languages. I wonder how my steak will compare, as judging by the seafood, they have cleared half the ocean.
As the sun is temporarily blocked out, the waiter lowers my plate. It is the biggest, juiciest steak I've ever seen. It is the first time I've actually been intimidated by food. I feel like Homer Simpson with his legendary sandwich. And this is just the start. The steak is nudged to the edge of the trough by a skip-full of chips and a mound of grilled vegetables. I fear I may have a heart attack but as the first bite of tender meat melts in my mouth, I muse that this is probably a good way to die. I also wash it down with half a litre of red wine, poured from a decanter with a napkin tied around the brim. I feel like a medieval king, which is fitting really. As the meat sweats kick in, I stare out across the red tiled roofs, to the dots of tourists walking around the city walls, imagining that I'm defending my realm of grilled food against the Venetians.
All around me new couples are equally awe-struck by the scale of gastronomy presented to them, perhaps hiding behind food mountains when the conversation gets too awkward with their table sharers. But that's all part of it and it is hard not to feel relaxed. We're all united here, on top of the world with full bellies of the freshest, most generous portions of food Croatia has to offer.
I come back later that week a couple of times – each time believing that I'm more prepared and each time, over eating. The Pi-Pi breakfast omelette will set you up for a week. The grilled chicken may well be from a tender, prehistoric poultry which roams Dubrovnik and is at least seven foot tall.
The waiters and chef always open the gate with a smile and always know you'll be back. On the last night as I'm half way up the steps it occurs to me why they might have chosen this lofty base camp for the restaurant – without the exercise of the steps, you would probably have to be air lifted out after every sitting.
---
Follow ATOD Magazine™