Slovenia – Ljubljana
What You're Missing in Europe's Most Laidback City
[dropcap letter="S"]LOVENIA – "There are three things you need to know about Slovenians", says our taxi driver from the airport, "We're all vegetarians, we look Chinese and we kidnap tourists." But there's no need to start googling 'The Asian Balkans Vegan Kidnap Conspiracy'. It's just the first of many examples of how everyone I meet in this city treats me like an old friend, cracking black, satirical gags in fluent English with the timing of club comedians. Besides, if he really did kidnap me there are worse places to be held hostage than the European Green Capital of Europe, 2016.
Ljubljana, is Slovenia's largest city and it's like someone has taken a vibrant metropolis, filtered out all of urban life's annoyances and wrapped it all up with an abundance of art, culture and greenery. What's left is a neat, compact old town centre cut through with the sleepy Ljubljanica river and dainty little bridges along tree-fringed promenades. There's also a welcome ban on cars for a three miles radius, allowing for the cobbled streets to be filled with street cafes and restaurants where you can stuff your face, watching uber-healthy looking families gliding past on bikes in mild disgust.
Being at the cross roads of Italy, Croatia, Hungary and Austria you have a pleasing mix of colourful riverside houses, be-domed churches and flamboyant masonry, all in sight of the ever present hillside castle. And it seems like everything has been sprinkled with art, whether it is a tasteful statue, dragons on bridges, or surreal imps and faces snaking down alleyways.
You won't go hungry here either. Being so close to Italy you can walk into practically any pizzeria and be guaranteed thin, perfectly stone baked pizzas the size of small planets. Local dishes inevitably involve meat, namely the national Carniolan sausage (kranjska klobasa). Klobasarna boldly and justifiably claims to have the 'best sausage in town' where you can eat mountains of the stuff, with a pile of fresh horseradish, sauerkraut and potatoes. Or why not take the reins (sorry) and try a horse burger at Hot Horse? No, really, they swear by it here. It's lean, healthy and a million times better for you than the Big Mac you'll have before getting on the train back to your home town. Just don't think about the Grand National. Or Black Beauty. Or Westerns. Or pantomime horses.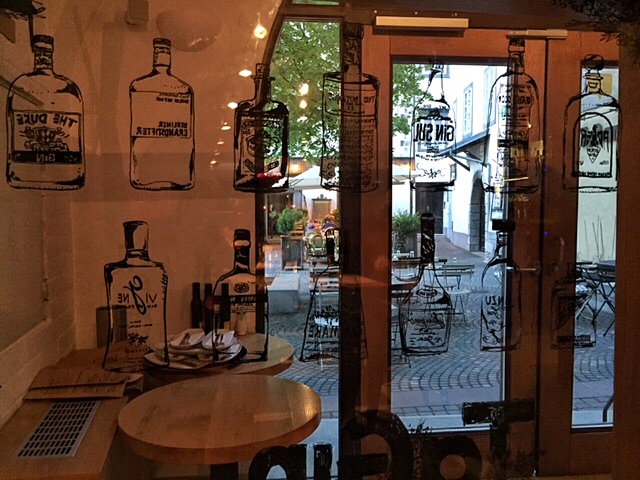 If you're lucky enough to arrive on a weekend this spring or summer, the weekly Friday Open Kitchen in Central Market, Plecknick brings the city's top restaurants into a square for an all-day cook-off. Imagine a mix of high-end cuisine, street food from all around the world, cakes, and enough booze to wash down that final slow cooked spare rib. That's Open Kitchen.
A glass of Slovenian house wine is almost as cheap as water and seems criminally overlooked considering it stands on its own with the best in Europe. If you really want to delve into the wine list, TaBar has one as long as the river. You can also try their treasure trove of gins and the Slovenian take on tapas, which might seem like a gimmick until you realise that this little country has a history of being as much of a gastronomic crossroads as Spain, for all manner of exotic flavours. You can get your chorizo and patatas bravas but top it off mini local delicacies.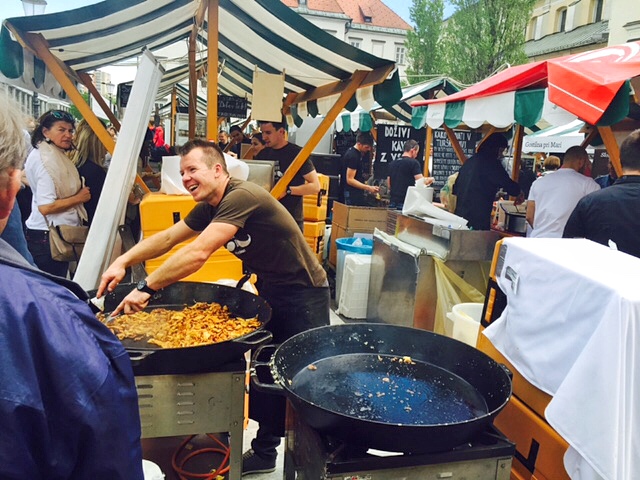 Similarly, if you're after a drink you're in safe hands. There's everything you would expect, from backpacker hangouts with plastic furniture to swanky city bars for frazzled 9-5ers, to unique retro bars for aspiring hipsters everywhere.
Tozd is a favourite. It's got the perfect riverside terrace for lazy afternoons. Inside it has the obligatory bike on ceiling, craft beers and homemade cakes. But like all things in this city, the best thing about it is the complete lack of pretense. Half the people here might be graphic designers who arrived on skateboards but there's also old couples admiring the artwork and passing tourists. And, not once does the bar staff look at any of us as if with that "look" as if we'd suggested that quinoa crisps are just posh quavers.
If this is all sounding too idyllic there's the mother of hedonist madness waiting to suckle you to her filthy bosom, fifteen minutes out of the centre in Metelkova. This self-funded art space in a disused army barracks is Europe's largest squat and now the most unlikely tour date for an ongoing list of bands. Arrive too early and you might see comatose vagrants sleeping under nightmarish street art, which for all their genius still look like the sort of hallucinations you would get it if you necked toilet duck. Arrive too late and all the local teens and backpackers they sold drugs to will be vomiting into bins. But if you get it just right you get controlled and perfectly safe madness. Pick up cans of Union lager or risk a shot or five from the surprisingly well run bars scattered about the site as you wander through all the curious half open doors.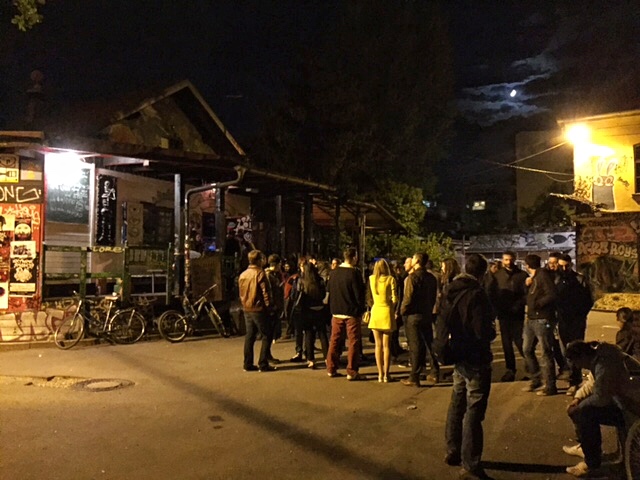 Some are free to get in, opening up to art exhibitions or warehouse parties playing a mix of Slovenian punk and British new wave. Others you have to pay for, which seems wrong but it's probably why this place is still regulated and tourist friendly. Inside, it could be anything from relentless techno with enough bass to loosen your teeth, to bands in smoke-filled club spaces. You might even be lucky to see the hip hop band I saw with two DJs, a breakbeat drummer and a Japanese lady wafting a snake topped cane, while reading poetry. No matter what you do, you won't be home before 4am.
With your mind well and truly fried the only decent thing to do is head to the Cat Caffe. Get an espresso and sooth your soul with a big main coon moggy on your lap.
And as you meander back into the sun to snooze by the river, all that's left for you to do is ease up a notch or ten and feel like you've been injected with the sort of well-being chemical which makes all those serene looking people you see on yoga videos look so smug. Albeit with a well-earned hangover.
(the adventures of Matt and Natalie …)