Supper Club Sunday's Dinner No. 1
Culinary Designs by Chef Ryan Rondeno

A Pop-Up Dinner for ONE NIGHT only!
LOS ANGELES: With so many culinary choices, finding cuisine that surprises you in the best of ways isn't easy. So – I decided to seek out award winning chefs and invite them to cook global cuisine at an intimate dinner for 20 guests. Introducing the 1st of "Supper Club Sunday's", French Creole Gourmet Chef, Chef Ryan Rondeno, has been invited to kick things off. His take on French Creole is nothing short of refreshing. With an emphasis in farm-to-table, sourcing locally as often as possible, and utilizing sustainable ingredients and practices, the 4-course dinner he has created blew our "foodies" minds when we did a test tasting.
$90.00 per person
VIP $120.00 per person
Dinner will include:
4-Course Dinner | Wine | Espresso Bar | Live Music | Swag Bag to take home
Here is what our group of diners had to say when we did our Menu Development Tasting in #LosAngeles with ATOD Magazine Editor, Dawn Garcia and a select group of discerning food lovers:
"Just the small sample I had was an experience all its own – made me want to eat Ryan's incredible concoctions every day, breakfast, lunch and dinner!" – B. Rea | TV Series Writer

"Again, thank you and Ryan for the dessert, Unbelievable – Tequila in dessert – Who would have thought!" – Jolene Hanson | Director & Curator
Chef Rondeno's cuisine is exploration of Creole cuisine with influences from French, Italian, Southern and the farm-to-table movement.
This is an intimate journey, exploration and representation of culinary culture.
The WHY
Every wine dinner I've gone to averages $150 per person. Wine is paired and typically portions are modest. Rarely are they in a completely private space. SO – I wanted to have a different kind of dinner where you could have whatever wines you choose from a winery that I recently discovered and pour a few full glasses (which a night out at a wine bar can end up costing $60 per person just for wine!), a dinner that blows your mind with portions that will leave you happy (usually a great meal costs $120 per person without adding wine or cocktails), live music that most of us would pay a hefty cover for, and a goody bag to take home. 9 times out of 10 we eat and drink but it doesn't really make a difference in the world other than enjoying a fab night out. So – I created Supper Club Sunday's so I could let chefs have total creative freedom, serve exceptional wine, showcase a talented musical artist in a gorgeous art gallery, all the while doing this all knowing we are also saving the planet and supporting local farmers and fisherman. Oh, and it's also my birthday!

*I wanted to keep things intimate so we are only offering 20 seats + 2 VIP Tables for 22 guests in Venice Beach at an exquisite Art Gallery and now, thanks to sponsors everyone gets to enjoy this for $90 (no tax – gratuity not included).
SO – with just over a month to go, its time to buy your tickets. I can private invoice you or you can purchase tix below (There is a transaction fee). If you have ANY questions, let me know by emailing events@atodmagazine.com – please put "Supper Club Sunday's" in the [subject header].
---
PURCHASE TICKETS Below
VIP Ticket
Includes a private table + Bottle of Wine

 MENU BELOW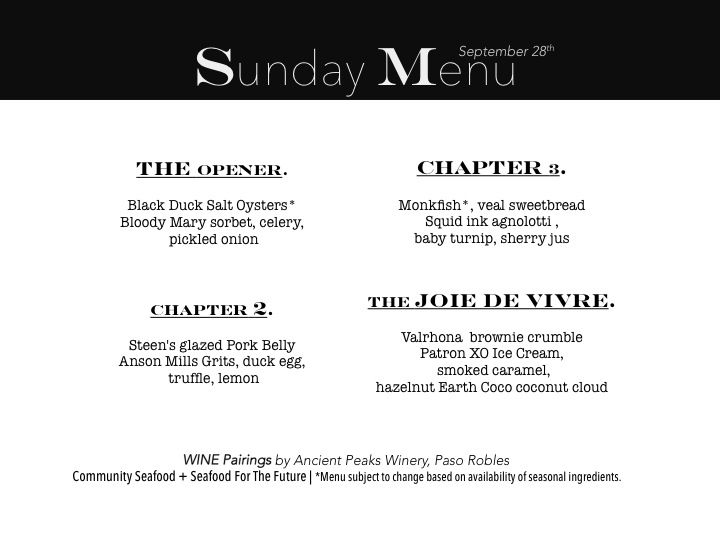 ---
Live Music by Sasha Maria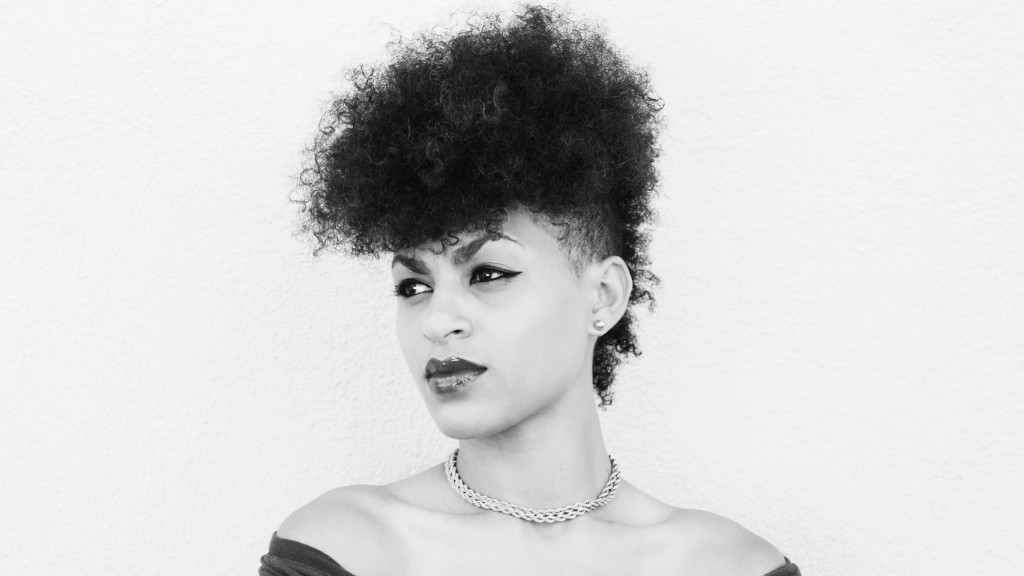 ---
ABOUT Chef Rondeno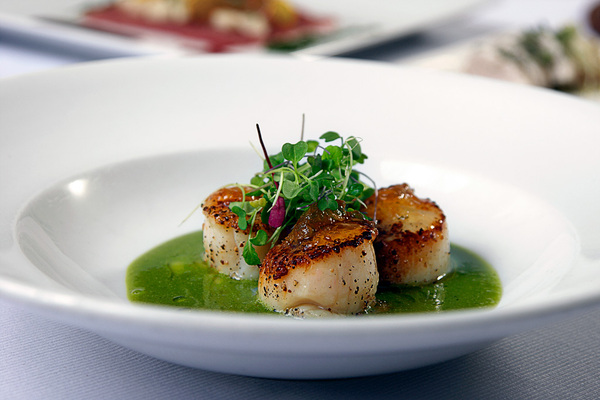 Born in Metairie, Louisiana, Ryan Rondeno began a fortunate culinary upbringing surrounded by great southern cooks, including his grandfather who was a local legendary chef. He began his career at 16 working as a New Orleans prep cook, where his love for Cajun-Creole cuisine began. After graduating high school, he attended The Culinary Institute in Thibodaux, Louisiana, working under the late Chef Jamie Shannon of Commander's Palace, who instilled the importance of restaurant service, and Chef Anne Kearney of Peristyle, who focused on detail and perfection. These two chefs helped Rondeno build a strong foundation of southern cooking and superb technique.
After obtaining a college degree, he worked with chefs Emeril Lagasse, Anton Schulte, Mathais Wolf, Sue Zemenick, and Gerard Maras to enrich his culinary repertoire. Rondeno established culinary techniques in French, Italian, Southern, Cajun-Creole, and farm-to-table cuisines under remarkable chef-teachers and mentors. The opposing schools of stark simplicity and grand detail expanded Rondeno's culinary range, allowing him to strike a balance to develop his own gastronomic flare.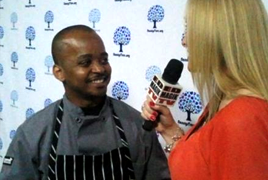 When Hurricane Katrina forced thousands to evacuate their homes in New Orleans, Rondeno relocated to Atlanta in 2005. It was there he rejoined the Emeril Lagasse Corporation as a saucier, butcher, and sous chef under Chef Michael Blydenstein. As he continued to hone his skills, Rondeno moved to New York where he became Executive Chef at a Southern style seasonal restaurant.
In 2008, Chef Rondeno relocated to Los Angeles, and is currently a personal/private chef to celebrity clients. His culinary focus is on the use of grass-fed organic meats and locally-grown organic produce, with an emphasis on creating bold flavors. As his cooking continues to evolve toward clean eating and the use of sustainable products, Chef Rondeno continues his work as a chef for his celebrity clientele, including the catering for gala dinners and large-scale culinary events.
---
ATOD Magazine would like to thank our Partners at: