An unforgettable evening in the heart of Los Angeles with Marcus Samuelsson, Banana Republic, Barclay's and Mastercard
[dropcap letter="T"]he stage is set. Unsuspecting brick lines an exterior façade in the heart of
Los Angeles
. Through an open door, guests journey into an architectural gem in the heart of the city at the famed
Carondelet House
. Invited to dine with
Chef Marcus Samuelsson
, this was the first intimate collective dining experience in LA since COVID brought the restaurant industry to its knees. The evening was made possible in partnership with Mastercard and Barclay's.
The evening begins with strangers filtering in to this 1920's Italian-inspired world that combines an aesthetic you won't find anywhere else in the city. Vintage textures drape the walls and iron-laid oversized windows, urban panache grasps onto the soul of another time, grand archways and luxurious chandeliers hang softly, décor arranged by the notable team behind retailers, Banana Republic. In this moment, guests are transported into an evening that emits a worthy sense of timeless rendering, while large, lush palm leaves and greenery abound in all directions.
Photos courtesy Banana Republic via L&S Sarkis Photography
[columns_row width="half"] [column]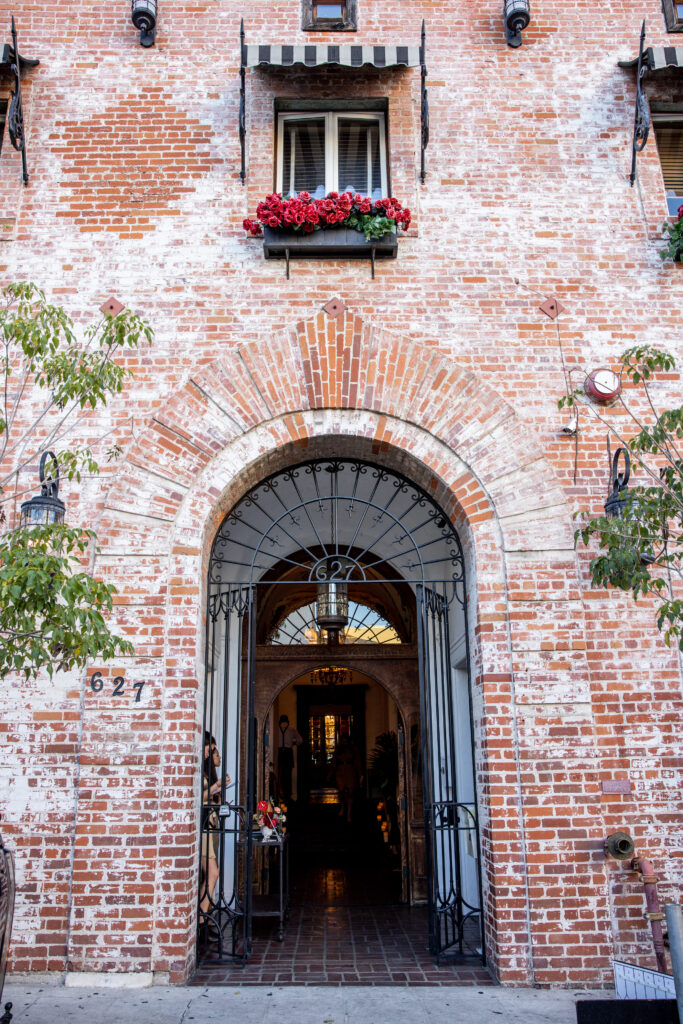 [/column] [column]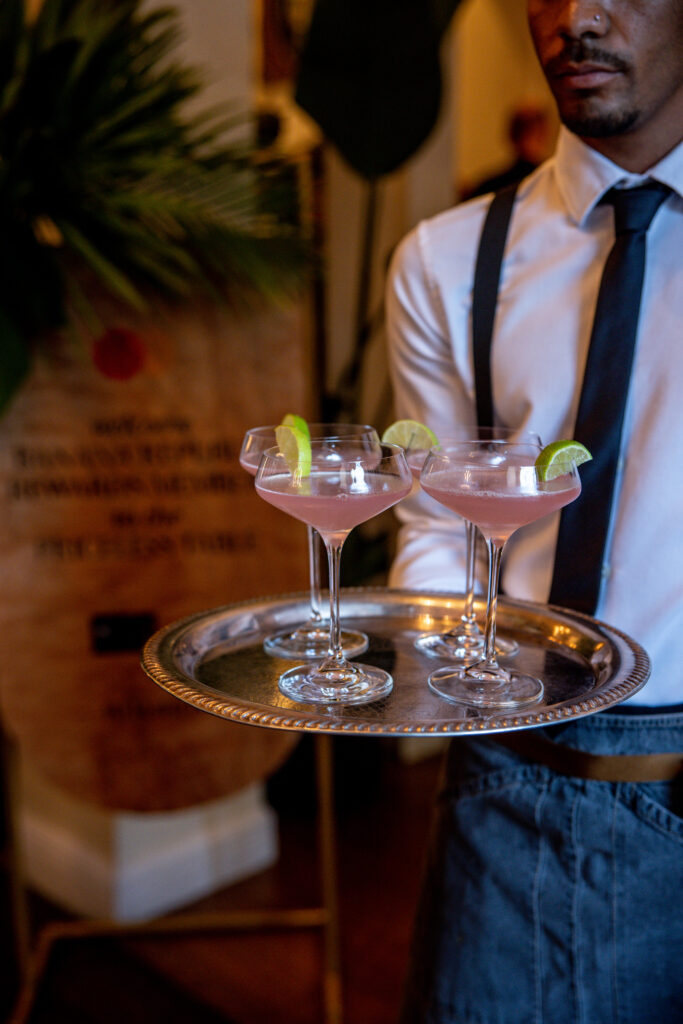 [/column] [/columns_row]
Music fills the air from a small but lively band in one room, bartenders pour libations designed specifically as an accompaniment to the many hors d'oeuvres Samuelsson and his culinary team have curated for the evening. Soon, we are beckoned to the main dining room where a refined place setting awaits each and every guest, and not a single detail is overlooked.
Dish One | Kampachi Ceviche with chili ash and melon paired with Rococo Chenin Blanc
Dish Two | Grilled Watermelon with endive, bok choy and almost paired with Château La Garde Blanc Bordeaux
Chef Samuelsson comes out to greet us, take photos, and present our first dish. He shares a story about first cooking with his grandmother when he was about 6 or 7 years old, how he now shares that same love with his own son, and gleefully boasts that cooking with his grandmother is where his love of cooking took flight. He expresses how immensely grateful he is to have served food all around the world because of how much it has contributed to his culinary journey.
It's been a great journey. I love what I do. I love having a chance to meet people like yourselves, and experience this together.
He adds, "Enjoy the kampachi, the ceviche, a little bit of melon, and a touch of chili ash." As he disappears back into the kitchen, guests dive in. The flavors on the spoon dance in sync with one another, and while it's imperative to taste each ingredient alone, when you place them together, you experience a bite of global sprightliness. The dish is paired with Rococo Chenin Blanc, a female-owned vineyard  in Santa Barbara.
[columns_row width="half"] [column]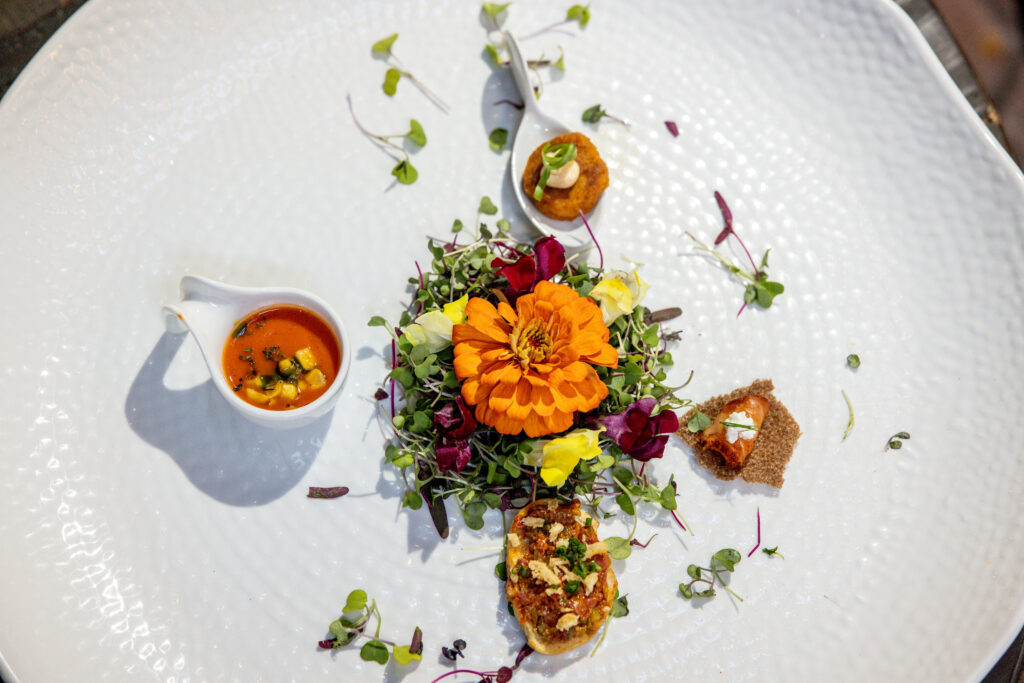 [/column] [column]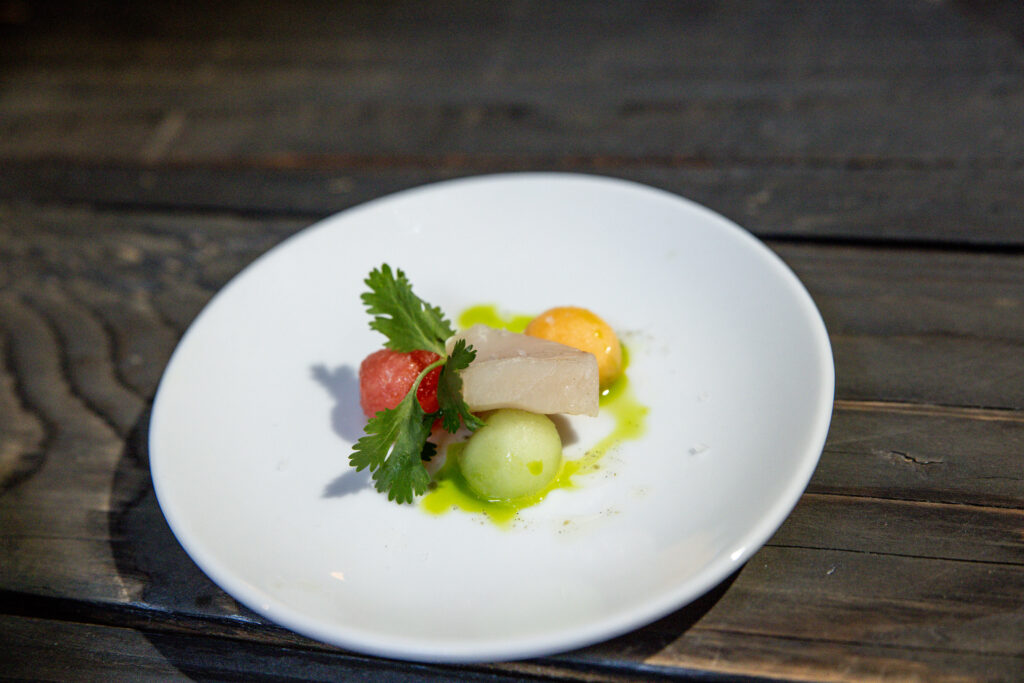 [/column] [/columns_row]
The second course was equally endearing. Grilled watermelon, endive, bok choy, and almonds paired with Château La Garde Blanc Bordeaux. As the dish is served, the wine is poured and Chef comes out to talk a bit about the next graduation in this evening's dinner.
"When you have something on the plate, when you cook endive, whatever it is, make sure you use something sweet on the plate and something bitter. It's a dance, isn't it? Between the bitter of the endive and the sweet of the melon, you can even use mango, whatever it may be. It's a balance of flavor; Salt, sour, umami, bitter, sweet—and another way we experience food is through texture. In a dish like this, it's all about texture."
[columns_row width="half"] [column]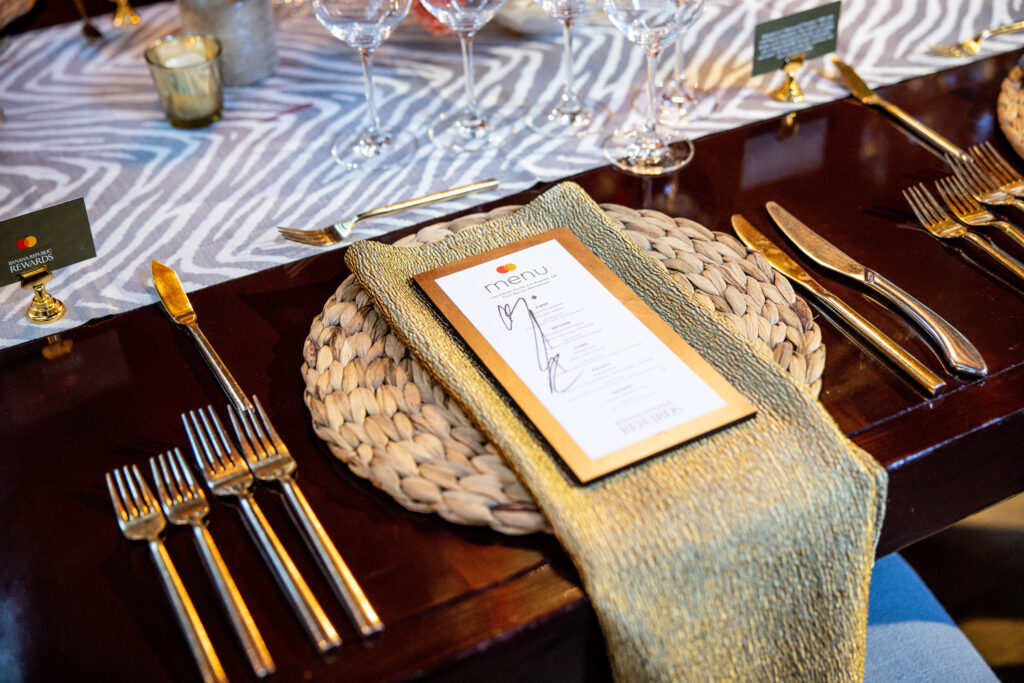 [/column] [column]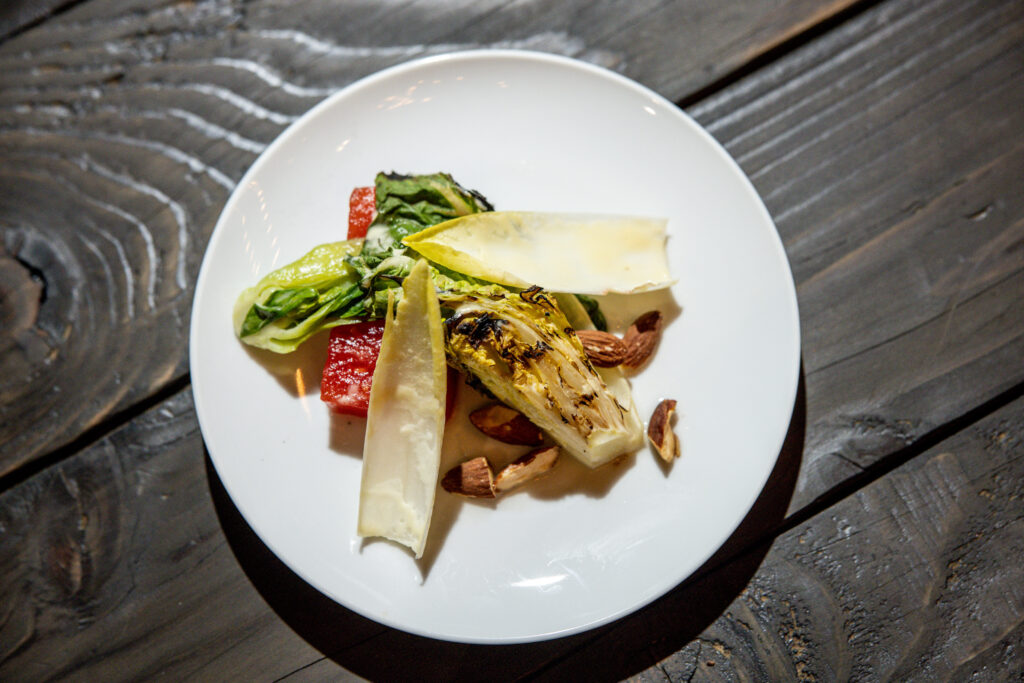 [/column] [/columns_row]
The visual components of this second dish act as visual cues; layers of elements that wake up one's palate. The char on the endive is the opener. The firm composition of the greens, the smoke on the leaves, they invite you into the ingredients lying in wait. The bok choy is delicate, yet incredibly bold against the juicy depth of the deep pink watermelon, and the final ingredient of almonds gives it a richness that undresses its predecessors as gently as one can. Seasoned, salted, gently coated in dressing, this is a wonderful segue for the dish to follow.
Chef comes out to talk about the dish, and a guest asks about his new restaurant in New York City, Red Rooster Harlem. "In dinners like this, there is a narrative I want to tell. In the new restaurant for example, I thought a lot about what has been missing in the dining scene and as a Black chef, cooking with a big audience, I had to think about what I add to the New York City restaurant scene. There are 22,000 restaurants in New York City, it's not like they need one more!
So we focused on sustainability and how that looks to marginalized communities, and so we knew we wanted to support BIPOC farmers. Fine dining is very expensive to get in to, but it's also very expensive for the farmers to deliver to some restaurants and we wanted to make that process easier.
In terms of leadership, we decided to only have Women of Color in those leadership positions. Of course it all needs to be wrapped in great service, a great room, and super delicious food. So dinners like this help. As for this dish, I love a dish like this because its just a simple salad. Every one of you in this room can make this … So your bitter version of this? Will be better than mine. Alright, enjoy!"
[columns_row width="half"] [column]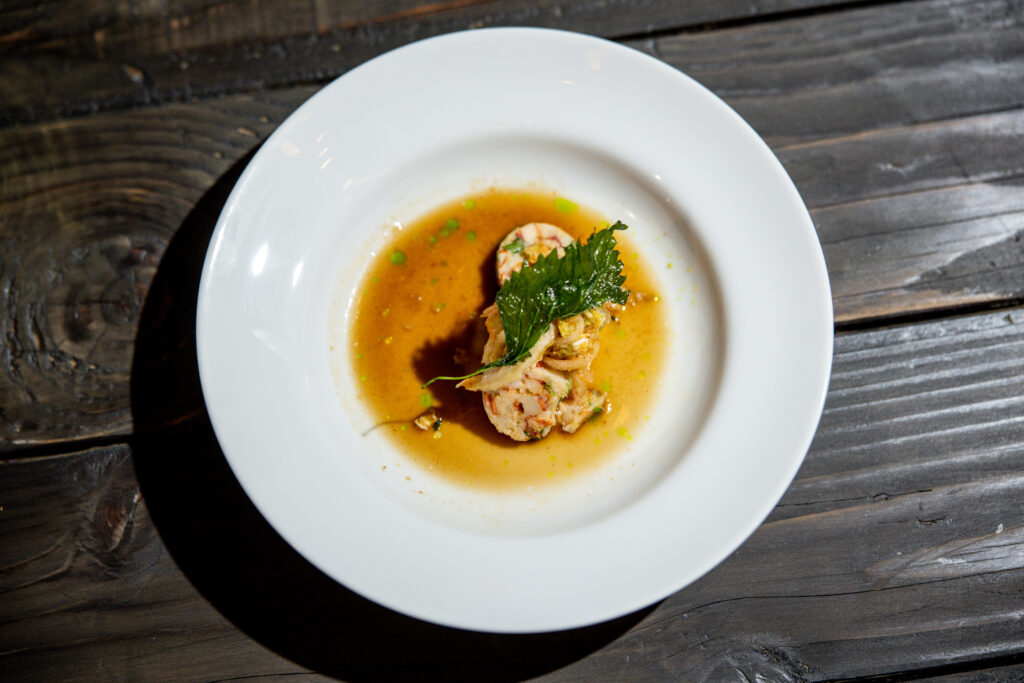 [/column] [column]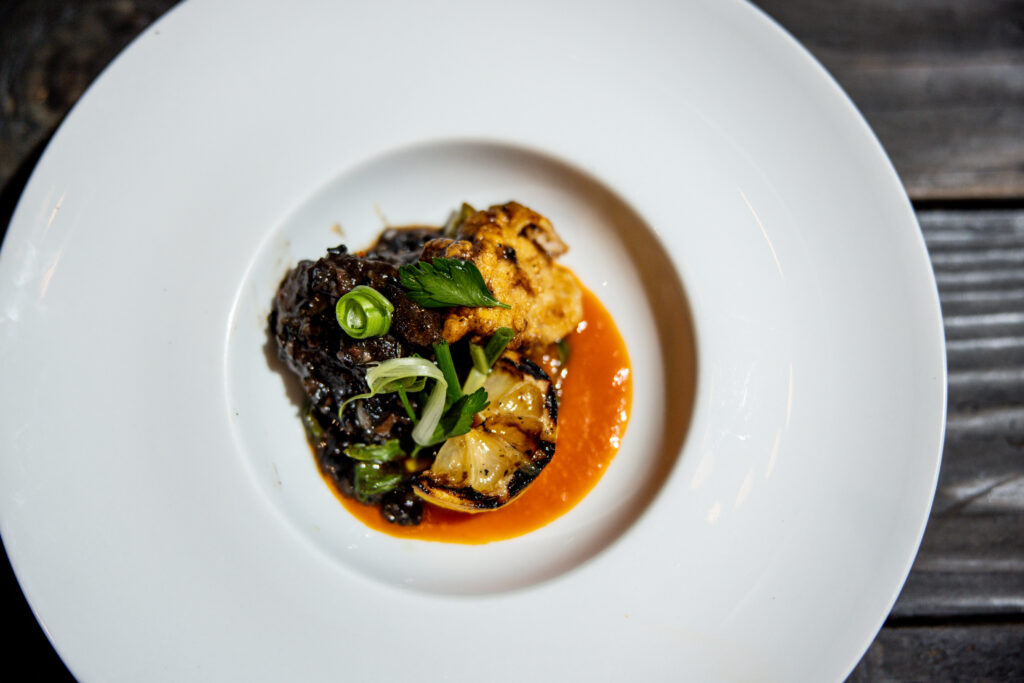 [/column] [/columns_row]
The final two dishes is where the tastebud party really takes off! With a globally inspired palate, you can taste Chef Samuelsson's Ethiopan and Swedish roots, his world travels, and his passion to surprise. As if it's a ballad to the life he's experienced, the trace of multiple regions, climates, and cultures jump off the plate and into your mouth with a willing abandon. And it's a delight.
"I have traveled to, and been inspired by, Asia. We love kimchi, and this dish is built on chicken and lobster. The chicken with lobster broth, chicken sausage with lobster, and the the crispy chicken on top with the asian pair puree—it makes me think of traditional dishes."
Chef takes great pride in honoring global fare, and the third dish is one that takes you on a journey from farm to sea through multiple flavors of Asia. It's quite remarkable how the flavors and textures marry together to give a dish that could be incredibly rich, a softer overall feel that joins together rather flawlessly. The added pear purée is the unusual component of the dish that somehow brings it all together. This third plate is one of curiosity and playfulness.
[columns_row width="half"] [column]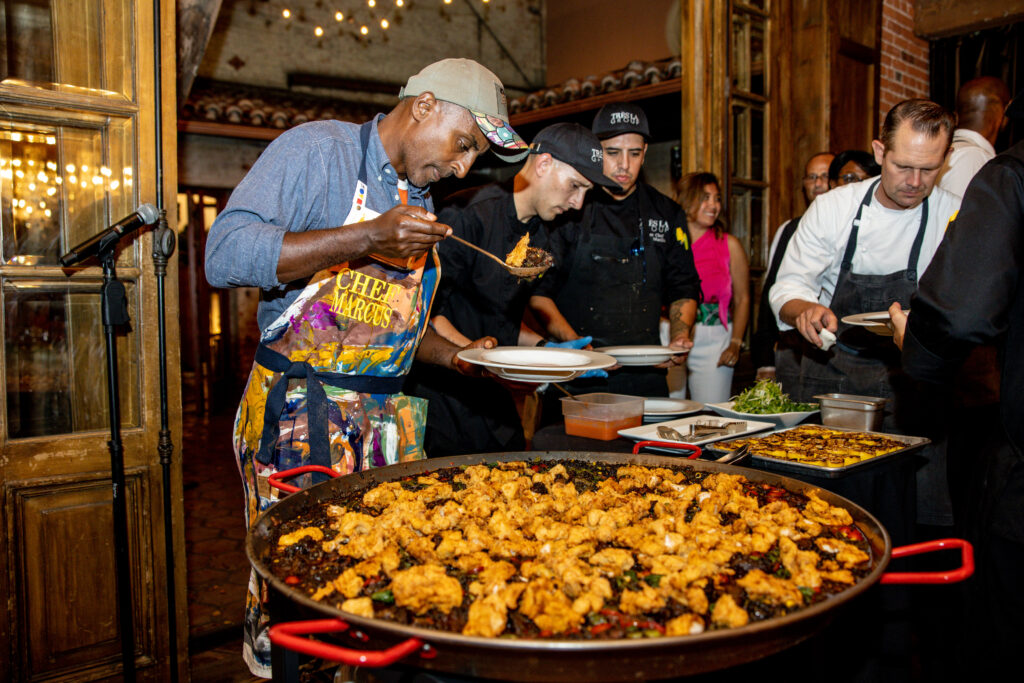 [/column] [column]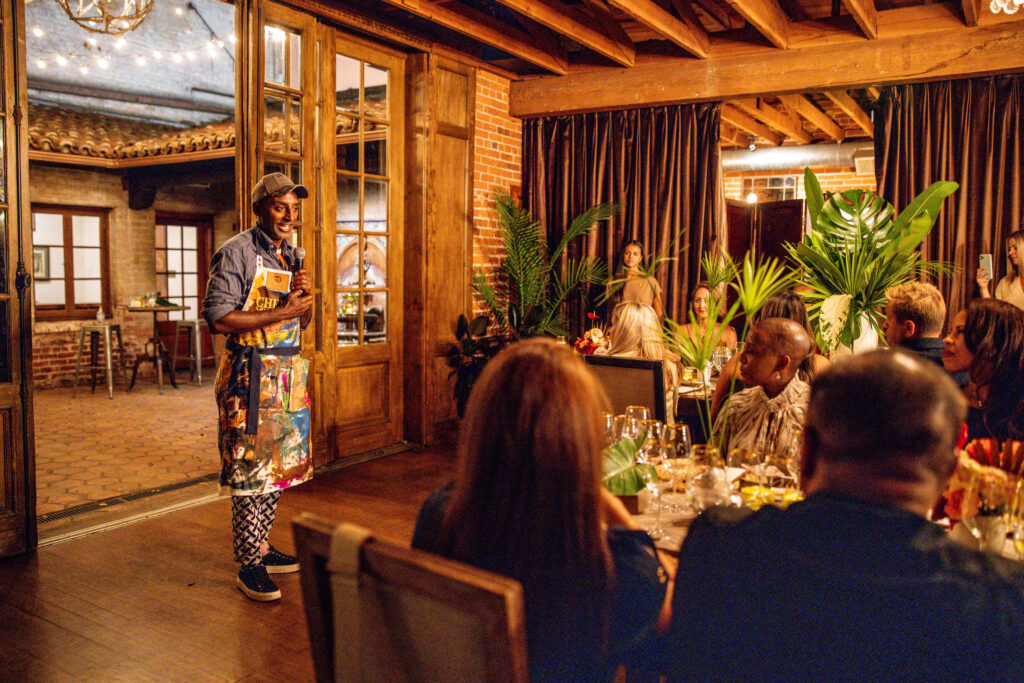 [/column] [/columns_row]
The final dish of the evening is one that has immense depth, cultural significance, and breadth of flavor and texture. The entire evening has been a slow ascend into a flight of the senses, and this dish is the all-star. All of it hits the complexity of heartiness exemplified with the black rice. Called the "Grand Jollof", chef explains that jollof is a staple in African cuisine.
"The first thing most people think about is culture, most cultures have something specific to them. This dish is really inspired by East Africa, into West Africa, into Uganga. Throughout Africa, everyone eats jollof.
This [dish] is a celebration of heritage. No matter what culture you're from, everyone has something. That's why we love doing this.
Jollof is a Senegal derived rice dish that is served with an array of things (depending on region), but it can be served with spicy goat (asun), beef or chicken stew, suya chicken, plantains or shito (in Ghana). The dawa dawa (African locust bean) lends some simple soul, the beef cheeks play the character that is vibrant and wonderfully rich, and the rockfish becomes an odd surprise that rounds out this dish without overshadowing the star (jollof). This is an unbelievable way to end a decadent night of cuisine that showcases the agricultural divinity of California, the heart of global piquancy, and the soul that emanates in Chef Samuelsson's *and his culinary team's) creations.
[columns_row width="half"] [column]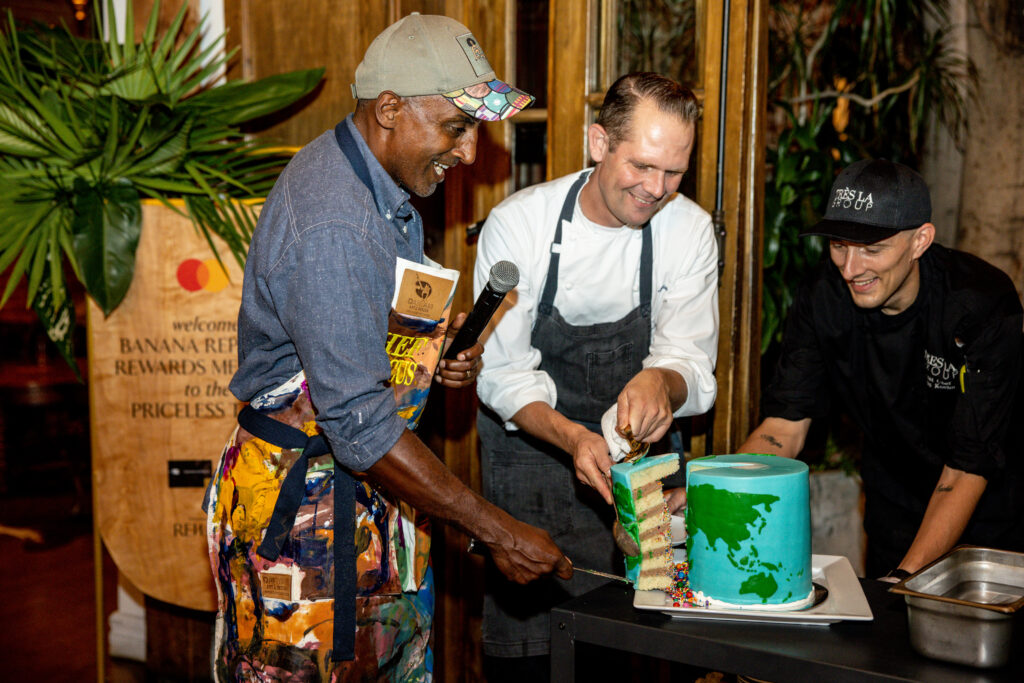 [/column] [column]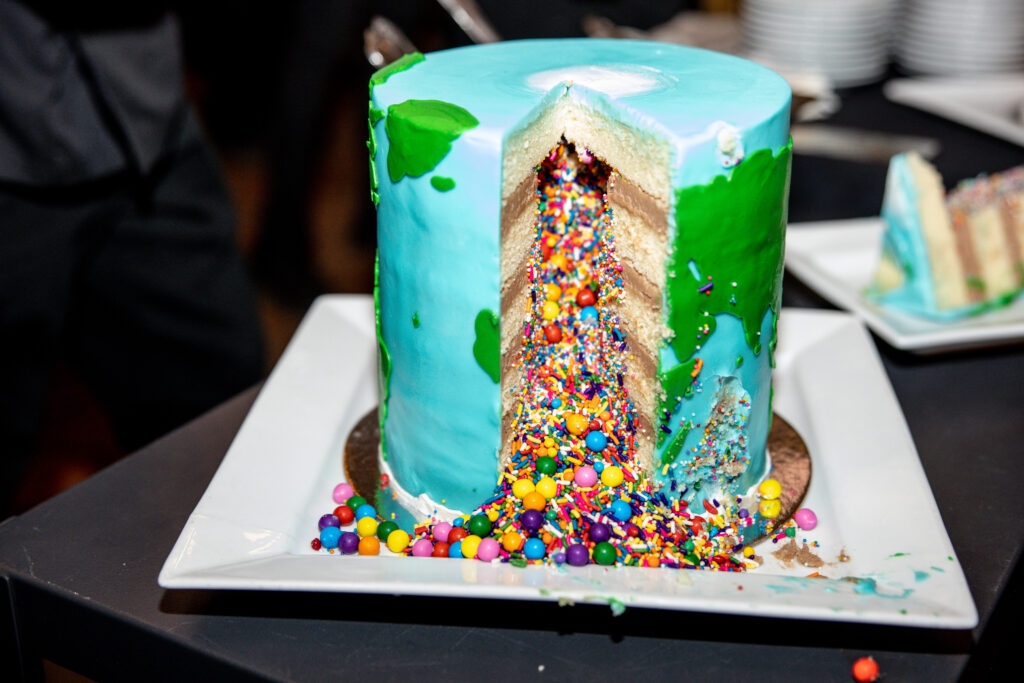 [/column] [/columns_row]
To bring this very special evening to a close, Chef and his team present a cake for dessert. The cake itself is more than just a cake. It acts as a tangible representation of a world united—and not divided. When he cuts into it, rainbow sprinkles ooze out; meant to signify the beauty of cultural diversity and a world that is far brighter when it celebrates together. It's a befitting way to wrap up an exceptional night.
Much like a play that is defined by its acts, this evening was not one of grand theatrics, but rather one of necessary human bonding. Strangers sat beside one another to talk, share an experience, dive into cuisine that took us all on a journey around the world, celebrating eclectic heritage, and cultural uniqueness. As we laughed and indulged in exquisite food and sublime wines, the service never once missed a beat, the decor bathed us in an understated warmth, and the history of the building we sat in reminded us all that there is more to life than a limited scope of vision.
Once again, Chef Samuelsson takes an evening in the midst of uncertain times and brings with him a bit of magic, an abundance of inspiration, and a heaping spoonful of joy. Thank you to Mastercard for championing diversity and inclusion, to Barclay's, Banana Republic, and the Carondolet House, and to Chef Samuelsson for lending us not only his time, but a bit of his heart.
This inaugural Priceless dinner lived up to its lofty goal of bringing us all together.
[columns_row width="third"] [column]
[/column] [column]
[/column] [column]
[/column] [/columns_row]