Soup To Savor
A Toasty Escape in a Bowl Filled With Love
Soup is that dish that warms the soul and soothes the belly. It reminds us of being a child and being given chicken noodle soup when we were sick or having grilled cheese and tomato bisque on a cold day. Campbell's was the first soup I ever had and thankfully, as my taste buds evolved and my palate expanded, I've had some of the most delicious soups ever – and they have been made with love.
"Made With Love" may be a saying but anyone who has ever had a bite of something that changed your life knows, you can taste the love. It comes through in every sip, every bite, every emanating fragrance and every unseen bit of culinary artistry. It takes heart to make something with love but a good home cook, a great chef, and a food savant can recognize that "love" in an instant. While admittedly "under the weather" this past week, I've turned to some of the soup recipes I've come across and while they are all vegetable based, they range in flavor and texture, color and ideology.
Now go, wrap yourself up in a warm and cozy blanket, feel that hug of the fabric snuggle up beside you and enjoy a lovely bowl of soup.
Spicy Thai Curry Soup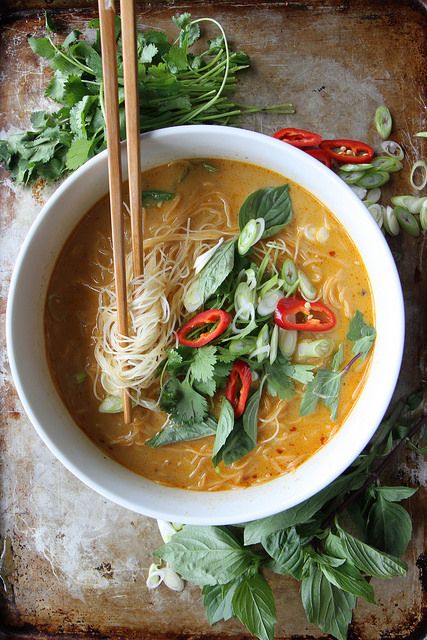 Ingredients
3 garlic cloves, chopped
2 tablespoons fresh ginger
2 tablespoons red curry paste
2 tablespoons coconut oil
4 cups chicken broth
3 cups coconut milk
6.75 ounces of rice sticks (really thin rice noodles)
Fresh cilantro, thai basil, red chili's and green onions to garnish
Instructions
Combine the garlic, ginger and curry paste in a small cuisinart (or mince and mash together in a small bowl). Add the coconut oil and combine everything well.
In a large pot, heat the curry-coconut paste over medium heat, frying the paste gently for 1-2 minutes.
Add the chicken broth and deglaze the pot. Add the coconut broth and bring the broth to a boil. Season to taste with kosher salt.
Either place the noodles in the boiling broth, or pour the boiling broth into a bowl of dry noodles and let the soup sit while the noodles cook and soak up the hot broth.
Garnish with fresh cilantro, thai basil, red chili's and green onions.
Preparation time: 10 minute(s)
Cooking time: 15 minute(s)
Number of servings (yield): 4
[separator type="thin"]
Miso Butternut Squash Soup
Ingredients
3 lbs butternut squash, peeled, seeded, and cubed
4 sweet onions (Vidalia or Walla Walla)
1 Honeycrisp apple, sliced, skins on
2 Tbsp minced fresh thyme
4 Tbsp olive oil, divided
1 Tsp minced garlic
½ cup unsalted butter
3 heaping Tbsp brown rice miso paste
4½ cups vegetable or chicken broth
salt/pepper
(optional for garnish)
chives, chopped
micro basil
your favorite hot sauce
Instructions
Preheat the oven for 400.' Toss prepared squash cubes in 2 tablespoons olive oil. Bake for 20-30 minutes until just starting to brown around the edges.
In a heavy, large pot over medium-high heat, combine onions and 2 tablespoons olive oil to caramelize. When onions begin to brown, add thyme, apple, garlic, and half of the butter. Continue to simmer, stirring frequently. After 10-15 minutes stir in miso paste. Mixture will be sticky and clumpy for a bit. Add roasted butternut squash. Stir again. Pour in a bit of the broth to deglaze, then add the rest of the broth. Add a dash of salt and pepper. Simmer over medium-low heat, covered, for 20-25 minutes.
Puree in batches in a high powered blender. Thin as needed with filtered water. Transfer pureed soup to a serving vessel. Garnish with chives, micro basil, and hot sauce as desired.
– See more at: Kendall Jackson's Blog

[separator type="thin"]
Roasted Red Pepper and Fennel Soup
Ingredients
8 red bell peppers
2 bulbs fennel
10-12 cloves garlic, peeled
4 TBSP + 1 TBSP olive oil
1 medium yellow onion, roughly chopped
6 TBSP fresh chopped fennel fronds
6 TBSP fresh chopped parsley
1 TBSP fresh chopped rosemary
1 TBSP fresh thyme
1 TBSP balsamic vinegar
1 TBSP granulated sugar
3-4 cups water, as needed
salt and pepper, to taste
pinch of cayenne pepper, to taste*
Instructions
Preheat oven to 375 degrees F., and line two baking sheets with foil or parchment.
Cut the bell peppers in half, remove the stems and seeds, and press each half flat onto the baking sheets, skin-side up. Cut the fennel bulbs into quarters (set the fronds aside for later), remove the core, and cut away any gnarly looking spots on the outer leaves. Place on the baking sheets along with the peppers.
Peel the garlic, and place in the center of a separate (smaller) sheet of aluminum foil. Pull the foil up around the garlic to create a bowl, and add 1 TBSP olive oil. Scrunch the foil tightly shut around the garlic to create a sealed pouch, and place on one of the baking sheets along with the peppers and fennel.
Place both baking sheets into the oven on the middle and lower rack, and roast for 40-50 minutes, or until the fennel is tender and the skin of the bell peppers is wrinkled, rotating the trays once halfway through baking.
Remove the baking sheets from the oven, and let rest for a couple of minutes, until the peppers are just cool enough to handle. Using your fingers, remove the papery skin from the bell peppers (the skin should separate fairly easily while the peppers are still hot — to make them even easier to peel, tent the peppers with foil when they come out of the oven and the steam will help loosen the skins. This is the hardest part of making this soup, but I promise you it is worth it.)
In a large pot over medium-high heat, add the remaining 4 TBSP olive oil. Add the onion, and a big pinch of salt, and saute for 6-8 minutes, or until tender. Add the roasted fennel, bell peppers, garlic (and all of the oil from the foil pouch), and stir to combine. Then add the fresh herbs, balsamic vinegar, sugar, and 2-3 cups of water, and either transfer the mixture to a blender, or puree using an immersion blender, until completely smooth. Add more water as needed to reach desired consistency.
Season well with salt and fresh cracked black pepper, and add a dash of cayenne, to taste. (See recipe notes.) Serve as is, or with grilled cheese sandwiches, or a hunk of crusty bread for dipping. Enjoy!
Notes from Willow
*The first time I made this soup, I used a hot pepper I had on hand, which I roasted along with the bell peppers. The level of heat was very mild. Just a barely-there warmth at the back of your throat as you ate, which I absolutely loved. However, I have no idea what kind of pepper it was, and when I went to replicate the recipe I couldn't find any others like it at the store, so instead I used cayenne (the beauty of cayenne is, it's easy to adjust to your own tastes, whereas using a hot pepper you never know exactly how spicy it will be). I find about ⅛th of a tsp. to be just right for me, but start with just a pinch and adjust as you see fit.
 [separator type="thin"]
Creamy carrot and orange soup with spicy chickpeas and sautéed tuscan kale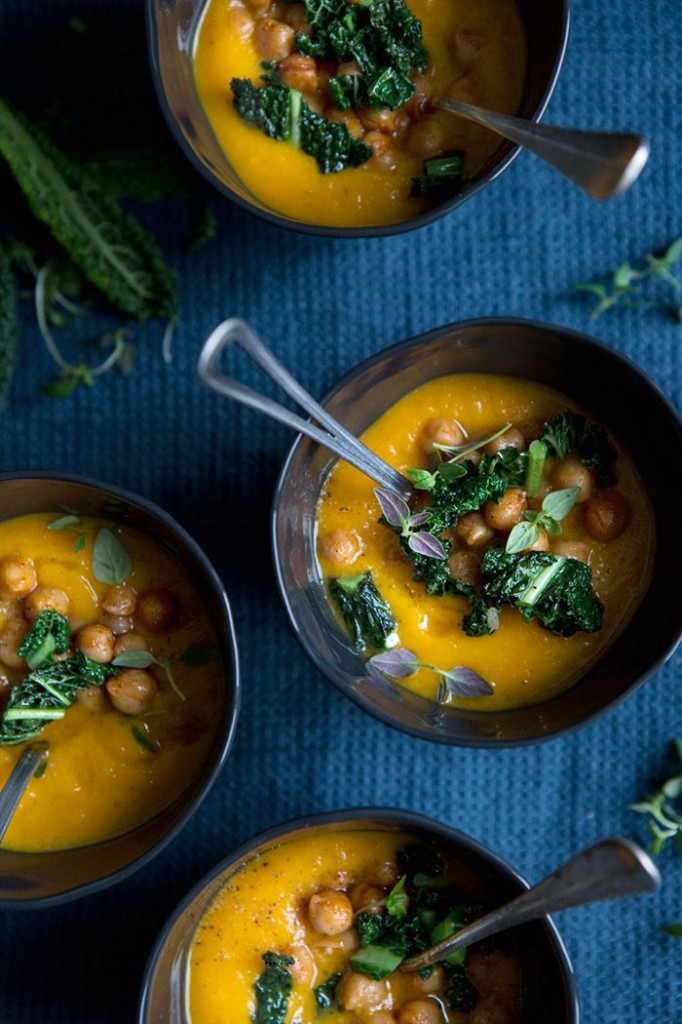 Serves 4 as a main or 8 as a starter
INGREDIENTS
8 medium sized carrots
1/2 medium sized fennel bulb
3 tomatoes, halved
2 yellow onions
3 garlic gloves
a handful of fresh thyme
1/2 tsp sea salt
freshly ground black pepper
2 tbsp olive oil
1/2 orange, juice from
…
3-4 cups vegetable stock
1/2 orange, juice from
1/4 cup creamy coconut milk or any "cream" of your choice
sea salt + freshly ground black pepper to taste
INSTRUCTIONS
1) Preheat the oven to 200° C (400° F). Rinse, peel and then chop all the vegetables and onions roughly. Arrange them on baking paper on a baking tray with fresh thyme and sprinkle with olive oil, salt, pepper and fresh orange juice. Roast in the oven for 25 minutes in order to release as much flavor as possible.
2) In a large pot heat the vegetable stock and then add the roasted veg straight from the oven. Bring to a boil, cover the pot and simmer for 10 minutes. Add the orange juice and cream and simmer for 5 more minutes.
3) Puree the soup in a blender and add salt and pepper to taste. Serve topped with the spicy chickpeas and sautéed kale.
Spicy chickpeas
1 can (400g) cooked chickpeas, well drained
1 tbsp olive oil
a pinch of sea salt
1/4 tsp paprika powder
cayenne pepper according to taste
INSTRUCTIONS
1) Heat the olive oil in a skillet and add the chickpeas. Toss them in the oil on medium high heat for 1-2 minutes. Add salt and spices and toss until well covered. Set aside until ready to use.
Sautéed Tuscan kale
8-10 kale leaves (I used Tuscan kale but any variety will do)
1-2 tbsp olive oil or coconut oil
pinch of sea salt + freshly ground black pepper
INSTRUCTIONS
1) Remove and discard any tough stems from the kale and finely shred the remaining leaves.
2) In a skillet heat the olive oil and add the kale. Sautée for 1-2 minutes on medium high heat until slightly wilted – stir occasionally. Add salt and black pepper to taste and remove from the heat.