Brunch At Home
#ATODBrunchHop stays in …
Coming across home cooks and gourmet visionaries who see food as the delectable canvas on which to paint and explore is a wonderful thing! Recently on the hunt for a gorgeous and playful #brunch to experiment with at home, I came across The Kittchen. Created by Kit Graham, it is her guide to practical and original recipes for anyone with a hankering for exquisite fare. Based in one of the greatest cities in the United States, Chicago, she is a home cook I'm thrilled to have found. Below is a guide to a brunch menu that will have you salivating and impatiently waiting to devour every last bit!
Photos by Regan Baroni | Styled & Created by Kit Graham
Raspberry Ricotta Pancakes with Lemon Curd
Raspberry Ricotta Pancakes with Lemon Curd
Ricotta cheese lends to a light spongy texture and raspberries add a touch of tart sweetness. Serve drizzled with warm lemon curd instead of with maple syrup.
Ingredients:
3/4 c. all-purpose flour
1 c. ricotta
2/3 c. milk
2 eggs
2 tbsp lemon juice
2 tbsp powdered sugar
1 tbsp baking powder
1/4 tsp salt
1/2 c. raspberries, plus more for garnish
2 tbsp salted butter
1 jar lemon curd
Directions:
1. Place raspberries, flour, ricotta, milk, eggs, lemon juice, powdered sugar, baking powder, and salt in a large bowl. Mix thoroughly with a whisk.
2. Loosely chop the remaining raspberries and mix into the pancake batter.
3. To make pancakes, heat 1 teaspoon of butter in a skillet over medium heat. Once the butter melts, create the pancake by pouring about ¼ cup of batter in the skillet. Feel free to adjust the sizes to your liking.
4. Once pancakes have browned (this will take 2-3 minutes), add more butter to the pan and flip them over. Repeat this process until all of the batter has been used.
5. Warm the lemon curd in a saucepan, drizzle over the pancakes and top with raspberries to garnish.
Total time: 30 minutes | Serves: 4
Potato Hash with a Sunny Side Up Egg
Potato Hash with a Sunny Side Up Egg
A hearty brunch with all the classic breakfast elements: eggs, potatoes, cheese, and bacon is sure to impress the hungriest of men. Top with an extra egg to add more sustenance.
Ingredients:
2 slices of thick cut bacon
2 tbsp – plus 1 tsp salted butter
2 c. potato hash (available in the frozen food aisle)
¼ tsp. salt
1/8 tsp. pepper
1/3 c. milk
1 tsp. flour
1/3 c. shredded cheddar
a dash of parsley
2 eggs
2 cups arugula
Directions:
1. Heat oven to 400 degrees. Cover a baking sheet with aluminum foil. Place the bacon on the foil, and then bake for 10-15 minutes until it reaches desired crispness. Then remove from the oven and blot the excess grease with a paper towel.
2. While the bacon cooks, prepare the hash. Melt one tablespoon of butter in a large skillet over medium heat. Add the potato hash. Season with the salt and pepper. Use a spatula to press the potato into the pan. After 5-6 minutes the potato will have browned and will be ready to flip. Use a spatula to cut the potato hash in half, and then flip the halves. Add another tablespoon of butter to the pan. The second side of the hash will be browned after about 5 minutes. At this point turn the heat as low as possible to keep warm.
3. Prepare the cheese sauce by whisking the milk and flour together in a saucepan over medium heat. Stir frequently until the sauce comes to a slow bubble. Then whisk constantly for 1 minute while the sauce thickens. Add the cheese and parsley and stir until the cheese has melted. Keep warm on low while you prepare the eggs.
4. Melt 1 teaspoon of butter in a skillet over medium low heat. Once melted, crack two eggs in opposite sides of the skillet. Cook for 3-4 minutes until the white is fully cooked and the yolk is still soft.
5. Divide the ingredients between two bowls. Start with the arugula, place the potato hash over, spoon the cheese sauce over, top with the egg, and add a slice of bacon.
Total time: 30 minutes | Serves: 2

Caprese Benedict
Caprese Benedict
This is a simplified, and flavorful version, of Eggs Benedict that replaces the hard to make hollandaise sauce with store-bought pesto sauce. Eggs are poached and placed over a stack of tomato and fresh mozzarella in a bed of arugula. If you want to keep things simple, replace the poached eggs with sunny side up eggs.
Ingredients:
1 c. arugula
1 large tomato
1 ball of fresh mozzarella
1/2 c. pesto
4 eggs
2 tbsp. white vinegar
1 tbsp. of parmesan
Directions:
1. Slice tomato and mozzarella into 1/4 inch slices. On two plates, create two stacks of arugula, tomato, and mozzarella.
2. Warm the pesto in a small pot or in the microwave.
3. Fill a skillet with 3 inches of warm water. Add the vinegar and bring to a slow steady boil.
4. Crack the first egg into a small bowl – do not break the yolk or you need to try again with a new egg. Once the water has reached a steady boil, lower the egg gently into the water. Repeat placing a total of 4 eggs in the skillet. If the egg whites spread out, use a slotted spoon to gently coax it back together. After 2 minutes gently roll the egg over.
5. Cook the eggs for 3 – 4 minutes total. After 3 minutes the white will be cooked and the yolk will be runny, cook longer if you prefer a firmer yolk. Use a slotted spoon to remove the eggs from the water, and place them on top of the mozzarella.
6. Spoon the warm pesto over the eggs, sprinkle with Parmesan, and serve.
Total time: 15 minutes | Serves: 2

Grapefruit Mimosas
Replace orange juice with mimosas for a sweet and sour sparkling brunch cocktail. Grapefruit juice is naturally tart; if you want a sweeter result buy sweetened grapefruit juice instead of 100% grapefruit juice.
Ingredients:
1 bottle Prosecco or Champagne
4 cups Grapefruit Juice
Fresh Sliced Grapefruit for garnish
Directions:
1. Pour the Prosecco and juice into a pitcher; stir to combine.
2. Serve garnished with fresh grapefruit slices
I love to share your brunches on Instagram. Be sure to use the hashtag #ATODBrunchHop so I can find your culinary creations!
XO – Your Editor, Dawn Garcia
 [separator type="thin"]
FEATURED PRODUCT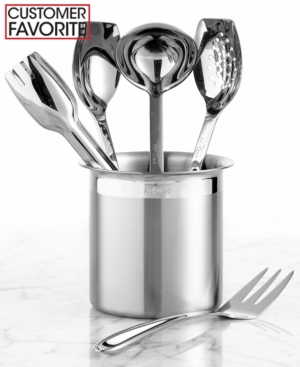 All-Clad Stainless Steel 6 Piece Cook and Serve Kitchen Utensil Crock Set
"Tools to take over the kitchen. You are the master chef of your space with a comprehensive set of do-it-all stainless steel tools, including tongs, ladle, slotted spoon and more in a durable brushed and branded storage canister that organizes and accents your countertop. These 9″" tools are made shorter in length than traditional All-Clad tools for even more precision while prepping and serving. Lifetime warranty."