PROJECT TACO
6325 Wilshire Boulevard | Los Angeles, CA 90048
Los Angeles has a plenitude of restaurants but finding a spot that gives you a reason to sit down with strangers, enjoy some truly delicious tacos, AND taste some of the finest local crafted brews? That is a gem if ever there was one. Now, there is such a place in the heart of LA right on Wilshire just past LACMA: #ProjectTaco!
Renowned entertainment entrepreneur Andrew Listermann and veteran restaurateur, Nick Fontova accompany their unique and mouthwatering gourmet tacos with select local craft beers ranging from Hangar 24 and Smog City, to Saint Archer and Black Market—there is no crap on tap! (A saying we at ATOD love and appreciate!) Every Thursday, Project Taco shows some love to one of the beers on tap by highlighting that local brewery and offering a special glass price. Buy the beer and take home the glass! (AKA, Steal the Glass!)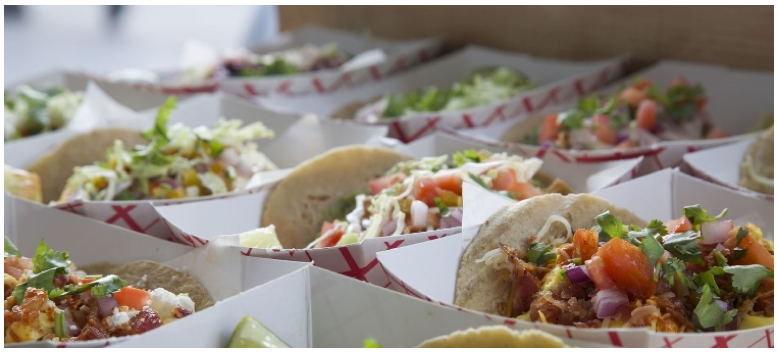 The thing you must know about veteran restaurateur, Nick Fontova, is his passion is completely genuine. He LOVES what he does and it shows in his menu, his knowledge of beer, his insatiable curiosity to continually find new products, new brews, and new companies to explore and introduce to his customers. The tacos behind Project Taco are none too different. With a meatless taco that will change any carnivore's mind and meats that are juicy and fresh, these are gourmet tacos worthy of devouring. Couple that with the 5-choice array of salsas and dips plus a platter of doughnuts from local bakery, fo-nuts, and this is an LA stop that you will frequent over and over … and over (with a huge smile on your face).
All of the tacos are really good though here are my highlights and my critiques:
Wilshire Pot Roast | shredded pot roast beef, cabbage, cherry poppers, onions, cilantro, cheese, chili-garlic aioli
The pot roast itself was good but not quite as juicy as I'd have liked. It was a bit dry but the aioli adds an element of surprise to the taco. Still, I think it would have fared better with a lime chili sauce.
Miracle Meatless | Beyond Meat Ground Beef, hummus, green cabbage, onion, tomato, cilantro lime crema
Add goat cheese for $1
This was utterly delicious! Traditionally speaking, meatless meat is my least favorite thing but Beyond Meat has created a product that defies that theory altogether. Ironically, it's one of the most popular items on the menu … ordered no less by happy carnivores. The flavor is explosive and mirrors moisture of ground beef with beautiful precision. The combination of hummus, cabbage, and that cilantro lime crema is a huge hit!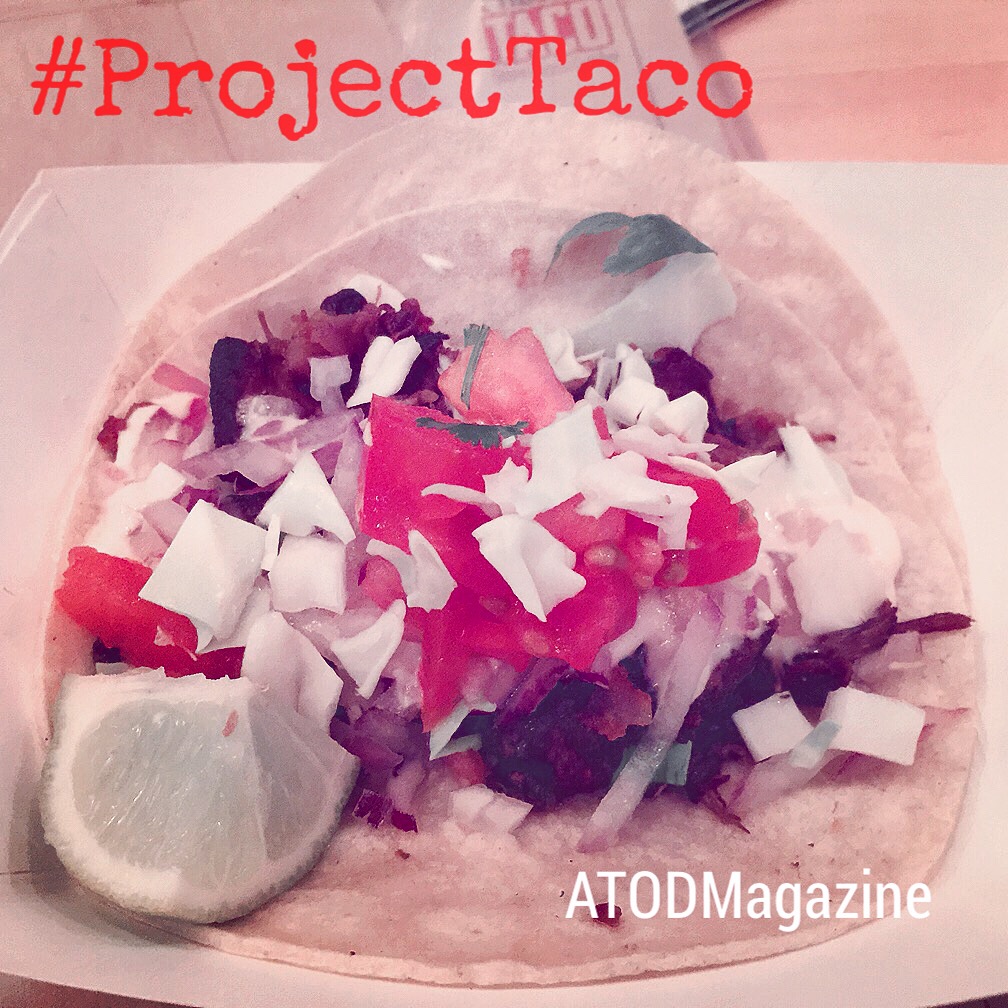 Beef & Bacon | Shredded beef pot roast, cilantro horseradish crema, bacon, tomato, onion, cilantro

This one was a tasty taco but I'd definitely suggest adding extra bacon and getting the horseradish crema on the side. I'm not a fan of horseradish in general but I think this taco was good enough on it's own had a little crisp greens been thrown in. Then again, I'm a person who thrives on texture and a full range of flavor. Still, this is definitely one I'd try again. *Try with the green tomatillo salsa.
Green Chile Pork | pork, cabbage, homemade tomatillo salsa, onion, cilantro
I thoroughly enjoyed this particular taco. The pork was done right, not overly dry or overly salty. This had all the makings of a true gourmet traditional taco. Great taste, great flavor, perfect finish. Top it with one of the salsas below to bring it all together (I'd recommend the Habanero pineapple).
Salsas: Green Tomatillo | Pico de gallo | Cilantro Lime Crema | Hummus | Chile Garlic Aioli | Habanero Pineapple
The week we went, Wolf Creek Brewing Company was the featured beer for Steal the Glass. A unique story and a hearty brew, Wolf Creek is a Valencia based beer that goes down smooth with an incredible profile of flavor and spices. The breadth of samples I enjoyed was expansive and honestly, there wasn't a bad one in the batch. Hats off to Nick for a selection of craft brews that won this seldom beer-drinker over. (I'm particular about my craft brews and these were an impressive lot!) Below is a glimpse at what I tried.
In essence, come for tacos, stay for Jenga, clink your glass and keep coming back for more … Cheers!
[separator type="thin"]
Wild Angels Dubbel Trubbel
Our Belgian-style Abbey Dubbel ale is brewed with Belgian malt and golden brown sugar for a malty, complex ale that is lightly hopped. Flavors of fruit, caramel, brown sugar and a touch of chocolate make for a very rich tasting ale.
Hops: German Hallertau
Alcohol: 9.5%
I.B.U.'s: 17
Orange Wheat Hangar 24
Crisp, Tangy, and Refreshing. The citrus aroma, light airy mouthfeel, and tangy finish are this unfiltered beer's trademarks. This is accomplished by adding whole locally grown oranges throughout the brewing process, which perfectly coalesce with the wheat and barley base.
Alcohol Content: 4.6%
IBU: 17
Glass Type: Weizen
Serving Temp: 42 degrees F
Altbier No German Amber
A Düsseldorf specialty, an Altbier is a German style brown ale, the "alt" literally translates to "old" in German, and traditionally Altbiers are conditioned for a longer than normal periods of time. Other sources note that "alt" is derived from the Latin word "altus," which means "high" and refers to the rising yeast. Take your pick, but the extended conditioning mellows out the ale's fruitiness and produces an exceptionally smooth and delicate brew. The color ranges from amber to dark brown, medium in carbonation with a great balance between malt and hops.
"Sticke" is a stronger version of an Altbier, thus a bit more malty and hoppy to boot.
Average alcohol by volume (abv) range: 4.0-7.0%
Wolf Among Weeds IPA
STYLE – India Pale Ale
OG/FG – 18.4/3.2
ABV – 8.0%
IBU – 80
MALTS – 2-Row, Golden Promise, Malted Rye
HOPS – Columbus, Chinook, Simcoe, Cascade
[separator type="thin"]

Taco options include: Wilshire Pot Roast, Miracle Meatless, Thai Peanut Chicken, Blueberry BBQ, Chicken and avocado, South Bay Breakfast Taco, sides of home-made guacamole, and a selection of salsas.
Carefully selected local craft beers and organic wine.
Happy Hour from 4pm-7pm Monday-Friday | Saturday/Sunday ALL DAY long with $1 off EVERYTHING.