San Antonio Cocktail Conference 2015
Notes by Kevin + Lauren Curtis | Photographs by Kevin Curtis
"Ho! Ho! Ho! To the bottle I go
To heal my heart and drown my woe
Rain may fall, and wind may blow
And many miles be still to go
But under a tall tree will I lie
And let the clouds go sailing by"
― J.R.R. Tolkien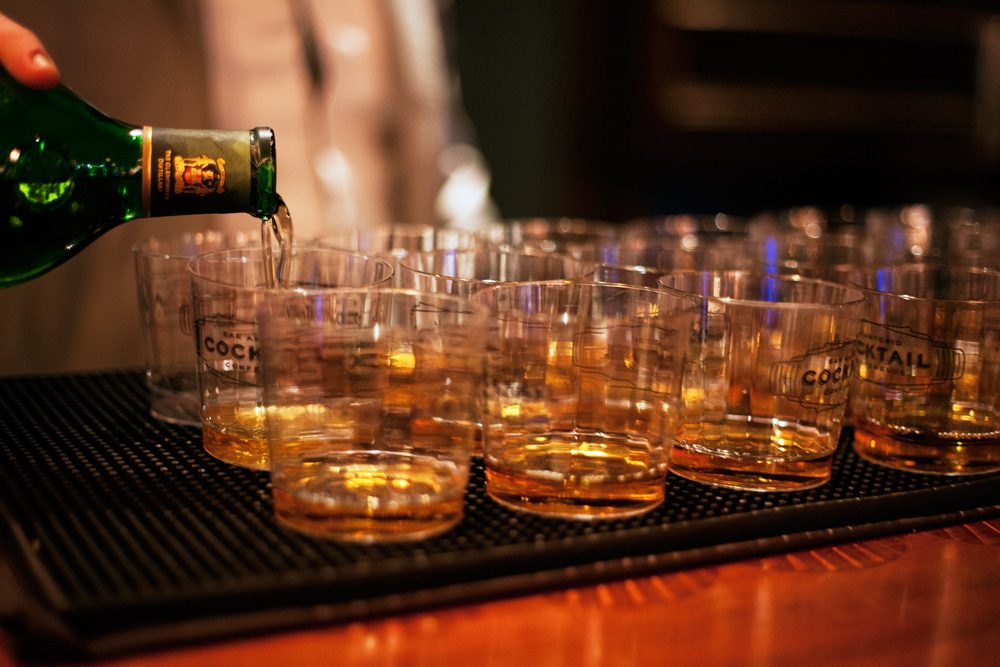 THE CONFERENCE | The First in Texas
The first of its kind in Texas, and now in its fourth year, the San Antonio Cocktail Conference was named one of the Best Cocktail Festivals in America by Fodor's Travel. Like its predecessors the Manhattan Cocktail Classic and New Orleans' Tales of the Cocktail, every year we bring together top bartenders and cocktail aficionados for educational seminars, guided tastings and cocktail parties. Houston Street Charities and the Conference will once again donate 100 percent of all money raised during the Conference to benefit children.
The Tasting Room
Gunter Hotel, Saturday, January 17, 12:00 – 5:00 p.m.
The Tasting Room is your opportunity to browse and learn – and experience spirit ambassadors and brand representatives from all around the world – all in one enormous room! Admission to the Tasting Room is free with the purchase of any Cocktail Conference ticket or at the door for a $20 donation to Houston Street Charities.
– Deep Eddy had a great tasting setup, as they do at every event they go to. This time they were featuring their Deep Eddy Lemon
– Gustology(http://gustologist.com/) – Cocktail classes that sounded pretty fun. Sadly, due to it being pitch black in there, I wasn't able to get any shots to share
– Great Whiskey, Moonshine, Beer (I managed to find the only beer they had, which was a local IPA and delicious), some small snacks and a good crowd.
Friendly Craft Beer Break – The Friendly Spot | 4:00-6:00pm
943 South Alamo Street (Map) | San Antonio, Texas 78205
Swing by for sampling and information straight from the brewers or brewery reps.
– This bar was a pretty cool spot. It was all outdoor seating with a front and back bar and a ton of craft beer in bottles, cans and on draft.
– It was a small event with not a big selection (or anything special really), but it was fun. I got some good local craft beer and everyone looked like they were having a blast.
Stroll on Houston Street | 6:00 – 10:00 p.m.
Come to the hub of late-night San Antonio to enjoy Houston Street, wandering between great parties at every stop throughout the evening. Live music and the perfect craft cocktails and culinary accompaniments at Bohanan's Restaurant & Bar, the Sheraton Gunter Hotel, IBC Plaza and Luke San Antonio will keep you strolling all night.
– This was the highlight for me. 3 different locations, all with different food and drinks. From Frito pie in bags of Fritos to fresh tamales with craft beer, wine and custom cocktails.
– Bohanans is a really cool spot with an outdoor area, really laid back, classy bar and they had live music.
– Lauren's Pick:  "Hemingway Daiquiri" – Papa's Pilar Blond Rum, fresh grapefruit, lime juice, simple syrup and Maraschino Liqueur.
– Luke is a great restaurant that Lauren and I ate at for her birthday last year actually. They had a small little setup out on their patio with some sort of ramen (although it didn't have noodles) and a few small bars.
– The IBC plaza had a second Frito pie from Two Bros BBQ that was killer! Big chunks of delicious, juicy brisket and it reminded me of the one we had at Lambert's in downtown Austin.
Editors Notes: Kevin Curtis is our Texas Staff Photographer and Lauren Curtis is our on-call resident "Taster". Both have a very laid back approach to dining and craft beers and cocktails and it's that "real" approach that allows us to give readers a totally different perspective. I made a conscious effort NOT to change their notes. Sometimes, a quick and easy approach tells you everything you need to know! Thanks to the San Antonio Cocktail Conference for having ATOD Magazine there. Look forward to the next one!
[separator type="thin"]
San Antonio
All photos are protected under the Laws of Copyright © 2015, ATOD Magazine.
[separator type="thin"]
Houston Street Charities
Houston Street Charities is a non-profit organization created by Bohanan's Prime Steaks and Seafood and Mark Bohanan. It was founded to oversee the San Antonio Cocktail Conference and other charitable endeavors of Bohanan's, in an effort to make sure that giving back to community remains at the forefront of all events.
Named one of the Best Cocktail Festivals in America by Fodor's Travel, the SACC was the first of its kind in Texas, but the concept is nothing new. In fact, there are various models across the country in cities such as Manhattan and New Orleans. But what makes the SACC different from the rest is that 100% of the proceeds are divided amongst selected children's charities. The proceeds are raised through ticket sales to a variety of events that range from elaborate cocktail parties to guided tastings and educational seminars. But the San Antonio Cocktail Conference is not just an opportunity to drink. It's about learning the art and appreciation for the cocktail, while helping the children of our community. More than $240,000 was donated in the first three years, and the San Antonio Cocktail Conference will continue to dedicate its proceeds to supporting children's charities. Though the majority of our funding to charities comes from the Cocktail Conference, there may be, on occasion, an opportunity to meet other modest needs of individual charities and causes.
Houston Street Charities will follow our Policies and Guidelines for decisions regarding funding of charities. Charities that are determined by Houston Street Charities to be eligible to receive funds in March will be expected to participate in Cocktail Conference activities in the preceding December and January. Please see deadlines and Policies to decide if you are eligible to apply, and read Expectations for Charities carefully. If you have questions, please contact Cathy Siegel, Executive Director, Houston St. Charities, at cathy@sacocktails.org.
How it works
The majority of our funding to charities comes from funds raised during the Cocktail Conference, which takes place in January each year. Actual deadlines will be published when they become available, but general time-frames remain the same from year to year.
Submit Letter of Interest (August)
If selected, submit Proposal (September)
Prepare for a site visit (October)
Notification of eligibility for funding (October)
Participation in Cocktail Conference activities (December and January – TBD)
Distribution of funds (March)
Find our Policies HERE
For more information:
Cathy Siegel
Houston Street Charities
219 E. Houston Street, Suite 205
San Antonio, Texas 78205
210.472.2211