Dishin' With Dawn – On The Grill
Photos by Tram Tran + Arthur Yang | ATOD Magazine™
Burgers, Grills, and Culinary Curiosity – OH MY!
[dropcap letter="O"]ne fine Saturday morning, a group of culinary members of the media, myself included, were given an invitation to Grill by way of the nationally recognized,
Weber Grills
and
Popchips
. Under the direction of Grill Master, Jeff "Carter" and the assistance of Louie Cito, we were given a morning of instruction and before long, a baggie of good ole fashioned Ground Beef to use on our designated  
WEBER® Q® 1200™
. The grills, unlike any before, come
in a range of colors from green, blue, fuchsia, orange or black.
Now when we are given the "ok" to start grilling, I make a choice. Sure, I could make a regular ole burger but if any of you know me, I'm not one for "regular". I decide to go outside the box and well into the world of curious concoctions. At the prep table where spices, and goodies lay, I spot a Granny Smith Apple and my culinary synapses fire. Somehow the sound of a burger with granny smith apples, Thai chiles, bacon with avocado and a fresh fried egg atop sounds like perfection. Alas, there are no chiles in sight so I spontaneously scan the table and eye those Crazy Hot Popchips. EUREKA! I also decide I should attempt to grill up a Portobello mushroom for good measure.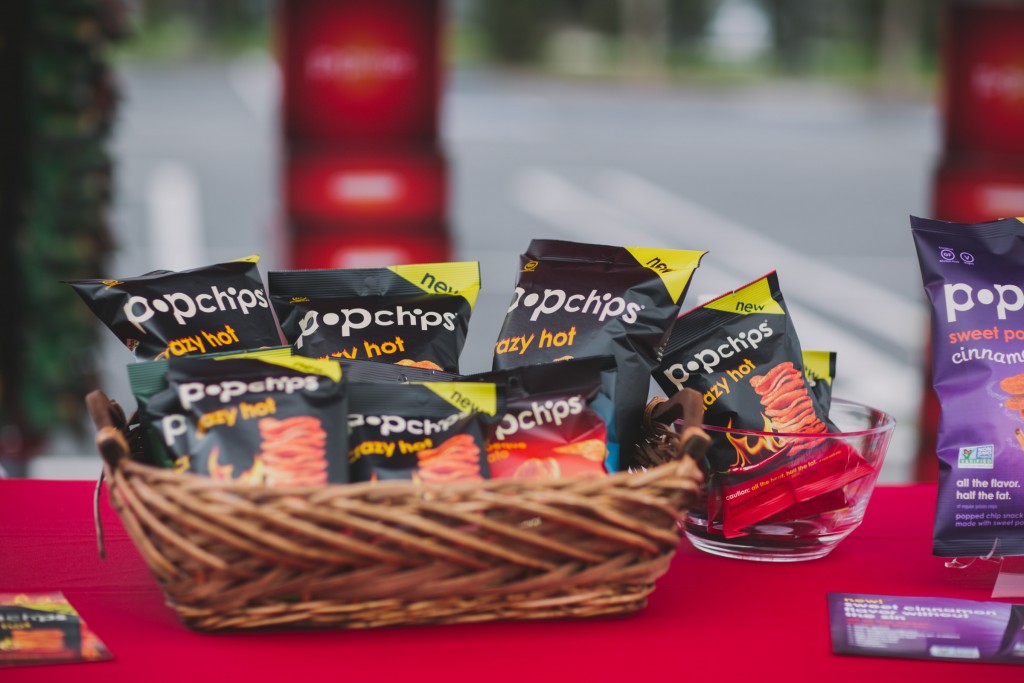 I take my hands now dressed with plastic gloves and I know what I have to do. I use my cutting knife to press out the Popchips into finely ground crumbs and I take that meat and massage in some apples I've cut down to tiny pieces, the Popchips and throw in some salt, pepper, and some love. I press my thumb in the middle to get that perfectly symmetrical round burger shape and head to my grills (yes, plural). First grill, well, I managed to get my hands on some bacon thanks to Carter so I begin with cooking up those strips of pork joy before throwing the burger on. Crisped (erring on the side of burnt), I remove the bacon strips and throw on my burger. My secondary "Veggie Burger" – aka – Portabello Mushroom – has now been happily massaged with olive oil as the spines and stalk have been removed, sprinkled with salt and pepper and ready to shine as it too finds itself nestled on the grill.
The Steps:
1. Place on Grill.
2. Set timer for 4 minutes.
3. WAIT. Patiently in spite of the desire to "Open and Check" allowing the scents of meat and portabello to penetrate my senses.
4. Timer goes off. Flip.
5. Set timer for another 4 minutes (resisting every urge to open and check).
6. Place eggs in an aluminum tray bathed in olive oil and when the timer has 2 ½ minutes remaining, place them atop the grill on their designated cast-iron surface (having doused the cast iron with olive oil).
7. Wait.
8. TIMER IS DONE!! Get your hunger ready because it's on. | BUN: Check. Burger: CHECK. Bacon: CHECK. Egg: CHECK.
9. Get avocado ready and sprinkle on some Tastee BBQ POWER rub and voila! Close that bun and go to town.
10. Eat. Don't worry about the mess. ENJOY …
GET YOUR SWEET ON
As we all bite into the burger (because I'm a sharer), the satisfied sounds escaping us say it all. But before our happy tastebuds can rest, it's time for dessert! Let the Apple Pie in a Bite commence!
Enter: Sweet Potato Cinnamon Twist Popchips, a granny smith apple, a plentiful bowl of brown sugar, whipped cream, caramel and cinnamon.
Rub brown sugar on apples. Place Granny Smith rounds on the grill for a nice caramelization that will happen at minute 1. Flip. Wait. Before you know it, out comes the perfect apple with grill marks to boot! I wanted mine to look pretty so I took a little time for presentation and the minute I was done? In my mouth it went and all I can say is WOW! Who knew Popchips, apples, and all the right toppings could equate to a perfectly wonderful dessert?! (Apparently, Weber and Popchips did. Brilliant, those two.)
And thus concludes my Dishin' With Dawn segment. Now I'm hungry …
Popchips flavors set to hit stores this September. Weber Grills available for purchase. Visit www.weber.com | www.popships.com
[separator type="thin"]
Brought to you by KIA Sedona