Weber + Popchips + The Grilling Academy
photos by Tram Tran + Arthur Yang | ATOD Magazine™
[separator type="space"] [dropcap letter="S"]ummer implies heat but it also implies light summer dresses, picnics at the beach, big hats and of course,
grillin
g. And no one knows grilling quite like the ole standby,
Weber Grills
. Invited to attend a very fun Saturday morning
"Weber's Grill Academy"
 partnered with the ever indulgent-worthy, gluten-free staple,
Popchips
, to teach us the fundamentals of grilling, introduce to some fun new products, and make sure our tummies were well fed. I knew this day was going to be one of those unforgettable experiences and I was right. (
I love it when that happens!
)
About to get schooled in the art of grilling at this BBQ Boot Camp by Jeff Carter – aka "Carter" on the brand new WEBER® Q® 1200™, I arrive with my entourage and get ready to feed some hunger. Setup in the parking lot of EA Sports is a huge mobile trailer that, inside, is fully equipped with Weber Grills, a kitchen, picnic tables, fresh fruits, ice cold water, and aprons for each of us … embroidered WITH our names on it. Now that is the little "extra touch" that I find utterly endearing. Also inside the trailer on each table are bags of Popchips, including new and unreleased flavors (Crazy Hot + Sweet Potato Cinnamon Twist). We were the lucky few that were able to sample these tasty treats before the public gets to.
As the clock strikes Noon, we are ushered to the outside grilling stations representing our assigned team. I was part of "Team ORANGE" which included Mick Brown of Tastee BBQ and Lynn Chen of The Actors Diet. We had about a dozen food loving writers there to experience today's festivities and before long, we were instructed on just how to use the brand new Weber Q 1200. It is a must to mention that the grills are not only fashionable, they are mobile, multi-tasking and super easy to use.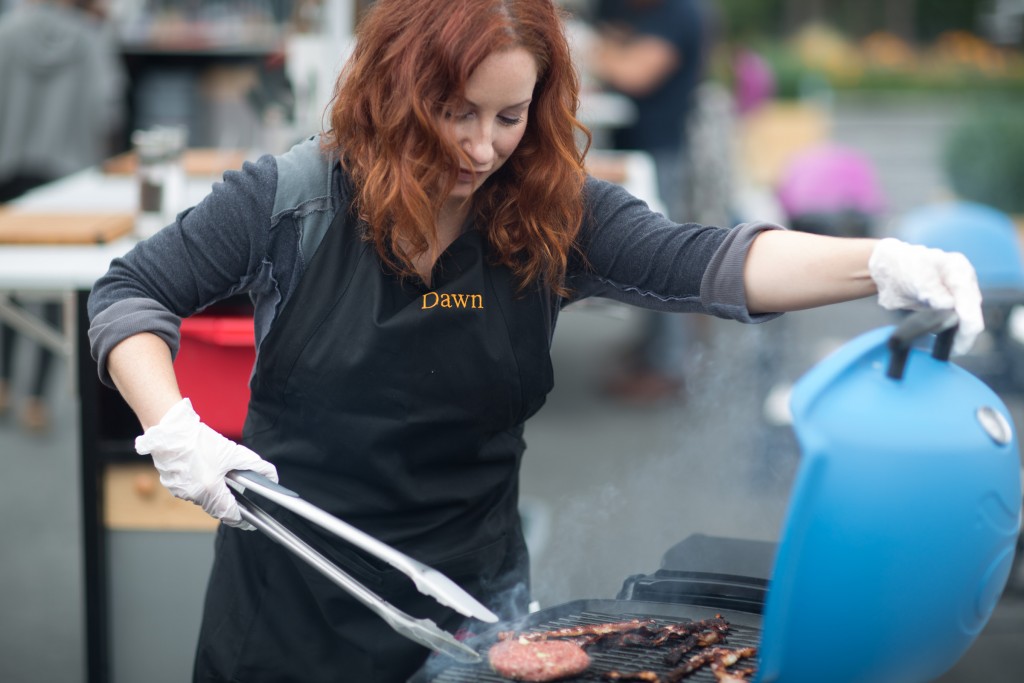 While I could go on and on … and on, I will be writing my BBQ-ing experience in a post following this but – here are the most important tips I've learned about the Weber Grill AND grilling on the whole:
1. BURGERS: Put your thumb in the middle of the burger PRIOR to grilling to get that nice, even, round burger that fits in the bun with precision.
2. Do NOT be afraid to play with ingredients. Be daring, think way outside the box, and experiment! (I made my burger with Granny Smith apples, Crazy Hot Popchips, salt pepper, bacon and topped it with egg and avocado.)
3. 4 minutes each side. No more, no less.
4. Leave it. Don't open the grill within that 4 minutes or you will compromise the overall temperature of the meat.
5. The grill can pretty much accommodate anything. Including wood chips, veggie baskets, and frying up some eggs.
6. Portabello Mushrooms do best when massaged with olive oil, are cleaned properly (no stalk, no spines) and with a pinch of salt and pepper, when thrown a grill, that pretty, meaty little mushroom cap becomes a gourmet feast!
7. Don't touch the grill! It's hot. (Sure, this SEEMS obvious but as a cautionary tale I write this as a gently reminder.)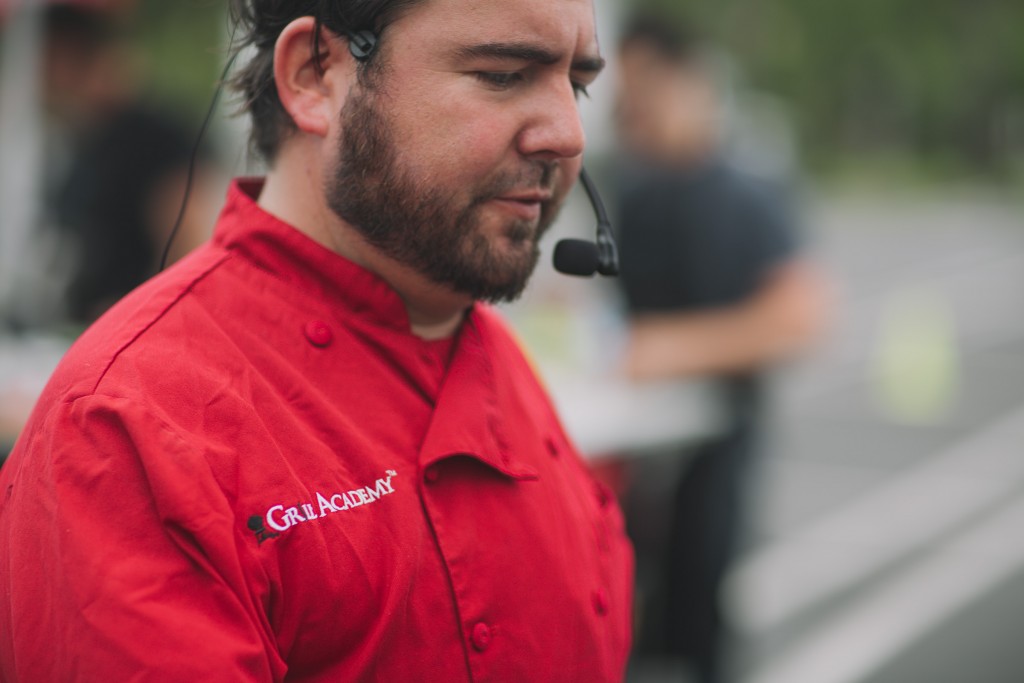 Today was an absolute adventure. The final piece de la resistance was the dessert (I finally figured out just what those Granny Smith apples were intended for). We were given a freshly cleaned station and on it was a bag of Sweet Potato Cinnamon Twist Popchips, a bowl of brown sugar and in the center of it all waited whipped cream, caramel sauce and the promise of "Apple Pie" in a single bite. (You know, I was ready.)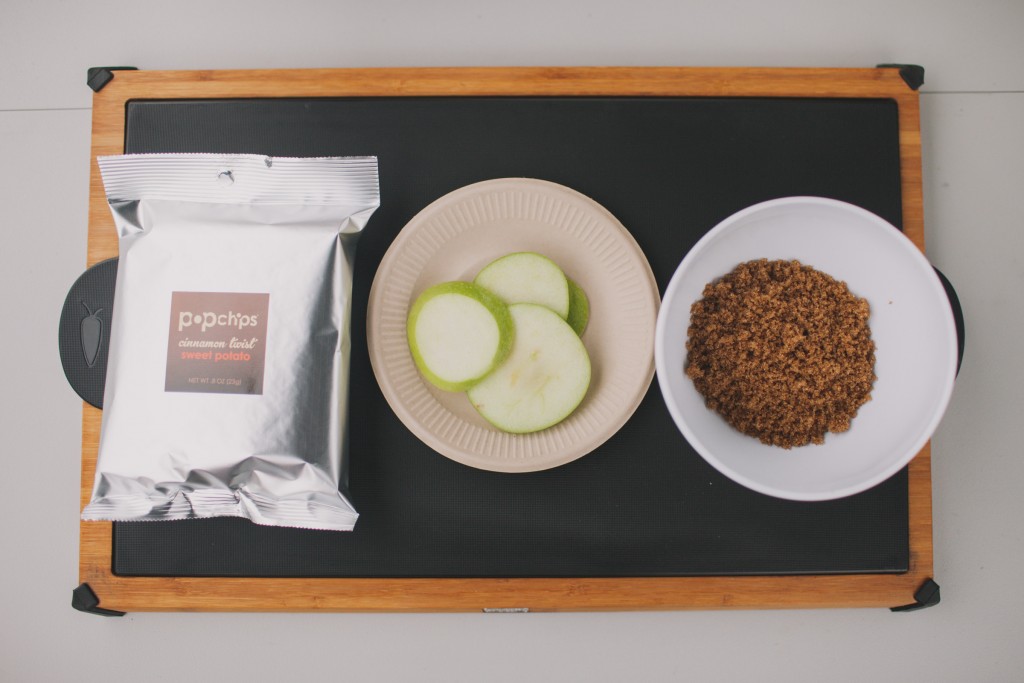 Much like the burger, I was interested in getting a little creative with the sweet finish. In light of sticking with the chosen ingredients, I decide instead to focus on presentation and in the end, the finish was beyond delectable. For more on the creations, visit my other post: DISHIN' WITH DAWN.
The brand new Weber Q 1200 is available at stores now and as a proud new owner of one, all I can say is:
I have a new favorite toy.
For where to buy these grills, visit Weber.com
WEBER GRILL ACADEMY
Summertime is upon us, and along with it the start of grilling season. Are you ready to take your BBQ skills to the next level and amaze family and friends by serving up perfect, mouthwatering meals?  If your answer is yes, you will definitely want to join popchips and Weber Grill for an exclusive BBQ Boot Camp.
Weber's grill masters will showcase their tricks of the trade so you can learn how to grill the perfect burger.
[separator type="thin"]
Brought to you by KIA Sedona