LA Beer Week at Bow & Truss
Photos by Dawn Garcia© | ATOD Magazine
For one week, local breweries, bars, restaurants and other venues host events celebrating the culture of craft beer in our community.

– L.A. Beer Week | Beer Week, JUNE 20-28th #LABW7
[dropcap letter="T"]his week I was invited to partake in
L.A. Beer Week
at NoHo's,
Bow & Truss
.
Yet another reason to love Los Angeles is it's infinity to find a reason to devote entire weeks to celebrating drinking, art, and food
. And it's never in short supply. This week, LA gives an ode to craft brews … and beer on the whole.
Bow & Truss is a Spanish themed tapas restaurant that shouts boho chic with a touch of NY SoHo: artsy, interesting architecture and set amidst the backdrop of an increasingly gentrified Arts District in North Hollywood (aka – NoHo). Part of the Knitting Factory Entertainment's expanding borage of restaurants, this is the 2nd in their dining endeavors (the 1st being The Federal Bar + The District Bar). Tonight is an early beer pairing & tasting to commemorate the craft brew process with a particular emphasis on local brewery, Golden Road Brewing. Golden Road is a craft brewing company located in the heart of the valley (which sounds kinda weird but their beer stands tall).
Tonight was a bit brutal. The sun was relentless … and we were sitting outside. While Sabrina, our PR liaison, carefully instructed the staff at B & T to situate the outdoor umbrellas to give us all some much needed reprieve from the piercing sunlight, we sat patiently and looked over their menu. An array of tapas inspired bites, an interesting wine selection and as expected, a well curated selection of beers. The table was seated with 6 other food lovers, each a Los Angeles critic, writer, or blogger hoping to cure their heat-bourne thirst and feast on something worth telling readers about. I cannot get a tall glass of cold water soon enough and thankfully, it arrived and my +1 – aka – my partner – went in and ordered me a much needed glass of Cava. Refreshing and crisp, the notes of pear and the tickle of effervescence against my nose invited me to imagine I was somewhere in Spain. And I was willing to play along. LA went from moderate temps to scorching heat and humidity and anything of an escape was a welcomed change.
Sipping on my bubbly, we order: Scallop Tostones, Camarones a la Parilla, and the Coloflor Escabeche. We scour the room as we look forward to the much anticipated beer and dessert pairing. That said, I am going to touch on the few items I did try and, in fairness, am planning to revisit the restaurant to really explore the menu in its entirety. After all, we were here about the beer and dessert pairing (and that was pretty fun).
[separator type="thin"]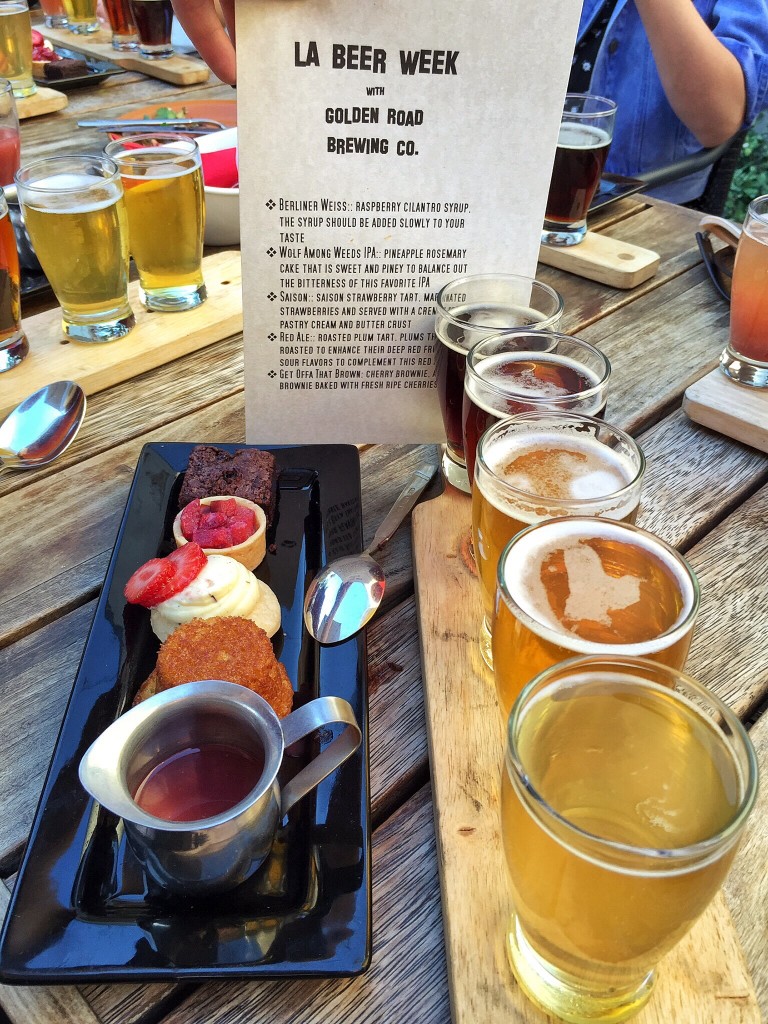 The flight of beers were were thought out as were the pairings but it was the 1st one and the 4th that leant to my craft beer thirst. The long wooden beer board arrived with 5 beers as did a tray of sweets that were meant to accompany each beer … and there were suggestions as to how to enjoy both in unison. Here is the thing: This experience of pairing the beers with individual desserts was rather brilliant. They made the beer shine!!
Berliner Weiss: Raspberry cilantro SYRUP
SUGGESTION | The syrup should be added slowly to your taste. | OMG. Yes, I really just said this. The mastermind behind this enhancement deserves a medal. This was a VERY playful way to make an already exquisite beer taste like heaven.
Wolf Among Weeds IPA: Pineapple rosemary cake.
Cake that is sweet and piney to balance out the bitterness of this favorite IPA. | I've had this IPA before and it really is a good one. I thought the rosemary cake was nice and moist and the traces of herbs running throughout complemented the IPA.
Saison: Saison strawberry tart.
Marinated strawberries and served with creme fraiche pastry cream and butter toast. | I think the beer outshines the tart on this one.
Red Ale: Roasted plum tart
Plums to enhance their deep red fruit and sour flavors to complement this red ale. | This tart definitely shined. If for nothing else than innovation alone. When do you ever get to have a plum tart?! Well done, Chef!
Get offa that brown: Cherry brownie
Brownie baked with fresh ripe cherries. | A deep, dark finish to a rather tasty flight.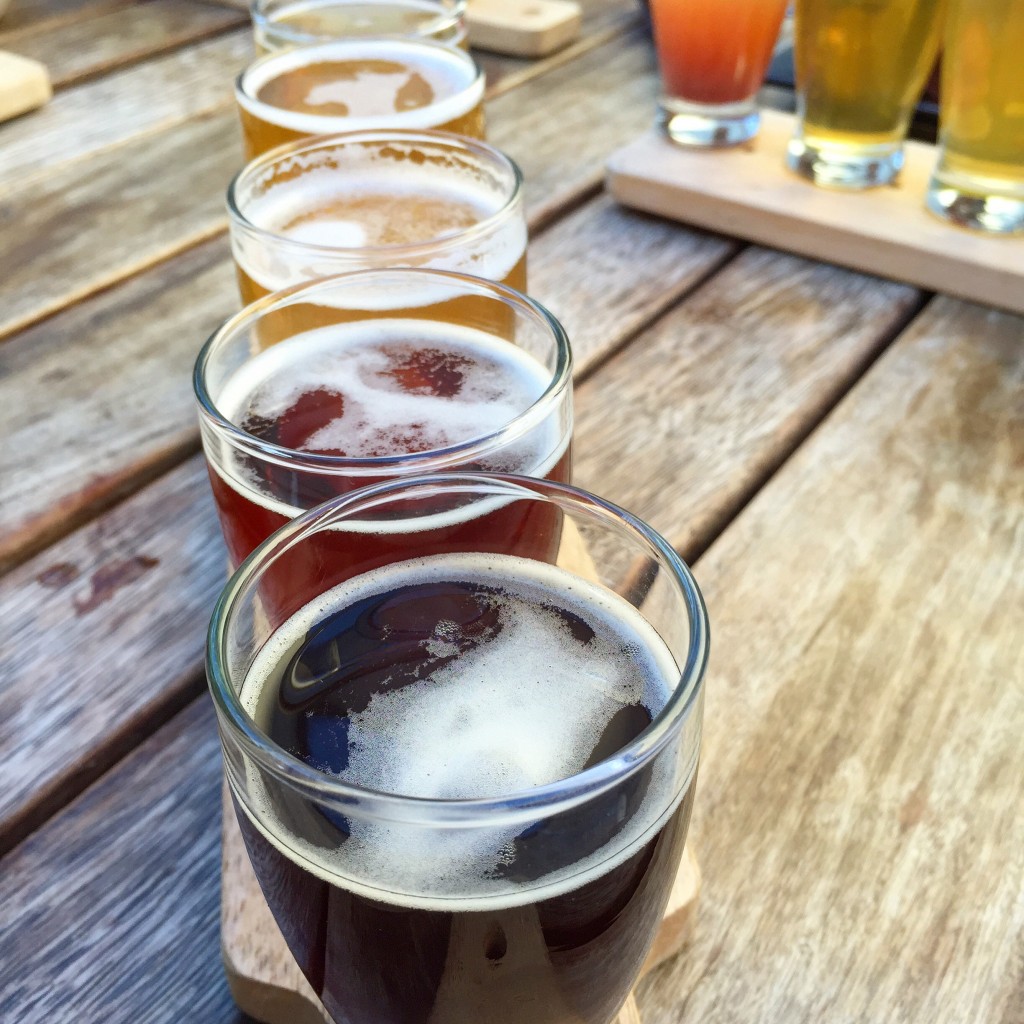 [separator type="thin"]
Sadly, for the food, from what I tasted, I would have liked to have seen far more boldness but instead what we got was lacking in "oomph".
Camarones a la Parilla
Grilled Shrimp + harisso + cilantro pesto | While the shrimp was overcooked, the actual flavor of the shrimp took me back to my time in Barcelona. It had the color and potential of a true Spanish dish.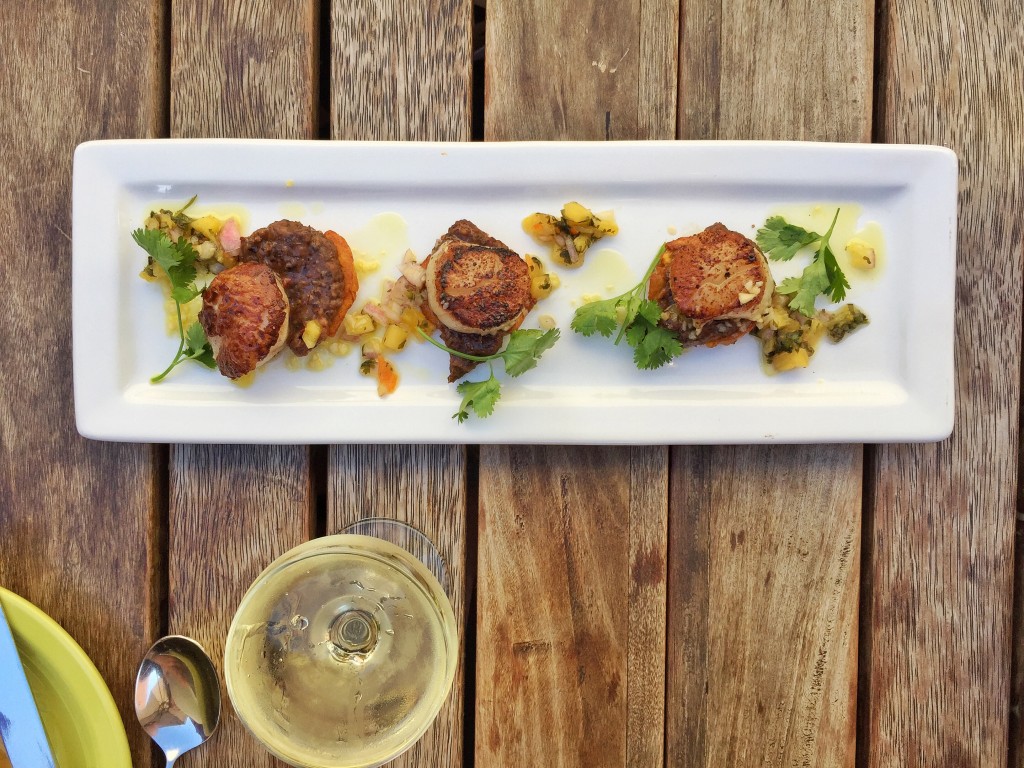 Scallop Tostones
Twice-fried plantain + black bean puree + pineapple salsa + garlic oil + cilantro
I had the opposite issue with the scallops as they were undercooked. However, the black bean puree was so bold and interesting, paired with the twice-fried plantain, I could have actually done without the scallop altogether (until the cook is perfect – because in all honesty, a scallop undercooked is no bueno).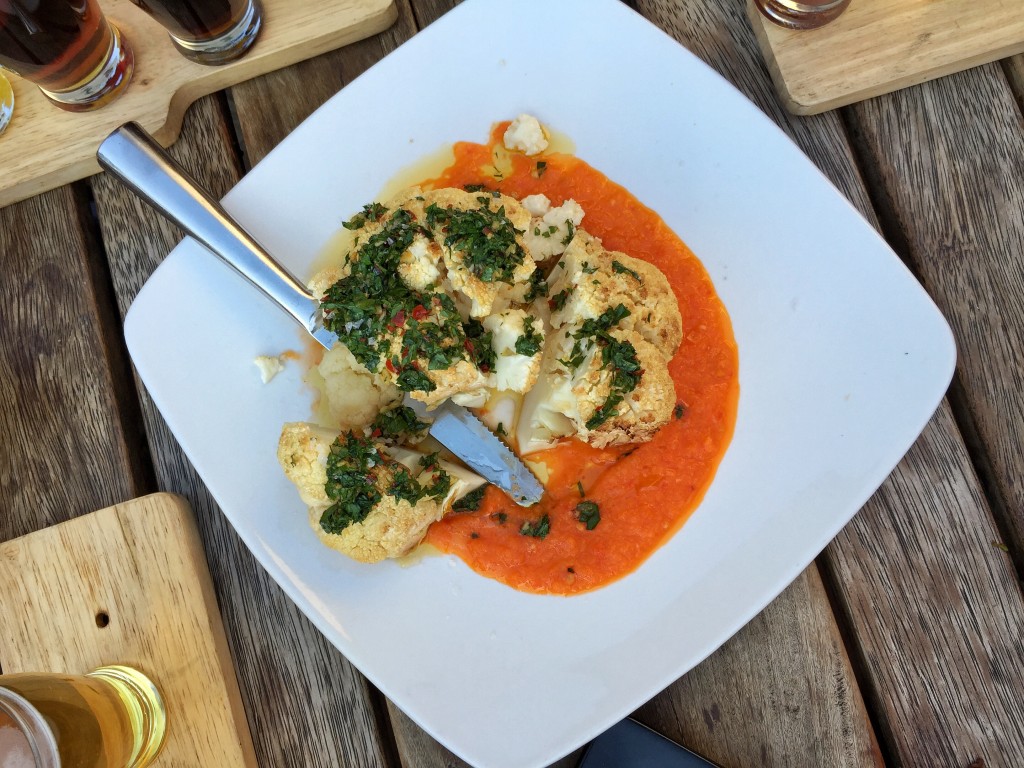 Coloflor Escabeche 
roasted cauliflower + chimichurri + escabeche sauce | Oh how I was hoping to fall in love. Unfortunately, this beautiful head of cauliflower lacked in flavor all around. There wasn't even enough salt to really emphasize the gorgeous essence of this veggie let alone showcase anything remotely resembling chimichurri.
[separator type="thin"]
Overall, this evening was about beer and dessert and that was done rather seamlessly. But – it would be a disservice to overlook the food faux pas' so I plan on coming back to give Bow & Truss another try for a full dinner and may, just because I think it sounds delightful, come on a Tuesday night to enjoy Movie Night!
A few modest tips that would have really escalated this tasting (that have nothing to do with the food):
1. In summer, an investment in some heat protection would be a worthy spend. The heat, even at 6:30pm was bearing down and it made it difficult to really relax into the dinner.
2. Purse Hooks on the table. Here's the thing: If you are going to have outdoor (or indoor) seating with chairs that are comfy but rounded in the back and there isn't a place for a woman to put her purse, it's an immediate Strike 1. Perhaps purse hooks under each table to the left of center would be an ideal fix. OR even hooks on the chairs. Allows our purses to hang but not right in our laps! And we don't have to put our prized possessions on the ground riddled with foot traffic.
[separator type="thin"]
Brought to you by Travel Sedona