Taste of Farmers Market
TUESDAY, July 14th | 6333 W.3rd St.Los Angeles, CA 90036
Celebrating Bastille Day in Los Angeles: Bastille Day is the name given in English-speaking countries to the French National Day, which is celebrated on 14 July each year. In France, it is formally called La Fête nationale. The French National Day commemorates the beginning of the French Revolution with the Storming of the Bastille on 14 July 1789,[1][2] as well as the Fête de la Fédération which celebrated the unity of the French people on 14 July 1790. Celebrations are held throughout France. The oldest and largest regular military parade in Europe is held on the morning of 14 July, on the Champs-Élysées in Paris in front of the President of the Republic, along with other French officials and foreign guests.
[dropcap letter="W"]ith The Original Farmers Market's popular Taste of Farmers Market event quickly approaching, it's time to get your tickets! Themed "Best Bites," the Market's special seventh annual strolling tasting tour, taking place on Tuesday, July 14 between 5:00 p.m. and 9:00 pm, will feature samples of some of the best offerings from Farmers Market grocers, chefs, restaurants and specialty food merchants.  (See full menu below.)
In addition to the Taste activities, in celebration of Bastille Day (also on July 14th), Monsieur Marcel Gourmet Market and Restaurant will host a special "Monsieur Marcel Bastille Day Tasting Stations" featuring a variety of gourmet delicacies, including:
Calissons by Gilles: Served by master confectioner, Gilles Cailleaux, Calissons are a traditional French confection, most commonly made in Provence, crafted with the highest-quality almonds, melon and orange peel ground together, spread atop a wafer base, and coated with royal icing.
Canele and Financier by Ludivine Paris: Luidivine Paris will hand-make Canele— sweet vanilla egg custard pastries with a dense creamy center and a crisp caramelized shell exterior, from scratch. They will be accompanied by homemade Financier, thin almond butter cakes, delicately flavored with ground pistachios, raspberry paste and hazelnut cocoa crème.
Victoria's Kitchen Almond Water: A wonderful alternative to lemonade or iced tea, Victoria's Kitchen Almond Water is crafted and bottled by hand in Victoria's home with the help of her husband, David. Give it a taste and it's guaranteed to become your favorite summer thirst quencher or cocktail mixer!
Below you can find the Taste of Farmers Market "Best Bites" menu!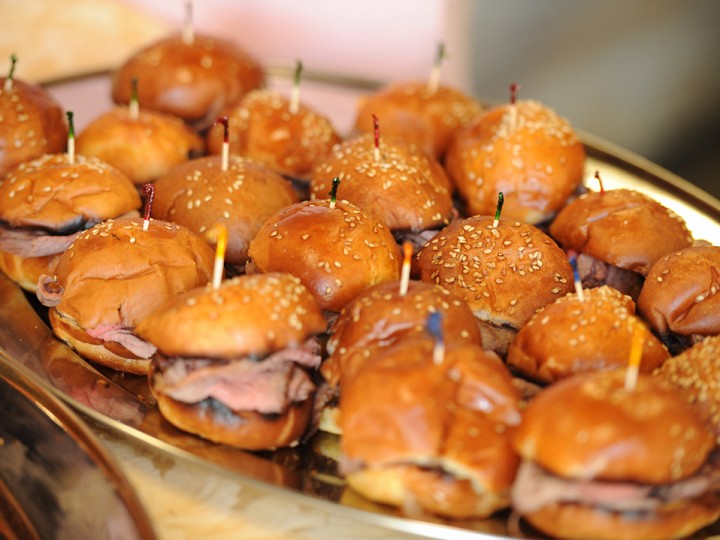 2015 Taste of Farmers Market "Best Bites" Menu: 
Bennett's Ice Cream: Assorted Ice Cream Samples
Bob's Coffee And Doughnuts: Powdered Sugar Buttermilk Donut Hole
Bryan's Pit Barbecue: Barbecued Beef
Charlie's Coffee Shop: French Toast
China Depot:  Vegetable Chow Mein
Coffee Bean & Tea Leaf:  Assortment Of Mini-Pastries
Coffee Corner: Herbal Lemonade
Deano's Pizza: Mushroom Ravioli
Dragunara Spice Bazaar: Biryani Rice
Du-Par's: World Famous Pancakes
Dylan's Candy Bar: Chocolate Fountain With Choice Of Strawberry, Oreo, Pringles, Graham Crackers, Etc. To Dip
EB's Beer & Wine: Assorted Wines And Beers (Beer: Santa Monica Brewery 326 Blonde; Red Wine: Banfi "Centine", Toscana IGT; White Wine: Feudo Sartanna "Zirito", Sicilia IGT)
Farm Fresh Produce: Choice Of Fruit Salad Or Farm Fresh Salad (Jicama, Cucumber, Mango With Chili Powder And Lemon)
Farmers Market Poultry: Mediterranean Or Asada Grilled Chicken
The French Crepe Co.: Crepe Chez Moi (French Crepe) With The Option Of Whipped Cream And Powdered Sugar
Fritzi Dog: "Smoky Snappy Dog" – Beef/Pork Hot Dog Infused With Bacon
Gill's Old Fashioned Ice Cream: Soft Serve Samples And Drink Ticket
Greenhouse Produce: Watermelon Chia Seed Juice
The Gumbo Pot: Traditional Jambalaya
Huntington Meats And Sausage: Smoked Prime Rib Sandwich With Tomato Bruschetta And Creamy Horseradish
La Korea: Beef And Lettuce Wrap
Littlejohn's English Toffee: English Toffee
Loteria Grill: Chile Relleno Taco
Ludwig Biergarten: Authentic Bavarian Style Pretzel With Choice Of Dip
Magee's House Of Nuts: Peanut And Almond Nut Butter Samples
Magee's Kitchen: Mini Corned Beef Sandwiches
Magic Nut & Candy Co.: Caramel Corn
Marmalade Café: Tuna Tartare
Moishe's Restaurant: Veggie Plate With Hummus,  Pita  And  Taboule
Monsieur  Marcel Gourmet Market & Restaurant: Three Cheese Gourmet Sampler: Including Saucisson Sec Dry Salami And Chutney With Apricot, Fig, Honey And Walnut
Moruno: Pork And Chicken Morunos
Normandie Bakery: Pâté / Jeanwark Cake (Passion Cake)
Pampas Grill: Cheese Bread With Choice Of Brazilian Sausage, Garlic Beef Or Meatball
Patsy D'Amore's Pizza: Pepperoni Pizza/ Spinach And Garlic Pizza
Peking Kitchen: Orange Chicken
Phil's Deli & Grill: Roast Beef, Pastrami Or Turkey Sandwich
Pinkberry: Blueberry, Strawberry Margarita And Original Frozen Yogurt Samples With Dry/Fruit Toppings
Planet Dailies: Truffle Mac & Cheese
Puritan Poultry: Bulgogi Chicken
The Refresher: Mini Root Beer Floats
The Salad Bar:  Assorted Smoothies
Short Cake: Brownie Bites
Singapore's Banana Leaf: Chicken Rendang
Sushi A Go Go: Spicy Tuna Spoons
T&Y Bakery: Assorted Piroshkis
The Dog Bakery:  Goodie Bag With Selection Of Treats And Food (Dogsfood #4, Plato Treats, Natures Variety Food, Sojo Food, Etc.)
Tusquellas Fish & Oyster Bar: New Orleans-Style Shrimp With Mustard Sauce
Ulysses Voyage Greek Restaurant: Ulysses Chopped Salad
Veggie Grill: Chill Out Wings
The Village: Pesto With Cheese Boerekas
Zia Valentina:  Assorted Granitas (Semi-Frozen Desserts Made From Sugar, Water And Various Flavorings)
Admission to Taste of Farmers Market is $40.00 in advance and $45.00 at the door. Advance purchase is recommended.  Advance tickets are now available at www.farmersmarketla.com, or in person at the Farmers Market Office located at 6333 West 3rd Street Los Angeles, Ca. 90036 on the second level above Gate One (open until 7 p.m. daily). A 10% discount is available for group purchases of 10 or more tickets.  Admission also includes free parking for the event for vehicles parked in the Farmers Market's surface parking lots or The Grove parking structure.
About The Original Farmers Market:
The Original Farmers Market has been Los Angeles' favorite gathering place since 1934. With more than 100 grocers, retailers and restaurants, as well as strolling entertainment throughout the year, the Farmers Market is a beloved destination for locals and one of the top tourist destinations in Los Angeles. For more information on The Original Farmers Market, visit www.farmersmarketla.com