Joanna Going
… on Life, House of Cards + Kingdom
Instagram: @joannagoing
Twitter: @joannagoing1
[dropcap letter="W"]ith some of today's biggest shows bearing her name (Netflix's, 
House of Cards
 and Direct TV's,
Kingdom
), it's no wonder
Joanna Going
is getting the recognition as an actress she deserves. While she has appeared on the big screen alongside greats like
Kevin Costner
and
Billy Crudup
, it's her willingness to enthrall you with performances that are hard to forget alongside unforgettable casts that leave you wanting more.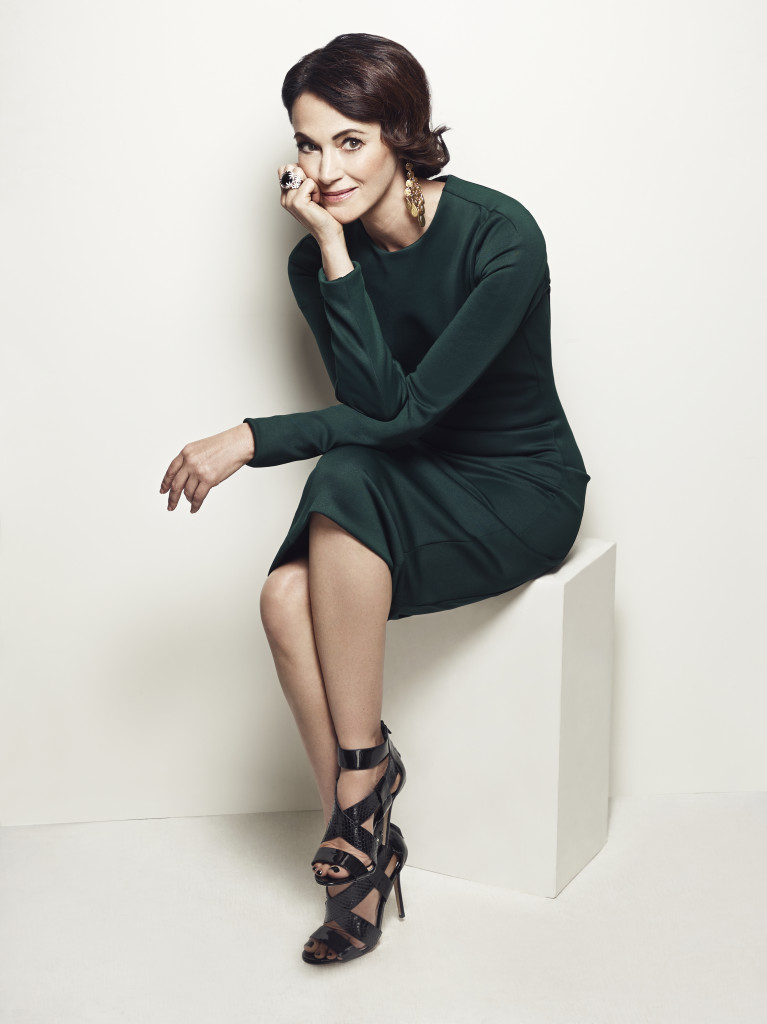 As First Lady, Patricia Walker, Going is an understated, poised political figure that has such presence, it makes the continual influx of twists and turns easier to withstand. Acting alongside an ensemble cast that are beasts, her grace on-screen makes it all the more powerful. Now couple that with her dark, damaged, gritty character on Kingdom, as Christina Kulina playing a prostitute/mother/drug addict with all of the fragility and strength one feels compelled to watch, and you have an actress that is a force to reckon with.
Personally, I can't wait to see what she has in the works. Joanna Going is not just a woman making waves in the entertainment industry, she also happens to be a devoted mother to daughter, Stella, and is an advocate for humanity and animals alike. It was a pleasure getting to know more about the woman behind the performances and honestly, it's an honor to share the story of yet another extraordinary woman following her dreams and making them happen.
Enjoy …
[separator type="thin"]
Growing up with both parents working in some form or fashion of the law, did you find yourself more sympathetic to the life of police officers and elected public officials? And did you ever consider working in law or politics yourself?
I grew up with a strong sense of respect for the law and for those who work in service to keep it. But, I also grew up aware that our lawmakers and law keepers are as human as any of us and are subject to the same foibles, frailties and challenges as anyone. People in these positions of responsibility must be held accountable for their actions. They must also be offered and willing to take as much support and counseling and precautionary examination as possible in order to ensure that they are able to do their jobs as they have been entrusted with safety and sensitivity.
I have not ever, myself, considered working in law or politics.
As 1 of 6 kids, what was your favorite game to play with each other when you
were younger?
We really used to love playing a board game called The Game of Life. I'm sure a lot of what was going on in that game went right over our heads. Somewhere along the way I developed a keen distaste for board games. My friends know not to invite me to game night.
What movie did you see as a child that sparked your passion for acting?
My passion for acting was not sparked so much by seeing a movie, but by having a small, non-speaking role in a local theater company's production of, "The Tempest," at the age of 14. There were certainly movies I loved seeing as a child- mostly the ones that we watched every year when they came on TV, such as The Wizard of Oz, The Sound of Music, A Christmas Carol, and Born Free. I was completely enthralled with Shirley Temple; I watched her movies every Sunday afternoon at 4:00pm. But ultimately, it was the community of passionate theater artists I found in that first local theater experience that really got me hooked. I continued to be involved with Newport, RI theater companies throughout high school and during my summers off from college; those experiences had a profound effect on the direction I took with my life and ambitions.
Playing First Lady Tricia Walker had to have been exhilarating. The writing alone on HOC is undeniable, let alone the cast. What trait of Tricia Walker do you admire the most and if you could change anything about "her" what would it be?
I was a big fan of HO– — USE OF CARDS from the moment it was released on Netflix. It was indeed thrilling to find myself at work with such distinguished actors, particularly the incomparable Kevin Spacey, elegant Michel Gill, and the astounding Robin Wright, whom I have admired since way back when we were both on daytime dramas. The writing and storytelling on HOC is so fine, subtle and distilled. It really does most of the work for you.
I admire Tricia Walker for her passionate commitment to preserving the private core and trust of the Walker marriage. She is devoted to her husband and family, understanding what it meant to the Presidency. Her belief in the ultimate good in people, unfortunately, left her prey to the master manipulation of the Underwoods.
Kingdom. What drew you to this show? And what has been your favorite aspects
of playing Christina Kulina?
I must admit that upon getting a call to audition for a show about Mixed Martial Arts, I didn't think it would be something I could relate to; but I was completely drawn in to KINGDOM, first and foremost by the writing of creator Byron Balasco and the moving and complex relationships he had constructed amid this very distinctive culture of MMA in Venice, CA. I didn't know much about Christina right off, as she only appeared briefly in the first episode, which was the only script I had seen when I signed on, but there was enough there to know that she was a complete 180 from most of the roles I have played before. Christina has offered me the opportunity to challenge myself emotionally and physically, to strip down (literally and figuratively!), and to allow myself to be seen in a very raw way, and that has been both freeing and satisfying.
[button content="Watch Kingdom Trailer Now" color="black" text="white" url="https://www.youtube.com/watch?v=ZGIjEKrMeQM" openin="_blank"]
As a mom, what was the best advice you were ever given?
My mom told me to stop getting up and going to get things for the toddler – let her do it herself. Now that my toddler is a preteen, I wish I had listened to that more!
Having a daughter is the most incredible gift. (Mine is almost 9) But being in this business can get tricky. Striking balance is always a challenge. How do you maintain that balance, especially when you're filming?
My daughter and I have a great support system of friends and a part-time nanny who helps us when I am shooting, though it is always hard when your child wants YOU, and you just can't be there. Technology certainly helps – the ability to text and FaceTime whenever we need to check in is a luxury that eases a lot of anxiety. We have entered the Middle School years and we are both proud to be part of a school grounded in diversity of community, honor, challenge and a commitment to service. I feel very fortunate that although she is growing up in Hollywood, so far, my girl remains fairly unimpressed with the hoopla that goes along with my work.

What role would you love to sink your teeth into that you haven't yet had an opportunity to play? Favorite part of your day?
I would love to sink my teeth into any complex, language-rich drama such as Shakespeare, Chekov, Ibsen, Shaw . . .
I want to be artsy and sensitive and tell you my favorite part of the day is dusk, but I confess that comes in second to the part of the day when I crawl into bed, the dogs hop up next to me, and I settle in with my iPad to binge-watch the latest in my long list of shows that I have to catch up on.
In your career thus far, what has been your greatest challenge AND, in contrast, what has been your greatest moment?
My greatest challenge in my career was coming back to it after I had taken some time away to raise my daughter. I had changed and the business had changed, but happily, I have had some of the richest roles of my life in the past four years.
Playing Christina Kulina on KINGDOM is a pretty great, elongated moment. I pinch myself every day that I get to work with these crazy-talented and committed actors, especially Jonathan Tucker and Nick Jonas, and tell these stories of people struggling their way through life, as we all do in one way or another.
Lastly, what is something you'd love for people to know about you?
I would love people to know about some of the worthy organizations that I support. First: PATH (People Assisting the Homeless), which is a family of agencies working together to end homelessness for individuals, families and communities. My daughter and I got to know PATH through a partnership with her elementary school. We cooked and served dinners to PATH residents, participated in fundraising events, and furnished apartments for formerly homeless families moving into their very own homes. Like many cities, Los Angeles is home to both enormous wealth and enormous poverty. I am grateful to PATH for the work that they do, for the opportunities they offer people to help out, and especially for the awareness, understanding and desire to be of service they have engendered in my daughter.
Second: Because I am a crazy-dog-lady who would take them all home if I could, but I can't, I support dog rescue and adoption, particularly with my friends at Saving SPOT Dog Rescue, where I adopted my two loves, Maisie and Honey Bee.
[separator type="thin"]
ABOUT
Joanna Going was born in Washington, D.C. in 1963 and raised in Newport, Rhode Island. She is the oldest of six children and graduated from Rogers High School in 1981. She attended Emerson College in Boston for two years and then went to the American Academy of Dramatic Arts in New York. A year later, she made her television debut on the soap, Search for Tomorrow (1951) playing ingenue Evie Stone. Joanna Going went on to another soap, Another World (1964), playing the part of Lisa Grady for two years.
Going starred in the number of feature films. She made her film debut in Wyatt Earp (1994) as Josephine Marcus, and later had major roles in Eden, Keys to Tulsa, Inventing the Abbotts, and Still Breathing. Her biggest role may be in the 1998 film version of Phantoms. In the 2000s, she starred in several television films and guest-starred on CSI: Crime Scene Investigation, Criminal Minds, and Mad Men. She also appeared opposite Sean Penn in the 2011 film The Tree of Life, her first role in a major motion picture since 2003's Runaway Jury.
Delicately beautiful, Joanna Going recently hypnotized audiences as the resolute "First Lady Tricia Walker" in the Emmy® nominated Netflix series, "House Of Cards" and returns to television this fall to reprise her starring role in DirecTV's gritty, provocative and highly anticipated second season of "Kingdom," (premiering Wednesday, October 14th).Going plays hard-edged, drug addled, prostitute, "Christina Kulina," the estranged wife of "Alvey Henderson" (Frank Grillo) and mother to "Jay and Nate" played by Nick Jonas ("The Jonas Brothers") and Jonathan Tucker ("Parenthood"), set against the backdrop of a Mixed Martial Arts gym. KINGDOM premiered in season one to FANTASTIC ratings and Going's captivating performance and combination of brains & sex appeal promises to steal the show from the minute she walks on screen.
Joanna currently resides in Los Angeles with her daughter, Stella, and devotes her rare free time doing yoga, advocating for Breast Cancer Awareness and walking her two rescue dogs, Australian Shepherd mix, Maisie, and a Maltipoo named Honey Bee. Without a doubt, Going is a bona fide superstar and is quickly becoming one of Hollywood's leading ladies.
[separator type="thin"]