Product Review | No. 4
This month, the focus is on truly unique products. Our editorial team is knee deep in fashion with Fashion Weeks happening around the world over the past couple of months and while we will highlight some major – and emerging – fashion designers this fall, this particular Product Review is all about affordable and unique pieces you must add to your collection. And all of them can be found online as well as in our hometown, Los Angeles.
[separator type="thin"]
Let Summer Live On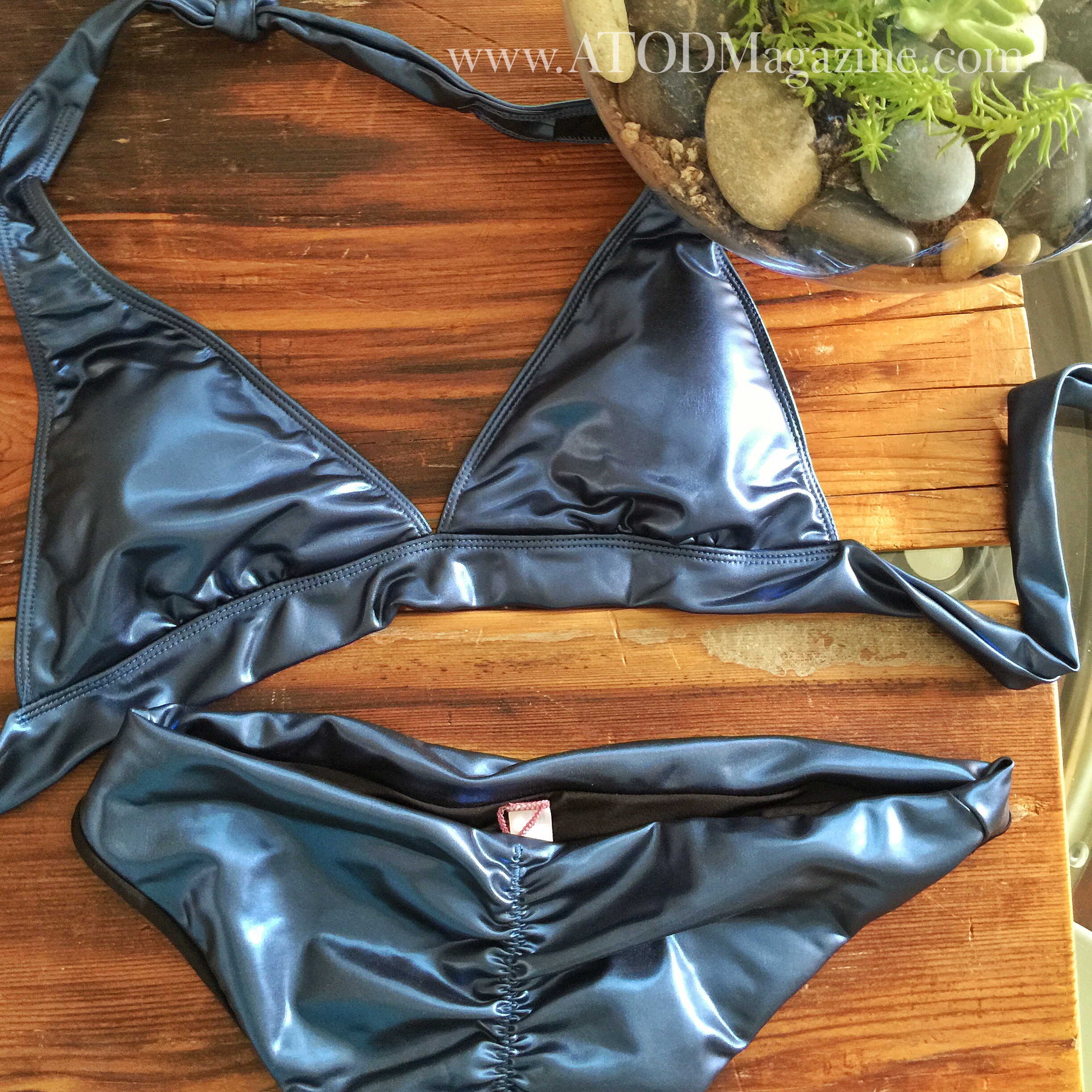 Courtney Allegra Swim®
Blue Steel | $114.00
Jamaican Top + Cape Town Bottom 
Sure, summer is winding down (unless you're in California) but the quest for an original swimsuit never fades away. Alas, there is a fun, textural alternative to the traditional swimwear on the scene. Meet Courtney Allegra. A designer located in our home town of Los Angeles that believes that not only should designs be made with uncompromised quality, the women wearing them should love the bodies their in. And that makes this Blue Steel bathing suit a winner in our book.
If we had any critiques it would be to adjust the sizes to be a bit more "cup" friendly.
Check out more of Courtney Allegra: [button content="Browse Collections" color="teal" text="white" url="www.courtneyallegra.com" openin="_blank"] [separator type="thin"]
Jewelry With a Purpose
Brave Chicks!
Thanks to my friend, Rachel McCord of TheMcCordList.com, I was introduced to this line of jewelry that is more than just pretty stones wrapped in fine metals. Founders, Lejoi Reese and Dr. Janet Williams are not just highly successful women in their own fields but both are champions of women everywhere and the fight against abuse and domestic violence. A portion of their proceeds go to the continual fight to end domestic violence and abuse everywhere by empowering women, and men, to embrace their value and worth and have the means necessary to get out of a dangerous situation.
ABOUT: At Brave Chick™ we embrace and uplift the authentic spirit of every woman. We celebrate and appreciate valiant and honorable men. We create artisanal hand-made, quality fashion jewelry that inspires confidence, courage and individuality. We give back by donating to nonprofit organizations committed to the fight against domestic abuse and violence.
Our Editors Picks – that had been gifted to have become Dawn's MUST-HAVES (and she wears them almost every day) – are these:
Polished Rainbow Titanium Quartz Ring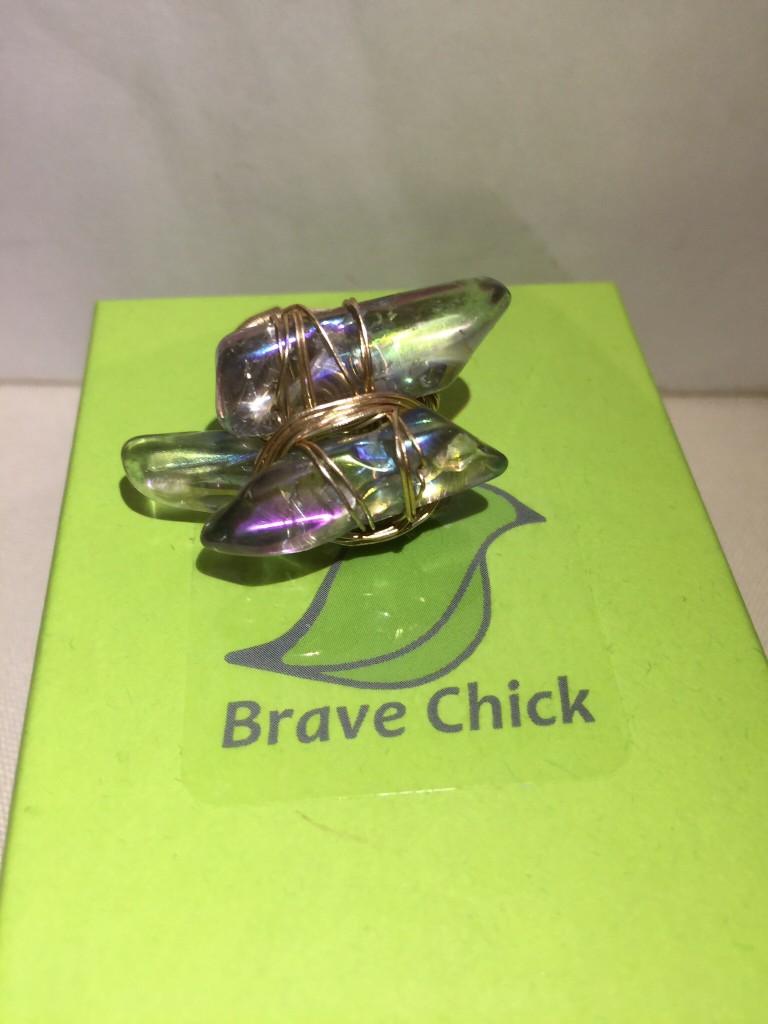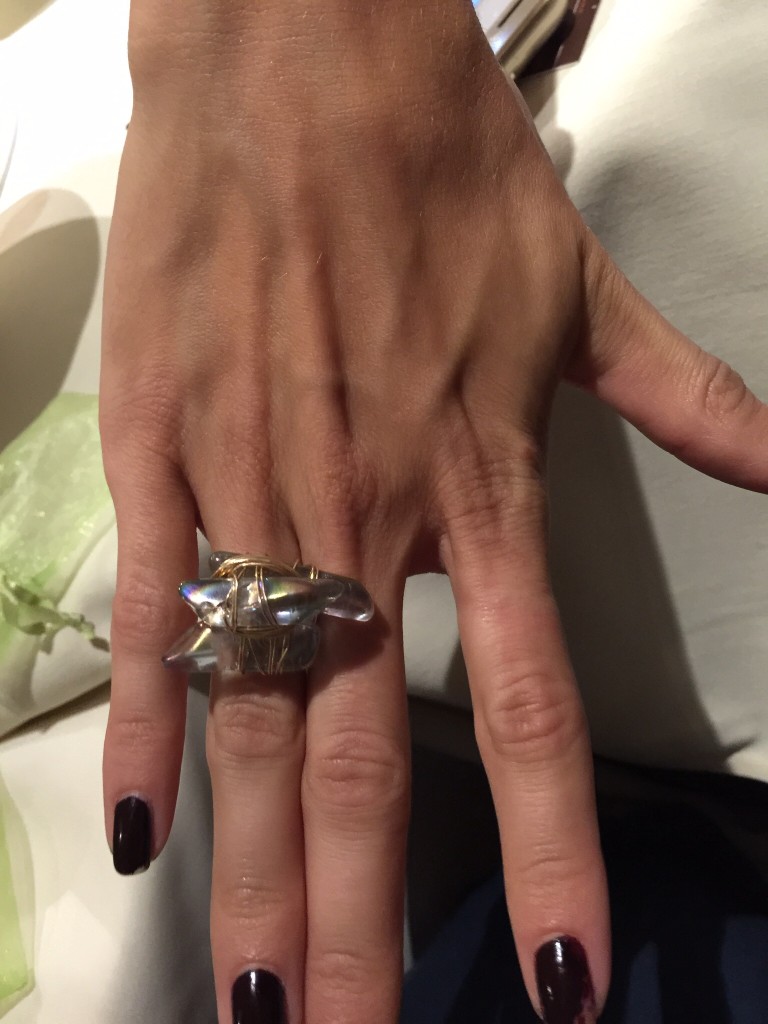 [button content="BUY this Ring" color="green" text="white" url="http://bravechick.com/shop/product/polished-rainbow-titanium-quartz-ring" openin="_blank"]
Energy & Power | Quartz is a power stone. Because of its energy absorbing and transmitting properties it has long been valued as an aid for focus and concentration. Covered in titanium, the metal of power and invincibility, this stunningly beautiful piece evokes the imagery of the warrior, the heroine, the willing defender of all that is precious. Focus your energy and harness your strength with your Brave Chick Polished Rainbow Titanium Coated Quartz Ring.
Handmade
Non-Tarnish, gold plated wire
Freshwater stick pearls
Please Note: Natural stones may vary from one order to the next. The actual stone delivered may differ slightly from the picture(s) shown. These differences and variations in stone should be considered as the beauty of natural stone and desirable. Lighting changes in pictures may make a stone appear different from the actual product seen in "real life'.
$78.00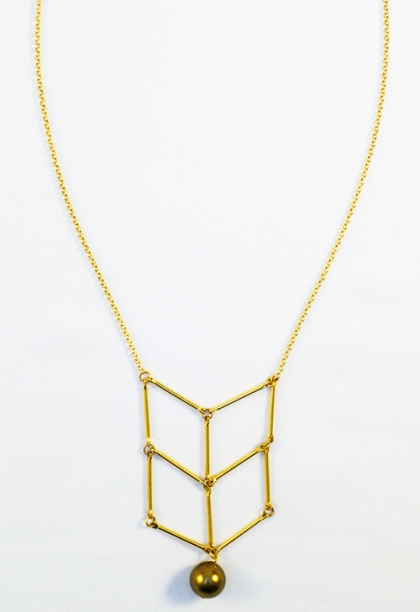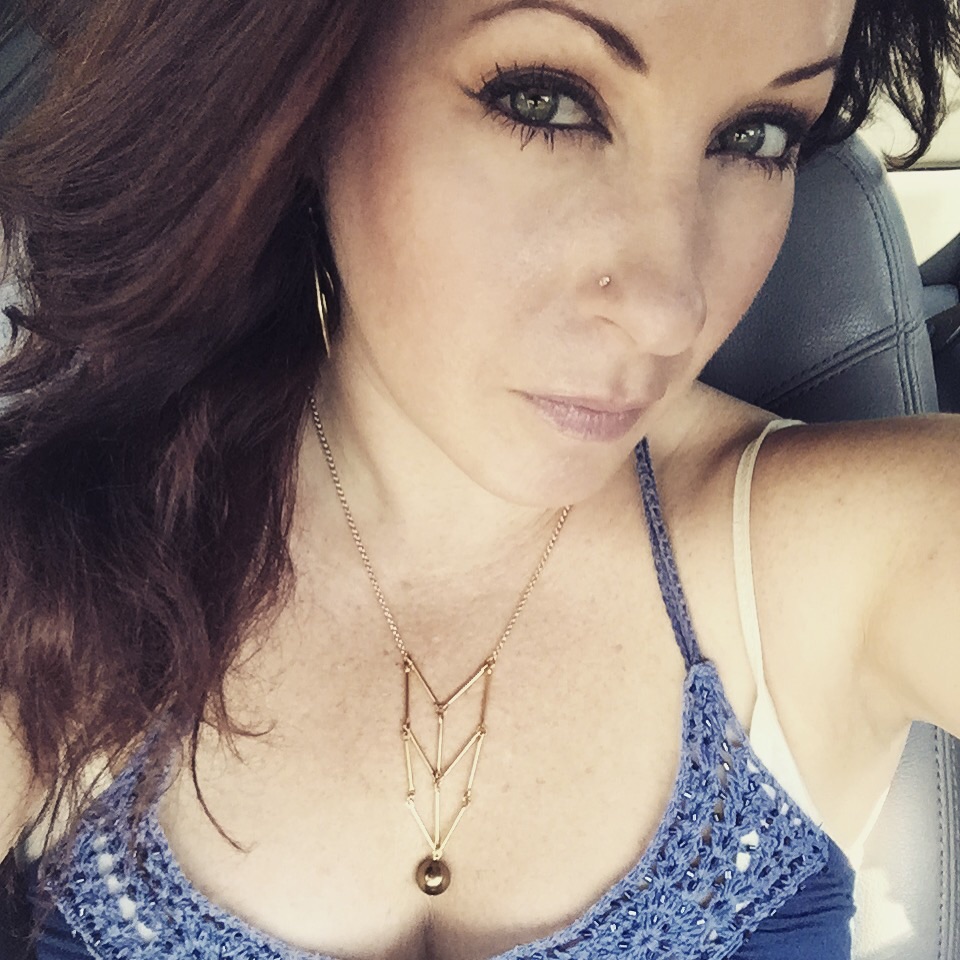 Anahata refers to an energy point in the body near the heart and is associated with calmness, serenity and freedom from violence. The Anahata Point Pearl Necklace is the perfect gift to sooth the broken heart and heal the weary soul.
[button content="BUY this Necklace" color="green " text="white" url="http://bravechick.com/shop/product/anahata-point-necklace" openin="_blank"]
[separator type="thin"]
A Bag One Simply Cannot Life Without
$245.oo
This entire line is one that speaks to your inner Audrey. With classic lines and ornately detailed hand stitching, angular lines that draw the eye, you get a sense that BAREMADE will take you anywhere you want to go in the world. And, we are in love. The idea of this design is one that embodies raw, stripped down, classic style that doesn't isolate or alienate but rather embodies and and we are huge fans (stay tuned for an interview with Founder + Designer, Grason Ratowsky). The most awe-inspiring aspect to these beautifully crafted bags is their affordability. It's a real rarity to find something so beautiful that maintains accessibility and I hope it's always that way. Everyone should own any one of their bags – or passport holders – or wallets. Grason has a keen eye for impeccable design and redefines exquisite taste.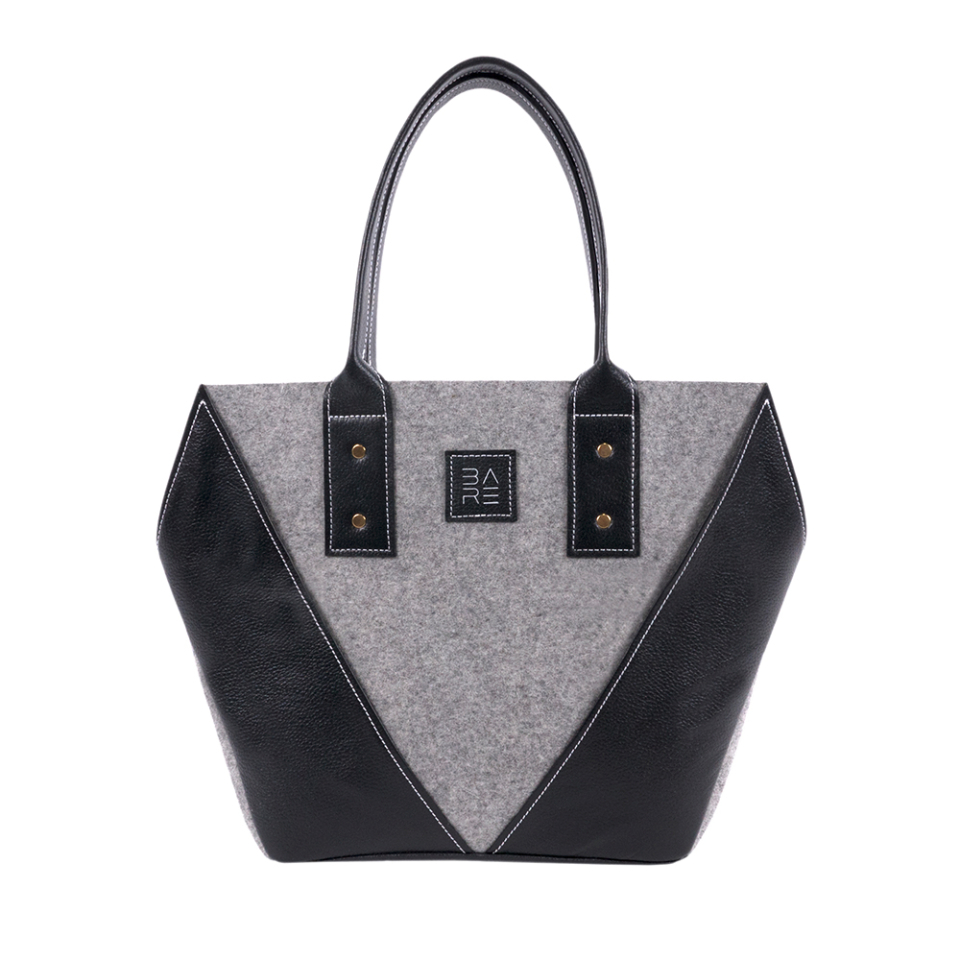 A tote that is at once artistic, original and discernibly elegant, the RHONE Tote is for the individual who prefers to set trends, rather than follow.  With unique structure, angular design and a focus on comfort for everyday use, the RHONE is the ideal companion for a life of fashionable distinction. These leather tote bags also offer numerous outside compartmental pockets to show off your interests in conjunction with your own personal style.
To Shop for More BAREMADE products:  [button content="SHOP ONLINE" color="black" text="white" url="http://baremade.com/portfolio/rhone-tote/" openin="_blank"]
[separator type="thin"]
A Sneak Peek at the BAREMADE Spring Line '16
Photos by Tram Tran
You can pre-order at the Ron Robinson in Santa Monica (one of Dawn's absolute FAVORITE stores). Be sure to tell them you read about it in ATOD Magazine.