Wednesdays are for eating.
W
hy? Because it's mid-week and you need a reason to go for broke. BUT – maybe instead of spending a fortune going out, you stay in and make the most comforting, caloric-caution-to-the-wind meal you can think of. I've got a few recipes that might just help with that. I've scoured and searched and as luck would have it, I've found some pretty yummy ones. And they aren't rocket science. Have at it.
You can thank those geniuses who concoct such glorious things … 
The Best Damn Tomato Soup
PHOTO: LIZ ANDREW/STYLING: ERIN MCDOWELL
Makes 8 to 10 servings 
Start to Finish: 1 hour 30 minutes
Ingredients
1¾ pounds fresh tomatoes, halved (or one 28-ounce can whole tomatoes, drained and halved)
1 sweet onion, peeled and quartered
1 head garlic, top third cut off to expose the cloves
¼ cup olive oil
Salt and freshly ground black pepper
3 cups chicken or vegetable broth
1 bay leaf
2 sprigs thyme
3 tablespoons chopped fresh basil
⅓ cup crumbled goat cheese
Directions
1. Preheat the oven to 375°F. Line a baking sheet with aluminum foil.
2. Arrange the tomatoes, onion and garlic on the baking sheet. Drizzle the olive oil evenly over everything (including a few teaspoons on the garlic). Season with salt and pepper.
3. Roast until the tomatoes start to blister, the onion is tender and the garlic is caramelized, 35 to 40 minutes.
4. Transfer the tomatoes and onions to a large pot. Squeeze the garlic cloves out of the skin and into the pot.
5. Add the broth, bay leaf and thyme, and bring the mixture to a simmer over medium-low heat. Simmer until good flavor has developed, 20 to 25 minutes.
6. Transfer the soup to a blender or food processor and blend until smooth.
7. Ladle the soup into bowls. Garnish each bowl with 1 teaspoon basil and 1 to 2 tablespoons goat cheese. Serve warm.
Grilled Cheese 3x
STYLING: ERIN MCDOWELL
Makes 2 sandwiches
Start to Finish: 25 minutes
Ingredients
6 slices sourdough bread
4 tablespoons salted butter, softened
2 ounces goat cheese
4 ounces sharp cheddar
4 ounces fresh mozzarella
Directions
1. Preheat the oven to 350°F. Line a baking sheet with parchment paper.
2. Spread 1 tablespoon softened butter on a piece of bread. Spread 1 ounce goat cheese on the other side. Heat a cast-iron skillet over medium-high heat. Place the bread, butter side down, in the pan.
3. While the bread toasts, sprinkle 2 ounces sharp cheddar on top of the goat cheese and then top with another piece of bread. Place 2 ounces fresh mozzarella on top of the second slice of bread.
4. Spread 1 tablespoon butter on a third slice of bread, then place it, butter side up, on top of the mozzarella. When the first piece of bread is golden brown, flip the sandwich over and toast until the other side is golden brown.
5. Transfer the sandwich to the prepared baking sheet. Repeat the process with the remaining bread, cheeses and butter. When both sandwiches are assembled on the baking sheet, transfer the sandwiches to the oven and bake until heated through, 5 minutes. Cool slightly before eating.
Three levels of cheesy goodness all snuggled in between some sourdough bread*. You're welcome.
*To make this a #glutenfree Grilled Cheese, all you have to do is replace the bread with a GF Bread of your choice. (We like Udi's and even the GF Udi's Bagels make for some delicious sandwiches.)
Ice-Cream Cone Cannoli
PHOTO: LIZ ANDREW/STYLING: ERIN MCDOWELL
Makes 1 dozen cannoli 
Start to Finish: 35 minutes
Ingredients
12 sugar cones
2 cups whole-milk ricotta cheese
1 cup confectioners' sugar
1 teaspoon pure vanilla extract
2 tablespoons orange zest
¼ cup chopped dark chocolate
¼ cup chopped pistachios
Directions
1. With a serrated knife, cut about 1½ inches off each cone, removing the pointy ends. (Save these for crumbling on top of ice cream.)
2. In a medium bowl, whisk the ricotta with the sugar,vanilla extract and orange zest to combine. Add the chocolate and mix to combine.
3. Transfer the ricotta mixture to a 1-gallon ziplockplastic bag. Cut ¼ inch off a bottom corner of the bag.
4. Working one at a time, pipe the filling into each cone, stopping when it just reaches the edge.
5. Dip the ends of the cannoli into the pistachios. Serve within 45 minutes.
A little bit of rum to sweeten the finish.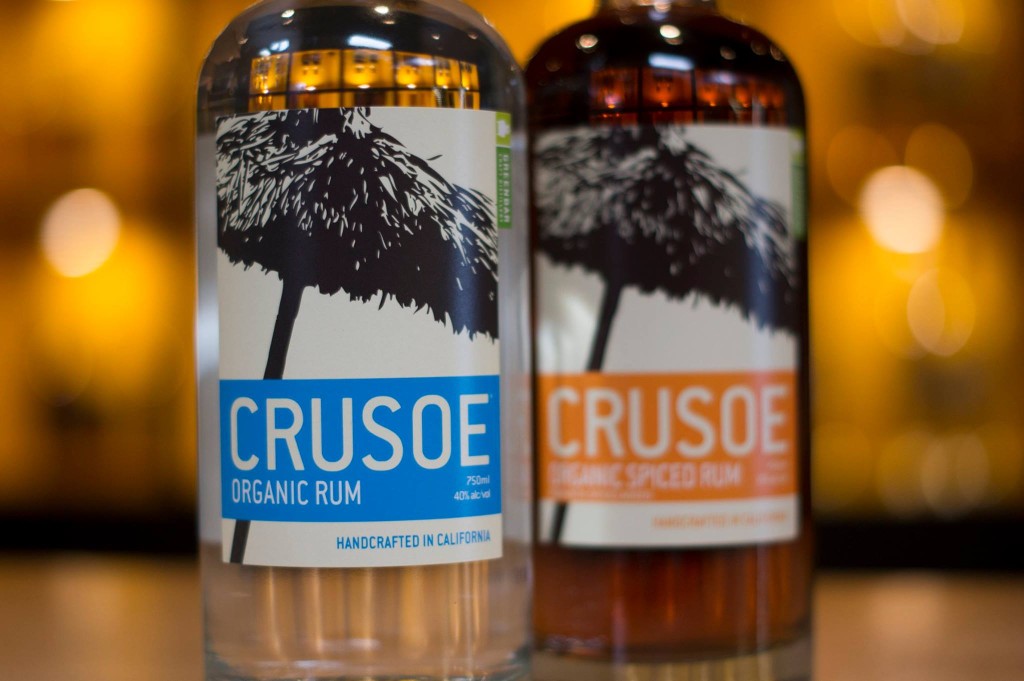 Do it Daquiri Style
2 oz CRUSOE organic silver rum
1 oz fresh organic lime juice
1 oz organic simple syrup
Shake and pour over crushed ice in a short glass
Garnish with a lime wedge