5 Merry Sweets Chocolate Recipes
A playful and sumptuous way to satiate. These sweet recipes below are just in time for the holiday season and thanks to our friends and brands we love, we get to pass those ideas onto you. This week and this next month, as the reasons to gather with friends and family become increasingly apparent, expand your menus and try something new. Happy baking!
[separator type="thin"]
CHOCOLATE BERRY BARK
Prep: 10 mins / Cook: 1 hour / Total Time: 1 hour & 10 mins
8 Servings
Ingredients
1 (16 oz.) bag of dark chocolate chips ( the higher the quality, the better)
¼ cup Crunchies Blueberries
¼ cup Crunchies Strawberries
¼ cup Crunchies Raspberries
Instructions
Pour chocolate chips in a saucepan and begin to cook on the lowest temperature while stirring constantly until completely melted.
Remove from heat and pour in the center of a parchment paper lined cookie sheet. Smooth out with a rubber spatula.
Sprinkle on Crunchies fruit.
Store in a cool, dry place until hardened.
Allow chocolate to cool and completely harden before breaking apart.  Now serve and enjoy!
[separator type="thin"]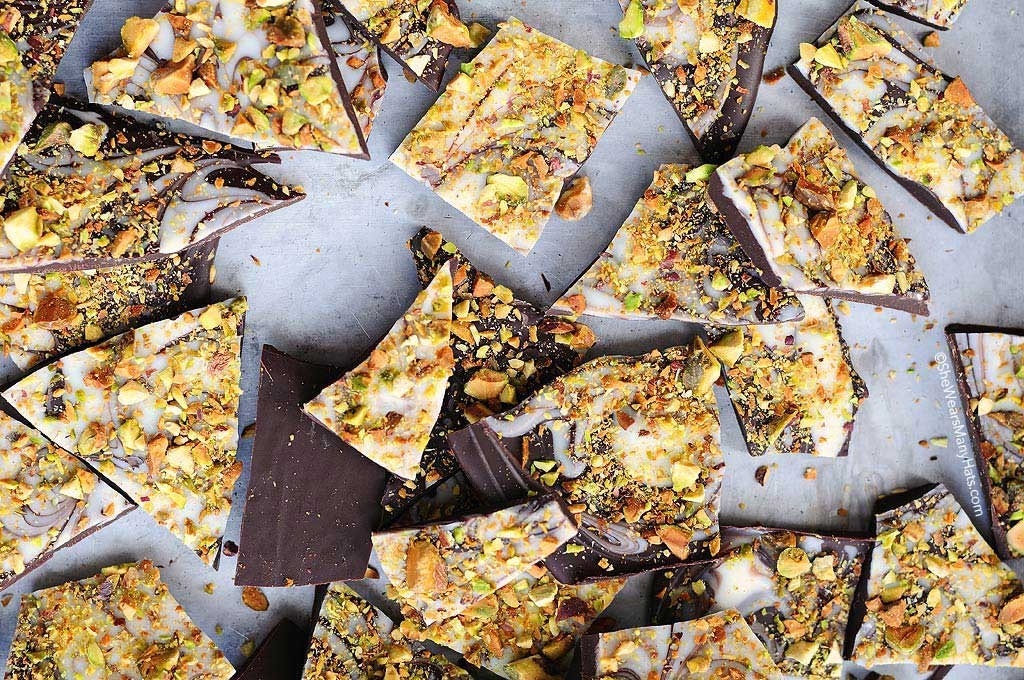 PISTACHIO CHOCOLATE BARK RECIPE
Author: ©Amy Johnson | She Wears Many Hats
Prep Time: : : 
A delicious combination of chocolate and nuts, this easy recipe is great for holiday parties and sharing as an edible gift.
Ingredients
8 ounces, weight dark chocolate (around 70% cacao recommended)
4 ounces, weight white chocolate
1½ ounces, weight roasted salted Wonderful Pistachio kernels, chopped
Instructions
Line a baking sheet with a silicon baking mat or waxed paper.
Melt dark chocolate according to package directions. Evenly spread on the lined baking sheet in an area approximately 8×8."
Melt white chocolate according to package directions. Drizzle white chocolate over dark chocolate. Gently spread white chocolate over dark chocolate, OR (this is much more fun) using a toothpick, swirl white chocolate around in swirly-swirl patterns. Have fun with it!
Sprinkle top with chopped pistachios.
Chill in refrigerator about 10-15 minutes, or until chocolate hardens.
Break into pieces. Serve or store in an air-tight container at room temperature until ready to serve.
[separator type="thin"]
Gourmet Chocolate S'mores
by Kallari Chocolate | Yield: About 7 S'mores
Ingredients
1 70g 70% Kallari Chocolate Bar, or if not available, any other fine dark chocolate
Graham crackers or ginger snaps
Marshmallows
Method
Roast marshmallow, keeping in mind the following. The most important part about making s'mores is your marshmallow roasting technique. The key to toasting a marshmallow without catching it on fire is to let the fire mature into glowing embers. This will allow for slow, even roasting, so the marshmallow is gooey on the inside and crispy on the outside. Slowly rotate the marshmallow over the hot coals until it is golden brown on all sides.
Meanwhile, set aside a large piece of chocolate on a graham cracker or ginger snap to warm by the fire.
Use your cracker to scoop the marshmallow off the stick making a s'more sandwich. Eat right away and don't be afraid to get a little bit messy. Some people rest the assembled s'more on a piece of tin foil next to the fire so that the chocolate gets nice and gooey.
Photo by EC Grad, Mary Collazo of Chocollazo Chocolate Trolley. All rights reserved.
[separator type="thin"]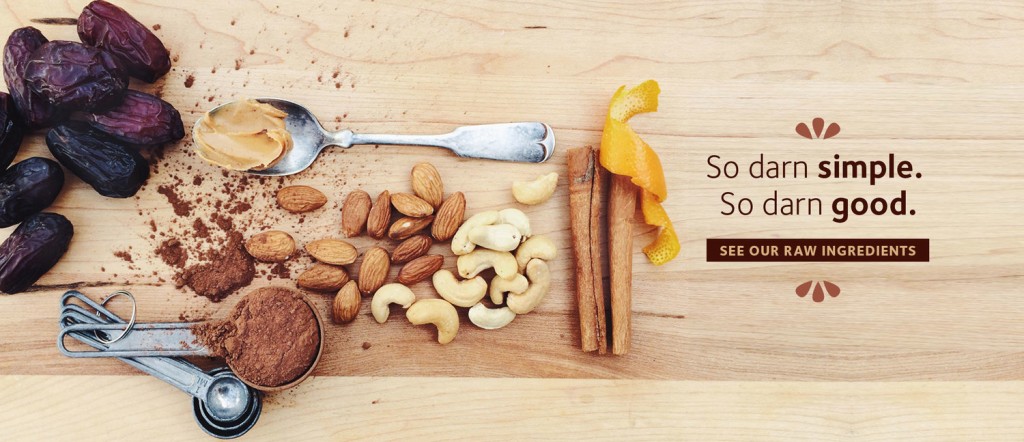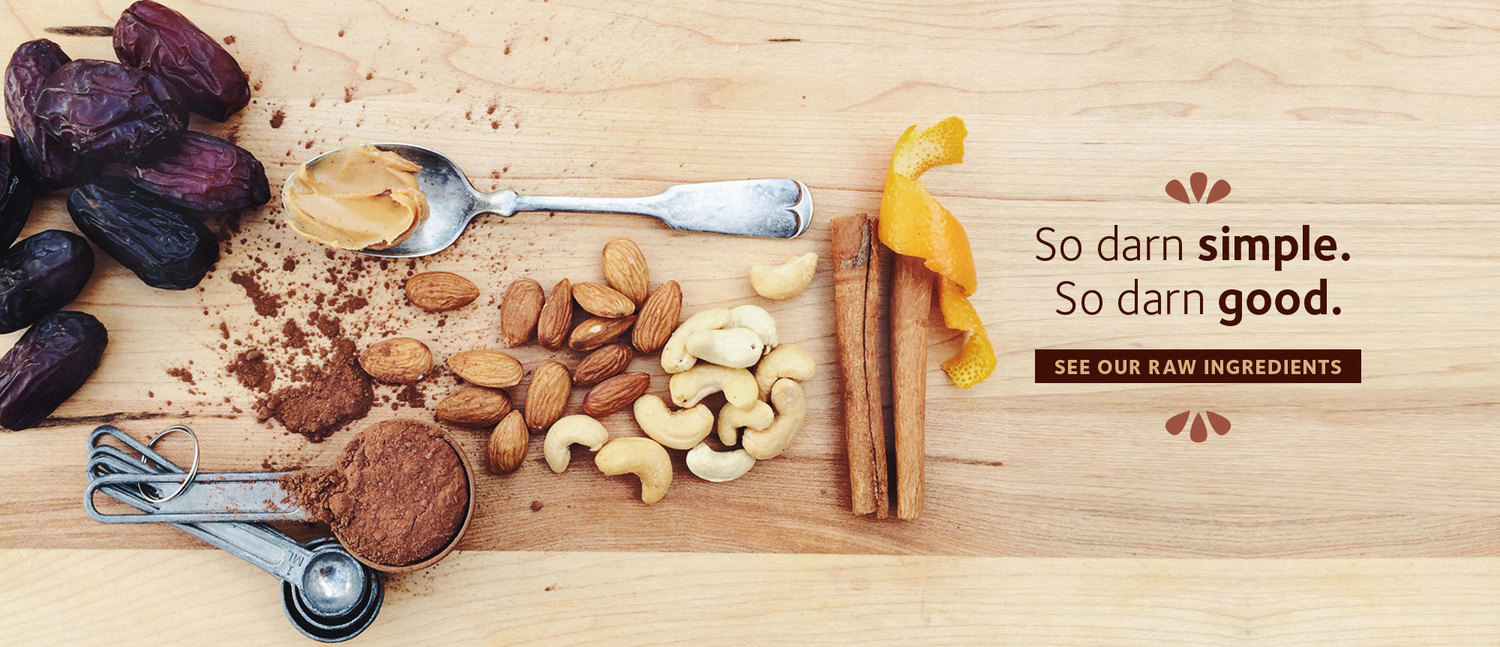 [separator type="thin"]
Chili Chocolate Chip Cookies
by Macheesmo, Cooking with Confidence
Ingredients
3/4 cups unsalted butter
3/4 cup brown sugar
1/2 cup sugar
2 large eggs
1 teaspoon vanilla
1 tablespoon Sriracha
2 cups all-purpose flour
2 teaspoons cinnamon
1/4-1/2 teaspoon cayenne pepper
3/4 teaspoon baking powder
1/4 teaspoon kosher salt
12 ounces bittersweet chocolate chips
Instructions
To the flour and baking powder base, add some cinnamon and a healthy spoonful of cayenne pepper. Just cream together the butter and sugars until they are a light, fluffy consistency and then add in the eggs. You should do them one at a time. Then add in the vanilla and a big squirt of sriracha. Eyeball it at about a tablespoon. You could use any hot sauce really (because there is now a sriracha shortage). Stay away from hot sauces that have very strong flavors like habanero or probably even tabasco. Something on the milder side (for hot sauces) works well.
Baking the Cookies
Preheat Oven to 325 degrees.
You can refrigerate the dough for these Chili Chocolate Chip Cookies if you want, but I just made them right away in this case.
Scoop heaping tablespoon-sized balls onto baking sheets lined with parchment paper. Give the cookies plenty of room to expand. I only do 6 per sheet.
If you wanted to be really finicky you could weigh your cookies, but unless you run a bakery that's probably not necessary.
Bake for 12-15 minutes until they are just browned around the edges.
Helpful Equipment
20 min | 15 min
35 min
Ingredients
Biscuit
0.75 oz (1/4 cup) Cake Flour
2 oz (1/3 cup) Ground Hazelnuts
3 oz (6 Tbsp) Sugar
3 Egg Whites
Ganache
Instructions
Biscuit
Sift the flour with the ground hazelnuts and 4 Tbsp of sugar. Beat the egg whites until stiff, adding the rest of sugar quickly in order to obtain a perfectly smooth texture. Finish by folding the sifted dry ingredients into the egg whites with a spatula. Spread onto a baking sheet.
Bake at 375°F until it springs back when lightly touched.
Dark Chocolate ganache
Boil the cream and the honey. Pour 1/3 of the cream over the Valrhona Chocolate. Mix rapidly with a spatula to create a smooth and glossy emulsion.
Gradually keep adding the cream to the Valrhona Chocolate while mixing. (Put a damp towel under the bowl to keep in place). Maintain the smooth and glossy texture until all cream is incorporated.
Assembly
Pour 1/3 of the ganache into a ring mold or cake pan.
Top with a circle of the biscuit. Pour an additional 1/3 of ganache over the top and place another biscuit circle on top. Cover with the remaining ganache and finish with the last biscuit circle. Freeze over night, unmold and turn over so the ganache layer is on top. If you have used a cake pan instead of a ring, you will need to slightly warm the bottom to remove it, then turn it over. Decorate with additional ganache. Leave to defrost for a minimum of 6 hours in the refrigerator.
Enjoy at room temperature.
Serving suggestion
Best enjoyed topped with whipped cream and with coffee or tea.