Hoerle-Guggenheim and RETNA at SCOPE
[dropcap letter="I"] had the great pleasure of interviewing
Philippe Hoerle-Guggenheim
for
LAPALME Magazine
set to be on newsstands later this month (be sure to pick up a copy on December 18th). Below is a look at what happened this week with the
Hoerle-Guggenheim Gallery
at
SCOPE Miami, Art Basel
.
But first – a little about the man behind a gallery giving life to some of today's most influential young artists: Philippe Hoerle-Guggenheim. With an entirely new surge of art purveyors and a far more savvy clientele, all of the artists Philippe hand selected encompass the passion I find inspiring and absolutely critical to the world of creativity. An undeniable merge of pop art, cultural impressionism, modernism and edgy street art-turned contemporary, there is a clear voice speaking out at this event. From one of the most prevalent fashion-forward artists RETNA who changed the way "graffiti" is perceived, to a fascinating piece of introspective realism by Evan Penny, the exhibition showcases a huge array that spans a multitude of tastes. You'll be able to read a much more in-depth story on Philippe in our interview in the Print Edition of LAPALME.
[separator type="thin"]
STRIP YOURSELF BARE. baremade.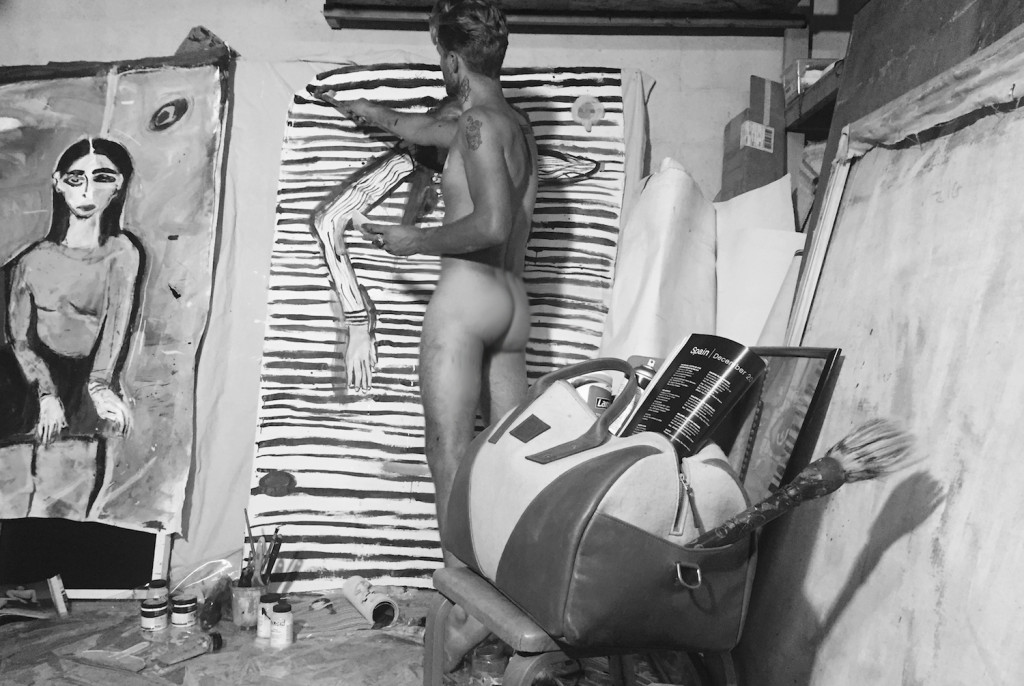 [separator type="thin"]
PRESS RELEASE
Throughout the entire week, The Residences at The Miami Beach EDITION, will be home to some of Hoerle-Guggenheim's most prestigious artwork. Creating an exclusive pop-up gallery experience outside the main fair, art collectors will have the opportunity to view pieces by featured artists including Michael Turchin, Jason Dussault, Max Wiedemann, Domingo Zapata, Pixel Pancho, Jan Larsen, Massimo Agostinelli (most recently on display at the gallery in New York), among many others.
Kicking off the week, Hoerle-Guggenheim Gallery presents at "ARTCELERATION," featuring RETNA. Marking the accelerated evolution of street art from walls to luxury car, RETNA will design a one-of-a-kind Ferrari F430 Challenge in a live painting event.
Philippe will also host an exclusive luncheon and conversation titled "The Intersection of Auto & Art," featuring Aston Martin's Head of Design, Marek Reichman, at The Residences at The Miami Beach EDITION. Both Philippe and Aston Martin will discuss the evolution of Aston Martin and collectible cars as forms of art. Aston Martin will be showcasing their most exhilarating creation to date; the track-only supercar, the Vulcan, and the Lagonda "the finest of fast cars" , a new bespoke super saloon that sees the revival of the historic Lagonda marque in a strictly limited numbers series.
[separator type="thin"]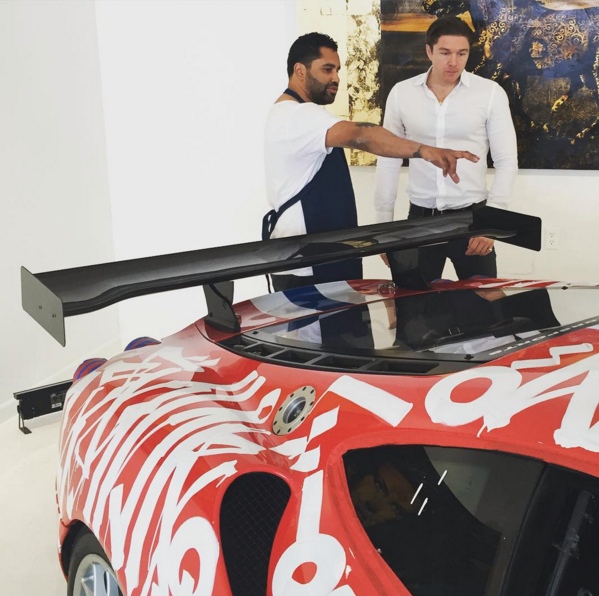 Great start to Art Basel last night. #RETNA@ironeyeretna joined with #HoerleGuggenheimGalleryand #MacayaGallery to paint and auction off a unique race car, benefitting the Miami Children's Health Foundation.
#MiamiBeachArtWeek #ArtBasel #ArtBaselMiami#ScopeArtFair #ScopeMiamiBeach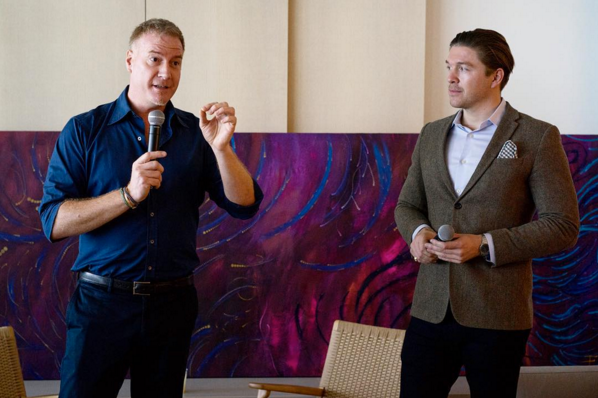 Yesterday we had the pleasure of hosting the Art Talk, the intersection of Auto and Art, with Chief Designer of Aston Martin Marek Reichman (left) and Philippe Hoerle-Guggenheim (right). The conversation dealt with the unique relationship between auto and art, and we are excited to announce a new partnership with @astonmartinlagonda, the brand that brings the Art to the auto industry, in which #HoerleGuggenheimGallerywill be receiving a selection of limited edition cars in a distinct collaboration.
#HoerleGuggenheimGallery #ArtBasel #AstonMartin
A piece by #FranzKlainsek in the background | PHOTO: Nick Turner Studio
[separator type="thin"]
Below are a few Facebook images from HAUTE LIVING at Aston Martin, Miami posts on the Hoerle-Guggenheim Gallery page.