BMW – The Champagne Beer Effect at the LA Auto Show
PHOTOS by Tram Tran
[dropcap letter="E"]ver heard that saying,
"Champagne Taste on a Beer Budget"
? My tastes for beautiful, fast cars is no secret however my checkbook tends to dissuade my desires.
When I first joined ATOD Magazine, I thought my days of shooting automotive photography were done. Strangely enough, there is more of an automotive presence in the lifestyle and culture space than I thought! Whether it's a classic Aston Martin at the Glenfiddich event or Lamborghinis at the Mondrian, I've been able to shoot some beautiful cars. So when BMW invited ATOD Magazine to come check out their showcase at the LA Auto Show, I profusely told them … YES!
This year BMW is set to debut four new vehicles at the LA Auto Show, the all-new eDrive BMW 330e, BMW M4 GTS, BMW X1 and the BMW 7 series. Walking through the halls at the LA Convention Center, there are rows and rows of shiny new cars and honestly, a lot of them were bland.
As a huge fan of fast and innovative automobiles, when I attend an event like these and I check out the cars, one question comes to mind:
1. Do I want this?
2. Can I afford this?
Usually, if the answer to the first question is yes, then no is the answer to the second question. It is really a simple equation. Most things I want are out of my budget, but this time something was actually affordable. The car was found at the BMW showcase. The eDrive BMW 330e.  With a ballpark figure of around $44,000, it's definitely in the wheelhouse of "doable".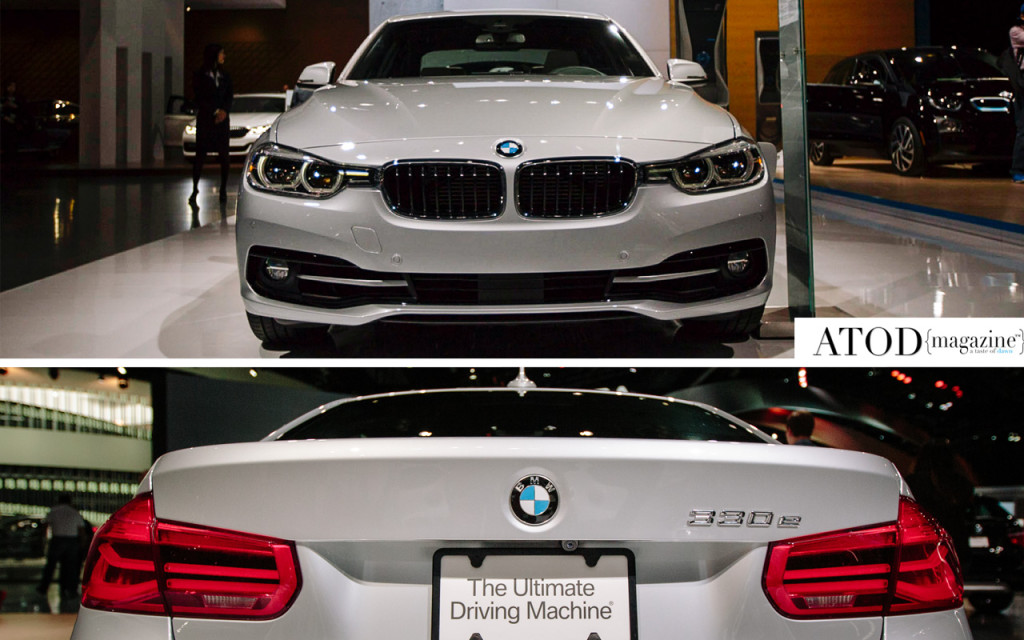 The logistics: Think about it, if you break it down, it's your average car payment. Plus, when buying hybrid or electric in California you get a rebate of around $1500. Subtract that from your monthly payment and factor in how much money you'll save in gas and you're looking at around a $400-500 monthly payment, which is the average cost of sedan. However, instead of rolling around in your average sedan, you get all the luxury and handling of a BMW. All of this AND you are saving your environment.
Having fun in a vehicle while reducing your carbon footprint is the way of the future. That said, if money is no object, let's contrast the 330e with the BMW i8. A gorgeous hybrid super car. Typically at a car show, a vehicle like the BMW i8 is exhibited as a concept vehicle and most of the time, they're disappointing because a lot of concept vehicles never get made. Thankfully, this one made it out and for a modest, $140,700 you can pick one up.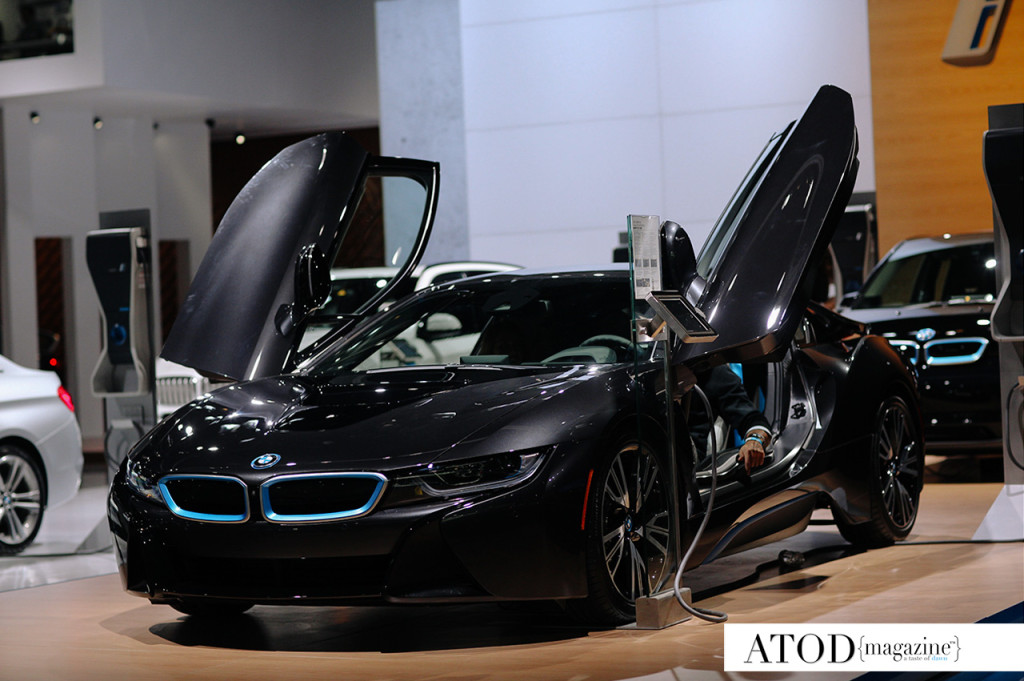 With gull wing doors and a combination of twin turbo and eDrive technology, this sports car does 0-60 in 4.2 seconds. I can literally sit and look at this car all day. In fact most people did.
While not as popular as the BMW i8, the smaller, cuter sibling is the BMW i3. It has a unique look albeit not as sexy, but it is full electric. Cruising in the BMW i8 might get you stuck in rush hour traffic, but you can take the carpool lane with the BMW i3. With a range of 80-100 real-world miles EV range, it does make daily commuting worth it.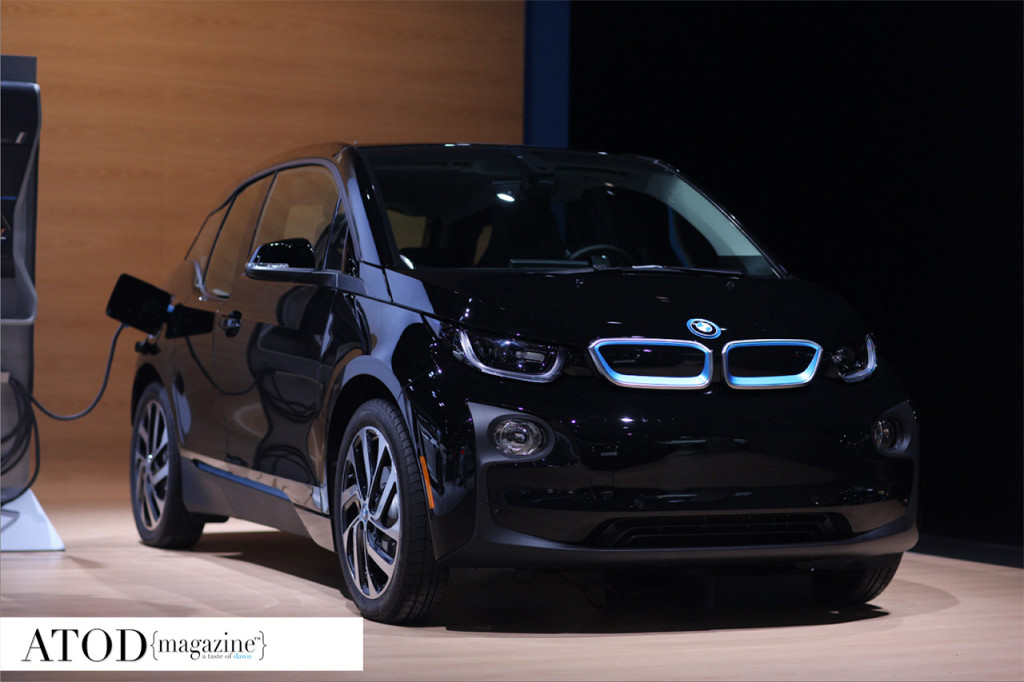 But let's be honest, when you come to an auto show you're looking for the rock star of the show. In this case the all-new BMW M4 GTS that clocks in at around $144,000 is it. With this show stopper, you get a track ready BMW M4 that already has a roll cage, three-way adjustable coilovers, 500 horsepower. Nothing says track ready more than carbon fiber EVERYTHING. Also only 300 of these beauties are going to be available in the United States. This BMW M4 GTS ran the Nurburgring in a lap time of 7:28:0 squeezing in between; oh let's see, a Porsche Carrera GT, McLaren MP4-12C, Ferrari 458 Italia and a Pagani Zonda F Clubsport.
Basically this BMW M4 GTS says, "I might look civilized but I'm a wild beast inside so don't F&#$ with me". Not saying this vehicle isn't pure magic but the driver in me would still like to drive a manual transmission. I'm pretty sure the 7-speed double-clutch transmission with Drivelogic shifts faster than a manual transmission, blah blah blah blah. I don't care what the engineers say, I still want to donuts and burnouts and nothing beats doing donuts and burnouts than with a manual transmission.
This BMW M4 GTS basically falls into the category YES, I want to have but NO I cannot afford which basically sums up my LA Auto Show experience.
[separator type="thin"]
eDrive BMW 330e, BMW M4 GTS, BMW X1 AND BMW 7 SERIES TO MAKE THEIR NORTH AMERICAN DEBUT AT THE 2015 LOS ANGELES AUTO SHOW.
Additional Featured BMW Vehicles are: BMW X5 xDrive40e,BMW i8 and BMW i3, among others.
2016 BMW M4 GTS
The all-new eDrive BMW 330e, BMW M4 GTS, BMW X1 and the BMW 7 Series will make their North American debut at the 2015 Los Angeles Auto Show on Wednesday, November 18 at theBMW Stand at the Los Angeles Convention Center (1201 South Figueroa Street).  In addition,BMW will feature the all-new BMW 7 Series, the eDrive BMW X5 xDrive40e, the new BMW 3 Series as well as the high-performance eDrive BMW i8, the all-electric BMW i3 and other BMW models at the BMW Stand.
Making its North American debut, the all-new BMW 330e features a plug-in hybrid drive system offering typical BMW driving dynamics and outstanding efficiency. The innovative use of an electric motor and the BMW TwinPower Turbo 4-cylinder engine results in a total system output of 248 bHP and 310 lb-ft torque. BMW 330e accelerates from 0-60 mph in 5.9 seconds. In everyday driving condition, a total range of up 373 miles is attainable. The 2016 BMW 330e will arrive in US showrooms in Spring 2016.
The all-new 2016 BMW M4 GTS is an exclusive technological masterpiece, which elevates the performance of the BMW M4 Coupe to an impressive new level, making its North American Debut in Los Angeles. With its powerful, motorsport-inspired looks and high-performance technology, the BMWM4 GTS has its sights set on the racetrack. The BMW M4 GTS makes use of the multi-award-winning M TwinPower turbo engine utilizing an innovative water injection system that boosts power to 493 bHP. The track ready chassis and unbeatable engine performance ensured a lap time of 7 minutes 28 seconds around the legendary Nürburgring-Nordschleife. This special edition is limited to 700 units worldwide, with 300 units of the exclusive high-performance Special Edition M4 available in the US market. The 2016 BMW M4 GTS will arrive in US showrooms in Spring 2016.
The BMW X1, making its North American debut, is the second generation of its successful predecessor model and features more robust overall proportions, more interior space for passengers and luggage alike, and additional innovative connectivity and groundbreaking BMW EfficientDynamics technology that is unparalleled in the segment. The BMW X1 xDrive28i will feature a 2.0-liter, 4-cylinder TwinPower Turbo engine producing 228 bHP and 258 lb-ft of torque mated to an 8 speed Steptronic automatic transmission, enabling the newest X family member to accelerate from 0-60 mph in 6.3 seconds. The engine is coupled with the new BMW xDrive intelligent all-wheel-drive system and newly developed chassis technology, which enhances sporting ability and ride. The MSRP for the BMWX1 xDrive28 will be $35,795 including Destination and Handling with an on sale date of October 24, 2015.
The all-new BMW 7 Series is the brand's flagship in its sixth generation and once again sets the standard for luxury performance, delivering the highest level of driving refinement in the premium class. It will be making its North American debut in Los Angeles with an on sale date of October 24, 2015. The 2016 BMW 7 Series sets a new benchmark in lightweight design, driving dynamics, comfort, intelligent connectivity and intuitive operation. The BMW EfficientLightweight concept allows the newBMW 7 Series line-up a 190 pounds weight reduction in comparison to its predecessor. Groundbreaking Carbon Core passenger cell technology is the key element on the body structure by the extensive use of carbon-fiber-reinforced plastic (CFRP) and the strategic application of lightweight design to reduce weight and increase both the overall torsion strength and bending stiffness. Featuring BMWs newest and pioneering technologies such as Gesture Control, Wireless Charging and Display Key. An Active Kidney Grille will also be available for the first time in the US. The MSRP for the BMW 740i will be $82,295, the $95,395 for the 750i Sedan and $98,395 for the BMW 750i xDrive all including Destination and Handling.
The BMW X5 xDrive40e the company's first eDrive Sports Activity Vehicle, charts the next chapter ofBMW's ongoing EfficientDynamics initiative. Benefitting from the groundbreaking work with BMW i on electromobility, the X5 xDrive40e combines the company's award-winning 2.0-liter TwinPower Turbo four-cylinder engine with an electric motor integrated into its 8-speed automatic transmission. The BMW X5 xDrive40e can travel approximately 13 miles on pure electric propulsion, powered by a lithium-ion battery, ideally suited for short commutes and quick trips around town yielding an impressive 56 MPGe. Combined, the gasoline engine and electric motor put out 308 horsepower and 332 lb-ft of torque, enough to propel the X5 xDrive40e from 0-60mph in just 6.5 seconds. This Sports Activity Vehicle features BMW xDrive, the company's intelligent all-wheel drive system, for optimal stability and traction under all road conditions. The 2016 BMW X5 xDrive40e is available in US showrooms for $63,095 including Destination and Handling.
The BMW i8 is the first eDrive 2+2 sports-car from BMW. It sits at the pinnacle of the BMW i lineup of visionary vehicles which are purpose built from the ground up as electric and hybrid electric, constructed primarily from lightweight carbon fiber. Currently in showrooms and priced at $140,700 plus Destination & Handling, the MY2016 BMW i8 features Laser Lights available as an option for the first time in the US, enhancing its athletic design and sleek, low slung exterior. The BMW i8 operates with extremely high fuel efficiency boasting a US EPA rating of 76 MPGe combined. It is capable of accelerating from 0 to 60 mph in 4.2 seconds on the way to an electronically governed top speed of 155 mph.
The BMW i3 is the first fully electric vehicle from BMW Group. Constructed from the ground up primarily from lightweight carbon fiber, the BMW i3 features a 170 horsepower and 184 lb-ft of torque hybrid-synchronous electric motor that propels the vehicle from 0-60 mph in approximately 7.2 seconds. The BMW i3 is electrified by a 22-kWh lithium-ion battery, will travel approximately 81 miles of emission-free driving. The BMW i3 offers interior space comparable to the legendary BMW 3 Series on a shorter overall body. Its 32.4-foot turning circle and a relatively long wheelbase make it agile and engaging to drive, yet ideally suited to driving in dense urban areas. With a combined rating of 124 MPGe, the BMW i3 is the most efficient electric as rated by the US EPA. Currently in showrooms, theBMW i3 has a base MSRP of $41,350, before any federal or state incentives, plus $995 for Destination & Handling.