A Little Body Seduction
It must be said that I'm a minimalist when it comes to jewelry. I believe in a single BOLD statement and for me, that usually translates to earrings or rings. I love a good bracelet or cuff and necklaces for sure but I'm a tiny girl and those last two tend to overpower my physique.
I am, however, a fan of sharing my favorite pieces and I encourage those of you with great arms and gorgeous neck lines to have some fun.
Below are my Editorial picks from a handmade jewelry line I've discovered, BRAVE CHICK– AND – for good measure?
They are giving 20% OFF to ATOD readers! So, use #PromoCode:
ATOD20
In addition to being handmade and beautiful, 10% of proceeds from Brave Chick's pieces go to supporting women and men of domestic violence. This is a brand that is truly unique. The women behind it stand for something and honestly, I love supporting that.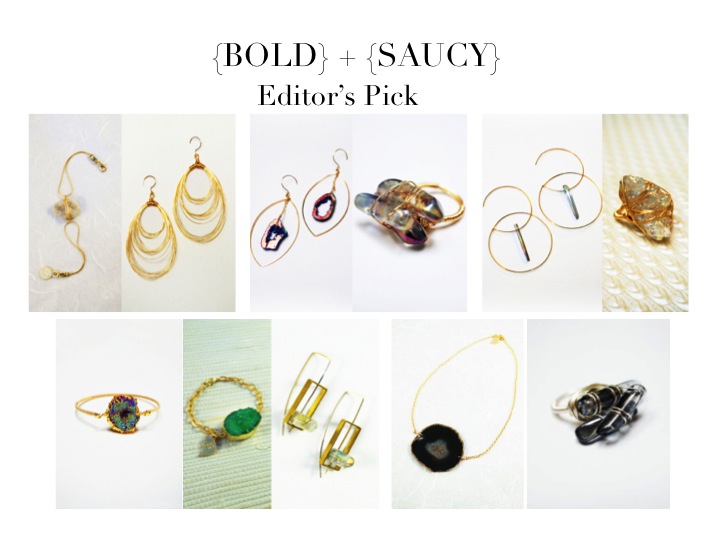 MISSION
At Brave Chick™ we embrace and uplift the authentic spirit of every woman. We celebrate and appreciate valiant and honorable men. We create artisanal hand-made, quality fashion jewelry that inspires confidence, courage and individuality. We give back by donating to nonprofit organizations committed to the fight against domestic abuse and violence.

FOUNDERS
LEJOI REESE
Designer, Co-Founder
In this fast-paced, climb-to-the-top world, I am always humbled that you have chosen to visit the quiet rooftop spire – the hope and home of Brave Chick; that you came to experience a new yet familiar vista of life through my jewelry designs.
The moment of creation is a quiet purpose-filling experience, my hands express my heart… molding, designing, placement … and then mysteriously it comes together – my heart sings – and that's when I know it is done. I love the personality of each piece. I hold the hope of sharing each piece with another who experience the beauty that it expresses.
It is my greatest desire that my jewelry inspires you, giving you strength and hope. Handcrafted with love and joy, each piece is unique, sculpted to imbue the wearer with vibration of the fullness of God. Choose a piece that speaks to you – do you sense the sweetness, gracefulness, and softness of God? Or does the piece speak of the unpredictability, passion and profoundness of our Creator? All pieces were made to acknowledge your uniqueness and your place in this world. Every piece was made to cultivate HOPE and LOVE in your life.
[separator type="thin"]
JANET WILLIAMS
Co-Founder, CEO
Thank you for visiting Brave Chick. It has been a life-long dream to discover the beauty and joy of creativity. It is a great pleasure to know that I can perhaps play a small part in inspiring you.
Growing up in a strict home that was extremely disciplined, our household values rested in education, achievement, duty and responsibility. Self-expression, beauty, flexibility and creativity were luxuries that I could not afford as I journeyed into adulthood and a career in medicine.
Years later, when I witnessed my friend Lejoi going through events that were damaging to her dignity and self-image I invited her to spend some time with me at the beach. On that beautiful spring day we spoke about our hopes and dreams and lamented the lack of mentors, especially professional women of color. There, as the sun set, the idea of Brave Chick was formed.
By going into a partnership with Lejoi, I had not realized then that it would change both our lives. She gained strength to free herself from abuse – and I was able to break free and finally express my creativity.
Allowing myself to finally experience creative freedom has been a blessing to my parched soul. I realized that self-expression and beauty is NOT a luxury, but an intimate and personal expression of the Creator. It is mandatory to the human experience.