Grey Goose To Ring In The New Year
[dropcap letter="I"]n the world of vodka,
Grey Goose
is synonymous with prestige. This year,
Grey Goose
has put together a holiday recipe list that's sure to ring in the New Year with nothing short of merriment. Give these appetizers and cocktails below a try – and if you make them? Be sure to take a photo, post on #Instagram and tag @dawngarcia + @greygoose!
Here's to a guy who is never blue,

Here's to a buddy who is ever true,

Here's to a pal, no matter what the load,

Who never declines, just one for the road.
[separator type="thick"]
Chicory Bites with the GREY GOOSE Noël Rouge
Chicory Bites
INGREDIENTS
2-3 heads of chicory (12 cups)
100g smoked duck breast, chopped
80g pomegranate
A handful of small mint leaves, chopped
A small handful of parsley, finely chopped
25g walnuts, chopped
1 tablespoon extra-virgin olive oil
1 tablespoon balsamic vinegar
Sea salt and black pepper
½ red chili, finely chopped
METHOD
Wash and dry the chicory, and break apart carefully, saving the larger leaves for a salad (they will likely be too big for canapés). Trim the bottoms of the longer leaves and arrange on a plate. Finely slice the smoked duck and add it to a large bowl, with the herbs, chili, walnuts and pomegranate. Drizzle over the olive oil and balsamic, season and toss together. Taste and adjust the seasoning, if required. Add a teaspoon of the smoked duck mixture to each of the chicory cups and arrange on a platter. Finish with a final scattering of herbs.
[columns_row width="half"] [column]
COCKTAIL
GREY GOOSE Noël Rouge
INGREDIENTS
50ml GREY GOOSE vodka
20ml ST-GERMAIN elderflower liqueur
10ml freshly squeezed lemon juice
10 pomegranate seeds
METHOD
Muddle the pomegranate seeds and lemon juice in a highball, add crushed ice, followed by the GREY GOOSE and ST-GERMAIN. Stir and serve.
[separator type="thin"]
Deviled Eggs with the GREY GOOSE Étoile de Picardie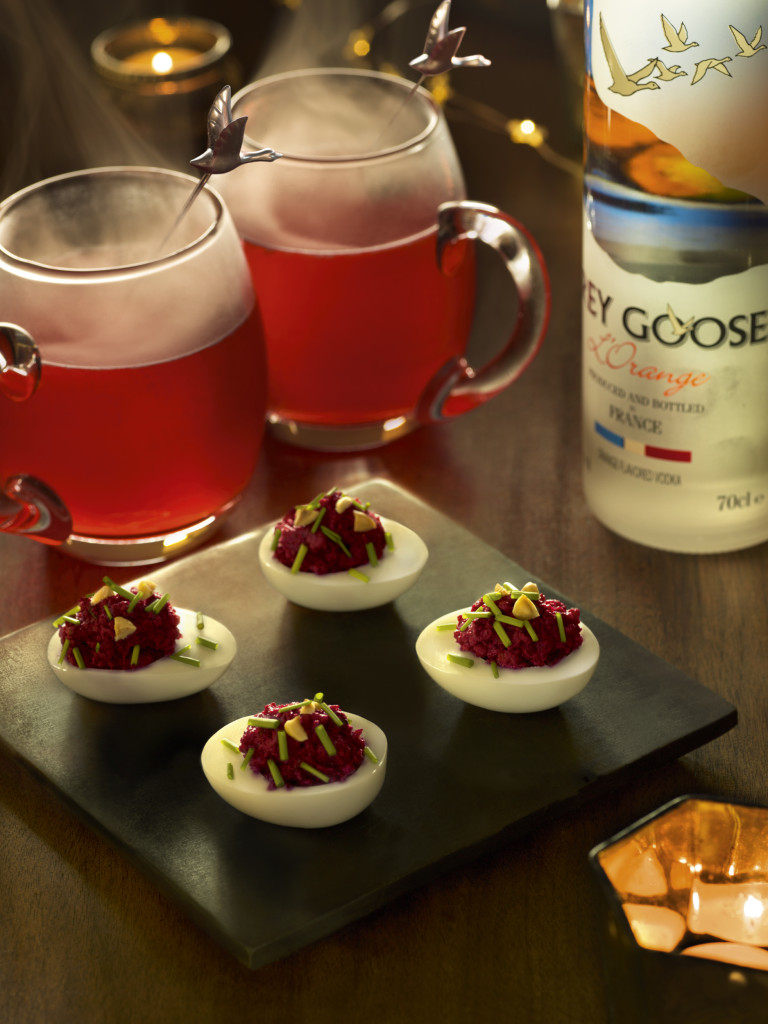 Deviled Eggs
INGREDIENTS
6 eggs, hard boiled
2 small beetroots, washed and trimmed
1 heaped tablespoon GREY GOOSE vodka
1 large garlic clove, peeled and grated
1 tablespoon lemon juice
¼ cup chopped and toasted hazelnuts
1 small stalk rosemary leaves
½ teaspoon fine sea salt
2 tablespoons fresh chives, finely chopped
METHOD
Preheat the oven to 180 degrees Celsius, with a rack in the center. Puncture the beetroots with a fork a few times, and wrap each in foil. Roast for an hour, or until the beets are completely tender when you test by cutting into the center with a knife. Halve the boiled eggs and remove the yolks, set both the yolks and whites aside in bowls. When the beetroots are cooked and cool enough to peel, remove the skins and add to the food processor with the egg yolks, GREY GOOSE, rosemary, garlic, lemon juice, half the hazelnuts and a good pinch of salt. Blend until the texture is to your liking, you're looking for a rough, caviar-like texture not a puree. Fill the hollowed-out eggs with the beetroot caviar. Top with the remaining crushed hazelnuts and chives.
COCKTAIL | Étoile de Picardie
INGREDIENTS
35ml GREY GOOSE L'Orange
35ml Cranberry juice
10ml freshly squeezed lemon juice
5ml gomme sugar syrup
5ml Cointreau or Dom Benedictine
Star Anise
METHOD
Build all of the ingredients in a glass mug, add 50ml boiling water and stir. Garnish with the star anise.
[separator type="thin"]
Mushroom Pâté Bites with the GREY GOOSE Punch Aux Pommes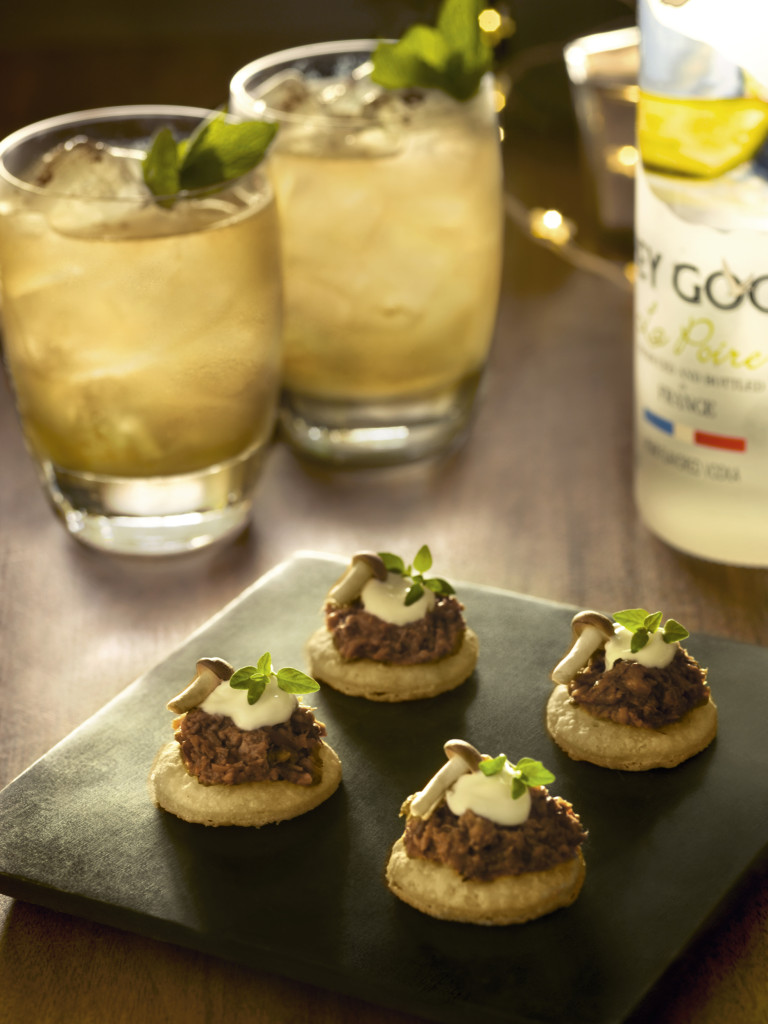 Mushroom Pâté Bites
INGREDIENTS
15g Dried cep or porcini mushrooms
½ cup boiling water
1tbsp olive oil
2 tbsp butter, divided
1 small onion, finely chopped
2 cloves garlic
Coarse sea salt and freshly ground black pepper to taste
350g mixed French mushrooms, girolles and chanterelles
1 heaped tsp fresh thyme leaves, plus extra to serve
2 tsp parsley
A dash of port
¼ lemon, juiced
Crème fraiche, to top (optional)
12 mini sable biscuits or toasted baguette
METHOD
Combine the fried mushrooms and boiling water in a small bowl and let soak for 30 minutes. Heat olive oil and 1 tablespoon butter over medium-high heat. Add onions and cook for 7-8 minutes, until they become soft and translucent. Add the garlic and continue to cook for a further two minutes. Raise heat to high and add the fresh mushrooms, thyme, salt and pepper. Cook until mushroom brown further and release their liquid. Continue to move the mushrooms in the pan until all of the liquid has evaporated, then add soaked mushrooms and their soaking liquid. Cook the liquid almost completely off. You want to be able to drag a spoon through the mushrooms and leave a path. Add a dash of port and continue to cook for a couple of minutes, until the alcohol evaporates. Season the mixture to taste. Stir through the last of the butter. Let the mixture cool for 15 minute, then blend in a food processor, or blender, until the mushrooms reach the texture of a fine smooth pâté.  Chill in fridge for a few hours before serving, giving the flavors a chance to settle. The pâté will keep in the fridge for 5 days in an airtight container. When ready to serve,
place a heaped teaspoon of the pâté on each biscuit. Finish with a grind of black pepper, a few fresh thyme leaves and a little dollop of crème fraîche.
GREY GOOSE Punch Aux Pommes 
INGREDIENTS
40ml GREY GOOSE La Poire
50ml apple juice
10ml freshly squeezed lemon juice
5ml gomme sugar syrup
20ml Fever Tree ginger ale
Sprig of mint
Grated nutmeg
METHOD
Build the GREY GOOSE , gomme sugar syrup, apple and lemon juice in a rocks glass over cubed ice, then top with ginger ale. Stir and garnish with mint and nutmeg
[separator type="thin"]
Tuna Tartare with the GREY GOOSE Fruits de Fête 

Tuna Tartare
INGREDIENTS
150g sushi-grade tuna fillet
1 tbsp capers, chopped
2 tbsp de-stoned black olives,
finely chopped
1 1/2 tsp fresh lemon zest, plus more
to garnish
1 tsp extra virgin olive oil
2 tbsp finely chopped fresh chives,
plus extra to garnish
Sea salt and black pepper
1/2 loaf of rye bread
2 tbsp crème fraîche, to serve
METHOD
Preheat the oven to 160°C. With a really sharp knife, slice the loaf into 1-2mm slices and place on a baking tray lined with parchment paper. Season the bread slices with a drizzle of olive oil and salt and bake in the oven for 5-6 minutes until crisp. Meanwhile, using a very sharp knife, trim away any sinew or skin from the tuna fillet. Cut the tuna into 3/4-cm cubes and place in a bowl. Add the add the remaining ingredients, except the crème fraîche. Mix well. To serve, divide the tuna among the rye crisps. Top with the crème fraîche, a pinch of chives and a final squeeze of lemon juice. Only squeeze over the lemon right before serving, otherwise the citrus will begin to cook the fish and turn it opaque.
[separator type="thin"]
GREY GOOSE Fruits de Fête
INGREDIENTS
30ml GREY GOOSE Le Citron
15ml pineapple juice
15ml clementine juice (or orange juice)
75ml Champagne
METHOD
Chill all the ingredients, then build them straight into a coupette, finishing with the Champagne. Stir and serve.