Bloody Mary Day + New Year's Hangover Cure
This year for New Year's Day, I thought it apropos to share a cocktail to cure your hangover and a delicious brunch to ease you into that recovery. I turned to two of my favorite culinary blogs: Heather Christo + I Am A Food Blog.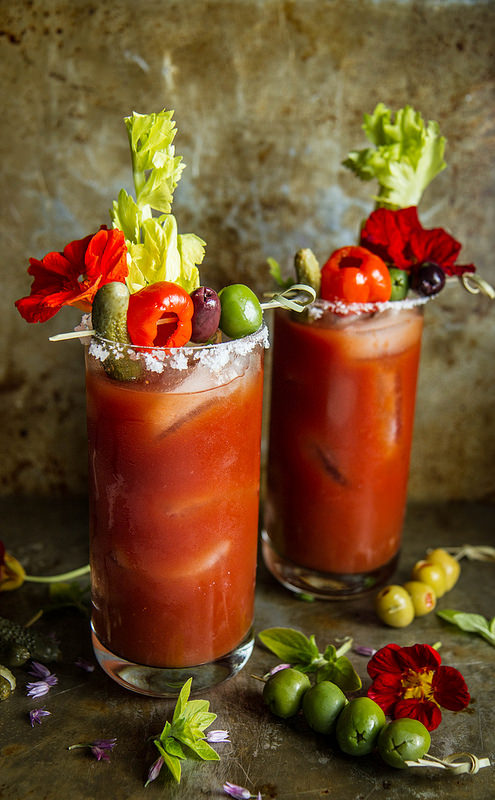 INGREDIENTS
1 cup roasted red peppers (packed in water) drained
46 ounces chilled vegetable juice
½ cup prepared horseradish
1 teaspoon celery seeds
4 dashes Worcestershire sauce
1 cup chilled vodka
kosher salt
ice
GARNISHES
olives, mini gherkins, tipsy onions, peppers, celery, cherry tomatoes, hot sauce, pickled green beans or asparagus, lemons or limes
INSTRUCTIONS
In the jar of a blender, puree the roasted red peppers until you have a puree. If they are difficult to puree, than add ½ cup of the vegetable juice.
In a large pitcher combine the roasted peppers, the vegetable juice, the horseradish, celery seeds, Worcestershire and vodka. Mix really well and then season to taste with kosher salt.
Fill glasses with ice and pour over the ice. Garnish as desired.
optional: rub a lemon wedge around the rim of the glass and dip it in kosher salt. (I also had purple merlot salt which I added)
Preparation time: 15 minute(s)
Number of servings (yield): 6
[separator type="thin"]
serves 4
prep time: 5 minutes | active time: 20 minutes | total time: 25 minutes
INGREDIENTS
1 cup Flour
1 teaspoon Baking Powder
1 teaspoon Baking Soda
1 tablespoon Sugar
1 large Egg
1 cup Buttermilk 
1/2 cup Fruity Pebbles OR Crushed FRUITY PEBBLE MERINGUES
Oil OR Butter for Pan
PREPARATION
If desired, preheat the oven to 200°F for keeping your pancakes warm.
In a large bowl, whisk together the flour, baking powder, baking soda, and sugar. In a small bowl, whisk the egg into the buttermilk. Add the wet ingredients to the flour mixture and gently combine with a fork.  Gently fold in the fruity pebbles or fruity pebble meringues. Do not over mix. This is a thick, lumpy pancake batter. The little lumps will make your pancakes fluffier. Let the batter sit for 10 minutes some moisture works its way into the lumps.
Heat up a non-stick pan over medium-low heat. Brush a thin layer of butter or oil on your pan. Drop the batter by the tablespoon into the pan and cook until small bubbles form on the surface and at the edges. The pancakes should be golden brown. Flip and continue cooking for 1-2 minutes, or until golden brown. Remove from the pan and place on a wire rack inside a baking sheet. Keep the cooked pancakes warm in the oven until you finish pancaking. Top with softly whipped cream, extra Fruity Pebbles (and meringues if using), and raspberries, if desired.
[separator type="thin"]
For More Great Recipes: The Casual Veggie