Hotel Erwin | A Boutique Hotel
1697 Pacific Avenue, Venice Beach, California 90291
(800) 786-7789
[dropcap letter="V"]enice Beach is perhaps one of Los Angeles' most notable backdrops on the Westside from everything from the beginning of
Dogtown and Z-Boys
to the buzz of
Abbott Kinney
to the most famous Boardwalk in town. That said, while there is a plenitude of restaurants, shopping and art in Venice, there are few Hotels, let alone boutique hotels. Along the Winward Circle, you'll find one such hotel that will beckon you to step inside:
Hotel Erwin
. Situated right near the notorious Venice Boardwalk with streamlined Edison bulbs hanging from above, the beach is literally a few minute walk from your hotel room. With an oceanfront or street-facing room, a quaint outdoor restaurant, a streamlined bar, and a rooftop to escape to with a stocked bar and gorgeous views peering out into the Pacific, this was a fabulous stop for an overnight Staycation.
As we check into our room, we walk out onto the balcony overlooking the beautiful ocean blue, a voyeuristic view of the Downtown Venice Boardwalk, and as we peer back into the room we notice a note card. On it? A complimentary cocktail up on the rooftop. YES!
The stay at Erwin is an easy one. With a quaint restaurant and bar at BARLO, HIGH Venice – the rooftop bar fully stocked with premiums ready to pour and a DJ on hand, this really is a great way to spend a night away. As our staycation ensues, we stroll up to the rooftop to look out on a near perfect view of the ocean, order our cocktails, and all while, waves crash against the shore and the warmth of the Southern California sun still gently kisses the night air. In winter, no less.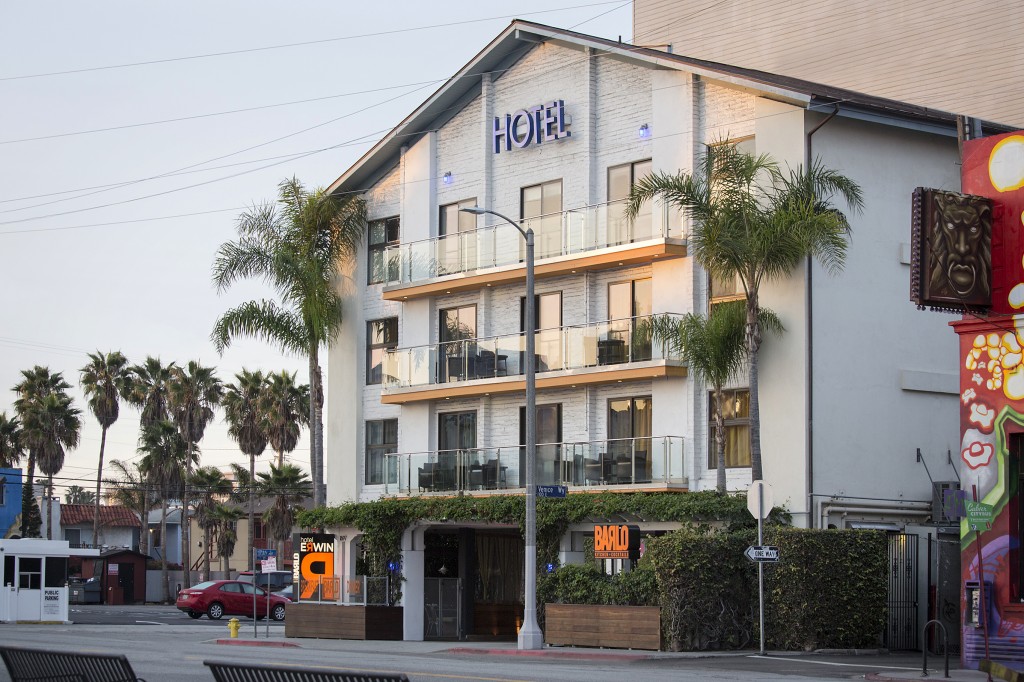 Expressive. Rebellious. Adventurous. Fun. Diverse. The ideal backdrop for work, play or just for finding yourself, Hotel Erwin offers the best of Venice Beach. As eclectic as the beach itself, Hotel Erwin puts a local spin on every detail!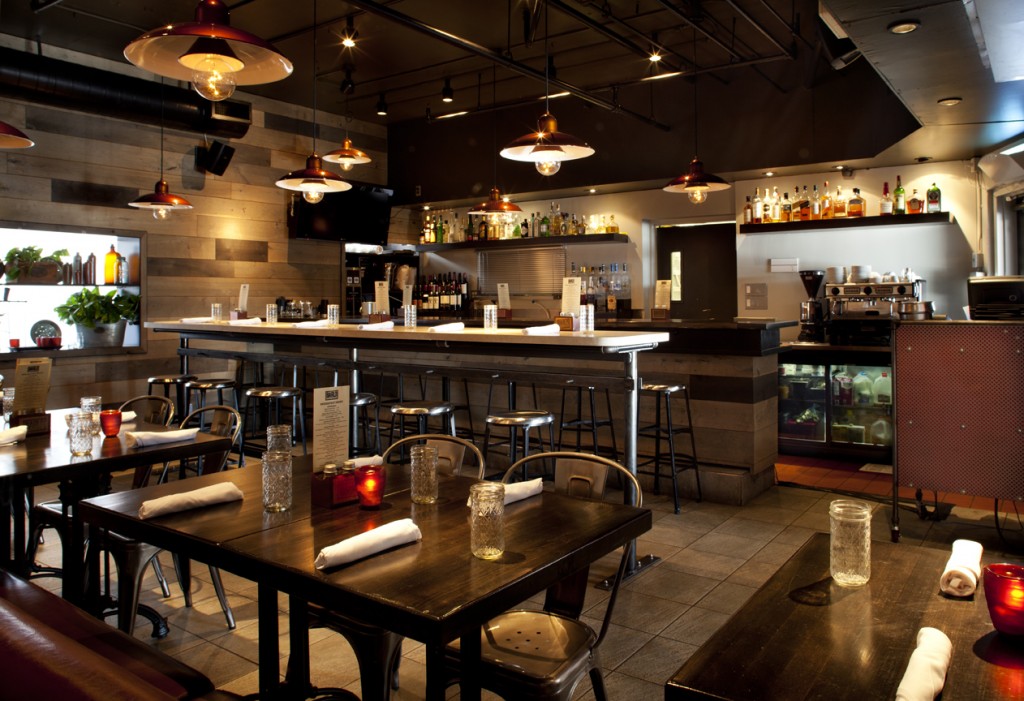 At Barlo, we source our ingredients from the highest quality local and artisan producers. We are always on the lookout for local producers that embody the values and principles that mirror our own: locally produced, artisan quality, organic, sustainable, humane animal treatment and minimal processing.
BARLO has an exceptionally tasty breakfast menu – my favorite being "The Hunter" and "The Gatherer" – two opposing dishes serving carnivores or vegetarians alike. I enjoyed a meeting at Barlo prior to my stay and had also sampled the "Cobb Frittata" and "Eggs Norwegian". You can taste the quality of freshness in every bite and they don't skimp on making every dish look worthy of your tastebuds. I'm a fan of farm-to-table whenever possible and Barlo supports precisely that. With a local Farmers Market in Venice and Santa Monica, you can be sure that everything you order is fresh, locally sourced, and well made.
As an aside, I did enjoy their in-house brews of Intelligentsia coffees and on this occasion, didn't try their morning cocktails (which I imagine are equally good).  The menu is always appealing with seasonal variations that appeal to my ever-changing palate.
And to make sure readers get to experience it first-hand, HOTEL ERWIN and ATOD MAGAZINE have partnered to offer you 20% on your night's stay INCLUDING ONE COMPLIMENTARY COCKTAIL.
— — USE CODE "ATOD" to get 20% OFF 1 (One) Night's Stay including a Complimentary Cocktail from BARLO.

To claim your 20% OFF, Book Your Room at www.HotelErwin.com OR Call (800) 786-7789
EDITOR PICK for COCKTAILS: Gin Up, Who Pears, and Persephone.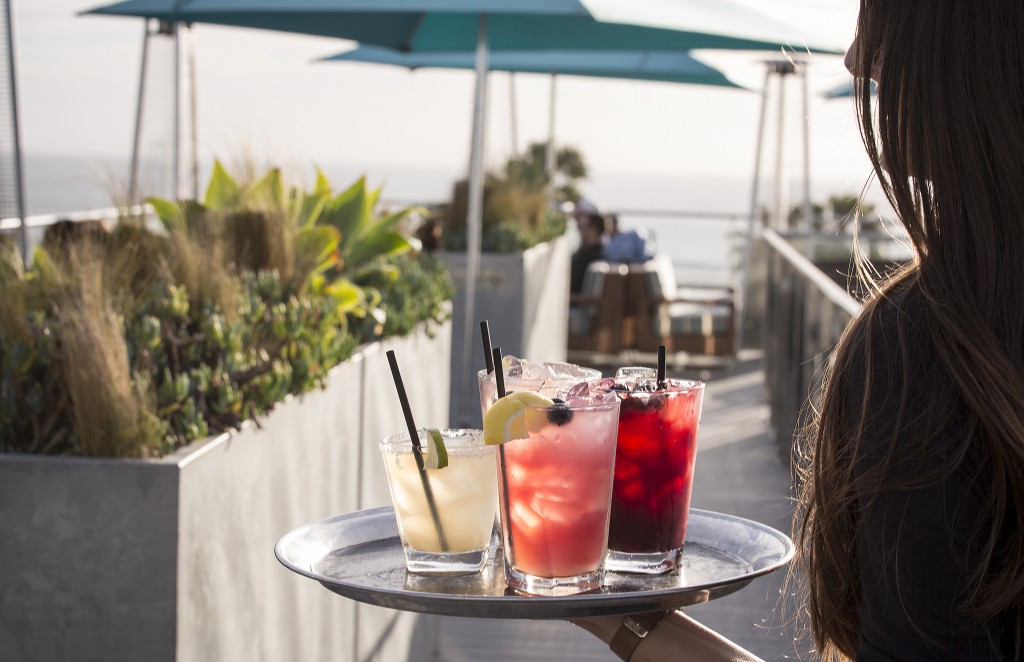 High is the only rooftop bar and lounge in Venice Beach, CA. Perched atop Hotel Erwin, High Rooftop Lounge offers a relaxed atmosphere with sweeping views of the Pacific Ocean and the urban Venice Beach Landscape. Our venue offers the best sunset and city views in all of LA.
[separator type="thin"]
——- For Your Viewing Pleasure ——–